THE ROAD TO FLOWERS VINEYARD & WINERY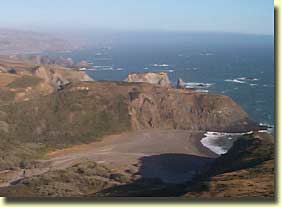 One of many stunning vistas on the road to Flowers Winery
The road to Flowers Vineyards and Winery is an adventure in itself. Driving up Highway 1 from Bodega Bay with stunning seashore vistas scant yards to the left, you're sometimes forced to slow to 5 miles an hour behind farm trucks, student drivers, and tourists in GMC pickups from Detroit. It's as much a test of the driver's patience as it is the auto's brakes. And once you turn off on Meyers Grade Road, the fun really starts. You climb up and up to 1,500 feet above sea level, twisting and turning beside steep, plunging forested ravines, before entering the gate to Camp Meeting Ridge. And then, after a little more driving, you come to the vineyards that are always above the fog…

We were seriously geeked when califusa told us that he'd arranged for us to visit the Flowers. He'd been to the estate twice previously, had gotten acquainted with Joan, Walt, Greg, et al, and thought we'd enjoy the opportunity to do the same. We'd read all the rave reviews, been to the website, and best of all, tasted some of the wines, so we had the feeling that we were starting on a high note on our first full day back out on the left coast.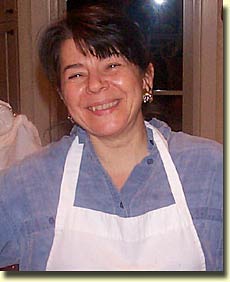 Sandra Simile-Kehn
We drove past the winery, and parked outside the Flowers' lovely home. Bree introduced us to Joan and Walt Flowers and their friend and chef Sandra Simile-Kehn. We took a few minutes to chat and refresh ourselves before being whisked off to view the "new ranch," about four miles away, as the crow flies. As we rode, Walt and Joan told us that they'd moved from Pennsylvania to CMR in May 1996, when the house and winery were built. "It's been fun to watch the dream," Joan said with a smile. They also described the area, and in particular, their biggest fear, forest fire. The Sonoma Coast is heavily wooded, getting precious little rain in the summer, and they endeavor to establish and maintain cleared perimeters around all the growing areas. Drip irrigation is a must here as well; it's just too arid to dry farm.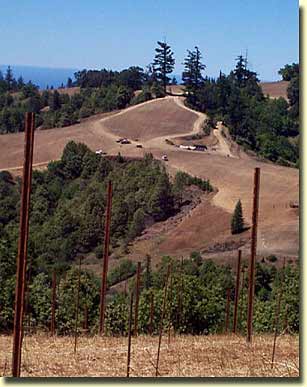 Upper Heavenly
Though still mostly under construction, the new ranch is breathtaking. It's built on 327 acres of red soil, fractured rock and clay; Walt related Steve Kistler's comment that "this is Burgundy." Much of the property consists of terraced slopes on steep inclines. 22 acres of Pinot Noir were planted in 1998, with another four acres on "Mt. Baldy" and eight to ten acres on "Upper and Lower Heavenly" in the works. "Baldy" is slated for Pinot Meunier and from its top, you can see the Pacific off in the distance in three different directions. "Upper Heavenly" is designated for Pinot Noir (Calera clone), while Chardonnay (Mount Eden, Hyde Wente and Phelps clones) is planned for "Lower Heavenly."
The script calls for 10 acres of Pinot Noir, 2 acres of Pinot Meunier and 3 acres of Chardonnay to be planted in 1999, with another 9 acres of Pinot Noir and 2 acres of Chardonnay in 2000, for a total of 48 acres. There's also a 3.5 acre area that will be planted with Syrah either in 2000 or 2001.
"And, we think there are several other small areas that will be good sites," Joan told me, "but we need time to explore."
Once these new vineyards are fully operational, the winery aims to eventually produce 10,000 cases, with the capability of 12,000 if need be.
It's fascinating to see the various stages of development here. Walt says the project is "frightfully expensive." An incredible amount of work has gone into the new ranch, and there's a lot yet to do. Much of the area had to be cleared and regraded, and 800-900 tons of rock had to be added to a one-acre plot for underdrainage.
FLOWERS PART 2 | FLOWERS PART 3 | TOP OF PAGE