THE ROAD TO MONTEREY
The Director and I have had a standing invitation to visit Henry (hank to all of his friends on Brad Harrington's West Coast Wine Network) and Lauren Harris for a year now, but our plate has been so full our last two times on the left coast, it just hasn't been possible. We were determined to change that this time out, and a July 3rd opening on our agenda provided the perfect opportunity. With a free day between the Redbird offline and Day in the Vineyard, we packed an overnight bag and hit Highway 1 south from Cloudy Bay, bound for San Juan Bautista.
An hour and a half later, we pulled into Hacienda Harris, where our friends greeted us warmly. hank, a nondenominational Christian minister, and Lauren, a microbiologist for Monterey County, had a full day planned for us, so we had just enough time to meet Chelsea and Penny, their two delightful Cavalier King Charles Spaniels, and to select some music and a few bottles of wine, before we were whisked off to Monterey and the sea.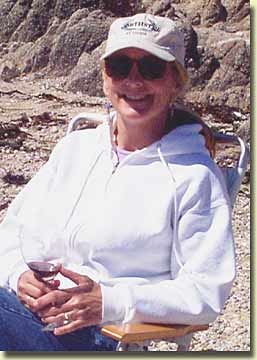 Lauren Harris
If these two ever decided to opt for alternate careers, they would make great tour guides. We wound through sunny downtown Monterey to the Pacific playground that was well attended that day, finally finding ourselves at Spanish Bay. We made our way down to the seashore, spread a blanket and an array of bread, cheese, fruit and some killer smoked chicken. (The latter was purchased at the West Texas Barbecue in Castroville; if you're ever in the neighborhood, this place is a must stop to eyeball the décor, sample the great food and chat with the eccentric proprietor.)
It was a great setting with the rocks, the crashing surf and the steady wind that had us gradually covering up more and more. But the water wasn't so cold that I couldn't wade around in it for a bit, and there wasn't a cloud in the sky, only the pelicans on patrol overhead, and one big handsome seagull who all but walked right up to us in the hope of copping a handout. At one point, we had to scramble to pull the blanket back from a particularly aggressive attack by the undertoad…
While we were thus preoccupied, we enjoyed two very nice wines indeed, selected from the Harris cellar.
1997 Rochioli Russian River Valley Sauvignon Blanc Old Vines; 13.5 % alc.: This medium straw has a pretty grapefruit nose that was complimented by real sea air, along with subtle herb and the faintest hint of fig. Rich and refined at the same time, this shows delicious grapefruit/green apple/pear flavors that carry a creamy note right on through the long finish. The oak is in the background here, and there is good acidity. Rochioli makes my favorite alternatives to the Loire/New Zealand styles of Sauvignon, and this is a classic example.
1995 Flowers Sonoma Coast Pinot Noir Camp Meeting Ridge Moon Select; 13.5 % alc: The color is a deeper smoky ruby dark garnet than you find in most Pinots, giving the first hint of how powerful this wine is. Huge perfumed aromas of black cherry/smoke with a hint of melted paraffin wax erupt from the glass and follow through on the palate, gaining a note of lapsang souchong tea. Tannins and acidity beg for five years in the cellar; there's power here, but this will be an elegant wine as well when it's finally ready.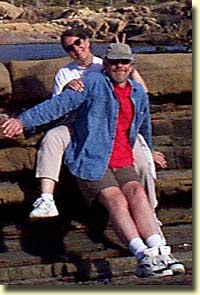 Kim and George
We spent a good couple of hours at the beach, soaking up the power and the glory before breaking camp and heading over to Lobo Point, with its breathtaking beauty. The wind that had whistled relentlessly at Spanish Bay was nowhere to be found on the sheltered south side of the peninsula, as we explored the otherworldly rock formations jutting out into the ocean and the nature trails along the beach and through the trees. We witnessed sea crabs jousting for territorial dominance, a lone sea otter cavorting in the shallows, a small herd of deer foraging within yards of us, seemingly unafraid and giant kelp looking like encroaching alien life forms.


And there, we got our first glimpse of the magnificent Cyprus trees that adorn the jagged coastline in this neighborhood. I can say that without a doubt, if we lived closer to this place, we'd spend plenty of time here. hank says next time we'll hit Big Sur…
We took our leave of Lobo Point at around 7 pm, and toured the area a while longer, before finally stopping at Fandango, a lovely French restaurant in Pacific Grove. The cuisine was excellent, and so was the wine list, but we eschewed the latter, opting instead for the beauty that hank brought along.
1990 Castello Banfi Summus (in magnum); 13 % alc.: This was a perfect accompaniment to our entrée selections, (Lauren's lamb wrapped in Rosemary, hank's Filet Mignon with Tarragon butter, Kim's Paella and my braised shank of lamb), but then we knew it would be. Last time I tasted it, I was jammin' with hank at Brad Harrington's ZAP Offline. This ruby garnet was everything that I remembered and more. Soft and fully mature, it exudes a smoky dried cherry/licorice/prune/hint of chocolate character that is great right out of the magnum, and even better with half an hour and more in the glass. A ravishing wine that is silky smooth and oh so fine.
It was the perfect ending to an altogether outstanding day. Henry and Lauren Harris are wonderful people; if there were more like them, the world would be a much better place. And, if you ever receive an invitation from them to enjoy their hospitality, don't hesitate to accept. They'll show you a terrific time!