THE ROAD TO CHEHALEM
Before heading to the left coast, we solicited suggestions as to which wineries we should make appointments with, and without exception, our sources recommended Chehalem. Spurred by such a resounding vote of confidence, I emailed the winery requesting an appointment, and received a nice reply from Harry Peterson-Nedry, co-owner and co-winemaker. He said that we'd be welcome to stop in, so we set the time and date, and arrived at NE Veritas Lane at around 2:30 PM on July 7th.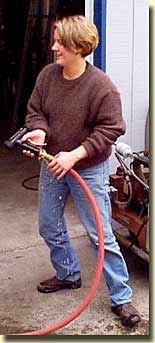 Chehalem's Cheryl Francis was hard at work prepping the winery for bottling
We were met by Chehalem's other co-winemaker, Cheryl Francis, who led us to the winery's all-purpose work area that houses the big stainless steel fermenting tanks and lots of empty cases that would be filled with the wine to be bottled a few days hence. While this isn't a "showcase" winery per se (there is no tasting room; visitors are by appointment only), it is a clean, modern facility. Harry arrived a few minutes later, introductions were made, and we bellied up to the 6-foot table that had a bottle of every wine in their portfolio.
1998 Chehalem Willamette Valley Pinot Gris $14: This pale straw was fermented entirely in stainless steel, seeing no malo. The nose shows green apple/detergent aromas that follow through on the palate with a certain creaminess; there's good intensity and concentration here. Harry noted a litchi nuttiness, and he had a point. Very nice!
1997 Chehalem Willamette Valley Pinot Gris Ridgecrest Reserve $19: This pale-medium straw gets the full malolactic treatment in 4-5 year old oak barrels. It sacrifices some of the brightness of the regular bottling for richness; it's softer and creamier with good intensity and acidity.
1998 Chehalem Willamette Valley Pinot Gris Ridgecrest Reserve $NA: This has sweeter aromatics than the previous vintage, according to Bree; I noted a creamy understated oak bouquet. The cream is turned up a notch on the palate, with green apple/mineral character. There's excellent consistency here. Bree preferred the Reserve models, while I favored the regular bottling slightly.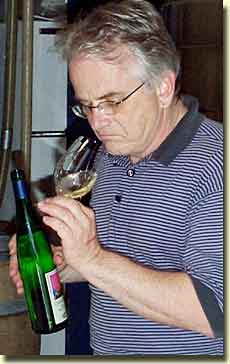 Harry Peterson-Nedry


1998 Chehalem Willamette Valley Chardonnay: Harry poured this from one of the tanks; it had just been racked and saw 8-9 months in 40-50 % French oak. It's a medium straw, with a creamy spicy pear nose that follows through on the palate. Harry said they strive for lush fruit, but also a good acid backbone, and this succeeds. The fruit is from 50 % Dijon clone and 50 % 108 clone.
1997 Chehalem Willamette Valley Chardonnay $19: This medium straw has the same percentages as the newer model, and again, creamy green apple/pear flavors and aromas highlighted by hazelnut/mineral/detergent nuances. It finishes long and was received enthusiastically by all.
1997 Chehalem Willamette Valley Chardonnay Ian's Reserve $32: A medium straw, this is named for Harry's son, who tragically perished in an auto accident at the age of 19. 90 % Dijon clone, it saw 12-14 months in oak, and it shows in the toasty sweet fruit and cinnamon/allspice/clove/maple syrup complexities. It has a creamy intensity, and Bree opined that it would stand up to any California Chardonnay in a blind tasting. Very nice indeed!
1997 Chehalem Willamette Valley Pinot Noir 3 Vineyard $18: According to Harry, this smoky ruby garnet is made from "what's left after the others are bottled." It has a smoky black cherry/tea leaf character, and if it could use a little more flesh and concentration, it's nice for the price.
1997 Chehalem Willamette Valley Pinot Noir Stoller Vineyard $28: The fruit for this from what Harry described as "a precocious young vineyard," it came from only the 2nd crop and 3rd leaf (Wow!) and is 50 % older Pommard clone and 50 % newer Dijon clone. It's a deeper color than the 3 Vineyard bottling, with more smoky black cherry flavors and aromas and a buttered toast note on the nose. It has silky fine fruit tannins and good acidity. Harry got some "animal" on the nose and said this will be at its best next year and for 5 years beyond. He went on to add that they cold soak their Pinot Noirs, striving for elegance, finesse and balance.
1997 Chehalem Willamette Valley Pinot Noir Ridgecrest Vineyard $28: From Chelalem's original vineyard, this ruby garnet shows a hint of rust and what Harry likes to call "brown aromas." There're nice complexities here; I noted forest floor/black cherry, while Jeff got nutmeg; Harry got some cedar box. The flavors echo with smooth pretty fruit, and "the depth and body comes up in the glass," according to Bree.
1996 Chehalem Willamette Valley Pinot Noir Ridgecrest Rion Reserve $38: Named after their friend and consultant, Patrice Rion of Burgundy's Domaine Rion, this slightly rusty smoky ruby garnet shows a hint of cola nut over refined black cherry/plum flavors and aromas, and is very silky on the palate. This should only get better with age as it develops some complexity, as was indicated by the next selection.
1994 Chehalem Willamette Valley Pinot Noir Ridgecrest Rion Reserve: Smoky garnet with a hint of brick, this shows big smoke over black cherry/plum aromatics, with a some Brasso/cola and a note of maple syrup as it opens. The rich concentrated flavors echo, with an added briar-y nuance, according to Harry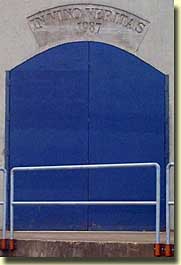 Entrance to Chehalem's barrel storage building
That was the end of the bottled selections, but our host wasn't done with us yet! He led us out back to the barrel storage building for some barrel tasting, just as the portable bottling truck was pulling in. As we proceeded, he told us that they use 100 % French oak, and a diversity of coopers and yeasts to add complexity.
Our first sample was a '98 Pinot Noir from a 1 year old barrel, and if he specified where it came from, I failed to record that. (I wasn't spitting everything…) A purple garnet with "lots of intensity," according to califusa, this showed big sweet yeasty black cherry/dark berry fruit with good density. It received big wows all around.
Next came a taste of the '98 Corral Creek Vineyard Pinot Noir, also from a 1 year barrel, which Bree likened to Pinot Noir pancake syrup, with its smoky dark berry/black cherry essence. It showed nice creamy oak qualities, and fine, rather than coarse, tannins.
Our final sample came from a new barrel and what Harry described as a 5 acre Pommard block of Pinot Noir, adding that it featured a "lot of smoke and a lot of wood." It has rich sweet fruit and huge aromatics, which came across as toast/black cherry/dark berry flavors and aromas.
We were all very impressed with not only the wines at Chehalem, but also Cheryl and Harry, who went WAY beyond anything we were expecting with this presentation. We tasted everything they had to offer, and the unanimous opinion was that they were impressive right across the board. These folks are producing world class wines, and we can enthusiastically recommend them to anyone who enjoys superior Chardonnay, Pinot Gris and Pinot Noir!
CHEHALEM
31190 NE Veritas Lane
Newberg, OR 97132
503-538-4700
503-537-0850 (FAX)
chehalemwines.com