THE ROAD TO THE GANG OF PORTLAND
The Portland expedition fell together like a charm. My daughter, Jessica Rose aka Dolphin Girl lives there, with a nice big house that accommodated Bree, Jeff and Mary Lynn Cuppett, Kim and me. We had appointments with Chehalem and Belle Pente, and, our fellow internet wine lover Bob Wood threw a fabulous offline that was the crowning touch to a whirlwind road trip.
We also took the opportunity to visit three other producers to get a feel for what was going on in the Willamette Valley, and while nothing that we tasted sucked, we were just a bit underwhelmed.
Jeff took care of the necessary details in procuring a van and we departed for the long journey on the morning of July 6th. Finally, after ten and a half hours, we pulled up to the front of Dolphin Girl's house, and fell out of the van, tired and a little stiff. Jessica welcomed us, and after many hugs and kisses, along with the appropriate introductions, we were ready for adventure in the North Willamette Valley.
THE GANG OF PORTLAND OFFLINE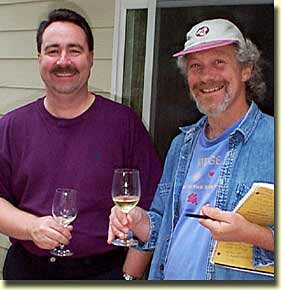 From Left: Marshall Manning and What's His Name


Bob Wood, aka Woodman, is yet another one of our wired wine colleagues who, when I solicited suggestions online for Oregonian winery recommendations, was very helpful in that regard. He also offered to host an offline gathering for the Gang and some of the local wine lovers. We took him up on his offer, expecting a swingin' affair, but what transpired exceeded our wildest expectations. These Portland people are WAYCOOL!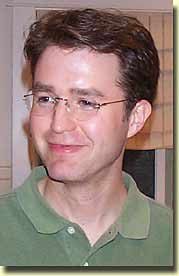 John (Double J) Jenness
We arrived at Wood Manor shortly after our sojourn at Chehalem, and were greeted by Bob and his friend Pam. Bob has a rather wry sense of humor, which I immediately found to be endearing, in a smartass kind of way. We were soon followed by other guests, some of whom we were already acquainted with, like Sam and Jean Leone and John Jenness (Double J). There was also our virtual vino pal Marshall Manning, and his wife Carolyn, who does a perfect Eric Cartman impression and had us all in stitches at one point later in the evening. And, even Brian O'Donnell of Belle Pente made a brief appearance, before returning to the ranch to be with wife Jill, who was very much in the family way. And while I didn't record the names of the other folks who we didn't "know" through cyberia, let it be said that everyone was most pleasant, and made us feel very welcome.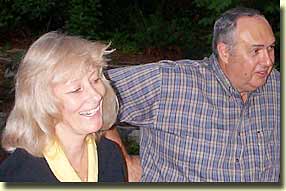 Jean and Sam Leone

Bob had initially mentioned doing a "heavy hors d'oeuvres party", but again, he went well beyond that. There were breads, high-end cheese, fruit and meats galore, and that was before he put out the varieties of the lamb sausage and homemade pizza pie which Marshall brought. There was more than enough to sate even the most jaded appetites, but that wasn't the end of it. The Woodman topped all this off by grilling a huge man eating salmon, which he is rumored to have wrestled into submission with his bare hands. It was pure culinary heaven.
And did I mention the wines? No, I didn't! What a lineup! Many of us started with selections of the paler persuasion.
1997 Tualatin Willamette Valley Semi-Sparkling Muscat: Medium straw, with sweet bright honeyed Bartlett pear/Golden Delicious apple flavors and aromas, this has a nice spritz and a fairly long finish. Very refreshing.
1998 Scherrer Alexander Valley Rose of Zinfandel: More than just a white Zin, this is a bright deep pink, with a pretty raspberry/strawberry character and nice acidity to carry it along.
1997 Sobon Estate Shenandoah Roussanne: Medium straw to pale gold, this wasn't corked, but it was a little musty at first. Green apple/pear flavors are pleasant, but that's all.
1987 Paul Cotat Sancerre Chavignol "Des Monts Damnes": This was an orphan left over from Pagani Madness, and I was determined to see how it had held up over the last year. Pale gold with a tinge of green, it again showed an unmistakable white concord note on the nose, with a mineral/vegetal undertone. There's still decent crispness to the green apple/mineral/moss/wet stone flavors, and I was a little surprised when Bree said he liked it! He noted "intricate flavors and perfumed soap/cream soda/root beer on the nose." Sam liked it too, but I think we were a minority of 3 (that's almost a Gang of 4…), because over half of this was still in the bottle at the end of the night. Madame had the presence of mind to pop it into the thermal bag and take it back to Gang Central Nor'west, and it was even better the next night!
1994 Belle Pente Willamette Valley Pinot Noir Murto Vineyard: As soon Brian walked in with this and the following selection, I made a point of trying them, and Wow! I was impressed! Dark garnet with BIG black cherry/plum/blackberry perfume explodes from the glass, and follows through on the palate with excellent extraction. It's dense in the mouth, with soft tannins and good acidity, a hint of herb peeks out from time to time, and the finish is long and delicious.
1994 Belle Pente Willamette Valley Pinot Noir Maresh Vineyard: As dark as the previous wine, but just a little less dense, rich and extracted, this has smooth black cherry/raspberry flavors and aromas. While it may be a step down in intensity from the Murto, it's of the same quality. It has another long finish, and some maple syrup aromatics develop with air. The density gives both of these a certain syrah-like feel, which is all the more remarkable when one considers that these were made before Brian "turned pro."
1996 Hamacher Oregon Pinot Noir: The Woodman recommended that we try this ruby garnet, knowing that we were on the Pinot trail, and I'm glad he did. The flavors are predominantly tea leaf/black cherry on a smooth elegant frame. The tealeaf dominates the nose, while the black cherry dominates the flavors. A fine Pinot Noir to open tonight!
The Marshall Plan
3 Blind Syrahs
Mr. Manning thought it would be fun to taste these three syrahs and see who could I.D. their point of origins. What made it even more fun was that all three were really good!

Black olives dominate the nose of this inky garnet, with plum and Kalamata olive flavors; it's very smooth right now, but there are enough soft tannins to take it further down the road. My guess was that this was a US model, but in fact it was a 1993 Cape Mentelle West Australia Shiraz.

This inky garnet is slightly cloudy, with pretty oak/plum/berry flavors and aromas; it's smooth and right there right now. Yumm! I thought this might be from Down Under, but it was actually a 1992 Sierra Vista Reserve Syrah.

Another inky garnet with plum/soft underbrush and hints of animal aromas, this has brighter fruit on the palate, with pretty plum/prune/olive flavors. The tannins are mostly resolved and this just HAD to be French, right? Nope, it was a 1993 Marques de Grignon Domain de Valdepusa.
I may have failed miserably at this little taste test, but it didn't daunt me one bit, and I boldly moved right on to the next selection.
1995 Domaine du Cayron Gigondas: I hadn't tasted this since early last hockey season, so I brought it along, having one stashed in califusa's cellar. Ruby dark garnet, with plum/prune/hint of Provencal herb/soft chocolate and a bit of what Bob correctly described as white pepper, this is every bit as tasty as it was 10 months ago. But, the best part is that it'll only get better!
1994 Flowers Sonoma Coast Pinot Noir Camp Meeting Ridge: The generous Mr. Jenness brought this, and as soon as I saw it, I had to have some. A darker garnet than your average Pinot, it shows beautiful sea air/smoky black cherry/plum/tea leaf flavors and aromas, all in that unique Flowers style. Dense, with plenty of stuffing, it still has significant tannins and lots of acidity. Give it another 3-5 years.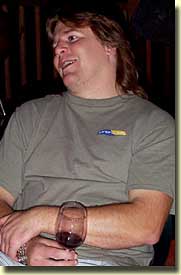 Jeff Cuppett
1993 Alban Vineyards Reva Syrah Edna Valley: I can only read about how good Alban's wines are, because we never see them in Day-twah, so I made a point of trying this, and it lived up to its rep. Purple garnet with sweet plum/olive character, it's rich and lovely, a wonderful expression of the varietal.
1994 The Montelena Estate: Sam brought this inky garnet Cal Cab; it's big and dense, with cassis/plum/dark chocolate flavors and aromas adorned with nice oak. This is serious stuff that needs many years to soften the major tannins. Still, I was surprised that it showed as well as it did.
1994 Venge Napa Cabernet Sauvignon: This dark garnet has sweeter cassis/plum than the Montelena, and some red licorice as well; it's also less tannic than the last wine, but still needs some years in the cellar yet.
It was a terrific offline, and Bob worked hard to make it happen. As Marshall noted afterwards, you know it's been a special event when everyone is hugging at the end of the evening. But maybe that should come as no surprise when The Gang of Pour meets the Gang of Portland.
A very special thanks to Bob Wood and all of the folks who attended for showing us such a great time and making us feel so at home!
TASTING NOTES FROM THREE OTHER OREGON WINERIES

TOP OF PAGE