THE ROAD TO RIDGE
As reported last year, the road to Ridge is a winding and torturous one, but it's an enjoyable drive if you're not trying to do an Andretti. Climbing up past the Picchetti and Jimsomare ranches, you eventually reach the top of Monte Bello Ridge and Ridge Vineyards, where Day in the Vineyard is held every year around the first week in July as a perk for ATP subscribers.
We parked above the winery and as we walked down to the festivities, who did we chance to come upon emerging from his car but Mr. Ridge himself, Paul Draper. We had a nice chat whilst descending from the heavens, and he naturally took an interest in our take on the Jimsomare tasting two nights before. What a fine way to start our day in the vineyard!
We found Jon (Big Dog) Cook, his friends Talia Puzantian, and Joe and Michelle Paraschac waiting in a t-shirt line, and our good friends Dwight Green & Robin as well. We would continue to reconnect periodically throughout the day, comparing notes and trading recommendations. It wasn't long after that that we found perennial volunteer Bree, who introduced us to his friend Diane Collins. We were ready to taste however, and after brief pleasantries, we went right for a plate of BBQ Bob's great polenta and sausage, before heading for the Monte Bello station. We were going to start at the top on this beautiful hot summer's morn.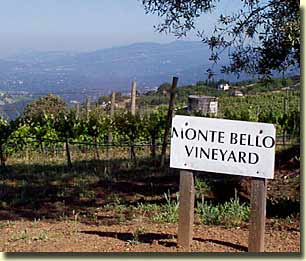 1991 Ridge Monte Bello; 85 % Cabernet Sauvignon, 10 % Merlot, 5 % Petite Verdot; 13.1 alc.: This dark garnet shows nice Draper perfume over red currant/cassis characteristics; the big flavors scream Cabernet. Kim noted aquarium and green pepper on the nose and there was a definite maple syrup nuance there as well as it opened in the glass. Silky tannins and good acidity will take this down the road for years, but it's already quite accessible. Wonderful stuff!
1995 Ridge Monte Bello; 69 % Cabernet Sauvignon, 18 % Merlot, 3 % Petite Verdot; 12.5 % alc.: We got a glass of this with Bree, who commented "Talk about impenetrable color; wow, chewy!" The nose is all maple syrup/red currant/cassis/chocolate, but this isn't as substantial on the palate as the '91. The red currant flavors seem to reflect the amount of Merlot in this, and again there are silky tannins and good acidity here.
1998 Ridge Monte Bello barrel sample; 80 % Cabernet Sauvignon, 16 % Merlot, 2 % Petite Verdot, 2 % Cabernet Franc: This dark garnet has a big maple syrup/Draper perfume/red currant/black cherry nose, but the flavors are really tight right now. Still, it has all the structure to develop into a real beauty.
1997 Ridge Geyserville; 74 % Zinfandel, 15 % Carignane, 10 % Petite Sirah, 1 % Mataro: Upon tasting this dark garnet, Kim exclaimed, "Jammy! Fruity! Cherries/cloves/nutmeg/pie spices." And it is a beauty, with wonderful reduced raspberry/cherry character. Remarkably smooth and accessible for its youth.
1997 Ridge Pagani Zinfandel; 88 % Zinfandel, 7 % Mataro, 3 % Petite Sirah, 2 % Alicante Bouschet, 14.6 % alc: Donn Reisen (Ridge VP/Sales) was pouring this, so we took the opportunity to make his aquaintance and have a nice chat. The wine is a dark garnet with sweet oak raspberry/cherry jam flavors and aromas again, and also very approachable already. Another great Mr. Ridge.
1992 Ridge Pagani Zinfadel ATP; 100 % Zinfandel, 14.8 % alc: This dark garnet still has some significant tannins, but also lots of big raspberry/black raspberry characteristics, with nice leathery nuances. Terrific Zinfandel; what it's all about!
It was about then that we met up with SFJoe and Mark Ellenbogen, who had once again brought along a nice little stash of Euro-whites, always a welcome relief from big reds in the summer's heat.
1997 Christoffel Erben Urzinger Wurzgarten Spatlese; 8 % alc.: This crisp pale straw is a delight, with its floral/apple/Riesling bouquet and sweet green apple flavors with just a hint of pine. "Ain't dat da rocks?" asked Joe. "It's so refreshing," said Bree, 'it cleans everything away."
1997 Thomas Labaille Sancerre Chavignol "Les Monts Damnes" Cuvee Buster; 13 % alc.: "It's a saliva sucker," Kim commented, and while it is quite crisp and acidic, it also has a creamy quality about it. Mineral/wet stone dominates the grapefruit/green apple nose, but the fruit takes over big-time on the palate, with a nice herbal quality as well. Only one barrel of this terrific Sauvignon was made.
1995 F.X. Pichler Gruner Veltliner Dornsterner Kellerberg (Smaragd) Wachau: This pale-medium gold has a "canned peas nose and a black pepper palate," according to Madame L'Pour; I got added notes of bees wax and honey. While this didn't wow me like it does Joe, I'd like to spend some more time with it and get to know it better, as I found it most intriguing.
The crowd seemed to be smaller than last year's, which wasn't necessarily a bad thing from our point of view. We had another excellent experience at our favorite winery, and best of all, we got to hang around after most everybody else left. Once again, Delia Montesinos and Kathy Martinich had invited us to stay for the staff party, so how could we refuse? While Kim retrieved our car from the lot, I was given a taste from a bottle sitting all by its lonesome. It proved to be a particularly interesting treat.
1997 Ridge Lytton Syrah ATP; 88 % Syrah, 12 % Viognier, 14.6 % alc.: This inky garnet won't be released until November or December, but it sure tastes great right now! (I was able to get a second glass to confirm that assessment…) Inky garnet, pink at the rim, this has a big Draper perfume sweet oak/plum/blackberry/blueberry/pepper bouquet that echoes gloriously in the flavors. Like last year's model, you can smell the Viognier in this. The tannins and acidity need time to tame down, and it turns somewhat astringent on the finish, so I'll give mine 3-5 years in the cellar when I get my hands on them.
1996 Chateau Reynella Basket Pressed Shiraz; 13.5 % alc.: This inky garnet was poured by one of the attendees. While not as boisterous as the Ridge, it shows pretty plum/black cherry/blueberry flavors and aromas, with tannins and acidity that need time to resolve themselves. While it isn't showing much right now, this has the structure to age well.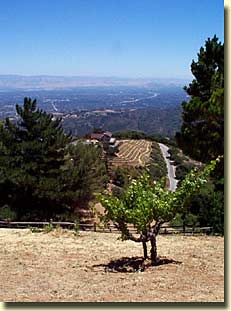 A view of Silicon Valley from Ridge's picnic area
1988 Ridge Rancho Pequeno Barbara ATP; 12.9 % alc.: Bree cooked up a killer Ravioli dish for the dinner, and was given leave to make a couple of selections from the winery's library, so he selected this and the '89 model. The vineyard doesn't exist anymore; it was only ¾ of an acre, located a few blocks from downtown Sonoma. It's a cloudy rusty garnet with mature spicy dried cherry characteristics accentuated by subtle leather/cedar nuances. This shows excellent fruit; it still has LOTS of acidity and some tannins as well. Big thumbs up for this 11 year old Cal-Italian.
1989 Ridge Rancho Pequeno Barbara ATP; 12.9 % alc.: This ruby garnet is essentially a slightly less bumptious version of the '88; it shows the same basic flavor profile in slightly more modest proportions, with less tannins and acidity. Still, it's a good 10 year old Barbara.
Thus ended another wonderful day up on Monte Bello Ridge. We took our leave, after thanking Delia and Kathy again for their warm generosity, and vowing to return next year for another rendition of Day in the Vineyard.