Kim and I decided it was time to hit the Pinot trail out left this summer. Our agenda included a trip to Portland to visit my daughter Jessica Rose aka Dolphin Girl, and of course, that's just 20 minutes or so from Oregon wine country. I made appointments with two excellent wineries, and when online wine lover Bob Wood offered to throw an offline gathering, we were all set up north.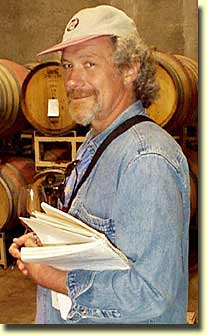 George Heritier, the scribe
Down in the Golden State, califusa made arrangements for a visit to Flowers, one of the hottest new wineries around. He also put together another great offline, featuring 10-year verticals of Ridge Jimsomare Zinfandel and Cabernet Sauvignon.
And while Ridge isn't exactly on the Pinot trail, we wouldn't think of being in the neighborhood and not attending Day in the Vineyard on July 4th.
Add visits with some of our friends (Dea Freid and Henry Harris) from the Internet wine community, and you have the makings for another fine extended wine excursion, and that's exactly what we had! We invite you to go for a ride with us. The road starts at any hyperlink found above left.
So, read on, McDuff…