THE ROAD TO BELLE PENTE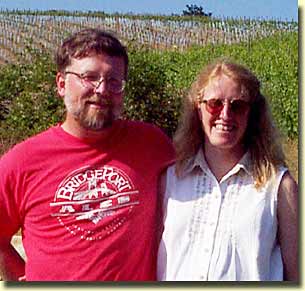 Brian and Jill O'Donnell
We like to focus on winemakers who are active on the internet wine bulletin boards, so when I first noticed Brian O'Donnell's posts on the Wine Spectator's Pinot Noir forum and Brad Harrington's WCWN, I sent him off an email, threatening him with a visit from the Gang. Once our plans started coming together for this latest trip, we followed up by scheduling a visit on the afternoon of July 8th.
Belle Pente (pronounced bell-pont) Vineyard and Winery is even further off the beaten path than WillaKenzie; the last half-mile or so to Jill and Brian O'Donnell's driveway is gravel road. Belle Pente means "beautiful slope," and the vineyard site rises from 240' to 500'. (Brian says the difference in temperature from bottom to top is quite noticeable.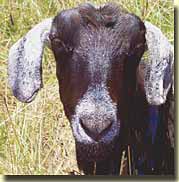 The property is quite literally one of the oldest farms in Yamhill County. We pulled up to the winery and acquainted ourselves with the resident herd of goats, while Brian finished with some recalibrations of equipment. They seemed as curious about us as we were with them, and we ended up dubbing one particularly striking critter "Bacchus," despite the fact that she was obviously a female…
Brian made his first wine in 1986, while living in San Jose. He and Jill were given the opportunity to follow their dream in 1989, when his employer, Intel, transferred him to Oregon. They planted their 1st first vineyard in 1994, with Pinot Noir, Gamay Noir, Pinot Blanc, Pinot Gris and Chardonnay. Seven more acres were added in 1998, followed by another seven in 1999, for a total of 16 acres planted, 2 of which are now in production. Their first commercial release was from the '96 vintage; much of the production is from purchased fruit, but the plan is to eventually split 50-50 between estate and purchased grapes.
Brian led us into the winery, and proceeded to let us sample everything he produces, starting with the whites.
1997 Belle Pente Willamette Valley Pinot Gris $12: This pale straw received a long cool fermentation for 4-6 months in a tank outside the winery during the winter of '97-'98. Lees contact gave a creamy quality to the ripe green apple flavors; these also showed some nice spicy nuances. Crisp and tasty, this checks in at over 13 % alcohol.
1998 Belle Pente Willamette Valley Riesling barrel sample: A pale straw, this shows lovely floral tones that pretty up the green apple bouquet, but the slightly spicy, floral green apple/mineral flavors are drier than the nose seemed to indicate. The fruit for this crisp refreshing white came from 20-year-old vines at Yamhill Vineyards. Lots of promise here.
1997 Belle Pente Chardonnay Whistling Ridge $14: This pale-medium straw features pretty toasty oak/pear/mineral/clove/cardamom flavors and aromas that show rich concentration and good acidity. Kim mentioned a note of canned peas. It saw
40 % new oak (1/2 French and 1/2 Oregonian), and came from the old 108 clone. Good value with this one.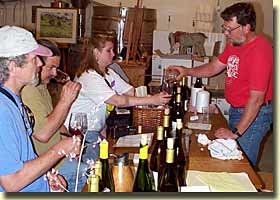 Belle Pente's barrel tasting room
1997 Belle Pente Chardonnay Whistling Ridge barrel sample: This pale-medium straw is getting 100 % new oak treatment; a yeasty note on top dominates now, but there's plenty of pretty Chardonnay fruit underneath.
1997 Belle Pente Chardonnay Maresh Vineyard: Only 2 barrels of this medium straw were produced, resulting in about 50 cases. It comes from 8-year-old vines of the new Dijon clone, and spent 10 months in 100 % new oak. The pretty vanilla/spice/pear bouquet follows through nicely on the palate. It has a creamy quality and less acidity than the Whispering Ridge, but Brian thinks it'll age well. Very nice.
1997 Belle Pente Willamette Valley Pinot Noir $16: 60 % of the fruit in this ruby garnet comes from younger Murto Vineyard vines; the remainder is from Wahle Vineyard. It has a nice spicy smoky black cherry nose with lavender overtones, but the flavors don't quite deliver what the aromas promise. Still, it's a nice Pinot, and Brian says the fruit peeks out a little more with each tasting, so this may get better with some bottle age. He added that his wines never see a pump or filter, being produced by gravity process.
1997 Belle Pente Pinot Noir Maresh Vineyard $20: Brian described this smoky ruby garnet's flavors as "nice spicy raspberry liqueur/cherry/earth," adding that the "delicate pretty fruit ages well." (And he's absolutely right if the delicious '94 that we so enjoyed the night previous at Bob Wood's offline is any indication.) It shows a nice smoky note as well, and the flavors improve on the aromas.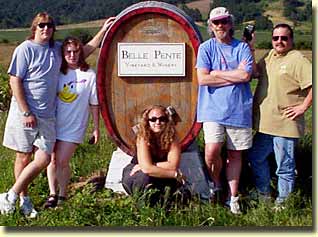 From Left: Jeff and Mary Lynne Cuppett, Jessica Heritier, Geo. T. and Allan Bree
1998 Belle Pente Pinot Noir Maresh Vineyard barrel sample: A blend from 3 different lots and 3 different clones, this ruby garnet shows an immediate note of toast out of the toaster or what Bree described as "burnt popcorn." Brian says this comes from the hydrogen sulfite produced by fermentation, and will dissipate. It has sweet smoky black cherry fruit and a nice mouthfeel, which bodes well for its future. Brian said that '98 Pinot Noir production was down 25 % across the board; they produced 15 barrels of the '97 Maresh, but only 8 or 9 of the '98.
1998 Belle Pente Pinot Noir Wahle Vineyard barrel sample: A smoky ruby dark garnet, this has a rather reticent nose at this point. Brian says it's pushing 14 % alcohol, adding "Boy, this is pretty big!" Bree commented on the "nice focused fruit flavors;" here's another one with a bright future.
1997 Belle Pente Pinot Noir Murto Reserve $25: From a 4 acre block of 20 year old vines, this ruby garnet saw 16-18 months in barrel. It features intense spicy black cherry fruit, and Brian added a note of "sandlewood," saying that's a typical characteristic of the vineyard. It shows nice rich fruit on the palate. It was bottled on May 15th, and will be released in September.
1997 Belle Pente Pinot Noir Murto barrel sample: Brian pulled and blended this for us from 3 new barrels (2 French, 1 Oregonian), saying each contained fruit from different parts of the vineyard. A ruby garnet, this shows more toast from the toaster on the nose, with rich toasty oak/black cherry flavors that show lots of promise. Brian hopes to produce 400 cases of this.
1997 Belle Pente Pinot Noir Estate Reserve: A lone barrel produced 22 cases of the luscious ruby dark garnet. Rich and intense, with beautiful black cherry/plum flavors and aromas, Brian was correct when he said it "has all the right stuff, with tannins, acid and deep fruit to age a long time.
1998 Belle Pente Pinot Noir Estate Reserve barrel sample: 15 % alcohol. A very yeasty, almost licorice quality on the nose reminded Bree of Good 'n' Plenty candy; Jeff got a little mint as well. Brian was candid, saying, "This one got away from us a little; we'll move it to an older barrel and let it hang for a year or so and see what happens."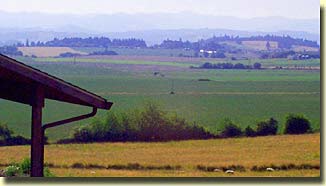 The view from Belle Pente
After we were done tasting, we adjourned to the yard out in back of the winery, where Jill joined us with bread, cheese and some homemade cider that was quite good by all accounts. (I continued to sip on Pinot Noir myself.) We chatted for another half-hour or so, enjoying the late afternoon sun and the lovely view of the valley spread out before us.
Like the day before at Chehalem, we were very fortunate to have been able to visit not only a very high quality operation, but also to meet such very nice people. Brian and Jill have a bright future with their Belle Pente Vineyard and Winery, one that we'll enjoy keeping an eye on for years to come.
Read about Belle Pente's beginnings in
Brian O'Donnell's own words

Belle Pente Vineyard & Winery
12470 N.E. Rowland Rd.
Carlton, OR 97111
503-852-6389
503-852-6977 (FAX)
E-Mail: Brian O'Donnell

TOP OF PAGE