THE ROAD TO FLOWERS VINEYARD & WINERY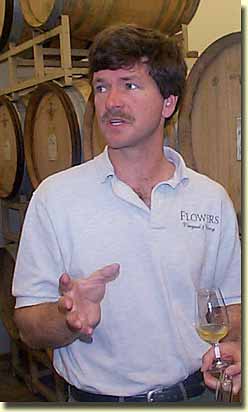 Greg La Follette
We completed our tour and drove back to Camp Meeting Ridge, where we found General Manager/Winemaker Greg La Follette walking down the drive towards the winery. He had a matter to take care of, so after brief introductions, we continued on our tour of the "old" estate, but we'd meet up again shortly. We'd also meet Michelle Forry and Tammy Nobles in the office, and Luke Porter Bass (yes, from the family that owns the Porter Bass vineyard) in the winery; all three are very essential members of the extended family that makes this place work.
Flowers is a thoroughly modern winery, with a gravity flow operation, a humidification system in the chai to reduce evaporation loss from barrels that is the first of its kind, and stainless steel fermentation tanks designed to their specifications. (For a more complete description of the operation, see the Flowers Winery page) And best of all, there are the vineyards. While grapes are purchased from other sources, including Hirsch, Pisoni and Porter-Bass vineyards, the Camp Meeting Ridge fruit is the backbone of the operation.
CMR has 24 producing acres, with 6.5 planted on mxm spacing. In the last year or so, they've added 8.5 acres of Chardonnay. The Estate has a total of 321 acres.
As we toured the facility and listened to Greg explain how things were done there, his incredible passion became increasingly obvious. Here's some of what he had to say:
"Joan and Walt are very hands-on owners, and best of all, they have the grapes. We're a strong team with a deep bench. We live the wine. Wine is more than winemaking, it's a lifestyle. We're not trying to manipulate the grapes, we're asking them to manipulate us. Our job is to treat our grapes like our spouses. If you treat Pinot Noir with a great deal of respect, it will reward you ten-fold. The grapes speak and will tell you when you've insulted them. We're the ultimate anal retentive winery; we do everything for the wine."
We were treated to tastes from several barrels, and all were very impressive: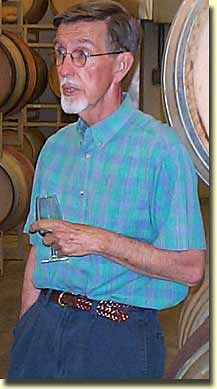 Walt Flowers
1998 Chardonnay blend: from three or four vineyards. Medium straw to pale gold; beautiful vanilla/tropical fruit nose; Greg described crème brulee and peach flavors and high natural acids, noting that Flowers Chardonnays have twice the natural acids of many other California Chardonnays, and malolactic fermentation is employed to bring those levels down.
1998 Porter Bass Chardonnay: Deeper gold than the first sample, with lovely clove/nutmeg on the nose and more finesse than the blend. Greg called the fruit "very expressive this vintage," and said both wines will be bottled in August.
1998 Camp Meeting Ridge Chardonnay: Greg called this wine "full boogie tilt," and "pulling out all the stops." While my brief notes only mention a deeper gold color, luxurious and high extract character; there is no doubt that this is some serious, serious Chardonnay.
1998 Camp Meeting Ridge Pinot Noir: Greg called this the mishmash barrel, and commented on the huge color, tannin and sweetness of fruit, despite only 12.8 % alcohol; he said this cool climate Pinot has the longest hang time in California. He noted Indian spice in the flavors and aromas, while Joan mentioned cardamom. These complimented the huge black cherry essence of the wine. While we were being wowed by this, Greg stated "This is a magic place, a happy, favorite site for Pinot." This point was becoming increasingly obvious to us.
1998 Mendocino Zinfandel: Yes, Zinfandel! 15.1 % alcohol and no heat to speak of at this point, just big spicy fruit without much oak. Greg said they were just concentrating on the fruit. Pure beautiful stuff!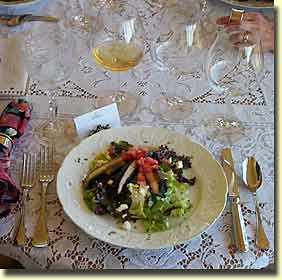 Sandra's mixed green salad with grilled portabello mushrooms and citrus-white truffle oil vinaigrette


We were running a little behind schedule, so we finished up in the winery and walked back up to the house, where Sandra had prepared a wonderful lunch for us all. We were seated on the screened in porch that surrounds the house on three sides, and more than once, I found myself drifting off in the distance while viewing the gorgeous panorama that spread out all around us.
And, yes, the wines were all from Flowers…
ROAD TO FLOWERS FRONT PAGE | FLOWERS PART 3 | TOP OF PAGE