SATURDAY: 15 '94 CABS!!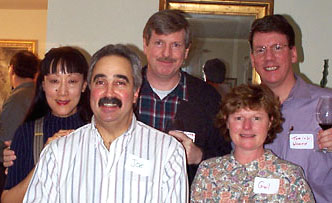 Back row: Wilma, Dave and Tom
Front row: Joe and Gail
We were up at 9, after a good night's sleep. One shower and a big breakfast later, we were back at Casa Francisco by noon, where people gradually arrived over the next few hours. By the time everyone had gathered, the previous evening's ranks had expanded to include John (JFO) and Chris Fodera, Mark and Pat Salinas, Dave (Vino Lover) Cuneo and Wilma Loo, James (Jamie B.) Biancamano, Eric Blanz, Dwight Merriman, Paul Silberbush, Michael Kulper, Chris (Gus) Heye, Dave (dj51) Janelle, Harry Cantrell (Pauillac), Rob Finch, Joe Forgione, and Richard Chamberlain. (No, not THAT Richard Chamberlain! The last three gentlemen also served as the stem washing crew, for which they are to be highly commended.) Aris' co-workers Simon Juen and Jan Glassner would arrive a little late, but still take part in the festivities.
We sipped on a few wines before the big blind Cab tasting, while getting acquainted with everyone. Aris was indeed all over the place, doing whatever needed to be done to make things happen. Wife Jean and personal assistant Fe toiled tirelessly (or so it seemed) in the kitchen, preparing an endless stream of wonderful foods.
Front: geo t.
Back: Rodney
T-Rex was starting to get the Rodney spasmoid thing going a little…
We were careful not to overdo it on the pre-tasting wines, taking small pours, munching on things that would sop up the wine and re-hydrating occasionally. Still, I tasted five lovely selections, taking these notes:
1996 Peter Michel Napa Chardonnay Clos du Ciel: This medium pear shows a nice pear/subtle vanilla/hint of matchstick/cream and butter nose with rich pear/brown sugar/subtle sweet pea flavors. The oak isn't overdone and there's good acidity here.
1996 Talbott Monterey Chardonnay Sleepy Hollow: We liked the '95 model, and this medium straw is in the same vein, with toasty oak/asparagus/pear flavors and aromas. The oak is sweeter and there is even more cream and butter than in the Clos du Ciel, with a nice finish and enough acidity to keep it lively. I may have preferred the first selection slightly, but in fact both are very nice California Chards that don't fall into that fat overoaked camp.
1990 Tignanello: As soon as I saw this wine was opened, I finished my Chardonnay a bit faster than I might otherwise have done, since I had never tasted "Tig," and didn't want to miss out. I'm glad I did, because it was one of the standout wines of the weekend for this taster. 20% Cabernet Sauvignon and 80% Sangiovese, this ruby garnet has wonderful flavors and aromas of dried cherry/black cherry/smoke, and a wee hint of nuttiness. JFO added impressions of tobacco/cedar, and I'd agree. He put it better than I when he posted,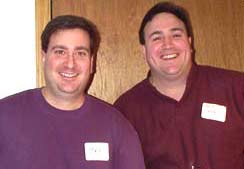 L to R: JFO and Jamie B.
"This was an utterly amazing wine for its shear brawny power while maintaining its elegance at the same time. It is hard to diminish the experience to words." He and Jamie B. were so impressed with my enthusiasm for this and a recently tasted '90 Summus, they discussed making me an honorary Eye-talian! Call me Georgio…

1990 Caymus Napa Cabernet Sauvignon Special Select: Caymus takes some knocks for a variety of reasons, but I found this to be very nice. Ruby-dark garnet in color, with initial notes of big oak/dill that gradually integrate into the red currant/chocolate/cinnamon/brown sugar flavors and aromas, it is medium full bodied and silky smooth. If it didn't impress quite as much as the "Tig," it didn't pale in comparison either.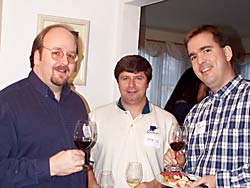 L to R: Eric Blanz, Joe Cz
and Dave Dyroff
1994 Flowers Camp Meeting Ridge Pinot Noir: Flowers has been getting a LOT of attention lately as THE major new Pinot producer, due in no small part to Rodney's widely posted advice to "RUN, DON'T WALK" to get your hands on some of their wines. And he isn't wrong, if this and a '96 Moon Select sampled on Sunday are any indication. It shows excellent color for a Pinot, with a dense dark garnet hue. It has concentrated smoky black cherry/tea leaf flavors and aromas; Madame noted allspice/nutmeg as well. Have to agree with Joe Cz though; it is quite tannic and needs time.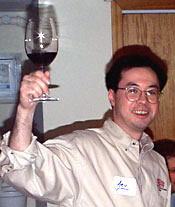 On your mark... Aris
By now, it was 3pm and time for the blind tasting. There were 15 1994 Cabernet Sauvignons (4 bottles each), all from Aris' cellar, tasted in 5 flights of 3, served in Riedel Vinum Bordeuax glasses. I must confess to once again spitting through the 1st four flights, in utter defiance of our Gang motto. My notes:
1. Dark garnet; Wow! Hershey's Cocoa Powder dominates the red currant cassis nose; red currant/cassis/chocolate flavors with a hint of dust; full bodied; concentrated; good tannins. Chateau Montelena Napa.
2. Dark garnet; some chocolate on the nose with a streak of bell pepper; rich chocolate/cassis/plum flavors; more tannic than #1; Gus says this is more Bordeaux-like than the first wine. Pahlmeyer Napa Cabernet Blend.
3. Dark garnet; floral perfumed violets on the nose; dark fruit; Moe says soft velvet-y tannins and the most balanced of the three, and I agree; the groups clear favorite, and mine as well. Etude Napa.
4. Ruby garnet with a touch of rust; reticent nose; Moe says compost pile; lighter than the last three, but ample tannins; cassis/cedar/cigar box and a little green pepper; out of its league. Montevetrano, an Italian ringer.
5. Dark garnet; hints of dust and chocolate; red currant/ cassis/chocolate; "classic cedar-y Cab," according to Vino Lover Dave; good tannins and acidity; most agree this is clearly the best of these three. Shafer Hillside Select.
6. Dark garnet; bell pepper and other stink on the nose; cassis/plum/burnt rubber; the green streak detracts for Kim, Moe and me; Rodney says this rocks, but he's in the minority. Philip Togni Napa.
7. Dark garnet; slightly dusty red currant nose, some chocolate emerges with air; cassis/red currant/chocolate flavors, Moe gets a little leather; my favorite here, most others' as well. Grace Family Vineyard 29.
8. Dark garnet; weedy vegetal nose; black cherry/red currant flavors with some red licorice on the finish; Vino Lover Dave likes this, calling it a "new wave Barolo!" He's one of the few though. Venge Reserve.
9. Wow! Really different nose! Kim and I both get burnt toast/coffee; Moe adds tar; but this may be the 2nd weakest wine so far. Thin on the midpalate and finish. Shock when this is revealed to be Chateau Mouton Rothschild Pauillac, a cheap Bordeaux ringer...
A weak flight.
10. Dark garnet; pretty red currant nose with a hint of red licorice and maple syrup; good acidity with a certain sweetness; slightly astringent finish. Moe asks, "What's that expression? This wine completes me?" White Cottage.
11. Dark garnet; dark fruit/hint o' burnt rubber nose; cassis red currant flavors and again, a little burnt rubber; Moe gets butterscotch/caramel; Gus says "Bordeaux-ish." Caymus Napa Special Selection.
12. Dark inky garnet; mint over red fruit nose follows through on the palate with some chocolate/bell pepper; my favorite; group's favorite too. St. Francis Sonoma Reserve. These 3 are all similar – a tough call.
13. Dark garnet; dark cassis/tar nose; cassis/dark chocolate flavors; Kim said, "skunk;" Vino Lover and I said, "rubbery;" Moe expanded, saying, "locker room shower shoes." Gus called this one, naming it the Mondavi Napa Reserve.
14. Dark garnet; sweet oak/pine needles(!)/mint; almost sweet red currant flavors; my favorite of the flight. Di Stefano.
15. Dark garnet; sweet oak/maple syrup/toffee/dill. Group favorite, and really neck and neck with the previous wine. Leonetti.
If my notes on the last two wines are rather brief, especially considering how delicious they were, I can only say that this was a long tasting, and I quit spitting on the last flight! Afterwards, 1st place votes were tallied, with these results:
Leonetti – 9
Etude – 6 (my personal favorite)
These were the clear favorites; none of the others came close. This was a fabulous tasting, with some real surprises, both positive and negative.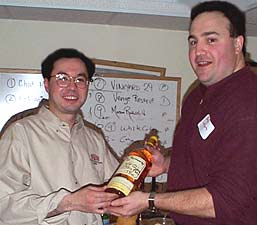 Aris receiving his mag of d'Yquem
Afterwards, Jamie B. was elected to make a presentation to our host as a token of the group's esteem. Rodney had arranged to have Eric B. procure a magnum of 1988 Chateau d'Yquem, with everyone pitching in to cover the cost and signing the bottle in gold ink. It was a nice moment and a fitting tribute to this fine gentleman's generosity.
We then sat down to an absolutely terrific dinner with Beef Wellington as the focal point. I quit taking notes, but continued to enjoy some extremely fine wines including an '85 Ridge Monte Bello, a '90 Chateau Beaucastel Chateauneuf-du-Pape, and a 1989 Chateau d'Yquem.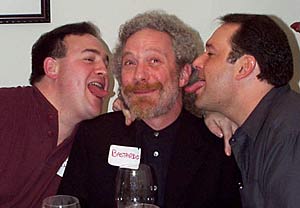 L to R: Jamie B. geo t. and Rodney (T-Rex)
The camaraderie was fantastic, and T-Rex, Jamie B. and this taster all remained on our best behavior. };^)>