While we tend to gravitate towards earthy Euro-trash wines, lately, we've had occasion to sample a number of Californians, thanks to both professional and private connections, and most of them have been pretty darned good. Here are our impressions of what's crossed our paths lately, starting with a few whites.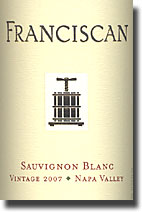 2007 Franciscan Napa Sauvignon Blanc, 13.5% alc., $17.99: Clean medium straw color, with a pretty gooseberry grapefruit nose that follows through on the palate with a slightly bitter minerality, medium intensity and a somewhat dull finish that never quite lives up to the promise of the aromatics. Medium full-bodied, with good acids, this is good, but that's all; it's really nothing special. Find this wine

2007 Mazzocco Sonoma Chardonnay, 13.5% alc., $18.99: Pale gold color, with pretty apple and pear flavors and aromas; fairly ripe, with balanced acids, a judicious kiss of oak and a note of apricot. This pushes the envelope with ripeness, but never quite crosses the line, and while it's not my preferred style of Chardonnay, a 2nd glass is as enjoyable as the 1st. It would like a nice plate of grilled shrimp. Find this wine
2006 Mazzocco Sonoma Cabernet Sauvignon, 13.5% alc., $18.99: Youthful purple garnet color, with a pretty black plum and black currant nose accented with some restrained oak, all of which echoes and expands on the palate with added notes of cedar and subtle dusty cocoa. Rich and expressive, with smooth texture, good structure and a nice finish. Find this wine

2006 Mazzocco Sonoma Zinfandel, 15.2% alc., $18.99: Good dark color, with flavors and aromas of pretty oak, dusty cocoa, root beer-cola first and foremost, and black raspberry in support. Velvety smooth and balanced, with good structure and length. This is one for our colleague Alan Kerr aka Canadian Zinfan. Find this wine

After tasting through a number of mostly late-model Ridge wines recently, we decided to try some things with a few years on them with our friends Shar Douglas and Ken Hebenstreit.

2002 Ridge Stone Ranch Sonoma Zinfandel, 95% Zinfandel, 5% Petite Sirah, $24, 14.8% alc.: Deeply, darkly colored, with aromatics of black raspberry, sweet oak and a hint of dill that don't exactly jump out of the glass; things pick up nicely on the palate, however, with like flavors and "dusty, leathery" qualities, according to Ms. Douglas. Not too ripe, a little more old school in style, and well structured for at least a few more years of holding. I'm not sure that it will "improve," but it should certainly be interesting and enjoyable for some time yet. It almost reminds me a little of some of the old Lytton Springs Winery Zins, and has developed nicely since we last had it. Find this wine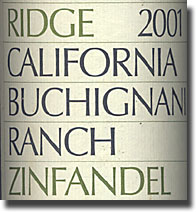 2001 Ridge Buchignani Sonoma Zinfandel ATP, $22, 76% Zinfandel, 23% Carignane, 1% Petite Sirah, 14.3% alc.: Here's another one that's come along nicely since we last tried it. Clean, dark color, with a touch of sweet oak, vanilla and dill over ripe, somewhat earthy black raspberry and blackberry in both flavor and aroma. Very smooth on the palate and deceptively well structured, this one is still on the way up, with several years of pleasurable drinking ahead of it. The aromatics aren't exactly "Draper perfume," but do present a pretty perfume, nevertheless. Find this wine

2001 Ridge Buchignani Sonoma Carignane ATP, 1% Zinfandel, 99% Carignane, 14.3% alc.: Clean dark color, and not giving much on the nose; in the mouth, this is a well mannered red, not at all boisterous, coming off as something like a cross between cranberry and beetroot, with some understated earth in support. Medium full to full bodied, this is drinking nicely and still well structured for some years of holding, but this isn't likely to improve. I'd almost characterize this as being "mellow;" perhaps not the "geekiest" of wine terms, but it seems to fit here. Find this wine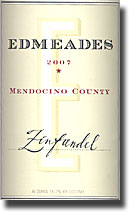 2007 Edmeades Mendocino Zinfandel, 15.2% alc., $17.99: Clean ruby garnet color; rich and slightly earthy black and red berry and cherry shaded with a touch of spice. Rich and round, full bodied without any excess of any kind, and with good structure and length. This is a nice expression of Zinfandel, made just the way I like it. Find this wine

2000 Edmunds St. John Los Robles Viejos Paso Robles Red Wine Rozet Vineyard, 45% Mourvedre, 30% Syrah, 21% Grenache, 4% Counoise, 14.1% alc., $27.99: We went through quite a few of these back in 2006, but it's too bad that I didn't stash a few for later, because not only is it drinking quite well, it's still on the way up. Happily, I sold some to Shar and Ken, and imposed upon them to open one to see where it is at, and they were most obliging. Showing good dark color, with no rust as of yet, it gives off a very dusty nose at first, with earthy, leathery plum and berry in both flavor and aroma. Two tasters mention mint and camphor on the nose. Full bodied, with a smooth texture that belies the ample structure, this is very nice now and bound to get better over at least the next few years. Find this wine

2001 Edmund St. John California Red Wine Rocks and Gravel, 14.4% alc., $21.99: Here's another one of Steve Edmunds' reds that still not only going strong (we first had it in September of 2006), but has yet to peak, and may in fact be some years away from doing so. It could easily be dropped in a blind tasting of southern Rhônes as a ringer and fool a few people. It shows a clean dark garnet color, and is all earth, iron, underbrush, black fruit and beetroot, full bodied, well balanced and very well structured. This is just lovely. Find this wine

To be honest, I never liked Pleiades XIII that much for the 1st year or so after it was released, and I don't think I ever posted any notes on it for that reason, but this next one gives ample evidence that perhaps we were a bit hasty in consuming our bottles too early. It's another that Shar and Ken opened for us, and I didn't get any numbers on it, thinking I already had them. Silly me!

Sean Thackrey Pleiades XIII California Old Vines Red Table Wine: Pretty garnet color, with an earthy, tarry nose and soft, earthy raspberry and cranberry flavors; medium to medium full bodied, and the smooth texture in the mouth adds to the appeal. Pleasant and well mannered, but I wouldn't hold on to any of these for too much longer, because they're probably at or just past their prime. Find this wine


2005 Domaine De La Terre Rouge Tete-a-Tete Sierra Foothills, 56% Syrah, 28% Mourvèdre, 16% Grenache, 14.5% alc., $13.99: Deep dark color, with a rich plum and berry flavors and aromas accented with some subtle toffee; any more of the latter and I'd find it off-putting, but as it is, it's a nice compliment. Smooth in texture, with enough structure to grilled red meats and roast beef. Don't lay it down, drink it now. This was a hit at the gathering where we tried it, but Kim wasn't wild about it and one glass was enough for me. Aged for 16 months in François Frères barrels. Find this wine

2006 Rocca Family Vineyards Napa Bad Boy Red, 54% Cabernet Sauvignon, 34% Cabernet Franc, 12% Petit Verdot, 14.5% alc, $26.99: Good dark color, with dog fur and black fruit on the nose; on the palate, it offers plum, currant and toffee flavors. Smooth, with moderate structure for current drinking and a few years in the cellar. I liked this with a snapshot taste with the local distributor, but not so much with further consideration. A little too fruit forward and a little too much oak for this taster. Find this wine

2006 Bearboat Russian River Valley Pinot Noir, 13.5% alc., $15.99: Ruby red in color, this exudes pretty aromatics of smoky black cherry and red plum shaded with a hint of cola nut. The flavors echo nicely with some subtle earth in support on a medium full bodied frame, and while the wine is structured for at least 2-3 years of aging and development, it's already drinking nicely, especially when paired with grilled salmon and roasted pork loin or turkey. It's a rare Russian River Valley Pinot Noir that can be had for under $20, and this one is quite pleasant. 95% Pinot Noir, 5% Old Vine Gamay from 100% cool climate Russian River fruit. Find this wine

Reporting from Day-twah,

geo t.

Other Recent Wine Explorations
Red Wings & Red Rhônes 2009: Côtes du Rhône-down
Brad Baker: Champagne Warrior!!!
Holiday Hi-jinx with
Mister Ridge and more…
Red Wings & Red Rhônes 2008-09
"Breakfast" Wines from Chile and Argentina
A Hattrick in Triple Overtime Redux:
Recent Wines from Igor Larionov
Samples Up the Waz!

Back to the February 2009 Index
Back to the Underground Index

Back to the Top



© George Heritier February, 2009