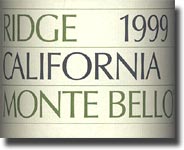 1999 Ridge Santa Cruz Mountains Monte Bello Chardonnay, $23.99, 14.5% alc.: We hadn't tasted this since Ridgestock, and when we heard that a local Costco had it for the price listed, we ran right out and got some, opening one as soon as Kim could chill it down some in the fridge. The color of the second pee of the morning, it's showing toasty oak in good proportion to the pineapple, pear character that is shaded with a faint hint of butterscotch. Elegant, refined, perhaps somewhat restrained and not quite delicate, good acidity keeps this moving right along with a smooth, polished mouth feel, and some mineral on the nice finish. As it opens, some toast comes out on the nose, and a certain creaminess emerges on the palate. A very nice chardonnay that is drinking quite well, now and over the next few years.

2001 Ridge Buchignani Zinfandel ATP, $22, 76% Zinfandel, 23% Carignane, 1% Petite Sirah, 14.3% alc.: Deep dark garnet in color, with sweet oak, sweet spice, blackberry, black raspberry and a little briar and bramble. Rich, dense and concentrated on the palate, with moderate tannins and a reasonably long finish. I particularly like the briary qualities, and as it opens, it gets better and better, gaining a bit of a creamy quality to it. Very good now, and better in a few years, this is certainly the best Ridge Buchignani Zin so far.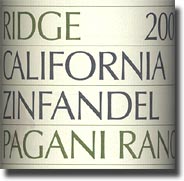 2001 Ridge Pagani Ranch Zinfandel, $28, 88% Zinfandel, 8% Alicant Bouschet, 4% Petite Sirah, 15.4% alc.: This dark garnet Mr. Ridge shows lovely Draper perfume on overripe black raspberry and black cherry aromatics that jump right out of the glass and follow through on the palate with a dense, ultra-smooth texture, developing just a bit of a bite on the finish from tannins and acidity. Short term cellaring should rectify that minor draw back, but one doesn't need to be a tannin pig to open and enjoy one of these tonight. Probably drinking the best of Ridge's regular release Zinfandels right, but watch out for the Lytton Springs and Geyserville a ways down the road.

2001 Ridge York Creek Zinfandel Late Picked, $28, 78% Zinfandel, 20% Petite Sirah, 2% Carignane, 15.9% alc.: A slight dustiness quickly blows off the nose of this deep dark garnet, allowing the rich, voluptuous fruit to shine through, ranging from the darker berries through a certain plum-y-ness, and of course, there's all that Draper perfume. On the palate, this is thick, with an almost syrah-like density; in fact one could almost describe it as "fat" (and I mean that in the kindest possible way), and it gains a certain creaminess as it opens. A very nice selection in a fine line-up of 2001 Ridge Zinfandels.

2001 Ridge Lytton Estate Grenache ATP, $24, 78% Grenache, 12% Petite Sirah, 10% Zinfandel, 14.4% alc.: Ruby dark garnet in color, with a pretty nose of strawberry and raspberry, accented by soft floral overtones and hints of baking spices that follow through on the palate with moderate tannins, relatively low acidity and a soft, somewhat plush but not quite fat texture. Eminently drinkable, according to Kim, and probably the best Lytton Grenache since at least '97. It pretty obvious that this saw a regimen of mostly three, four and five year old barrels, as the oak isn't at all overdone.

2000 Ridge Paso Robles Zinfandel, $25, 14.8% alc.: This dark garnet is obviously lacking some depth, in comparison to the more substantial 2001s that we've been enjoying lately. Still, it's showing nice, solid blackberry and black raspberry character, with moderate tannins and a fair dose of Draper perfume. As our friend Bill Lucas observed, "It has a little thinness on the back-end," but despite that, it's drinking well right now, and we won't be saving the rest of ours for more than a year or two.

2000 Ridge Pagani Ranch Zinfandel, 88% Zinfandel, 9% Alicante Bouschet, 3% Petite Sirah, $27.50, 15.2% alc.: More substantial than the Paso Robles, this deep dark garnet kicks out big, overripe blackberry, black raspberry and even a little plum, with a good dose of Draper perfume and a note of chocolate that comes out with air. Almost over the top, this is a little too much for Kim, but I like it fine, as does Bill Lucas. It's not too tannic, with good acidity and a nice finish, and there's no reason not to open one and enjoy it tonight.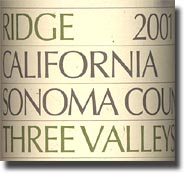 2001 Ridge Sonoma Three Valleys™, $19.99, 50% Zinfandel, 15% Petite Sirah, 15% Carignane, 11% Mataro, 9% Grenache, 14.4% alc.: Made from the fruit of six different vineyards in the Alexander, Dry Creek and Russian River Valleys, this ruby dark garnet exudes a pretty Draper perfume, raspberry and bubble gum bouquet that carries over into the flavors with soft tannins, a smooth mouth feel and a nice finish, where it turns a little dusty. Kim gave impressions of "very raspberry." Not too complex, but a pleasant, straightforward Mr. Ridge to enjoy over the next few years while letting the big boys mellow down easy.

2002 Ridge Mataro Pato Vineyard ATP, $24, 75% Mataro (Mourvedre), 25% Zinfandel, 14.9% alc.: Dark garnet, showing big creamy Draper perfume over raspberry and plum character, this lovely wine is very smooth, not too tannic, rich and ready to go right now. Kim added impressions of "all stewed stone fruits," and as it opens, it becomes even more floral and perfumed, showing just a hint of a certain meatiness, as well. While this will certainly provide excellent drinking over at least the next few years, it's so good already, we drank up both of our two allocated bottles. None for Canadian Zinfan, sorry!




Report from Zinfinity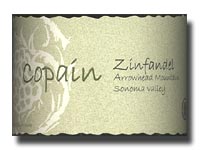 2001 Copain Sonoma Valley Zinfandel Arrowhead Mountain, $48.99, 15.5% alc.: An initial whiff of bell pepper blows of quickly, then this deep dark garnet Zinfandel exudes bountiful aromatics of rich, dense, not quite overripe blackberry, mulberry and plum characteristics, with smoky, gamy undertones. These follow through expressively on the palate with some serious density and extraction, along with some tannins that make themselves known mainly on the finish, turning briar-brambly and showing just a little heat. An added note of chocolate emerges with air, and while one could almost characterize this as syrah-like, does that disqualify it from serious consideration, like the same descriptor does for pinot noir, in the opinion of some? I don' think so! Despite the slightly hot note on the finish, this is one impressive Zin, and it had better be, for the price tag.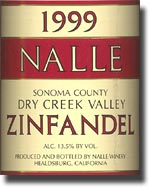 1999 Nalle Sonoma Zinfandel Dry Creek, 13.5% alc.: Allan Bree wasn't far off when he described Doug Nalle's Zins to me, at least with this one: "that somewhat austere, claret style, not unlike Storybook Mountain." Ruby dark garnet in color, this features earthy blackberry, black cherry and plum flavors and aromas, with nice notes of bramble and briar. It has a sleek yet full-bodied mouth feel, being rich yet restrained at the same time, with fine tannins, balanced acidity and a nice long finish. A different expression of Zinfandel than seems to be in vogue these days, but a refreshing and satisfying one; this should improve over the next five years or so. Many thanks to Mitch Tallan for generously gifting this to Kim and this taster, who'd, perhaps surprisingly, had no experience with Nalle Zins.

2001 Neyers Contra Costa County Zinfandel Pato Vineyard, $27.99, 15.9% alc.: This exudes effusive aromatics of sweet spice, sweet oak, plum, black raspberry and blueberry, and they follow through impressively on the palate with a plush, thick, luscious mouth feel. It's not too tannic, and Dan Myers observed that it has "good fruit without being too jammy,' and he rightly noted a briary quality. Notes of coffee and maple syrup emerge with air, and my only complaint about this otherwise fine Zin is that it has a bit of an alcoholic burn on the finish.

2001 Robert Biale Contra Costa County Zinfandel Old Pato Vineyard, 15.5% alc.: We thought it would be interesting to compare this with the Neyers effort, reasoning that they must be from at least the same general location, if not the same specific vineyard, but in fact, this one suffered some in the side-by-side tasting. It's a deep dark garnet in color, with vanilla, aquarium, raspberry, cherry, briar and bramble flavors and aromas. It's not as substantial on the palate as the Neyers, and it has an almost raspberry soda pop aspect to it; it's moderately tannic, somewhat hot and finishes a little short.

2001 Seghesio Sonoma Zinfandel Old Vines, $26.99, 15.3% alc.: Shar Douglas described this dark garnet as "mushroom-y and earthy," and I detected an initial note of laundry detergent on the nose that blows off before too long. It has a spicy sweet oak, raspberry and black cherry character and a slightly fat density to it; there are some drying tannins here, but not seriously so, and it turns creamy as it opens. Very nice with Kim's fennel rubbed grilled pork tenderloin, black trumpet and morel mushroom ragout, caramelized onions, grilled polenta and pea pods. Our friend Deb Hart likened the wine to "a cozy quilt."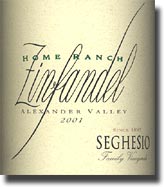 2001 Seghesio Alexander Valley Zinfandel Home Ranch, $27.99, 15.3% alc.: Deep dark garnet in color, with creamy blackberry and black raspberry flavors and aromas shaded with toasty overtones, this is rich and ready, and it should improve with a few years of bottle age. Some chocolate comes out with air, and while the Old Vines made this year's WS Top 100 list , it's hard to choose between these two delicious Seghesio Zins when tasted side by side.

2001 Seghesio Dry Creek Valley Zinfandel Cortina, $29.99, 15.2% alc.: A deep dark garnet with a sweet oak, raspberry and sea air bouquet that follows through in the flavors with some added chocolate, this is yet another very nice Seghesio Zinfandel. It shows soft tannins, good acidity and a nice finish, and as it opens it develops subtle floral aromatics. Not as dense as an '00 Pagani tasted just beforehand, it's balanced and fruit forward, yet elegant, Bill Lucas added an impression of "a lot of earth in there."