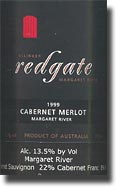 1999 Redgate Margaret River Cabernet Merlot, $24.99, 70% Cabernet Sauvignon, 22% Cabernet Franc, 8% Merlot, 13.5% alc.: We've been impressed with just about everything we've tasted from this region of Southwest Australia, and this deep dark garnet is no exception. It features a perfumed black currant, cassis bouquet shaded with a subtle note of mahogany, and these follow through in the flavors. It has the structure to be a ten year wine, and the tannins clamp down some on the finish. Not an oak and fruit bomb, this is a fine Aussie claret that drinks well enough now, but really begs for another three to five years to soften up and develop.

Imported by Oz Pacific Wines, Inc., Ipswich, MA

1999 Clarendon Cabernet Sauvignon, $23.99, 13.6% alc.: A deep dark garnet colored libation with dusty, toasty oak, black currant and cassis flavors and aromas shaded with minty little things in the background. Moderately tannic, with good concentration and a decent finish that turns a bit earthy, this is a sleek wine that shows true varietal character. A good Aussie claret at a fair price.

1999 Parker Coonawarra Estate Cabernet Sauvignon Terra Rossa, $24.99, 14% alc.: This dark garnet Aussie "Cab" is an atrocity, nothing more and nothing less. All oak and mirrors, it out-woods almost any red wine I can ever remember drinking. It even out-oaks Estancia Meritage! Hello?! Is there even any fruit here??!! It's all creamy oak, cocoanut and some root beer, and that's all. Is it very smooth, with most of the tannins oaked away? Yes it is. Is there even a hint of cabernet sauvignon character to it? No, there isn't, and while that is not always a bad thing, in this case, it's a travesty. There are a lot of Australian wines that show a good deal of oak that I still really like, but this is not one of them.

Imported by Franklin Selections, Appellation Imports, Annapolis Junction, MD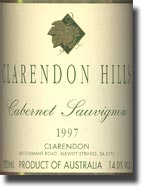 1997 Clarendon Hills Cabernet Sauvignon Clarendon, $47.99, 14% alc.: A note of jalapeno initially dominates the nose of this deep dark garnet, finally blowing off after an hour and a half to reveal a nice cassis, black currant and black cherry bouquet that follows through in the flavors with excellent intensity, a good dose of earth and at least three or four years' worth of tannins. Seemingly somewhat lean at first, it opens and evolves into a sleek, elegant wine, gaining a certain spiciness in the process. The fruit is rich and delicious without being over the top, with oak in good proportion and excellent structure. This obviously has its best days still ahead of it, but if you just can't wait, give it at least an hour in a decanter. Very nice wine indeed.

From The Australian Premium Wine Collection, Imported by USA Wine West, San Rafael, CA

2000 Hewitson Miss Harry Barossa, 72% Grenache, 27% Shiraz, and 1% Mourvedre, 13.5% alc:Bobbie Parker describes this ruby garnet colored libation, made from 50 and 80 year old vines, as resembling "a hypothetical blend of a grand cru red Burgundy and a top-notch southern Rhone," and I suppose he has a point. It may even lean more towards the Burgundian spectrum for this taster, being medium to medium full bodied, with a plummy, cherry stick, road tar and hint of the barnyard bouquet that follows through on the palate with that "candied" aspect that one gets so often from Aussie reds. It's not that tannic, with decent acidity and a reasonably long finish, making for a quite pleasant, even charming glass of wine, and it should continue to drink well over the next few years, anyway.

A 2nd taste of this showed a definite note of "petrol," more like a quality found in aged riesling, and rather unusual for a red wine. In this case, it was quite enjoyable, even if it did inspire me to refer to it as "Dirty Miss Harry." A 3rd taste showed a slight camphor-like note for a little while, but nothing nearly as overt as the previous encounter; it also finished a bit shorter than the earlier tastes. A little bottle variation doesn't diminish a good buy at $21; way overpriced at $31, as was the case at one Detroit area retailer.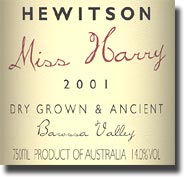 2001 Hewitson Miss Harry Barossa, $21 Can., 65% Grenache, 20% Shiraz, and 15% Mourvedre, 14% alc: This ruby dark garnet boasts a brighter bouquet than the '00, showing sweet spice, candied raspberry and black cherry kissed with pretty oak and briefly oozing a hint of tar. Flavors echo with a little earth at first, but brighten as they open, with medium to medium full body, enough tannins to improve for at least a year or two, balanced acidity and a nice finish. However, this is a delight to drink right now, and willpower be damned, crack one open tonight! Many thanks to Alan Kerr for procuring this for us from Ontario's LCBO Vintages.

Kim seemed to prefer the 2000, calling it "deeper, richer, more lush," while I favored the '01 slightly. Despite their light-heavyweight frames, both vintages display a density and intensity that grow as they open. My advice might be to decant both for at least a half an hour before serving to let them put on some weight.
From The Australian Premium Wine Collection, Imported by USA Wine West, San Rafael, CA

2000 RBJ Vox Populi, $14.99, 12.5% alc.: Comprised predominantly of Grenache, this ruby garnet features nice black cherry, raspberry and cranberry flavors and aromas, accented with tarry undertones and just a smidgeon of smoke. Medium bodied, with moderate intensity and a somewhat feminine character, this is not unlike pinot noir in a way, and it almost seems underripe, though not unpleasantly so. Subtle hints of chocolate and just a peck of oak come out as it opens in the glass; it's not too tannic, has good acidity and a decent finish. A pleasant wine that I'd like even better if it were priced at a few dollars less.

Imported by The Grateful Palate, Oxnard, CA

2000 Elderton Tantalus Red Wine, $16.99, 13% alc.: This ruby dark garnet Shiraz-Cabernet Sauvignon blend shows pretty flavors and aromas of raspberry, cranberry and plum accented with subtle spice, vanilla and smoke. The American oak isn't at all overdone, and it has an elegant character that both Kim and I find quite appealing. Not too tannic, with good acidity and a reasonably long finish, this is drinking well right now, and makes for a nice match with turkey smoked on a Weber grill, among other things. Well worth the money, all things considered. (The 2001 version of this wine, tasted a few weeks later, showed essentially the same flavor profile, but on a rather lighter frame, a middleweight, at best.)

From The Australian Premium Wine Collection, Imported by USA Wine West, San Rafael, CA

2001 d'Arenberg McLaren Vale Shiraz "The Footbolt," $18.99, 14.5% alc.: I've always liked "The Footbolt" for the its more Rhône-like character than much of what comes from Australia, and this vintage is no different. No fruit and oak bomb here, it's deep, dark and earthy, showing an opaque inky garnet color, with tarry black currant, black plum character accented by little hints of coffee and some chocolate, according to Shar Douglas. The wine never got the air to really open up and show what it has now (two hours in a decanter would do it well), and there's a good five years worth of tannins here, so give it either/or for best results. Patience will be rewarded.

Imported by Old Bridge Cellars, Napa, CA
2000 Oliver's Taranga McLaren Vale Shiraz, $42.99, 14.5% alc.: Pretty dark garnet color, big sweet toasty oak over spicy raspberry, black cherry and plum flavors and aromas; not too tannic, not too hot, but WAY too much oak. At least you can find some fruit here; it's just a shame to wreck it with all that wood.

Imported by The Grateful Palate, Oxnard, CA

2002 Trinity Hill Hawkes Bay Sauvignon Blanc Shepherds Croft, $15.99, 12.5% alc.: Pale straw in color, with not much on the nose but some faint pear and grapefruit. The flavors pick things up nicely with good concentration, intensity and acidity, added notes of gooseberry, lime, a little mineral and hints of herbs. Finishes well enough, making for a nice glass of Kiwi Sauvignon Blanc. A tip of the top hat to R.J. Tibus for this one…

Imported by Pacific Vine International, Sonoma, CA

We visited Dan and Carol Myers a few days after New Years to slurp up a few Aussie reds and munch on grilled sausages and duck quesadillas. Also present were Carol's folks, Norton and Arlean, who enjoy a good shiraz as much as the next couple. We started with a wine from the cellar from hell.

1994 Rosemount McLaren Vale Syrah Balmoral, $32.99: This ruby dark garnet exudes big oak, smoke, Brasso ®, coffee and plum aromatics that follow through and expand on the palate with a thick, dense texture and some tannins still to resolve, which turn drying on the finish; Kim added an impression of mint. It's intense on entry and into the mid-palate, but fades as it finishes; I doubt that this has the fruit to survive the tannins, based on this bottle's performance.

Imported by Rosemount Estates, Inc., Sonoma, CA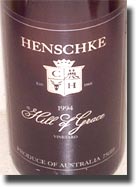 1994 Henschke Eden Valley Shiraz Hill Of Grace, $100 (purchased at the winery), 14.1% alc.: An ever so slightly rusty dark garnet, this features a bouquet that is like a more restrained, refined version of the Balmoral, with sweet oak morphing into subtle Brasso ®, coffee, dark plum, and a little leather. Flavors echo beautifully, with plenty of tannins still to resolve, but also the fruit to back it up. Graceful, elegant and refined, yet still needing years to fully mature, it really shows the tannins on the finish, but like any syrah worth its grapes, it opens more and more as long as there's some left. Very special stuff, and easily Norton's and my WOTN.

1997 d'Arenberg McLaren Vale Ironstone Pressings, 70% Grenache, 20% Shiraz, 10% Mourvedre, 13.9% alc.: This slightly rusty dark garnet is a decidedly different animal from the previous two selections, as it should be; it shows somewhat reticent red fruit on the nose, but the flavors explode with candied raspberry, red currant and black cherry, along with earthy undertones and what Dan described as candied violets. There's still some significant tannins here, with racy acidity, and yet the big fruit just sucks you in; still, this can use five more years in the cellar. Kim exclaimed, "It's just so raspberry," and named it as her WOTN, as did Dan.

Imported by Rob McDonald, Old Bridge Cellars, Napa, CA

2002 Selak's Marlborough Ice Wine, $15.99, 11% alc.: This pale straw is a blend of riesling and gewürztraminer, and displays a lovely character of honey, litchi and apricots. It's not particularly thick, and not at all cloying, with a medium intensity that reminds me of a Muscat de Beaumes de Venise. It's a very nice after dinner white, and the perfect finish to a delightful evening.



Imported by American Estates Wines, Summit, NJ