e've been sampling several of the latest offerings from Mr. Ridge over the past few weeks, along with one relatively "old" selection, and it might surprise some to find that some of the usual suspects were NOT among our favorites.


2002 Ridge Santa Cruz Mountains Chardonnay, $24.99, 14.9% alc.: Medium straw to pale gold in color, this offers sweet oak (roughly equal amounts of air-dried American and French) in good proportion to the pretty apple, pear and subtle sweet pea aromatics, with some soft herbal accents that add to the appeal. These follow through in the rich, concentrated flavors, with plenty of acidity and a little minerality on the finish. At first I wondered if it doesn't need a few years to settle down, but it really opens and smoothes out with 45 minutes of air, becoming even more rich, round and delicious, complimenting Kim's fresh baked focaccia very nicely. You might consider decanting this shortly before drinking now, but having said that, these have a good track record for age worthiness, so a few years in the cellar won't hurt this one at all.

2001 Ridge Santa Cruz Mountains Home Ranch, 50% Cabernet Sauvignon, 49% Merlot, 1% Petite Verdot, $54, 14.3% alc.: (From Paul Draper's notes; "The name derives from an old California tradition: Wine-growing families who began with vines planted at their homesites often went on to acquire other vineyards. That first property, where the extended family gathered over the years, became known as the Home Ranch. For Ridge, the first ranch was Monte Bello, purchased in 1959. Though we now own Lytton Springs, and have leased other vineyards, Monte Bello is our Home Ranch.")

The Cabernet Sauvignon for this blend comes from 35 year old vines, while the Merlot is from younger blocks. It's an inky purple in color, turning pink at the rim, with lots of Draper perfume and hints of cream and bubble gum over black currant, blackberry and blueberry on the nose; the rich flavors echo and expand with youthful fruit that is more than approachable, a somewhat sleek quality, silky tannins, balanced acidity and a nice finish where the tannins show the most. Extended air really helps this; we gave it 45 minutes in a decanter before pouring, and after another 45 minutes, the wine really sings, showing hints of leather as it opens. As nice as it is now (especially with thinly sliced, medium rare flank steak, Potato and Gruyere cheese gratin and pan seared asparagus), it should drink even better in four to seven years.

1994 Ridge Santa Cruz Mountains Cabernet Sauvignon, 81% Cabernet Sauvignon, 11% Merlot, 8% Petite Verdot, $22.39, 12.8% alc.: This deep, dark garnet powerhouse is showing no rust or bricking in its color as of yet, but it does exude big black currant, cassis and black plum character, shaded with iodine and cedar; the Draper "perfume" is there, but in the background. As it opened, Alan Kerr added impressions of "that foresty thing again; an earthiness, slate." In the mouth, this is velvety smooth, with silky tannins, impeccably balanced acidity and a fine, fine finish. Rich and delicious, intense and concentrated, but no fruit bomb this; rather it strikes a fine, elegant balance between the old and new world styles of Cabernet Sauvignon, and makes a perfect match for grilled ribeyes.

~

We thought it would be interesting to compare the '02 York Creek and Spring Mountain Zins; as it turns out, the latter is a a rather different animal than the former, a longtime Ridge stalwart.

2002 Ridge York Creek Zinfandel Late Picked, $28, 15.8% alc.: From the Race Track and House Blocks, home to York Creek's oldest vines, this opaque purple garnet features sweet, creamy oak over reduced black raspberry and black cherry on the nose, and big, rich, ripe flavors to match, with tons of sweet fruit and excellent structure; a wee hint of bell pepper peeks out from the background, along with a creamy note of chocolate. Perhaps surprisingly, quite nice with a turkey stir fry; a Zin this sweet, rich and ripe better be good to carry it off, and this one is. It should be even better in a few years.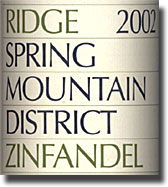 2002 Ridge Spring Mountain Zinfandel, 90% Zinfandel, 10% Petite Sirah, $21.99, 14.3% alc.: (From Paul Draper's notes; the bold highlights are mine. "Unusually hot weather in early September did not affect York Creek's older vines: the result was a rich, late-picked zinfandel, similar in style to the last three vintages. The same hot spell, however, affected the eight- to twelve-year-old vines differently; sugar levels developed far more rapidly than body. When it was time to assemble the wines, it became clear that we had two very different lots. The late-picked stood on its own; wine from the younger vines required our intervention. We turned to a process called reverse osmosis, in which alcohol is removed as the wine passes through a membrane. By radically reducing alcohol in sixty percent of the wine, then adding back the rest, we could make a balanced, full-bodied wine. For additional spice and depth, we included a small amount of petite sirah from the vineyard. This distinctive Spring Mountain District Zinfandel is a fine example of winemaking as differentiated from winegrowing.")

A deep dark garnet in color, this gives stingy aromatics of a little Draper perfume over indistinct red and black fruit, fleshing out on the palate to show ripe raspberry and black cherry on a medium to medium full bodied frame. The young vine provenance is evident here, as the wine is considerably less concentrated than the York Creek. A good glass of Zinfandel, but nothing special.

~

2002 Ridge Geyserville, 84% Zinfandel, 12% Carignane, 4% Petite Sirah, $30, 14.6% alc.: One of the inkier colored Geezers I can remember, this one is a purple garnet turning pink at the rim; it throws an effusive bubble gum, Draper perfume, raspberry, cherry and blueberry bouquet, and by bubble gum, I don't mean to demean the wine, nor am I referring to the late '60s - early '70s sub - genre of pop music. This smells young, and it tastes young too, with the very ripe, creamy smooth flavors echoing the aromas, and while the tannins are relegated to the background, they're no doubt sufficient to take this to its tenth birthday at least. (Most of the Petite Sirah was held out of the blend to keep tannins in check.) Quite honestly, this is just too young and ripe for me to really enjoy right now, with the creamy oak dominating so much. If the '97 Geyserville is any indication, this should be drinking well in about five years or so, for my tastes anyway. Your mileage may vary.

2002 Ridge Pagani Zinfandel Late Picked, 89% Zinfandel, 7% Alicante Bouschet, 4% Petite Sirah, $30, 15.8% alc.: Almost opaque purple garnet in color, this throws some noticeable heat right away on the nose, then it's all rich, overripe black raspberry, black cherry and blackberry spiced up with sweet oak that isn't exactly the Draper perfume that I know and love. The big flavors echo, with the emphasis on the overripe, and with two or three years worth of tannins. This is like a mouthful of reduced berries and cherries, almost more so than I care to taste these days; maybe it just needs time, or the right context. I'll try our second bottle in '06.

2002 Ridge Stone Ranch Zinfandel, 95% Zinfandel, 5% Petite Sirah, $24, 14.8% alc.: Dense, not quite inky in color, this shows less overt perfume than some Ridge zins, but it rides with big ripe blackberry and black raspberry aromatics that are quite appealing, nevertheless. A big, dense mouthful of wine, chunky and chewy, with some brambly bass notes playing here; the acidity seems to stand out a little more than the tannins that clamp down on the finish. A serious five year wine at the least, and dare I say it, an old fashioned zinfandel. Stone Ranch lies on the low hills on the western edge of Alexander Valley, not far from the Geyserville vineyard.

2002 Ridge Buchignani Carignane ATP, 13.7% alc.: Somewhat deceptive at this early stage of its development, this dark garnet colored Carignane throws a big Draper perfume of sweet creamy oak over raspberry and bubble gum, following through in the flavors with about five years' worth of earthy tannins. As it opens, deeper darker "stuff" makes itself known, especially leather and more earth, but the creamy oak dominates to the exclusion of much complexity. The more it opens, the more obvious it becomes that the wine needs time for the oak to integrate and the deep, dark fruit underneath to become more defined, so we'll save the other bottle and report back in '07 or '08.

Reporting from Day-twah,

Bastardo