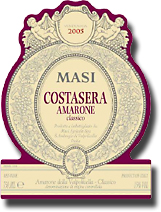 It doesn't feel like it's been over four years since I attended a most interesting and informative mini-seminar on the wines of the Italian producer, Masi. Much of what I experienced that afternoon remains fresh in my memory, and the wines were uniformly excellent, so when I was invited to another Masi tasting recently, I didn't hesitate to accept. The event was held at our favorite Asian fusion restaurant, Mon Jin Lau, in Troy, Michigan, which is always a bonus. I was a little disappointed that Lorenzo Boscaini, who was so charming at the 2004 seminar, didn't conduct the tasting. The Masi website makes no mention of him, so apparently he's no longer with the family-run operation, but US Director of Sales and Marketing and Masi Winery Ambassador, Tony Apostalakos performed those duties admirably.

There have been some changes at Masi over the last four years. The Boscaini family has owned the Masi vineyards for six generations, but while Sandro Boscaini is still the company president, the other members of the family now involved are Sandro's children, Alessandra and Raffaele, and his brothers, Bruno who looks after the production processes, and Mario, who is a silent partner in the company.

As reported previously, the name "Masi" comes from Vaio dei Masi, the first vineyard acquired by the family in the late 18th century. Since that time, the winery has grown through careful selection and acquisition of quality vineyards, centered mainly in the classico zones of Valpolicella, Bardolino and Soave. Masi is also in partnership with Count Serego Alighieri, descendent of the poet Dante Alighieri, whose family has owned prestigious vineyards and cellars in Gargagnago since 1353. In the last ten years, Masi has spread to other viticultural regions of Veneto, as well as Argentina, but this tasting dealt exclusively with wines of Valpolicella, with one exception. The focus was primarily on Amarone, but Tony started us off with Masi's go-to everyday white. Here are my "snapshot" impressions of the entire lineup.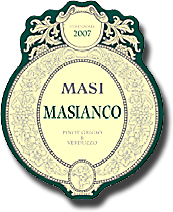 2007 Masi Masianco I.G.T., 75% Pinot Grigio delle Venezie, 25% Verduzzo, 13% alc., $14.99: Always refreshing, this medium straw blend offers crisp, rich and fairly ripe citrus and yellow apple flavors underscored with a nice minerality. Medium to medium full bodied, with excellent cut and good length, this never fails to satisfy in my experience. While the Pinot Grigio is harvested and vinified immediately, the Verduzzo is harvested a month later and dried on bamboo racks for three weeks to increase concentration. An excellent choice to Pair with a variety of seafood and fowl dishes, or nice just as an aperitif. Find this wine

2005 Masi Costasera Amarone della Valpolicella - Classico D.O.C., 70% Corvina, 25% Rondinella, 5% Molinara, $64.99, 15% alc.: Made with the appassimento, the method of drying the best grape clusters in wooden boxes or on bamboo racks for 36 - 48 hours in controlled atmosphere rooms, and then in large rooms in old farmhouses with large openings or windows to allow the free flow of air until about the middle of January. In that time, the grapes lose 35 - 40% of their weight, and develop higher concentrations of sugar and flavor, with the Corvina being attacked by botrytis, or "noble rot." Tony Apostalakos calls this "modern Amarone," saying that it is made to be very consistent in flavor, and ii certainly is that. It shows good dark color, with a rather reticent nose, and opens nicely on the palate with ripe, earthy dark plum and black cherry; concentrated and intense, but not raisined, and pleasantly bitter on the finish, this drinks well now, but can age for some years. This was a solid entry level Amarone back in 2004 when I tried the 2000 Costasera but I'm not sure that the same could be said for the current version. That wine sold for $38.99 in the Detroit market at the time, $26 less than today's 2005. Somehow, $65 just doesn't seem like entry level to me. Find this wine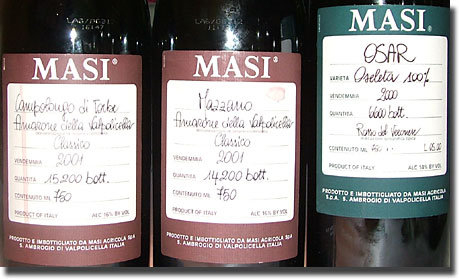 Masi Campolongo di Torbe Amarone, Mazzano Amarone
della Valpolicella Classico & Osar Rosso del Veronese
2000 Masi Osar Rosso del Veronese I.G.T., 14% alc., $91.99: This deep, dark colored red is Masi's only single variety wine, made entirely from the Oseleta grape, an ancient Veronese variety that fell into disfavor due to its low yields. Osar means "to dare." Masi took cuttings from just four vines for their first plantings in 1985, which are now fully mature. The grapes are not dried, but are harvested late greater concentration. This wine exudes a pretty perfume of black plum, berry and cherry, with a subtle spiciness, all of which follows though so nicely on the palate. Rich, but dry, with a slightly green quality to it and a long, lingering finish, where it turns slightly bitter, with youthful, drying tannins. I find it to be a little like Primitivo in character, but I've never had Primitivo with this kind of depth, and it shows excellent promise for some years of aging. Find this wine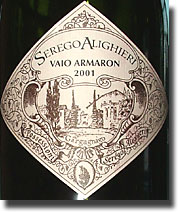 2001 Serego Alighieri Vaio Armaron Amarone della Valpolicella D.O.C., 65% Corvina, 20% Rondinella, 15% Molinara, $69.99, 15.5% alc.: This deep, rich colored Amarone is from Masi's partner, Count Serego Alighieri. The Vaio Armaron vineyard in Gargagnago lies 180 - 265 meters above sea level, with southwest exposure; Vaio means "little valley." Some of the wine is aged in cherry wood barrels, and it shows some in flavor and aroma, being reminiscent of big rich black cherry and black berry, ripe, but not sweet and with a subtle earthiness and hints of ash underneath it all. This is very smooth in the mouth, belying its ample structure that will allow it to age for many years. Tony calls it "a great wild game wine," and one can taste how that would be so. Find this wine

Both of the high end Masi Amarones are remarkably similar in personality, with the differences being subtle and nuanced. They both see exactly the same vinification treatment, so Tony attributes those differences to terroir.

2001 Masi Campolongo di Torbe Amarone D.O.C., 70% Corvina, 25% Rondinella, 5% Molinara, $139.99, 16% alc.: Sourced from an historic vineyard known for producing great wines since the 12th century, this is produced in limited quantities and only in the best vintages. Exhibiting good, rich color, this is a deep, powerful wine, yet graceful at the same time, being very smooth in the mouth, with earthy dark plum, black cherry and blackberry flavors with turn slightly bitter on the finish. Earthier than the preceding Vaio Armaron Amarone or the following Mazzano, this will age effortlessly for years and yet drinks beautifully with air already. Find this wine

2001 Masi Mazzano Amarone della Valpolicella Classico D.O.C., 75% Corvina, 20% Rondinella, 5% Molinara, $181.99, 15.5% alc.: Mr. Apostalakos described the Campolongo di Torbe as "feminine," but I think that this one is even more so. It shows the same basic earthy dark plum, black cherry and blackberry personality, but is perhaps even smoother than the previous wine; it's a little less powerful, but certainly no less impressive. Like the previous two selections, it's deceptively well structured for years of aging, but give it some air and it's hard to ignore already. Find this wine

2005 Serego Alighieri Poderi del Bello Ovile Toscana I.G.T., 80% Sangiovese, 15% Canaiolo, 5% Ciliegiolo, 13.23% alc., $18.99: An afterthought that should have never been served in the same company as the Amarones, and most certainly not AFTER those lovely wines. Rough and poorly mannered by comparison; I'd like to retaste it on its own, or with a group of its peers to get a fair impression of what it's all about. Find this wine

The most interesting thing about these last three great Amarones is that they show none of the raisined aspects that their previous versions did when I tasted them in '04, so perhaps Masi and Serego Alighieri have made a decision to change stylistically. Tony Apostalakos described the Costasera as "modern Amarone," and the same could be said about these. Whatever the case, they are all delicious, as is the Osar, which was another special treat to taste. Many thanks to Mr. Apostalakos and to Ryan Waltz of Remy Cointreau USA, Inc. for inviting me to attend.

Reporting from Day-twah,
geo t.

Other Recent Wine Explorations
Red Wings & Red Rhônes 2009: Côtes du Rhône-down
Brad Baker: Champagne Warrior!!!
Holiday Hi-jinx with
Mister Ridge and more…
Red Wings & Red Rhônes 2008-09
"Breakfast" Wines from Chile and Argentina
A Hattrick in Triple Overtime Redux:
Recent Wines from Igor Larionov
Fall Fest~The Cleve~2008

Back to the January 2009 Index
Back to the Underground Index

Back to the Top



© George Heritier January, 2009