2006 Domaine Tempier Bandol, 11-14% alc.: We've never met a Tempier that we didn't like and this one is no exception. Showing deep, dark color, it throws a typically and pleasantly funky nose, offering flavors and aromas of black fruit and beetroot shaded with hints of black olive and a bit of the barnyard. Well balanced and smooth in texture, yet amply structured for several years in the cellar, it is surprisingly approachable already. If there is one drawback, it's that Vinology's reds are kept at room temperature, which is a little too warm. Otherwise, this is a very nice Tempier. Find this wine

2005 Domaine Monpertuis Chateauneuf du Pape, 14% alc: Clean dark color, with subtly perfumed aromatics of black plum, blackberry, earth and iron, all of which pick up and follow through nicely in the mouth. Full bodied, but sleek; not heavy and well structured for many years of development. Joe comments that it has "a lot of funk," and he means that as a compliment. The subtle perfume sets the tone to this charming wine, but again, it's just a little too warm. Find this wine



"A Seasonal Effect Disorder Picnic"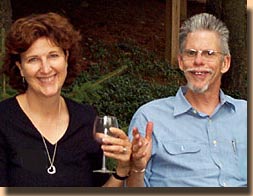 16 months is far too long to go without seeing our good friends Mary Anne Barnett and Frank Joyce,(left), so on Friday, we bundled up and trundled over to Grosse Pointe Park, where we all caught up on a variety of topics whilst dining on barbecue ribs, potato salad and corn on the cob (which was surprisingly good for January; who knows where it came from?!). We started off sipping on an Italian white.

2001 Emidio Pepe Trebbiano d'Abruzzo, 12% alc.: Gold color, with bone dry star fruit, quince, yellow apple and a hint of bees wax in both flavor and aroma; still good acids and weight, and if it's a little past its prime, it's still more than alive and kicking. Frank characterizes it as "old, but in a good way." It pairs well with goat cheese and Brie, and gets richer and more tasty with air. Find this wine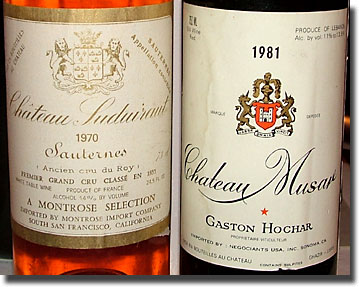 1981 Chateau Musar Red Bekaa Valley, 11% alc.: Frank and Mary Anne brought this over to our house about three years ago, but somehow, it never was uncorked, so we took it back to see how it is holding up, and I'm happy to report that it's drinking beautifully. I was tempted to say it's like fine old Bordeaux, but that's not right, because it's fine old Musar! Surely, this venerable Lebanese producer has earned the right to be considered on its own terms and not be saddled with comparisons to other "great" wine regions! Slightly cloudy rusty garnet in color, with cedar, leather and beetroot character, this is very smooth, harmonious and absolutely delicious. Perfectly mature in every way; beyond that, words fail to describe this beauty. Find this wine

1995 Ridge Monte Bello Santa Cruz Mtns., 69% Cabernet Sauvignon, 18% Merlot, 10% Petite Verdot, 3% Cabernet Franc, 12.5% alc.: This performed much better than the one we tasted last fall in Cleveland. It shows gorgeous dark color, and exudes a lovely Draper perfume, with flavors and aromas of cedar, black currant and subtle earth underneath; there's also just a hint of the barnyard lurking on the nose. It resembles Bordeaux far more than many California Cabs, being rich, yet dry at the same time, and it's deceptively well structured for the long haul. Very nice indeed! Find this wine

1970 Chateau Suduiraut Sauternes, 14% alc.: Bennett Traub left this little lovely with us during his last visit, and I thought it was high time to open it. Deep golden color, with a subtly earthy honey, apricot and toffee personality; medium full bodied and nicely balanced, it is more than just alive and kicking, it's drinking quite well. A fine example of mature Sauternes, neither excessively sweet nor washed out. Find this wine


"Detroit Wine Rats Depression Party"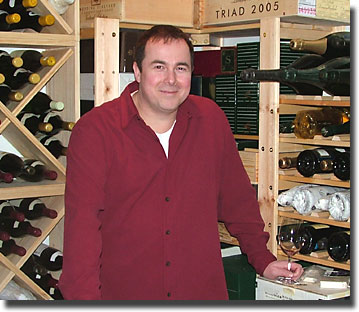 With the state of the economy being in the toilet, especially here in the State of Michigan, what else is there to do but have a party?! That was Brad Cook's (left) thinking, anyway, and a good number of his friends seemed to agree, because quite a few of us showed up at his place on Saturday to eat good food, drink great wine and generally carry on in a mildly depraved manner. (The Bakers, Brad and Michelle, were notable in their absence, as they were delivering a new addition to their family; congratulations, guys!!!) I got started with one white, but quickly moved on to the reds after that.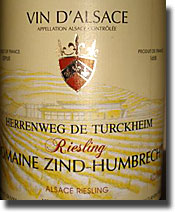 2000 Zind Humbrecht Reisling Alsace Herrenweg de Turkheim, 13% alc.: Pale gold color, with noticeable petrol over rich, ripe and pungent red and green apple flavors and aromas; it seems sweet on entry, but finishes more on the dry side. This has a typically oily texture found in so many great Alsatian whites, and is not at all over the top. Delicious stuff, with plenty of life left and classic Zind Humbrecht. Find this wine

2005 Château Grande Cassagne Costières de Nimes "G.S.," 13.5% alc.: We loved this wine a few years back, and it has more than lived up to my expectations that it would develop nicely with some time in the cellar. Showing good dark color, with pretty black plum, berry and cherry character underscored with some earth, it's ripe, but balanced, smooth and eminently drinkable. It has the structure to go for at least a few more years, but why wait? I sure wish we had more of this! Find this wine

1997 Ruffino Chianti Classico Riserva, 13% alc.: Classy stuff, this. Clean dark color, with earthy, smoky, sticksy, slightly tarry dried cherry, black currant and blackberry flavors and aromas; very smooth and velvety, yet well structured for further aging, but so good already. Find this wine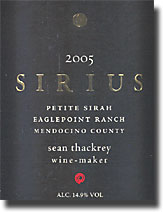 2005 Sean Thackrey Sirius Old Vines Mendocino Petite Sirah Eaglepoint Ranch, 14.9% alc.: This was very well received by all who tasted it, and for good reason, it's great! It looks like a glass of ink, and smells and tastes like rich, ripe blackberry and black plum with earthy undertones and just a hint of eucalyptus; it's not quite opulent, and that's OK, just give it some time. Having said that, this is remarkably accessible, already luscious to taste, and yet very well structured with many years ahead of it. Full bodied, dense and concentrated; I love this stuff! Find this wine

2002 Carlisle Sonoma Syrah, 15.9% alc.: Another glass of ink here, with toasty oak and black fruit on the nose; tarry in the mouth, with a rich, dense core of black plum and berry. Full bodied, with solid structure promising many years of aging and development, but already drinking well. Try again in 3-5 years, when the oak has a chance to tone down a little and some of the tannins resolve themselves. Find this wine

1997 Sterling Napa Cabernet Sauvignon Diamond Mountain Ranch: Still good, dark color, with no rust to speak of; sea air, cedar and black currant flavors and aromas. Smooth and harmonious, rich and restrained at the same time and nicely balanced. This has aged gracefully, to be sure. Find this wine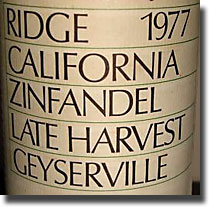 1977 Ridge Geyserville Late Harvest Zinfandel, 16.2% alc.: Almost as good as the one we so enjoyed at Ridgestock in '02. Rusty garnet color, with a slightly funky nose, and all secondary underneath. Still has a good core of sweet fruit on the palate, offering earthy, leathery cranberry, pomegranate and raspberry accented with Christmas spices. My written impressions read "hard to describe and you don't need to, because you have to taste a wine like this to grok it. (Who uses the word "grok" anymore?!) This was a revelation for some in attendance who had never had old Zinfandel of any kind. Find this wine

2001 Val di Suga Brunello di Montalcino, 14.5% alc.: Deep, dark color, with all kinds of things going on; cedar, leather, black currant, blackberry and earth. Well structured, and while approachable, it really needs time to show its best, but what promise. Find this wine

There were more bottles opened that were either drained before I got to them or else were left to the others due to driving considerations. All in all, not a bad weekend, methinks. Many thanks to Joe, Frank and Mary Anne and Brad for their great friendship and generosity.

Reporting from Day-twah,

geo t.

Other Recent Wine Explorations
Red Wings & Red Rhônes 2009: Côtes du Rhône-down
Brad Baker: Champagne Warrior!!!
Holiday Hi-jinx with
Mister Ridge and more…
Red Wings & Red Rhônes 2008-09
"Breakfast" Wines from Chile and Argentina
A Hattrick in Triple Overtime Redux:
Recent Wines from Igor Larionov

Back to the February 2009 Index
Back to the Underground Index

Back to the Top



© George Heritier February, 2009