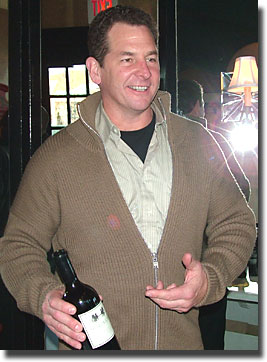 So, to take the long route to (answer) on Parcel 41, I find very nice lots of Merlot on the market, because Merlot has suffered its slings and arrows, as it were. Merlot's a great grape, I love working with it and if you treat it right, it makes the most expensive wines in the world.
GH: I think the '99 Paoletti is a great example of what fine Napa Merlot can be.

CH: And at Paoletti, we didn't spare the expense; we treated it like we treated the Cabernet, from the extractability to the time in the tank to the percentage of new oak to the time in the barrel. It was all set up to be (in) the upper echelon of quality.

GH: Do you know what the alcohol level of the '06 Regusci Merlot is? Is it 14.2 or 14.7?

CH: It's probably closer to 14.4, actually. My picking decisions are based on flavor, and because of the trellising system and the exposures we have in the Napa Valley, we have a pretty good water supply, so we can water through a lot of the heat spells after a good season, but it still doesn't stop the dehydration. So, I can add acidity legally in California in the form of tartaric, malic or citric; of course malic and citric we don't want, but tartaric is the safest acid around. But, we can't add sugar. I can take out the alcohol or I can dilute it back to a fermentable sugar, (and) fermentation is the great homogenizer of all treatments, so you want to try to take your best guesses up front and try to get the wine right. So if I'm bringing it in at 25 ½ or 26 (Brix), which is potentially almost 16% alcohol, which is not my kind of wine, something I don't want to make, and also, the yeast probably stalled out before primary fermentation and can't turn that sugar into alcohol, we bring it back to a fermentable level, more like 24 or 25.

GH: How would you do that, with a spinning cone or something?

CH: With a hose. <Grin>

GH: OK! And you don't have a problem doing that?

CH: No, because what's happened is, you just got a straight dehydration of the berry and you're just replenishing that, so we haven't suffered any kind of loss in tannin proportion. When you're in 100-degree weather, you can actually measure the dehydration in the size of the berry from the morning to where it is in the afternoon at 3 o'clock at high temperature, so you're just replacing that. That's why people like that night harvest or the early morning, because the vine's kind of caught its breath and replenished itself, so you don't have to add anything and it knocks down that initial sugar. But if you don't have the flavor in the berry, you don't have the flavor in the wine, and so what we're trying to do is kind of work into it backwards where what is taken away or what is in too much abundance, (we) kind of balance that out but always have that good core of fruit that comes from that nice available stuff we have out in California.

In Bordeaux, they have the rainfall in the summertime, (and) they're very cool climatically. We have very little in common, although we're two of the biggest Cabernet growing areas, so we're constantly compared. They can add sugar in the form of chapatalization; they don't add acid. They can't water because they get the rainfall. We don't get any rain from May until November, so we have to water. To grow in a lot of areas without drip irrigation, there wouldn't be lot of vineyards on the hillsides.

GH: It's interesting that you say that, because I've talked to Brian Loring a couple of times about the same thing, and he says, "Yeah, we add water, and we add acid, but unlike most people, we admit it!"

CH: Like I said, you take your best shot prior to fermentation. Now if you don't do that on the front side, you can get these high ph situations during fermentation that make it advantageous for bacteria or some of those spoilage organisms to eat the sugar, or in that high ph, you get this kind of filminess and someone will have a knee jerk reaction and say, "Oh, well, I have a ph of 4 and I need to bring it back to 3.7 at least," and they'll slam it with acid and they'll punch a big hole in it. So, if you do it pre-fermentation, that big hole gets integrated back into the body, but in post-fermentation, you don't want to add the water (and) you don't want to add the acid, because it really has a dramatic effect on the wine that takes a long time to correct, if ever. So, you have to know about timing and application on how to do these things.

GH: Do you use industrial yeast or indigenous?

CH: Well, I wouldn't say industrial. Lallemand and some of these other companies that do selections spend millions of dollars isolating and prepping these yeasts. Indigenous yeast has a (lot of) popularity, but I think that the "indigenous" yeast in the Napa Valley is probably some cultured yeast that's floating around. It's not like it just showed up there. But yeast and Brettanomyces and Leuconostoc are (produced) in the bloom of the waxy layer on the outside of the berry, and that comes into your winery and it will ferment, but it's not a predictable fermentation. Gallo was doing a study about indigenous yeast fermentations. They had (about) 40 different lots and maybe fifteen of them stuck at some 3-10% sugar. Alcohol is very toxic to a yeast. So when you're dealing with a selected yeast and you know the character of the grape…

For example, if you had a Chardonnay that was very fruity but didn't have a lot of texture, you could get a yeast that would create texture and reduce a little bit of the fruit, or, in the other way, if you had a big Chardonnay that had a lot of texture but not a lot of fruit, you could get a yeast that would encourage the fruit flavor development, and so you can kind of balance that. Also, the same way with red wines where you're going for texture or high toned spice. It's kind of trial and error with a lot of it, so if you can run three tanks side by side of the same blend and discover what works for you in different areas, it takes some time, but once you find out, you can start dialing that stuff in. With an estate grape like Paoletti or Regusci, it becomes much more predictable. That's why I like my hope and grace to have long term contracts, because I'm dialing all that stuff in. If you're bouncing around the valley, it's a new experiment almost every year. Even though you have some prejudices and predictability about that region, you don't know until you do the work; you get it close, but it's so much nicer to know where you've been and where you're going.

Now all those "industrial" yeasts, as you call them, ferment to dryness too. There's kind of a nutritional deficit in our area, and you tend to have to add nutrients and vitamins to the must to even get it to ferment with these cultured yeasts. The perception that the aggressive fermenters have risen to the top and become the primary fermenters isn't true in my experience. They can stick, they can peter out, they've never shown that predictability and that aggressive fermentation that some people predicted. Now you can get a real aggressive yeast, like Saccharomyces bayanus, which doesn't create a lot of character, but it gets you to dryness. With big wineries, that's what they want. They want dryness, they don't want the instabilities of residual sugar by stuck fermentation and they just pound them through. There are 50 different choices of that that I've got, and if I know what those yeasts accomplish, I can utilize in different varietals or for different characters of those varietals.

GH: You mentioned your contracted vineyards with hope and grace. Are they all contracted?

CH: It's all contracted. I come with a kind of educated perspective from working in the valley for 26 years and being in most appellations. I've seen and made most varieties from most areas, so when it was my turn to pay for grapes, I knew that I wanted St. Helena cab, Yountville Chardonnay. (For) Pinot Noir, I didn't really care for Carneros, so I went down to Santa Lucia Highlands.

GH: Whom do you consult with now?

CH: Of all those ones that I named, I've trimmed it down to Regusci, James Cole on Silverado Trail and also that Twenty Bench-Parcel 41 and things like that. That's the "day job," and hope and grace has gone from 450 cases to a little over 3,000 cases. My hobby is becoming my day job.

GH: But you're still active with Nine North?

CH: Oh yeah, I'm making all their wines, and I enjoy that too. It's really kind of a fun project. I found I was good at blending and assembling a matrix of different wines year in and year out from different sources, but to create a similar product line. If you're going to drink Parcel 41, the '05, '06 and '07 are going to be very similar, although they may share nothing in common with where they were sourced. All of the Nine North wines have a varietal character that everybody can (recognize), and my wines also. I like to have a varietal character, I don't want to make a "uniform" red wine, and I go to a very great extent to curry that, so the Cabernet tastes like Cabernet, the Zinfandel tastes like Zinfandel, you know, and it doesn't just have a big dollop of Syrah to cure everything.

GH: What is your vision with hope and grace?

CH: Well, never to retire! That's my 401K! You know, (after) 8 years, I'm selling the 2005 Cabernet now, I have the '06 in the bottle ready for release in May, '07's in the barrel and I just paid for '08, and so there's a big pipeline to stuff with inventory. I love to travel and eat and drink in different areas; I like to meet folks like yourself, and also make some good wines. I'd love to get to a position where the main thrust of hope and grace is Pinot Noir and Cabernet. Chardonnay and Malbec will probably come on as the "Four Horsemen" here, and then do a bunch of other little fun stuff and find people that will plant Gruner Veltliner for me and things that I'd love to play with and make and just have some fun with it.

GH: Do you have your own facility?

CH: No, I lease space also. Every year we grow up and that's probably on the vision line for hope and grace to acquire a facility before it acquires vineyard land. Vineyard land is still $300,000 an acre. You buy 10 acres and it's a big holding cost, plus you have to farm it. For instance, Regusci, all estate grown, was down about 35% this last year from a little bit of frost and a rainstorm during bloom time. So with that kind of massive fluctuation with your crop level, owning your own land is a little more game than I've got! It's still farming. Grapes are a commodity and if you let 'em hang on the vine and rot, you've got nothing.

With hope and grace, I have no other investors. Making all those other peoples' wines, it was a good paycheck, it allowed me to start hope and grace, mortgage the house and we've built it up from there. We worked our way out of the cellar. I didn't have a big trust account or anything, my parents paid for my education at (UC) Davis and then it was mine. Figure out your own way here. Being a winery owner there in the valley, I'm just kind of playing and having a good time.
The Tasting | The Interview
Reporting from Day-twah,
geo t.



Other Recent Wine Explorations
Wines of Distinction from Madiran, Bordeaux & more
Red Wings & Red Rhônes 2009: Côtes du Rhône-down
Brad Baker: Champagne Warrior!!!
Holiday Hi-jinx with
Mister Ridge and more…
Red Wings & Red Rhônes 2008-09

Back to the March 2009 Index
Back to the Underground Index

Back to the Top



© George Heritier March, 2009