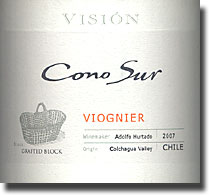 In our last report on the Chilean winery Cono Sur, we touched on all the major points of their operation; the vineyard holdings spread up and down the country in most, if not all, of the major wine producing regions, the state of the art winery, the Pinot Noir Project, the Integrated Vineyard Management system using natural alternatives to fertilize, prevent and control pests, diseases and weeds and all the rest. (You can read about it here, or go directly to the source for more information.) We generally liked what we tasted then, with some notable reservations. The whites were uniformly solid across the board and the Pinot Noirs showed plenty of promise, but if there was a weak link, it was the Bordeaux varieties and Syrah, which showed such excessive oak that we were not only unable to finish a glass of several of these, we hesitated to add them to our vinegar crocks.

Fast forward to this summer, when we got to taste through eight of the current releases from Cono Sur, and our impressions of the whites and Pinots are largely the same. The Bordeaux varieties are showing some improvement, as we can stand to drink two out of three without dumping the first glass, but in general, they still show too much wood for our tastes. Here are our impressions of what we tried.
Cono Sur Central Valley Chardonnay 2007, 13.5% alc., $9.99: Good medium straw color; ripe apple and pear flavors with a streak of pineapple and a hint of sweet pea. Good weight, balance and cut, so what's not to like here, and why can't they make a Cab or Merlot this good? Find this wine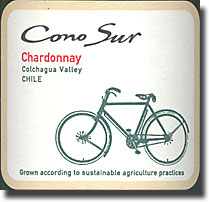 Cono Sur Colchagua Chardonnay Sustainable Agriculture 2007, 13% alc., $12.99: Pale to medium straw color, with straightforward apple and pear flavors and aromas accented with a little spice; good weight, balance and cut, but a little less expressive than the regular bottling. Find this wine

Cono Sur Colchagua Viognier Vision 2007, 13.5% alc., $14.99: Good color, with ripe apple, kiwi and a hint of honeysuckle in both flavor and aroma, turning slightly bitter on the finish; medium full bodied, with good cut and concentration, this is, as always, a solid performer. Find this wine

Cono Sur Central Valley Pinot Noir 2007, 13.5% alc., $9.99: Ruby red color; hints of smoke and tar add some interest to the straightforward, varietally correct black cherry flavors and aromas. Just when I'm about to write this off as just another middle weight contender with enough structure for a few years of development, it starts to open with air and reveal a subtle earthiness and a note of cola, gaining some weight, depth and nuance. Here's a great example of why we always prefer to spend some time with a wine instead of taste through fifteen, twenty or more at a large event and barely get to know any of them. Great QPR with this one. Find this wine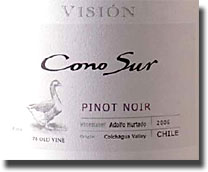 Cono Sur Colchagua Pinot Noir Vision 2006, 85% Santa Elisa Estate (Colchagua) and 15% El Marco II Estate (Casablanca), 14% alc., $14.99: Ruby red, with a tinge of smoke; a little deeper and darker than the regular model, but also showing a note of oak-vanilla-toasted bread that bothers Kim more than this taster. There's some earth and tar underneath the black cherry character, but the oak seems to mask any subtler characteristics at this point. Medium full bodied, with good depth and structure; give it some air now and enjoy it with some salmon or roast pork loin, or give it some time in the cellar and see if the oak tones down and other things emerge. Either way, it's still a good buy at $15. Find this wine

Cono Sur Colchagua Merlot Vision 2006, 85% Merlot, 7% Cabernet, 5% Malbec, 2% Syrah, 1% Aspiran Bouchet, 14% alc., $14.99: Purple garnet in color, and a little leaner than the Cameron Hughes Lot 79 2005 Napa Merlot tasted on the same occasion; toasty oak flirts with crossing the line into excess, vying for dominance with the black currant and berry flavors and aromas. Toasty, as with toasted bread straight out of the toaster, with subtle earthy undertones and good structure for three to five years or more of development. Drinks well enough at first, but becomes tedious with a second glass. Find this wine

Cono Sur Central Valley Cabernet Sauvignon 2007 85% Cabernet Sauvignon, 9% Merlot, 3% Carmenere, 3% Syrah 12.8% alc., $9.99: Kim called this one correctly when she characterized it as "extracted oak, fermented cherry all spice juice." There's obviously some deep, dark fruit here, but it's ruined by excessive oak and manipulation. Neither of us could finish a glass of this atrocity. Find this wine

Cono Sur Maipo Cabernet Sauvignon Vision 2006, 85% Cabernet Sauvignon, 5% Syrah, 4% Malbec, 3% Carmenere, 2% Petit Verdot, 1% Aspiran Bouchet, 14% alc., $14.99: Opaque in color, and pushing it with the oak, but never quite crossing the line for Kim, who is far less tolerant of the wood than this taster. The fruit is like a cross between black currant and black cherry, deep, dark and rich, with good structure and length and a note of chocolate. This is the only one of the reds besides the Pinot Noirs that we could really drink and enjoy throughout, and it should develop and improve with at least a few years in the cellar. Find this wine

Reporting from Day-twah,
geo t.

Other Recent Wine Explorations
New Rieslings from Chateau Grand Traverse & more…
Not So Random Samples: 6 From Cameron Hughes
Red Wings and Red Rhônes
Playoff Diary 2008
WELCOME HOME STANLEY!!!

Back to the September 2008 Index
Back to the Underground Index

Back to the Top



© George Heritier September, 2008