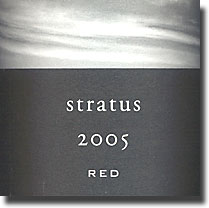 Our visit to Stratus was something of a whim, almost serendipity in nature. We were out the door to Marty and Robin's, but Kim wanted me to see this new winery that she had visited with Alan Kerr last year. She was so impressed with the operation that she bought and brought home two bottles of their '06 Riesling, a variety that she doesn't normally favor. Although I took no notes on those wines, it should be mentioned that they were delicious, so with that in mind, I had no objections whatsoever in checking the place out for myself. What I didn't know was that there would be a bonus in the fact that Alan's good friend Charles Baker, whom we had met at Cave Springs some years ago, would just happen to be in the house on that beautiful Saturday afternoon. Charles is the Director of Marketing and Sales at Stratus, and we couldn't have asked for a better person to give us the where-alls and why-fors of this most impressive estate.

Stratus, established in 2000, seems to be doing everything right, from its commitment to sustainable agriculture in its VQA Niagara Lakeshore appellation vineyards to the state of the art winery, designed and constructed to operate entirely by gravity flow (with the aid of a pair of heavy-duty elevators), so that the grapes and resulting wines are always given the gentlest of handling. The winery is also the first building in Canada to achieve LEED® (Leadership in Energy and Environmental Design) certification from the Canada Green Building Council, and is at present the only winery in the world to fully realize such designation. This designation is based on the winery meeting a number of criteria in order to reduce the negative impact on the environment both during construction and operation. These include geoexchange technology to heat and cool the building, a design that incorporates a high percentage of recycled materials in its construction, resource and energy efficient mechanical, electrical and plumbing systems, a comprehensive waste management program and a landscape plan that is organic and based on indigenous grasses and plants.
The winemaking program itself is rather novel, at least in this part of the world. Head winemaker J-L Groux, a native of the France's Loire Valley, is committed to the art of "assemblage," or to put it simply, the blending of different grape varieties together to create a greater whole than the sum of its parts. As Charles explained, the main focus is on the creation of their signature Stratus Red and Stratus White wines. Grape selection is extremely rigorous, and the varieties are fermented separately; in any given vintage, the best blends are created from the materials at hand, and from there, it's a trickle down process in making the other wines produced, including the second tiered Wildass label.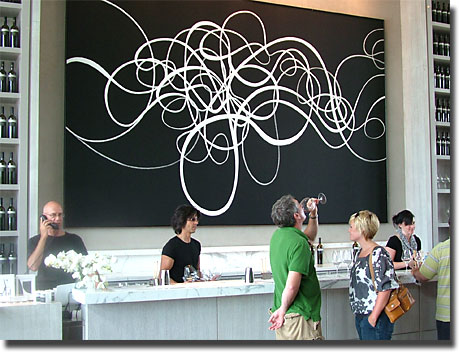 Now, this all looks great on paper, but the proof is what's in the bottle, and as I found out, that is very fine indeed. Unfortunately, the 2005 Stratus White was sold out when we visited, so we got started with a little Riesling. (Incidentally, everything BUT the Riesling comes from estate vineyards; 55 acres, planted to 18 different varieties in 43 different blocks. Some vines were planted in the '70s.)

2007 Stratus Riesling, $35 Can: Full, rich and round, with green apple and lime flavors and aromas; neither dry nor very sweet, but rather on a Kabinett level of residual sugar. Good acids and balance, but perhaps not quite as zippy as I recall the 2006 being. World class Riesling, and no doubt. Sourced from hillside vineyards high on the Niagara Escarpment.
Find this wine

2006 Wildass Rosé, $19 Can: This little lovely certainly doesn't taste like a "second tier" wine; it's so rich as to be almost ruby red in color, with its ripe strawberry and raspberry flavors and aromas that are among the most intense of any rosé I've had this summer. Made mostly from Gamay, with about five or six other varieties; saw 18 months in old barrels.
Find this wine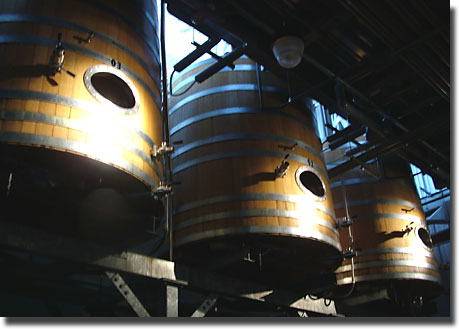 2005 Stratus Cabernet Franc, $36 Can: Showing good dark color, this middle weight red shows a pretty perfume from the judicious use of oak, good intensity and a smooth lush texture to the high-toned raspberry and red currant fruit with some pretty spice and subtle earthy undertones. Like the following wine, this one is all about elegance, and I liked it well enough to bring one back home. Fewer than ten barrels were produced. Find this wine

2005 Stratus Red, $44 Can: This saw 15-18 months in barrel without racking, and is composed of all five Bordeaux varieties, and also a little Gamay and Syrah, each fermented individually before assemblage. It shows good dark color and rich, elegant black currant, blackberry and black cherry flavors, again, with judicious oak accents. Fermented in 65% first cycle (2 years per cycle) and 35% second cycle barrels, this exhibits a wonderful sense of elegance, finesse and restraint, and I was compelled to bring one home as well. Find this wine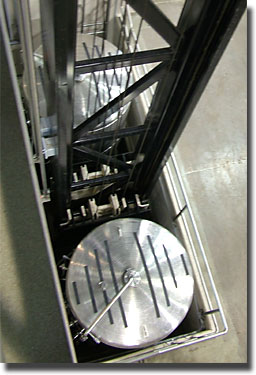 2006 Stratus Gewurztraminer, $32 Can: From a 15-year old block and a cool vintage, this is medium straw colored with a lemon tinge and has a beautifully round mouth feel. It offers typical varietal flavors of peach and litchi, with a touch of vanilla from six months in four and five year old barrels. (It seems that they needed the tank space, and so after a year on the lees, they did what they had to do and came up with this little pretty.) Perfumed, and with the same elegant texture that seems to be a hallmark of just about everything they make, and just enough acidity to make it all come together and work well. Find this wine

2007 Stratus Riesling Icewine (200 ml), $39 Can: Like the 2007 Stratus Riesling, this is not produced from estate fruit; it saw all stainless steel, and was fermented a little drier than most, so it's not as cloying as these can sometimes be. Alan commented on "a beautiful citrus, almost like sweet lime," and these accent the perfumed apricot and honey characteristics very nicely. Find this wine

2007 Stratus Red Icewine (200 ml), $39 Can: Pretty in pink, this is comprised of Cabernet Sauvignon, Cabernet Franc and Syrah, and offers sweet strawberry and rhubarb pie flavors and aromas, again, with great elegance and balance. Find this wine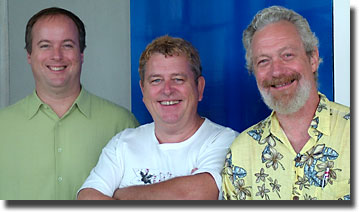 To say that I was greatly impressed with this terrific operation would be an understatement; we certainly tasted nothing like this during our last trip some five years ago, and when I expressed such to Alan and Kim, they just smiled knowingly. It was especially cool to hook up with Charles again, and he was most gracious and generous with his time. Stratus is quite simply a must-stop for any wine lovers traipsing about the Niagara Peninsula looking for high quality wines in a showcase setting.

Reporting from Day-twah,
geo t.

Other Recent Wine Explorations
New Rieslings from Chateau Grand Traverse & more…
Not So Random Samples: 6 From Cameron Hughes
Red Wings and Red Rhônes
Playoff Diary 2008
WELCOME HOME STANLEY!!!
Red Wings and Red Rhônes
Playoff Diary 2008-Round 3

Back to the August 2008 Index
Back to the Underground Index

Back to the Top



© George Heritier August, 2008