Arcadian Winery, located in California's Santa Maria Valley, may not be a "household name" in the greater wine world, but at the same time, it does occupy more than just a "niche" slot, or at least it should. Known for producing high quality Chardonnay, Pinot Noir and Syrah, Arcadian is owned and operated by one Joe Davis, who is both quite skilled at his craft and none too shy in expressing his opinions about said craft as practiced by himself and his peers. So, when we received a call from AHD Vintners' Richard Delsener a while back, asking if he could bring Mr. Davis around to meet and taste with us, we were only too happy to oblige. Our experience with Arcadian was limited to just two wines, both '99s, a Chardonnay and a Pinot Noir, and although neither received our ringing endorsement, it was obvious from tasting them that this is a producer to be reckoned with.

Messrs. Delsener and Davis arrived late in our workday, and we stayed after hours tasting and talking. Joe looked a bit weary from his heavy schedule of wine luncheons, dinners and stops at various retail outlets, but that in no way inhibited him from explaining any and all aspects of production of the ten wines we tried. I only wish that we had a camera and tape recorder to better document the event, but we do what we can and it is what it is. Still, we can give a kind of Cliffs Notes summary of what Arcadian is all about before getting to the wines themselves.
Joe Davis, then a college student working in a wine shop in Seattle, met his epiphany when a customer brought him a bottle of 1978 Clos de la Roche Grand Cru, Domaine Dujac, and he was hooked. He enrolled in UC Davis' graduate program, and in 1985, went to work at Morgan Winery. Several years later, he took the position as General Manager at Bernardus. It was Davis' intention to produce wines using traditional French artisanal methods of winemaking and vineyard management, and he would do so during his tenure at those two operations before going on his own and releasing his first vintage of Arcadian Chardonnay in 1996. Here's the basic plan:

Who stomps grapes any more? They do at Arcadian!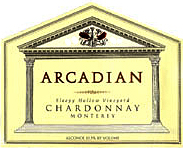 Whole cluster fruit is hand picked and sorted early in the day to maintain its chill, then sorted again at the winery and cold soaked for 48 hours to both inhibit any premature fermentation and extract as much color and tannin from the skins as possible. Fermentation takes place in small open topped wooden vats, and grapes are pigeaged (foot treaded) three to five times daily for further richness, color and tannin extraction. (Who stomps grapes any more? They do at Arcadian!) Wines are pressed when reaching sugar levels of 1-2 º; then, they complete fermentation in barrel, are aged in new French oak and bottled unfiltered. Vintages may vary, but the methods remain the same, giving the wines a true "house style," which was very apparent to us in what we tasted. Here are my snapshot notes on those ten wines:
2003 Arcadian Winery Monterey Chardonnay Sleepy Hollow, 14.7% alc.: Pale gold color, with rich, intense honeyed apple, pear, spice and a little mineral in flavor and aroma; full bodied, with good acids and fine length. According to Joe, it has at least 10 years of aging potential. Find this wine

2003 Arcadian Winery Santa Maria Valley Pinot Noir Dierberg, 14.5% alc.: Smoky ruby garnet color; smoky, earthy, hint o' leather, beet root, black cherry and a little cola; rich and a little funky in a good way at the same time. Medium full to full bodied; my notes read "beautifully Burgundian," and this was clearly my favorite of all the reds. Find this wine

2003 Arcadian Winery Santa Rita Hills Pinot Noir Fiddlestix, 13.6% alc.: Smoky ruby garnet color, with a smoky matchstick nose; not as effusive aromatically nor as intense as the Dierberg, and slightly green in a good way. Black cherry and beet root, with some earth and smoke; medium full bodied, with good depth and length. Find this wine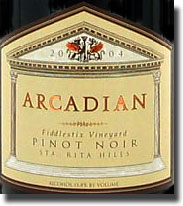 2004 Arcadian Winery Santa Rita Hills Pinot Noir Fiddlestix, 15.8% alc.: Slightly cloudy smoky ruby garnet, and riper than the first two, due to the intense heat of the vintage; slightly green in a good way, with good structure and somewhat earthy black cherry and plum character. Find this wine

2004 Arcadian Winery Santa Lucia Highlands Pinot Noir Pisoni, 15.9% alc.: Ruby red color, with smoky, toasty oak over rich, intense black cherry, plum, earth and just a little toasted bread; smooth, rich and ready, but showing just a little heat. Find this wine

2003 Arcadian Winery Santa Lucia Highlands Pinot Noir Pisoni, 13.5% alc.: Smoky ruby red, with nice, slightly stemmy cherry and plum flavors and aromas; smooth and drinking well, but not yet at peak. Find this wine

2005 Arcadian Winery Santa Ynez Syrah, 14.6% alc.: Dark garnet color, with a rich, earthy plum and berry mélange on the palate; smooth, well structured and very friendly in personality. Find this wine

2003 Arcadian Winery Santa Ynez Valley Syrah Westerly, 14.9% alc.: Good dark color, with rich fruit and a little more of everything than the '05 Santa Ynez Syrah, as well as undertones of earthy underbrush. Very nice. Find this wine

2003 Arcadian Winery Santa Ynez Valley Syrah Star Lane: A very pretty wine, perfumed, and offering rich, lovely plum and berry fruit. Joe remarked, "I personally like this for its elegance," adding "it may be the most feminine of all the Syrahs." I would not disagree, because this is one lady I'd like to get to know better. Find this wine

2004 Arcadian Winery Santa Ynez Valley Syrah Stolpman, 13.8% alc.: Even more perfumed than the Star Lane, but not as big or as forceful; just a little green, but in a good way. A lovely medium full bodied Syrah. Find this wine

These are all serious wines, made to age and develop, and yet they all show so well already. I'm sure that they benefited from the air they took from having been poured all day, but air alone won't turn a poor wine into a fine one, and these are very fine indeed. Drink 'em now or drink 'em later; either way, they get my vote for being some of the best things we've tried all summer. (For those interested, check out this entertaining interview with Joe Davis on Grape Radio.com.)

Reporting from Day-twah,
geo t.

Other Recent Wine Explorations
New Rieslings from Chateau Grand Traverse & more…
Not So Random Samples: 6 From Cameron Hughes
Red Wings and Red Rhônes
Playoff Diary 2008
WELCOME HOME STANLEY!!!
21 '06 Burgs – 2nd Day Air

Back to the August 2008 Index
Back to the Underground Index

Back to the Top



© George Heritier August, 2008