ontinuing with our exploration of the varieties of the Pinot Noir experience, we recently tasted through five offerings from the Oregon producer Panther Creek, four from the 1998 vintage, and one from '99. It would be an understatement to say that these are not delicate Pinots. The '98s are very much similar to each other, the main differences being in subtle nuance; the lone '99 on the other hand, while showing essentially the same "house style," expresses some rather different characteristics.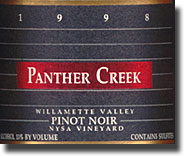 They don't like to mess around much with their wines at Panther Creek, referring to themselves as minimal interventionists; sourced from leased blocks of some of the Willamette Valley's finest vineyards, the wines are "coaxed" into being all that they can be, and bottled unfined, and unfiltered. Reduced yields, careful sorting, cold maceration and 10 - 18 months in French oak (25 - 75% for Pinot Noir) all contribute to the quality of these wines, made by Michael Stevenson, along with consulting winemaker Mark Vlossak, of St. Innocent notoriety.

But talk is cheap, and none of the above would mean doodley - squat if the wines don't have the stuff to back it all up. Happily, such is not the case with these big - boned Panther Creeks.

1998 Panther Creek Willamette Pinot Noir Reserve, $42.99, 13% alc.: Ruby dark garnet in color, showing evocative smoky black cherry aromas, with notes of sweet oak, tar and underbrush in the background; flavors echo, with more underbrush, a few years worth of tannins, good acidity and a lingering finish. The wine opens nicely with an hour or so of aeration, becoming much smoother and more harmonious, while gaining a hint of chocolate. Still on the way up, this will certainly develop and improve over at least the next two or three years.

1998 Panther Creek Willamette Pinot Noir Bednarik Vineyard, $42.99, 13% alc.: Another ruby dark garnet, this gives up smoky aromatics that run a gamut of black cherry to cranberry to pomegranate, with tarry undertones and hints of chocolate and underbrush. Flavors more or less echo, but don't quite deliver on the promise of the nose, seeming somewhat flat and lacking in the mid - palate. There are still significant tannins to shed here, along with zippy acidity and an accentuated element of underbrush that takes on an almost briary - brambly quality. This one needs another three to five years, but will the fruit survive, or is this just an off bottle? More than just a "good" Pinot, but not up to "very good."

1998 Panther Creek Willamette Pinot Noir Shea Vineyard, $51.99, 13% alc.: This ruby dark garnet has a slightly smoky tinge to its color, and the rich black cherry and plum bouquet features earthy, tarry undertones and some nice spice on top; Kim gets a hit of matchstick - sewer - sulfur, and I pick up on that too, but it blows off quickly. All of the positive attributes follow through in the flavors, accented with an added note of cola; there's still a good dose of tannins and plenty of acidity, and the wine finishes nicely. More approachable than the previous two when first poured, it smoothes out considerably with as little as half an hour to forty five minutes of air. A very nice Pinot Noir, and I have no reason not to think that this will be at or approaching its peak on its tenth birthday.

1998 Panther Creek Willamette Pinot Noir Nysa Vineyard, $43.99, 13% alc.: Another smoky tinged ruby dark garnet colored pinot, this throws effusive, earthy, smoky plum and black cherry aromatics that show just a hint of the barnyard and perhaps a little heat. There's plenty more of the same on the palate, along with some subtle sweet spice, cola, oak, tar and underbrush; like the others, it really opens with some air, but has the structure for a minimum of two to three years of development and improvement. Nice stuff here.

1999 Panther Creek Willamette Pinot Noir Nysa Vineyard, $43.99, 13% alc.: Despite the same basic ruby dark garnet hue, this '99 Nysa is a horse of a different color, with a slightly less expressive nose than the '98, showing much more earth and underbrush than fruit; Kim described it as "mushrooms and potting soil," and I agreed, adding an impression of mushroom soy sauce. Some smoky black cherry peeks out from behind the loam in both flavor and aroma, becoming deeper, darker and more accentuated as it opens. This has excellent structure that bodes well for at least five years of development, but like the other four, it's drinking well already, and indeed, proved to be Kim's favorite of the lot.
(Michael Stevenson posted some interesting and informative notes and observations on '98 - '02 Nysa Vineyard Pinot Noirs from Panther Creek, Bethel Heights and Ken Wright Cellars on the Panther Creek message boards. They provide some added background on this fine vineyard, named for the home of the Greek god of wine, Dionysus.)


5 Easy Pinots
OK, maybe these pinots aren't all that easy, but I couldn't resist the play on the classic movie title, so sue me. Actually, the wines are all pedigreed left coast types that, while certainly approachable at this point, will need some years yet before they provide optimum drinking. All were tasted over the last few months.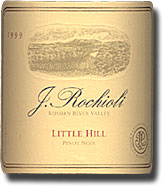 1999 Rochioli Russian River Valley Pinot Noir Little Hill, 14.2% alc.: Cousin Larry Meehan knows how much Kim loves her Rochioli (and I'm rather fond of the stuff myself), so he brought this ruby garnet over to share with us on a recent visit. There're all kinds of things going on aromatically, with black cherry, soft creamy oak, briary underbrush, and hints of caramel, chocolate and mahogany. The flavors are all primary black cherry and plum shaded with underbrush at this point, along with significant tannins that need time to mellow. Larry added impressions of "pine needle and exotic wood," and as this opens with air, more and more mahogany emerges. As much as we enjoyed it, it should be even better in about five years or so.

1999 Dehlinger Russian River Valley Pinot Noir Goldridge, 14.3% alc.: This ruby garnet is showing rather differently than the last time we had it a year ago; it throws a big hit of dusty bell pepper right off the bat on the nose, and flavors echo, with plenty of black cherry and some road tar underneath. Larry noted some kind of tea and more exotic wood, not unlike the Rochioli, and also said it was rather different than one he tasted in the last three months, adding "That one was bigger, I like this one better." Not at all unpleasant, but just so different than our previous experience with this bottling.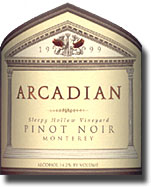 1999 Arcadian Monterey Pinot Noir Sleepy Hollow Vineyard, $38.99, 14.2% alc.: With her first whiff of this, Kim oohed and aahed over this smoky tinged ruby garnet Pinot Noir, and indeed, you can smell the effusive aromatics from three feet away. It exudes lots of black cherry, smoke, tealeaf, underbrush, a hint of mahogany and a bit of bell pepper that blows off eventually. The flavors echo loudly with more mahogany and a sleek density, and while there are tannins present, they play more of a behind - the - scenes role here, needing a few more years to really smooth out. If there's a detraction, it's that streak of green bell pepper, which remains in the flavors. Will time temper this quality? I'm not sure, but there's no doubt that this has all the goods to develop and improve for at least two or three more years.

1998 St. Innocent Willamette Valley Pinot Noir O'Conner Vineyard, $19.99, 13.4% alc.: We opened one of these when "Cousin" Larry visited, and all of us agreed that it was quite "off," as though it had been damaged by heat. Fortunately, I was able to replace it, and didn't wait long to see how that bottle showed. The wine is deep and dark in color, bouquet and flavor, being perfumed, but not as perfumed as last year at this time. It shows rich, delicious smoky black cherry, with undertones of saddle leather and cedar, and an earthy bed for the considerable fruit. There's a nice density to this, but it's not one of those oh - so - detestable "syrah - like" pinots. The tannins still need a few more years, but I'll probably be trying another next August or September.

2000 Domaine Drouhin Willamette Pinot Noir, $39.99, 13% alc.: This ruby dark garnet would have best been decanted about three hours before drinking, instead of half an hour or so, because by the time we were on our last glasses, it was really coming around nicely. It exudes effusive candied cherries, black cherries and a little smoke on the nose, being somewhat less bright on the palate, with earthy black cherry, plum and cranberry flavors. The acids are balanced, and the subtle tannins here are deceptive, as they need at least two or three years to mellow. Kim finds it "a little green," and while I can see what she's saying, I like it more than she does, especially with her confit of veal breast with sauce reduction, fava bean puree, sautéed Portobello mushrooms and leeks, crustless tomato tart and green beans with mint. Like many from Domaine Drouhin, this has a certain Burgundian quality about it, being more earthy and restrained in character than many left coast pinots. But again, extended air will make all the difference with this now.


(Anything But) Flotsam and Jetsam


2002 Patricia Green Sonoma Coast Pinot Noir Hirsch Vineyard, $47.99, 13.5% alc.: I didn't get much of a read on this at Moe Fest '04, so when I found another chance to try it, I didn't hesitate. Ever so slightly cloudy, this ruby dark garnet colored Pinot throws an effusive smoky black cherry, pomegranate and cranberry bouquet that echoes loudly in the flavors, with a powerful, tannic presence, good acidity and some heat. It seems to show more of Patricia Green's style than any particular Hirsch characteristics, and the tannins need three to five years to smooth out.


1992 Calera Mt. Harlan Pinot Noir Jensen, $35.99: This ever - so - slightly cloudy ruby dark garnet would have fit in well at Moe Fest '04 Saturday night, particularly when Brian Loring pulled out the Caleras he'd brought along from out left. This one shows rich, earthy, smoky plum, black cherry and tea leaf flavors and aromas, with a briary note in the background. Deep, intense and delicious, yet with a good dose of tannins still to shed, this is a big boned twelve year old Pinot that's still on the way up.

2001 Paul Hobbs Napa Pinot Noir Carneros Hyde Vineyard, $72, 14.7% alc.: A slightly cloudy ruby dark garnet in color, this shows a big dose of sweet, sugary oak on top of big tannins, and it's hard to tell what else is underneath it all; some sweet spice, cherry, black cherry and plum emerge as it opens, but this is no where near ready to drink. I'd try it again in about '09 of I had another bottle, but $72?! I don' think so...

Reporting from Day-twah,

Bastardo