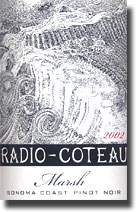 2002 Radio - Couteau Sonoma Coast Pinot Noir Marsh Vineyard, $35, 14.4% alc.: Kim and I are so happy with this wine, not only because we really love good Pinot Noir, but also because the grapes were grown by Pete and Barbara Marsh, two of the nicest people you'll ever want to meet. A ruby dark garnet in color, it exudes a beautiful bouquet of pretty black cherry, raspberry and Asian spice, with hints of cola and smoke. These follow through in the exuberant flavors, and despite a few years worth of tannins, this is already drinking so well that I fear for the safety of our other bottles; they may not last long. Nice intensity and concentration, with a long lovely finish, this is a no - brainer for anyone who loves fine California pinot noir, except that it's probably all spoken for, with only 76 cases produced.

2000 Dehlinger Russian River Valley Pinot Noir Goldridge Vineyard, $41.99, 14.5% alc.: A perennial favorite at our house, this ruby garnet edition of the Dehlinger Goldridge pinot noir exudes effusive aromatics of smoky black cherry and Asian spice that show classic Russian River Valley character, and also, just a little heat. Flavors echo with medium concentration on a medium full bodied frame, but don't quite deliver on the promise of the nose; tannins can use three to five years to resolve, and the finish is decent, if not overly long. This does fill out a little with a few hours of air, but the tannic structure becomes more apparent at the same time. Not the best Dehlinger Goldridge pinot I've ever had, but certainly a good one; these often put on some weight with a few years in the cellar, so no matter how you look at it, this wine's best days are still ahead of it.
2001 Dehlinger Russian River Valley Pinot Noir Goldridge Vineyard, $39.99, 14.3% alc.: A slightly cloudy ruby dark garnet with smoky black cherry, plum and just a hint of chocolate on both the nose and the palate, this is considerably richer, denser and more appealing than the 2000 model noted above. Medium full bodied, with a velvet - like texture, this features good, though not excessive extraction, unobtrusive tannins, just enough acidity to make it all work and a fairly long finish. Textbook Dehlinger Russian River Valley Pinot Noir, this has a stylish polish to it, and while it's drinking very well already, it will improve over the next three to five years.

1999 Gary Farrell Santa Barbara Pinot Noir Bien Nacido Vineyard, $46.99: Having had precious little experience with Gary Farrell's wines in the past, we've missed the boat, based on popular opinion, and if this wine is any indication, we're still out there swimming. It's a dark garnet pinot noir that exudes a lovely perfume of smoky black cherry, plum, Asian spice and subtle undertones of earth and toast that carry over into the flavors; it has a nice density to it, with at least a few years worth of tannins, but loses just a little intensity on the mid - palate on back through the finish. It fills out some with air, but never quite achieves the presence that I'd expect from this producer and vineyard. Perhaps some cellar - time will allow it to put on a little weight, but at this price, I won't be buying another to find out.

1997 Kenwood Sonoma Valley Pinot Noir Jack London Vineyard, $24.99: Ruby dark garnet, with a sweet pinot nose of rich, smoky black cherry and plum that carries over in the medium full bodied flavors, with an earthy core and still substantial tannins. This has a glorious bouquet, but it needs at least three to five years, which begs the question as to whether or not the fruit will survive. Maybe…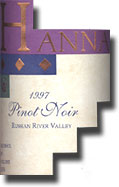 1997 Hanna Russian River Valley Pinot Noir, $21.99, 13.5% alc.: The rusty ruby garnet color made me wonder if this might not be past its prime, if not over the hill, but all fears were quelled, as it opens within a matter of minutes of being opened, revealing lovely sweet, rich smoky black cherry, Asian spice character, with just a hint of chocolate. The tannins are mostly resolved, but there's still some zippy acidity here, and as it opens, it gains an expanding note of mushroom that adds complexity and interest. Very nice, it can probably improve for at least a year or two. Tasted twice with consistent results.




3 from Cristom


I first tasted Cristom Pinot Noir during a visit to the winery in August of '01. I was quite impressed then, and again last August, when we cracked open our last bottle of their delicious '99 Reserve Pinot Noir. So, I was geeked when we had a chance to taste a couple of '99 single vineyard pinots, as well as a 2000 recently, two of which hadn't yet been released as of my visit almost three years ago.

1999 Cristom Willamette Valley Pinot Noir Marjorie Vineyard, $39, 13.5% alc.: A ruby garnet in color, this shows dusty black cherry, plum and smoke on the nose, with pretty medium to medium full bodied flavors that echo nicely, if not quite completely, and Kim added an impression of a dry roasted peanut quality. The dust blows off to reveal even more smoke on the beguiling bouquet, but it doesn't have the depth and intensity on the palate that I would have expected from such a highly regarded wine (94 points, RP) that is supposed to be the cream of the crop of the '99 Cristoms. There are still some unobtrusive tannins here, along with good acidity, but it piddles out some just past the mid - palate on back through the finish. Not a bad wine by any means, but I wonder if this isn't an "off" bottle?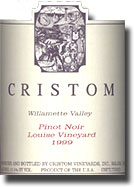 1999 Cristom Willamette Valley Pinot Noir Louise Vineyard, $39, 13.5% alc.: This ruby garnet is rather more complete than the '99 Marjorie bottling noted above. On the nose, it shows candied cherry, a little earth and a subtle something like creamy woodshop - sweet baby poo. The flavors are deeper and darker, with earthy black cherry and blackberry, along with some brambly forest floor as it opens. More tannic than the Marjorie, with more depth throughout, good acidity and an already long finish that should lengthen as it resolves the tannins. It really opens with three hours of air, turning almost creamy and not quite opulent, but really needs cellar time to tame the rough edges, so give it another couple of years minimum.

2000 Cristom Willamette Valley Pinot Noir Jessie Vineyard, $44.99, 14% alc.: Black cherry, plum, smoke, cola, spice and a little heat characterize the gorgeous aromatics and flavors of this ruby dark garnet pinot noir, and it shows excellent concentration and intensity. The significant tannins and zippy acidity beg for some time in the cellar, however, so I'd put this one down for five years or so.




2 from Elk Cove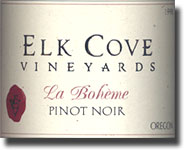 1998 Elk Cove Pinot Noir La Boheme, $48.99, 13% alc.: I can understand why Kim described this ruby dark garnet as "flat and uninteresting; short on the beginning, middle and finish, hence flat." My take is a little kinder: the wine shows a deep, dark plum, black cherry and candied cherry bouquet, with a hint of matchstick in the background, while the medium full to full bodied flavors are more in the earthy plum and black cherry spectrum with moderate oak influence. Said flavors aren't as expressive as the nose, but I wouldn't call them flat, exactly; rather, they emphasize the low notes at the expense of the high. In other words, too much bass and not enough treble. There's good intensity here, but it really needs those high notes. This certainly has the structure to improve for a few years, so maybe something good will happen, but to me, it's way overpriced for what's in the bottle.

1999 Elk Cove Pinot Noir Roosevelt Vineyard, $48.99, 14.3% alc.: A ruby dark garnet with deep, dark plum and black cherry aromatics shaded with subtle dusty, funky undertones. Flavors echo with dusty cocoa and notes of cola and some garrigue - like underbrush as it opens. Medium full bodied, this is NOT a feminine pinot noir, being somewhat syrah - like, but in a totally different way than so many California fruit bombs. It features a smooth, dense texture, unobtrusive tannins, good acidity and a fairly long finish. Three to five years from its best, this is a nice, if again, overpriced pinot, one that I like better than the La Boheme; I also like it better than Kim did. She commented, "…hot and spicy; it doesn't give you a chance to enjoy the pinot qualities, but I like it better than the La Boheme."

And Two from Someplace in France...

2001 Nicolas Potel Chambolle - Musigny, $46.99, 13% alc.: There's a slightly smoky quality to the ruby garnet color here; it features a lovely bouquet of smoky sweet oak, plum and black cherry, with floral overtones and just a hint of maple syrup as it opens. Flavors more or less echo, taking on a decidedly earthy character in place of the floral; with a nice density to it, this is no wallflower. Not too complex right now, and not nearly as charming in the mouth as on the nose, it needs time to mellow and develop; the youthful tannins are slightly astringent, and turn drying on the finish. There's a fine future ahead for this, so try it in about 2011 to see how it's coming along.

1998 Michel Pont Beaune 1er Cru Cent Vignes, $19.99, 13% alc.: It's been a couple of years since we tasted this ruby dark garnet, and it's come along rather more quickly than I had expected. It's still showing earthy forest floor undertones to the dark plum and black cherry flavors and aromas, and it's developing a good whiff of sea air on the nose. Kim commented that she doesn't find it to be very robust, and in fact, it's neither aggressive nor restrained, but falls somewhere in the middle. It's not too tannic to drink now, and the acids are fairly low; with air, a note of mushroom emerges, and one might expect that to become more accentuated as it ages further. A solid if unexceptional Beaune that should continue to develop nicely for at least another three to five years; well worth the modest tariff.

Imported by Frederick Wildman and Sons Ltd., New York, NY

Reporting from Day-twah,

Bastardo