On to the aperitif
tasting notes

On to the Dominus
tasting notes
On to MoCool '99
Saturday picnic
and
tasting notes

On to MoCool '99
Sunday
"Taste the Terroir"
Cabernet Shootout
intro
"Taste the Terroir"
tasting notes

All content
© Gang of Pour

Storyline by: Mark Overberg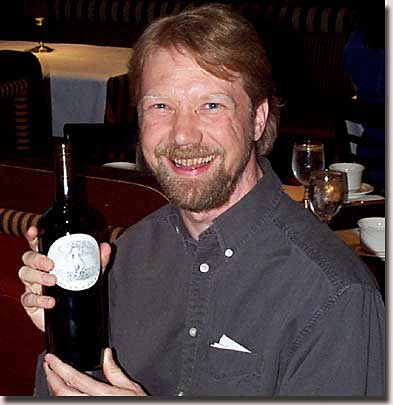 And we have a winner! Michigan's own . . .
well, read on
With only an hour and a half to evaluate the wines, my notes are sketchy due to the fact that I was merely looking for marked differences in them, which might hold indications of "terroir", and signs of age that could help in determining vintage. Being all Cabernet and Cabernet blends, there was much more in common between them than there were differences. My tasting notes include approximate guesses as to vintage, although I stated a particular year as required for my submitted score sheet, which I no longer have. My strategy was to try to separate the likely Californians and Bordeaux, and try to pick wisely between the rest. Yeah.
---
#1. Mature looking, with significant bricking and some amber at the edges. A very reticent nose of currant, some earthiness and herbaceousness. Tannins that seemed to be vastly outliving the fading fruit. More spiciness than its closest neighbors in glass. Probably not California, definitely not Bordeaux. My Wild Guess? Italy, late 1980's. My score? 85 pts. The wine? 1988 Concha y Toro Don Melchor Private Reserve, Puente Alto Vineyard, Maipo Valley, Chile. Ouch. Group Consensus score? 87 Pts.
---
#2. I detect a slight greenness in this wine, and an under-ripe tartness. Good dark garnet coloring, with some signs of maturity. The fruit profile suggests possible over extraction of unripe fruit, nicer than #1, but not exceptional. Closest wine that I can recall in profile is the '91 Columbia Crest Estate Cabernet. My guess? Early 90's Washington State. My score? 89 pts. The wine? 1988 Ornellaia, Tuscany, Italy. Ouch.
Group consensus score? 90 pts.
---
#3. Very mature wine. Rusty core with significant fading to amber at the edge. Intense barnyard nose with a hint of brett, currant, black cherry fruit. Very mature flavor profile, and definitely either a very old great Bordeaux, or a somewhat old but high quality Haut Medoc. Great, only two more Bordeaux to identify! My educated guess? 1982 Bordeaux, Haut Medoc. My score? 93 pts. The wine? 1970 Chateau Musar, Lebanon. Ouch. Group consensus score? 94 pts. Comment: I must admit that I have never tasted a Musar before, but anticipated that the Lebanese offering would be from this producer. Comments at the table before the tasting had me looking for a lean, Chianti style wine. This was VERY Bordeaux like instead, and I'll look for these in the future. Very, very nice.
---
#4. Young looking bright yet dark garnet. No visible signs of age. Hint of menthol or eucalyptus and a forward dark fruit profile on the nose. Youthful tannins, soft yet somewhat "wild" fruit. Mountain fruit for sure. Very nice wine. My somewhat educated guess? Mid '90's California, possibly Santa Cruz Mountains. My score? 92 pts. The wine? 1995 Catena Alta, Tikal Vineyard, Mendoza, Argentina. Ouch. Group consensus score? 95 pts. Comment: I'm going to give myself a half point for identifying the mountain fruit here, and could kick myself for not thinking of the equal likelihood of a Chilean or Argentinean wine considering the mountain fruit profile. If this is Argentina, I need to broaden my horizons. A very, very serious bottle of wine
---
#5. Dark garnet, no visible signs of age. Rubbing alcohol on the nose. Thick, viscous legs. Cigar box tobacco and cedar, dark berries, huge tannins with a green stemminess to them, reminiscent of a few South African Pinotages I have tasted. My somewhat educated guess? '93 South Africa. My score? 90 pts. The wine? 1994 Beyerskloof, Stellenbosch, South Africa. HOORAY!!! Finally! Group consensus score? 90 pts. Comment: Joel Goldberg described this later as South Africa's closest thing to a cult wine. Not available here in the U.S.A., this was hand carried by Joel's friend Rudolph for this tasting. I was very surprised to have correctly identified this, as I don't drink many South African wines for lack of knowledge of the better ones. This was a fine one.
---
#6. Good dark garnet coloring, with mild barnyard notes on the nose. Herbs and sweet dark fruit on the attack, although a touch thin on the mid palate. Nice long finish with good firm tannins and again, the Provencal herb thingy. I like this wine a great deal, and could consider it near perfect except for the thinness on the mid-palate. If there is a Dominus in the crowd, this might be it, most likely the '90. My experienced guess? '90 California Blend. My score? 96 pts. The wine? 1991 Yarra Yering, Dry Red #1, Victoria, Australia. Ouch. Group consensus score? 94 pts. Comment: Not much to say, this is tough and humbling.
---
#7. Lively dark garnet, slightly vegetal nose. Tightly wound and mouth puckeringly tannic. Slightly minty within the dark fruit profile; delicious soft, young fruit hiding behind some searing tannins. Very young, and not ready. Probably not California for the vegetal notes. My wild guess? 1995 Chile. My score? 88 pts. for now, probably much better in a few years. The wine? 1990 Penfolds Bin 707, South Australia. Ouch. Group consensus score? 93 pts. Comment: Obviously, most of those present liked this wine much more than I did, and I would like to try this one again in a few years when the tannins fall into better balance with the fruit.
---
#8. Slightly mature coloration, very nice barnyard notes and a hint-o-brett on the nose. Clearly a Bordeaux with nice herbal complexities from the blend. Noticeably alcoholic though, making this slightly unbalanced. My sure choice? 1985 Bordeaux. My score? 90 pts. The wine? 1982 Lynch Bages, Bordeaux. Hooray. but easy IMHO. Group consensus? 95 pts. Comment: This was a favorite of the group, but to me, the high alcohol presence was distracting. Holding up nicely however, and another testimony to the greatness of the '82 Bordeaux vintage.
---
#9. Very slightly mature looking dark ruby/rust garnet. Astringent on the palate with lack of fruit balance against some pretty large tannins. Medium to light in weight; not real impressive. If this tasting has better offerings from each origin, this isn't California, and surely not Bordeaux styled. Probably third world, not aging well. My guess? '93 Argentina. My score? 87 pts. The wine? 1985 Chateau Haut Brion, Bordeaux. Ouch! Group consensus score? 90 pts. Comment: I must tip my hat at those who correctly identified this as Bordeaux. I did not find anything Bordeaux-like in this wine, much less anything that might suggest a First Growth from a pretty good vintage. This wine was not very well liked by most in attendance, and most were as surprised as I at this wine when the names were revealed.
---
#10. Good vibrant garnet coloring. Very pretty currant/cassis nose, slight barnyard. Methinks not a NEW wine, but relatively young, and definitely Bordeaux. A little high in alcohol to the taste, and not as tannic as the younger coloring and good fruit would indicate should be present. My conclusion? '90 Bordeaux. My score? 92 pts. The wine? 1989 La Mission Haut Brion. Hooray, but again, easy IMHO. Group consensus score? 93 pts. Comment: WOW! 1989 La Mission!!!! Parker gives this wine 99pts! A very nice wine to be sure, but NOT my favorite of the flight, by a long shot. Goes to show you the "truth" in blind tasting, as I would SURELY have scored this higher had I seen the label beforehand. In fact, my FAVORITE wine of the day was up next.
---
#11. Gorgeous dark garnet color. VERY lush, chocolaty ripe berry/cassis/currant flavor, great body, excellent legs and nice vanilla on the long, delicious finish. Integrated and silky tannins. Shows a hint of bottle age complexity, but still VERY young in terms of evolution. THIS is Napa, baby! My sure pick? '94 California. My score? 98 pts. The wine? 1991 Mondavi Cabernet Reserve, Napa Valley. My 4th, and final, hooray. Group consensus score? 94 pts. Comment: This is the second time this year that I have been to a double blind tasting of Cabernet. In both instances, some VERY great wines were present and in both instances, the Mondavi Reserve impressed the HECK out of me. This was also one of the favorite wines at the tasting. I later commented to Joel that I was surprised how well Mondavi Reserves show in great lineups, given their huge production. His response was that Mark Horvatich and he had had this very same conversation, and Mark had made the point that the venerable First Growths of Bordeaux have equally large productions, yet no one is surprised when THEY show so well. Excellent point. I am also heartened by the fact that in BOTH blind tastings, my favorite wines were to be had in the $40-$50 range. Something to consider.
---
#12. Good dark garnet color, somewhat reticent nose of lush dark fruit and oak. A very nice, young wine with plump, juicy fruit and a big flavor profile. Youthful and complex, but not Napa-ish at all. Having used up all of my California guesses by now, I'm going to have to guess somewhere equally capable of producing very good wines in a fruit-forward style. My guess? '95 Australia. My score? 94 pts. The wine? 1990 Ridge Monte Bello, Santa Cruz, California. Group consensus score? 94 pts. Comment: Arrrgggghh! This is TOUGH! Had I not squandered my 3 California guesses already, I would surely think this to be one. I've never had the good fortune of trying a Monte Bello before this, and thanks to Allan Bree, who donated an '85 to my cellar this weekend I will have an opportunity soon to get more acquainted with this fine wine. That I blew a Ridge will hopefully not be grounds for expulsion from the Gang. Heaven forbid.
---
#13. Oooh, a creamy medium/dark red. Incredible richness in the creamy cassis fruit with nice complexities of vanilla, chocolate and a touch of minerals. Very plump, rich fruit showing excellent levels of concentration, with a very nice balance of oak and tannins. Wonderful long fruity finish. DARN! I've already USED my California guesses, but this MUST be, right? Ok, no chance of getting all 13 right, I'm using another California guess darnit! My guess? '95 California. My score? 97 pts. The wine? 1992 Quilceda Creek, Cabernet Sauvignon Reserve. Group consensus score? 92 pts. Comment: Only 92 points? This wine was a showstopper to my tastes. I am a fan of Quilceda Creek since Joel's generous sharing of the regular cuvee at last year's MoCool, but this was my first Reserve. With a very low production, I may have a difficult time finding this for my own cellar, but I'll surely try. In retrospect, I could KICK myself for not making the mental connection of sweet vanilla and rich creamy fruit and chocolate to some of the finer Washington Cabs I've tried, including Leonetti and Quilceda, which share these attributes.
---
After the tasting, the party moved to the No. VI Chop House restaurant located across the Hotel Lobby. A modest brunch was served buffet style, as the results were evaluated for a possible winning entry. Knowing I was easily out of contention, I did find some small relief after discussions with other participants, in that my showing was perhaps slightly above average in comparison. After tallying scores, Joel Goldberg announced that there was indeed a single winner in the event. It came as no huge surprise to anyone who knows him, that Michigan's own Joe Moorehouse had correctly identified the origin of 8 of the 13 wines. He had correctly identified wines #1, 2, 3, 5, 6, 8, 9 and 10 for their places of origin. It was difficult for Joe to conceal his obvious pride in claiming his prize of the 1994 Harlan Estate Cabernet, and the resulting respect that rightfully accompanied his feat of skill.
Thanks are due to the MoCool organizers for hosting this fabulous, educational and humbling event. All in attendance surely are winners for having even attempted such a difficult, palate straining attempt to identify the terroir of 13 Cabernets from around the world, of any given vintage. If any conclusions can be drawn, it is surely that the foray of American and French winemaking interests into the developing winemaking regions, and sharing of winemaking techniques on a global scale will continue to make "tasting the terroir" an even more difficult task in the future. It should also be noted that many fine Cabernets are being produced outside of the United States and France, and some relative bargains are to be had by simply looking beyond the traditional sources of this fine and exciting varietal. Lebanon? Really? Really!