Storyline by
George Heritier


On to the aperitif
tasting notes

On to the Dominus
tasting notes
On to MoCool '99
Saturday picnic
and
tasting notes

On to MoCool '99
Sunday
"Taste the Terroir"
Cabernet Shootout
intro
"Taste the Terroir"
tasting notes

All content
© Gang of Pour
---
1994 Mount Eden Vineyards Cabernet Sauvignon Old Vine Reserve: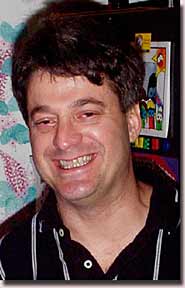 Marc Fairorth

Marc Fairorth brought this dark garnet along, and even at this stage you can tell that it's going to be an elegant beauty. It has a beautiful cassis/red currant nose that gains some cigar box notes on the palate. And did I detect some lead pencil to boot? I believe I did! BD said this reminded him of grape Koolade, but he was alone in that assessment. Despite tannins that could use another five years to resolve, this already has a velvet-like texture.
---
1996 Thunder Mountain Santa Cruz Mountains Star Ruby Bates Ranch; 40% Cabernet Sauvignon, 40% Cabernet Franc, 20% Merlot,13.4% alc.:
Mike Conner brought this up from Knoxville, and of course we never mind trying another one of Milan Maximovich's terrific wines. Typically dark garnet, this has a bit of a burnt matchstick funk on the nose that the Zinfan likened to Kiwi Black Shoe Polish. The funk gradually evolved into a black olive note that complimented the plum/cassis/red currant flavors and aromas very nicely. The acidity seems fairly low, but the tannins will take this several years down the road. Still, it's lovely to drink right now, and we all enjoyed it quite well.
---
1990 Zind-Humbrecht Riesling Clos Hauserer Vendange Tardive; 13% alc.:
This bottle was rather different than the one we took to Aris Francisco's Family Reunion last March, and it was a killer accompaniment to the crab cakes and grilled shrimp that were spread out as appetizers. A medium gold with a honey wax nose, this was much sweeter than the earlier bottle, and seemed a bit darker in color too. It's all honey on the palate, with pineapple/lime undertones and a long beautiful finish. Mike C. commented that the acidity cuts through everything, and everybody was blown away by this lovely, lovely wine.
Finally, it was time for the Dominus!