Storyline by
George Heritier




On to the aperitif
tasting notes

On to the Dominus
tasting notes
On to MoCool '99
Saturday picnic
and
tasting notes

On to MoCool '99
Sunday
"Taste the Terroir"
Cabernet Shootout
intro
"Taste the Terroir"
tasting notes

All content
© Gang of Pour
---

1983 Dominus Estate
80% Cabernet Sauvignon, 20% Merlot, 12.9% alc.:
This slightly rusty garnet shows alcohol and barnyard on the nose, according to the 'deauxnut; CZ detected lead pencil and a certain "mossy" quality, whilst I found leathery cassis flavors and aromas. It's a little vacant on the mid-palate and finish, and Bree says it's typical of '83 Napa Cabs. Still, it's not a bad or unpleasant wine by any means, it was simply overwhelmed by everything that followed. 85-87.
---
1984 Dominus Estate
75% Cabernet Sauvignon, 25% Merlot, 12.8% alc.:
CZ described the aromas of this dark garnet as "mushroomy/thyme/pine cone," and we agreed with Marc F. that it is definitely on the vegetal side of the spectrum. Still, some lovely red currant/cassis peeks out from behind, and really blossoms in the flavors, with added notes of cigar box and an herbaciousness that we'd find again and again as we tasted down the line. Fully mature, with just a light coating of tannins, this shows so much more fruit than the previous bottle. 90+.
---
1985 Dominus Estate
80% Cabernet Sauvignon, 20% Merlot, 13.4% alc.:
CZ went on a roll describing this dark garnet that has yet to show any rust. "Inky, with a lot more fecal sewerage on the nose, and dried mushroom; deep, deep black fruit, along with some anise seed; just coming into its own; lovely balance." The funk does blow off to reveal beautiful plum/cassis with what Marc F. called "vegetal olive notes." I liked this better than the '84, whilst CZ liked it better than the following selection. 92-94.
---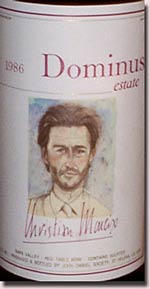 1986 Dominus Estate 80% Cabernet Sauvignon, 12% Merlot, 8% Cabernet Franc, 12.9% alc.:
The Director and I had tasted this and the '87 with Mark and Teresa during our second meeting last year, and they were perhaps even better this time around. The '86 is a dark garnet with a big fruit nose, all plum/black currant with notes of cinnamon/dark chocolate and a little less cigar box than some of the preceding models. Very smooth and delicious, drink this while you're waiting for the '87 to come around. 90-92.
---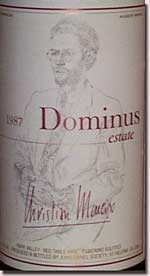 1987 Dominus Estate 86% Cabernet Sauvignon, 5% Merlot, 9% Cabernet Franc, 12.9% alc.:
BD gave his little Munchkin Doughnut Gabrielle a sip of this dark garnet, and she exclaimed, "Oooh, it's spicy!" It shows the biggest tannins of those tasted so far, and the plum/cassis flavors and aromas are dominated by cigar box bordering on underbrush. It was a wonderful with Bree's leg of lamb with demi glace and Teresa's horseradish encrusted beef tenderloin. 90-92 now; probably higher as it matures.
---
1988 Dominus Estate
86% Cabernet Sauvignon, 3% Merlot, 11% Cabernet Franc, 13.5% alc.:
Yup, another dark garnet that shows a bigger nose and sweeter fruit on the palate than the last few, this has a sea air/aquarium/ chocolate/cassis character accented by hints of cigar/leather. While it doesn't have the depth of the earlier models, it's so accessible right now, and a real success story considering the vintage. 88-89.
---
1990 Dominus Estate
83% Cabernet Sauvignon, 7% Merlot, 8% Cabernet Franc, 2% Petite Verdot, 13% alc.:
A funky burnt rubber note on the nose bleeds through a bit to the palate, but blows off shortly to exhibit nice plum/black currant/cigar and some chocolate as it opens. The tannins are silky and this needs time, but it shows more fruit than any of the earlier models except the '88. These all take on nice herbal qualities with this vintage forward. Loverly! 89-90.
---
1991 Dominus Estate
80% Cabernet Sauvignon, 19% Cabernet Franc,
1% Petite Verdot, 13.5% alc.:
Bree spoke for all of us when he exclaimed, "Really a stunning wine!" He went on to add, "It's a flashy babe. I don't know if I could establish a long term relationship, but tonight I want her!" And indeed, this dark garnet is full of big jammy fruit, perfumed notes on the nose that features red currant/cassis/cigar box and an undertone of Provencal herb/underbrush and even a little chocolate. These echo loudly on the palate, with a long finish, and if this can go for many years in the cellar yet, it's hard to keep hands off now. It's definitely different stylistically from the vintages of the'80's, and yet it maintains a certain continuity at the same time. If that sounds like a paradox, it's a happy one. One of the best wines of the year for this taster. 95+.
---
1992 Dominus Estate
53% Cabernet Sauvignon, 22% Merlot, 22% Cabernet Franc, 3% Petit Verdot, 13.5 % alc:
The winery's stat sheet doesn't give exact varietal percentages for this, but does state that it "contains increased percentages nearly 20 % each of both Merlot and Cabernet Franc, with a touch of Petite Verdot." Obviously, that would bring the Cabernet Sauvignon in at around 60 % or less. It's another dark garnet with big sweet flavors and aromas of cassis/plum/cigar box/Provencal herb and a little licorice. It has significant tannins, but it really opens nicely with air. Smooth and beautiful, it strikes a very nice balance between the old and new world styles. 92+.
---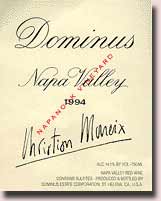 1994 Dominus Estate
72% Cabernet Sauvignon, 12% Merlot, 11% Cabernet Franc, 5% Petite Verdot,
14.1% alc.:
There was no Dominus made in 1993, so this dark garnet was the next up. A weedy note on the nose gives way to licorice/Provencal herb, and we were all struck by the recurring herbaceous theme in these; Bree called it garrigue, adding notes of "underbrush/herb/bramble/lavender." I was surprised that it reminded me of a Croze Hermitage! These all complimented the usual cassis/plum/red currant characteristics. While it was quite tasty after having been opened four hours earlier, it's dense, serious stuff that really needs some years in the cellar; try it on its 10th birthday. 92-94.
---
1995 Dominus Estate
80% Cabernet Sauvignon, 10% Cabernet Franc, 6% Petite Verdot, 4% Merlot, 14.1% alc.:
By the time we got to this, we were itching for a swim down by the bonfire, so perhaps we can be forgiven for taking less than detailed notes. Besides, how many different ways are there to describe the Dominus signature plum/cassis/Provencal herb profile, except to say that this is a younger, tighter version of the last three, and needs several years in the cellar. 88-90.
---
1996 Dominus Estate
82% Cabernet Sauvignon, 10% Cabernet Franc,
4% Petite Verdot, 4% Merlot, 14.1% alc.:

An even younger, tighter, more tannic version than the last, but both show great promise. As CZ put it, "this might just be a legend." 90-94.

Because of the lack of detail with notes on the latter two, I asked Mark O. for his opinion on them, since he has so much more experience with this producer.

"I find it interesting that the '91 and '94 Dominus are both excellent vintages, consistent with those vintages in general in Napa Valley. The '95 and '96 on the other hand are paradoxical for Dominus. '95 was an excellent vintage for Napa in general, and '96 far more variable. At Dominus, it would seem that the '95 is an underperformer and that the '96 is far better IMHO. Also, its worth noting that the pundits (Parker in particular) extolled the virtues of the '96 Dominus while in barrel, but scaled back their enthusiasm once bottled. My feeling is that their original estimate of the quality of the '96 is closer to being accurate than the reassessments were.

- Mark Overberg"

Once down at the lake, we were joined by our compadres Zinvocate/Mike Brenton, Dennis Strzalkowski and Mike Conner who enjoyed selected samplings of these terrific wines and were every bit as impressed as we were.

Once again, the Overborgs staged a magnificent tasting. To say that we were impressed with these wines would be a major understatement. Indeed, the Zinfan has never cared for them in the past, but this lineup changed his mind irrevocably. He was assimilated as were we all!!! It's easy to see why the 'deauxnuts love Dominus so, and we were all most appreciative for the rare opportunity to savor all but the weakest vintage of these very special California clarets.