So, he would go to these regions, talk to the locals, try to find out who was preeminent in that area, if there was someone who was, and then work out a relationship with them and introduce their wines into the US market and try to introduce the region at the same time.
He went to Châteauneuf du Pape for the first time in 1963 and met the Perrin family then, at a point when there were only three Châteauneuf du Papes that were even doing their own estate bottling; everyone else was selling their wine to the cooperatives, because there was no market for estate bottled Châteauneuf du Pape. So, he started working with Jacques Perrin, and eventually after he died relatively young in the early '70s, with his sons, Jean-Pierre and François Perrin and introduced to the US market, first Beaucastel and then La Vieille Ferme and then the other line of Perrin wines, and they would go on trips around the US promoting their French wines, and California was obviously an important part of these trips, and after every trip to California, they would come back talking about how much the landscape, the sense of place, the light, the air reminded them of the southern Rhône. And, at the same time, they were kind of confused as to why no one was planting Rhône varietals there, so they started talking at some point about doing a Châteauneuf du Pape-styled project together in California. They started talking about it as early as the late 1970s.

It took them a while to get everything together, to get off the ground, to get resources together, but in '87, they put together a partnership where the two families were equal partners and started looking for the right spot, and they looked on and off for the next two years, as far north as the northern border of Mendocino, looked down through Sonoma, Napa, Contra Costa County, Sierra Foothills, Monterey, San Luis Obispo County, Santa Barbara, all the way down to Ventura, and ended up choosing a spot on a 120 acre former cattle ranch in the northwestern corner of the Paso Robles appellation. We picked this area because of the soils; there are limestone soils there that are quite rare in California. There's also a really long growing season because of how far south we are and a huge swing in temperature between day and night. It's very hot in the day during the summer, routinely in the upper 90s (to) low 100s, but quite cold at night, normally a 45 to 50 degree swing in temperature between day and night.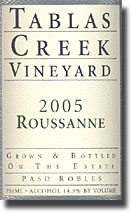 So, they took new cuttings of all of the most important traditional Rhône varieties from Beaucastel, new cuttings of Mourvèdre, Syrah, Grenache and Counoise for reds, and Roussanne, Marsanne, Viognier and Grenache Blanc for whites and brought them into the country, which involved a three-year quarantine process, and then built a grapevine nursery on site to propagate those vines for grafting and for use in our vineyards. The vines came into quarantine in the winter of '89-90 and we got them out in '92; we got our first vines in the ground in '94 and our first crop in '97, which was when we built the winery and launched the Tablas Creek label.

Since we started, everything has been done to try to create wines that are about the place in which they are grown, reflected through these grape varieties, so from the beginning, we have used only estate fruit, we never bought any grapes. Also, the vineyard is certified organic, and has been since we started; Beaucastel is also organic and has been since 1964. To that end, we started out focusing on blends, figuring that this is what these grapes are naturally comfortable with, and we've done that. We've split from doing just a single red wine and a single white wine the way that we did in the beginning into doing two main reds and two main whites. So, we call our signature wines each year the Esprit de Beaucastel; we do a red and a white version of those, and that's based consciously after the Beaucastel model, so white based on Roussanne, red based on Mourvèdre, designed to be rich, powerful and long lived. And then we do a Côtes de Tablas red and white, which are designed to be more Côtes du Rhône-ish in style, the white based on Viognier, the red based on Grenache, sort of pure fresh and bright and ready to drink right away.

We also do in small quantity a few single varietals that make it into limited distribution; we do a single varietal Roussanne and Grenache Blanc for whites, and a Mourvèdre and Syrah for reds, and we do this in quantities of around 500 cases each. Our total production is about 15,000 cases, broken down to maybe 60% red, 35% white and then just a little bit of rosé.

We're planted in limestone, this white, chalky crumbly stuff; it's the same bedrock as what they have in Beaucastel, but at Beaucastel, they obviously have those galets, those river rocks that sit on the top, and at Tablas Creek, we don't. We're not in a valley, we're in the hills, so we have a little bit of topsoil on top of that limestone, but not much. It's pretty rugged landscape. It used to be a cattle ranch because that's all that grows. You can't grow vegetables out there, the soil's not rich enough. You get enough rainfall to support the grapevines dry farmed, but it's only for six months of the year, so it rains (our entire annual component, which is about 30 inches per year) between the middle of November and the middle of April. It's sunny and dry for the rest of the year, which is a real luxury, because we don't have to worry about rain during harvest, we don't have to worry about mildew, we don't have to worry about lots of stuff that's a problem in most other places. But if we had gravelly or sandy soil, they wouldn't retain the moisture to give back to the grapevines over the summer. With this limestone-clay, it's very porous, so it soaks up all of the rainfall and gradually gives it back, so it's a perfect match for what we want to do.
GH: Do you have all the thirteen varietals growing now that are legal in Châteauneuf du Pape?
Not yet, some of them are still in quarantine, because we didn't decide until about three years ago that we wanted to bring over all of the really obscure ones, the Bourboulencs and the Clairettes and the Muscardins, Vaccarese, Terret Noir, those that even the Perrins can't necessarily talk about with much confidence (as to) what they're really like, we decided to finally bring those in three years ago. We took new cuttings, we brought them into quarantine, and they're still in quarantine because they were found to have viruses and they're cleaning them up. We will eventually have all thirteen, but for now, we have nine, including two that aren't technically Châteauneuf du Pape varieties. Viognier and Marsanne are permitted in Côtes du Rhône, but not in Châteauneuf du Pape.
Having been updated on the history of Tablas Creek, Jason then took me through a quick tour of the current Esprit de Beaucastel and Côtes de Tablas wines; here are my snapshot impressions:

2004 Côtes de Tablas Blanc, 55% Viognier, 29% Marsanne, 8% Grenache Blanc, 8% Roussanne, $22, 14.5% alc.: Medium straw to pale gold in color, with pleasant (but not over the top) floral overtones to the pretty peach and melon flavors and aromas; nicely balanced and not too ripe. Done essentially in stainless steel; a little bit of the Grenache Blanc spends a month or two in barrel when it goes through malolactic (fermentation), but (they're) old barrels, it doesn't have any new component at all, and the richness that you get out of it is just the natural richness of the place and of the fruit itself.– JH Find this wine

2004 Esprit de Beaucastel Blanc, 65% Roussanne, 30% Grenache Blanc, 5% Picpoul Blanc, $35, 14.7%: Medium straw in color, with a nice floral bouquet of peach and orange blossom, shaded with some mineral; medium full bodied, with flavors reminiscent of peach, melon and a little honey, which are kept moving along with good, focused acids that Jason attributes to the Picpoul Blanc, adding that this excellent wine should offer 8-10 years of aging potential. Find this wine
With the Esprit de Beaucastel, we based it on Roussanne traditionally since we started, because we like the richness and the spice and the longevity that it gives you, but we've found that Viognier has not been a particularly good complement for Roussanne; it's pretty different from Roussanne. They're not typically blended in their own valley. We've found that Viognier and Marsanne have a lot more affinity, whereas with Roussanne, the thing that gives it the best counterpoint to that Roussanne richness is the Grenache Blanc, which has brighter acidity and a rich mid-palate mouthfeel which balances the back-of-the-palate richness that Roussanne has. And so in creating the Côtes de Tablas, we wanted a place that Viognier could really shine, and so that's the leading varietal. We give it some Marsanne to give it weight, to give it mid-palate, to give it a little more ageability, because Viogniers tend to fall off so fast when they're pure, so it gives it that little bit of melon character to go with the peach that you get from the Viognier. Marsanne also brings out mineral very well; we feel that Viognier needs that mineral character in order to be in balance. Even if you have acidity, if you don't have mineral in Viognier, it's sort of one-dimensional. So most of our Marsanne and most of our Viognier goes into the Côtes de Tablas every year, and then we have just a little bit of the most floral, prettiest Roussanne and Grenache Blanc, but even that gives it a little more structure. – JH
2004 Côtes de Tablas, 64% Grenache, 16% Syrah, 13% Counoise, 7% Mourvèdre, $22, 14.8% alc.: Ruby dark garnet in color, showing perfumed dark plum, berry and black cherry kissed with a hint of violet, all of which follows through on the palate with an earthy base; with good structure, balance and length, this will perform well with a variety of red meats, and would be nice to sip while watching a Red Wings hockey game as well! Find this wine

2004 Esprit de Beaucastel, 50% Mourvèdre, 27% Syrah, 17% Grenache, 6% Counoise, $35, 14.5% alc.: Deep, dark garnet in color, with attractive flavors and aromas of black currant, black plum, blackberry, black cherry and a nice hint of chocolate and a subtle floral component; rich and round, without any sense of heaviness. Lush, with excellent structure, a fine sense of balance in every way and great promise for further development. Find this wine
With the reds, we have the same model that we have with the whites; the Côtes de Tablas is designed to be more approachable when it's younger, and we base it on Grenache. We want that sort of licorice-y, spicy Grenache fruit. Both of these '04s are brand new releases, so they're still quite young. With the Côtes de Tablas, we want that more traditional Rhône Valley character; the southern Rhône is so Grenache dominant that we've been wanting for a while to make a wine based on Grenache. We also feel that Grenache, more than anything else, has benefited from the vine age; when it was young, we really struggled with Grenache; we weren't happy with it until 2003. In each year since then, we've been very happy with it, and '05 is actually the first year that we think we might do a single varietal Grenache; we think its got the balance to stand on its own. The Perrins have told us from the beginning that you can't evaluate Grenache until the vines are about ten years old. I also think were learning a little bit more about how to crop it, how to keep it ripening evenly, how to keep its tannins from becoming too aggressive. This has some of those Grenache front palate tannins (Mourvedre is mid-palate and Syrah is back-of-palate), and those tend to be relatively young resolving tannins, rather than Syrah tannins, which can take a decade to evolve. But we want some of that bite to it, we want a little bit of structure, because Grenache always has so much fruit, and always has lots of spice that you need some structure in order to make a rounded wine.

So then, contrast that to the Esprit de Beaucastel red, where we base it on Mourvedre, rather than Grenache or Syrah; the Mourvedre gives it sort of a dark red fruit, the currant, plum and dark cherry and a little bit of a bittersweet chocolate and mocha character that we find really appealing. It also gives it structure to age, it gives it that mid-palate richness, and then we use a good chunk of Syrah for mineral, for black fruit, for spice and for some of that back-of-palate tannin, but not too much, and then the Grenache and the Counoise help open it up and make it more approachable when it's younger, give it good acidity and add some other spice notes. For us, Syrah is the most mineral of any of the red grapes that we grow, so using some of the Syrah in all of our blends really allows the minerality to come out.– JH
These wines are all very appealing, and among all of their strengths, I was struck most of all with their great balance. This impression would be reinforced and amplified with six more wines that Jason sent to us a week or so later; he'd read our comments on 12 Wines from the Perrin Family, and wanted to get our reaction to the whole Tablas Creek line. We let them rest for a week before tasting five of them with Bennett Traub, who was back in the neighborhood on one of his periodic business trips. We had the Rosé a few days later. The '05 Roussanne and Grenache Blanc are so new, they haven't been added to the Tablas Creek website as of this writing.

2005 Tablas Creek Roussanne, $27, 14.3% alc.: Pale gold in color, with lovely flavors and aromas of yellow melons, apples and pears; as I taste this, I really get a sense of the consistent style that runs through all of these wines. It's very smooth textured, with an elegant personality, almost masking the good acidity that keeps everything moving right along. A very fine example of California Roussanne at its best. Find this wine

2005 Tablas Creek Grenache Blanc, $27, 15.3% alc.: Pale to medium straw in color, with green apple flavors and aromas shaded with a note of melon and some subtle minerality, all with the same elegant, smooth textured, well mannered personality, with just enough acidity to make it work. If it doesn't have the impact of the Roussanne, it's perfectly fine taken on its own terms, and would work well with light to middle weight seafood and chicken prepared any number of ways. Find this wine

Both whites were enjoyed with Kim's butternut squash and sun dried tomato soup with basil cream and Parmesan Frico Taco with arugula greens.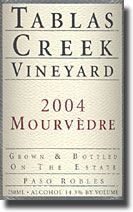 2004 Tablas Creek Mourvèdre, $35, 14.3% alc.: The second 100% Mourvèdre bottled by Tablas creek. Dark garnet in color, fading to very pink at the rim, this exudes a pretty perfume of dark plum and berry that echoes and expands on the palate with some subtle earth, a nice note of leather and a dusting of cocoa powder; so elegant and impeccably balanced, and while it has the structure to age for some years, it's eminently drinkable with some time in a decanter, shows no heat whatsoever and pairs marvelously with grill roasted leg of lamb with a shallot mushroom wine sauce, Comte potato gratin and haricot verts. Bennett cooed, "I love Mourvèdre," adding that this one is "rather gentle," and "certainly more fruit forward than their (the Perrin's) French wines, but that's to be expected." The folks at Tablas Creek expect this wine to shut down for a few years around the end of 2007, and then drink well for a decade or more once it re-emerges. Find this wine

2004 Tablas Creek Syrah, $35, 14.5% alc.: The second national release of a Tablas Creek Syrah, made from one foudre and a few barrels reserved for this bottling. Dark garnet in color, fading to pink at the rim, and while the nose doesn't "scream" Syrah, it states it calmly, with good manners and character, offering aromas of dark plum and blackberry with overtones of smoke and violets that follow through beautifully on the palate, again with some subtle earth and in the same "house style," restrained and yet expressive at the same time, rich and yet not at all overdone. This wine pairs equally well with the grilled leg of lamb, and is so harmonious, it doesn't need another day in the cellar if you give it some air, but it certainly promises to improve with further aging. In that regard, Bennett suggests that there are things lurking in both of these reds that will emerge with a year or two of development, and we'll certainly check back in to see what will evolve. Find this wine

After dinner, our curiosities got the better of us, and we just had to see what the following wine was all about. From the Tablas Creek website: "In exceptional vintages, Tablas Creek Vineyard produces small quantities of Panoplie: a Mourvèdre-based cuvee from meticulously selected grapes, made in the model of Château de Beaucastel's Hommage á Jacques Perrin."

2004 Tablas Creek Esprit de Beaucastel Panoplie, 69% Mourvèdre, 21% Grenache, 10% Syrah, $95, 14.6% alc.: This dark garnet colored blend gives up big, rich dark plum and berry on the nose, along with accents of well integrated oak, noticeably more than with the other reds; Bennett added an impression of "apricot pit on the nose, really interesting, kind of like Copain's Zinfandel." Bigger and richer in the mouth than either the Mourvèdre or Syrah, being sweet, but not too sweet, it delivers complex flavors of leathery dark plum, blackberry, dusty cocoa, coffee, toast and a little dark chocolate. Even without the benefit of decanting, this is remarkably approachable right from the get-go, showing the same smooth texture and lovely balance that is the hallmark of this producer; having said that, it's also the one that most obviously needs further time in the cellar to reveal everything that it has, and it has the structure to take it some years down the road. The lamb was gone by the time we got to this, but it proved to be very enjoyable to sip while talking and listening to music after dinner. Find this wine

2005 Tablas Creek Rosé, 60% Mourvèdre, 30% Grenache, 10% Counois, $27, 14.8% alc.: This strawberry pink rosé is the last of the wines we were sent that we tried, and, once again, the first thing we were struck with was its marvelous texture and balance; it's a little stingy on the nose, but in the mouth, it's all about rich strawberry and raspberry flavors on a medium to medium full bodied frame that are neither earthy and bone dry like some of their European counterparts, nor excessively fruity and ripe in a left coast kind of way. To steal a phrase from a book on Zen I read in a previous lifetime, pretty much everything about this wine is "just so." There's good underlying acidity here, and good length on the finish, and like any good rosé worth its grapes, it's friendly to a wide variety of foods; we enjoyed it with a dinner frittata made with Cowgirl Creamery Triple Cream Cheese, home cured lardons, onions, orange pepper and dried tomatoes, and afterwards, we continued to sip and savor it. It's as good a domestic pink as we've ever had the pleasure to encounter. Find this wine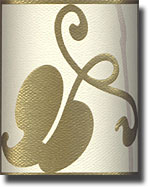 Needless to say, we enjoyed these wines immensely, and why bother trying to find more superlatives to express that again? The only thing I would add here is in response from a comment from Byron Riffe to our 12 from the Perrin Family feature last month: "The Perrin family are also partners in Tablas Creek winery in Paso Robles, Ca. where they are dedicated to making Rhône style wines. I wonder if you have already or plan to compare those wines to the ones from Rhône. I, for one, would be very interested in your comments."

To answer Byron, I would reiterate my reply then: I've tasted enough of the Tablas Creek wines to tell you that any comparison isn't fair, because they're still California wines (and I don't mean that in a negative way), even with the Perrin connection and Beaucastel clones, and they show it. I'd now take that a step further and offer that the Perrin and Beaucastel wines in the same price ranges are more rambunctious in their youth, with more aggressive tannins and acids, and generally more muscular personalities, while the Tablas Creek wines are more elegant, refined and accessible when young. The Rhônes show more earth, dirt and leather, and although the California cousins can also reflect those attributes to a lesser extent, the emphasis is more on the rich, lovely fruit. Are the Rhônes better than the Robles, or vice versa? Absolutely not, but they do make for a fascinating contrast and comparison, and hopefully, we'll be able to follow the progress of not only the wines presented in these two reports, but also some of those that came before and the ones that are yet to be made.

Reporting from Day-twah,
Bastardo

Other Recent Wine Explorations
Following Up With Fisher, Ladera and Schweiger
QPR All Stars: MAN Vintners & Marqués de Cáceres
Harvest Images from Berthet-Rayne
Back to the Underground Index

Back to the Top



© George Heritier November, 2006