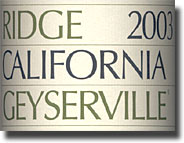 ne of the most enjoyable facets of being a wine geek is following the progress of favorite wines and favorite wineries; for instance, it's always fun to monitor how previous vintages of Ridge Geyserville are coming along, and then to finally get a chance to taste the latest version. I chose those examples, of course, because we did just that recently. Charter Gangster Scott "The Geek" Tobias dropped by a few weeks ago with the 2002 model, and we took another "reading" after more than a year. We also finally got to try the '03, thanks to a sample bottle from our buddy Steve Kolody; it was slow in showing up around these parts for the simple reason that the '02 was rather slow in sales, despite the best efforts of certain retailers. We've had a few other new and old friends from Ridge in the past few weeks as well, so what better way to queue up this feature than with a…
~ Mini-Ridge Report ~
2002 Ridge Geyserville Sonoma, 84% Zinfandel, 12% Carignane, 4% Petite Sirah, $30, 14.6% alc.: Ruby dark garnet in color, with sweet American oak / Draper perfume over blackberry, raspberry and blueberry on both the nose and in the mouth, with nice earthy undertones and a hint of lavender that add complexity and character; Scott mentioned a note of cola, and with air, it gains a creamy quality. The fruit is ripe, but not nearly as ripe as it seemed when we first had it, and it has a lovely, silky smooth texture to it. In fact, it seems almost lean, perhaps because it's Zin-heavy and Pettie Sarah-light compared to many previous Geezers.
Kim commented that this was "very pretty, juicy and lush, but the more I drink these over the years, the more I like them with some age." Scott called the wine "refined and civilized, almost over the top when first poured, but then really settles down." I simply found it to be a most enjoyable Geyserville that should continue to improve over at least the next few years. Find this wine
2003 Ridge Geyserville Sonoma, 76% Zinfandel; 18% Carignane; 6% Petite Sirah, $30, 14.6% alc.: Dark garnet color, with a creamy black raspberry, blueberry, lavender and bubblegum nose, a nice variation of the signature Ridge aromatic theme. Flavors echo more or less, and very nicely so, being a little deeper and darker on the palate, smoothly textured, deceptively well structured and rich and ripe, but not over-the-top. As it opens with air, it doesn't so much evolve as it just smoothes out and becomes even more generous with all that it has to offer. This is delicious stuff to sip over the course of a 2 hour chess game, and it'll work quite nicely with a wide variety of food stuffs as well. Like the '02, the relatively small amount of Petite Sirah seems to show in that it's not as chunky / dark as many in the past, but having said that, it's another very fine Geyserville, and why am I not surprised? Find this wine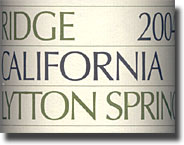 2004 Ridge Lytton Springs Dry Creek Valley, 79% Zinfandel, 18% Petite Sirah, 3% Carignane, $34.99, 14.5% alc.: Deep dark garnet color, with a somewhat tight bouquet, giving coffee, toast and chocolate; flavors echo with deep, dark black raspberry and blackberry underneath. This one impresses us as being a nice, earthy "old time" Zinfandel, without the usual perfume at first, but the smooth, lovely textured Lytton fruit is obvious and familiar. As it opens, it shows an excellent sense of balance, a long finish and more sweet fruit (including some blueberry) emerges, along with something like that old perfume, but it isn't quite the same; is this one of the wines that illustrates John Olney's increasing influence in the winemaking process at Ridge? Whatever the case, it is a very enjoyable Zin blend, and one that should improve for some years to come. Find this wine

2003 Ridge Lytton West Syrah Dry Creek Valley, 91% Syrah, 9% Viognier, $34.99, 14.8% alc.: This, the first limited national release of a Ridge Syrah, is the color of ink, fading to pink at the rim, with a typical late model Ridge bouquet, offering creamy dark berries and plums, with blueberry and raspberry overtones in both flavor and aroma, and American oak in well balanced proportion to the fruit. The smooth texture belies the excellent structure and obvious aging potential, and the wine has a good long finish. As Long (and boring) Tom Hill has observed with Ridge ATP versions of this in the past, it is more recognizable as a Ridge red than a Syrah, but don't hold that against it. It's a most enjoyable glass of wine now and for some years down the line. Find this wine

~
We went on a big Napa Cabernet kick about a year and a half ago, and we were quite impressed with a lot of what we tasted. It's been that long since we last tried the '01 Ladera Lone Canyon Cab, and we liked it so much then, we thought it would be fun to see how it's coming along; to make things even more interesting, we gave it a side-by-side comparison with the '02 model.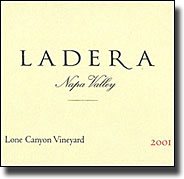 2001 Ladera Napa Cabernet Sauvignon Lone Canyon, 100% Cabernet Sauvignon, $62.99, 14.5% alc.: Dark garnet in color, and offering pure, lovely Cabernet character, with rich, ripe (but not at all over-ripe) somewhat earthy black currant and cassis on the nose and palate, with subtle overtones of blackberry, perfectly integrated oak and a slight note of dusty cocoa as it opens. With good extraction and excellent structure, this will age for at least another 3-5 years, but it's so good already, it's hard to keep the hands off of it now. Definitely the better of these two vintages at this time.
Find this wine

2002 Ladera Napa Cabernet Sauvignon Lone Canyon, 100% Cabernet Sauvignon, $63.99, 14.9% alc.: Without looking at the labels of these two wines, Kim remarked that this one shows more heat than the '01, and she has a point; it's a deep, dark garnet in color, with richer, riper black currant, blackberry and blueberry fruit than the previous model. It doesn't seem quite as substantial in the middle, nor as well structured, but as it opens, it smoothes out nicely, and loses some of the heat. While not quite up to the '01 at this time, it does show promise for development over the next few years, and also has a little more of everything than the following bottle, which was also tasted on the same occasion. Find this wine

2001 Clark-Claudon Napa Cabernet Sauvignon Estate, $90, 14.2% alc.: Dark garnet color, with significant toast over deep, dark black fruit on the nose; sleek, streamlined cassis, black currant and blackberry flavors also show the toast, from barrel char, no doubt. Nice density and extraction, without any excess, and hints of mint, dark chocolate and coffee emerge with air. This is obviously nowhere near its peak, but it is already more than approachable; I'd love to try it again in 3-5 years. Find this wine

I first tasted the following wine about a year ago with Sally Schweiger when she was in the area promoting her family's wines; it was selling at a discount then, and it's even more deeply discounted now. Sales have been brisk at the price listed below, and why not, when you consider what's in the bottle?

2000 Schweiger Vineyards Napa Cabernet Sauvignon Spring Mountain District, $18.99, 14.2% alc.: Deep dark garnet in color, with an earthy cassis, black currant and blackberry nose that shows a hint of toast and sweet oak; the flavors echo with more of everything, gaining some dusty black plum with air. With good weight and structure and a slightly astringent finish, this makes a fine match for a grilled, medium rare Delmonico steak, and still has a while to go before it'll be at its best. We've noticed some slight variation through about eight bottles over the last five months, with most showing a bit more sweet, rich fruit at the core than the one noted here, but they all exhibit big, pure mountain Cabernet power and character, and offer great bang for the buck. Find this wine

Reporting from Day-twah,
Bastardo

Other Recent Wine Explorations
More Red Wings and Red Rhônes 2006
Back to the Underground Index

Back to the Top



© George Heritier May 2006