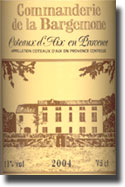 t's not that we don't like rosé here at Gang Central, we do. It's just that for some reason they've flown mostly under our radar hereabouts. Sure, we keep a stash of Domaine Tempier around, but that's been about it, at least until these past few months. That's when I put the word out to my operatives that I was looking for some good pink stuff to feature in the departments that I run, and they came through for me big time.
For the uninitiated, "true" rosés are made by removing the skins from red grapes during the winemaking process, before the full color has been extracted from them, but some others are made by bleeding off excess free run juice shortly after the crushed red grapes have gone into the fermentation tanks, a process known as saignée. There are also those that are made by simply blending red and white wines together. Lighter in color and weight than red wines, they still maintain some of their flavor characteristics, and make excellent choices for enjoying with a variety of foods, especially picnic-type fare, and their popularity is definitely on the rise in these parts. Here are our impressions of nine of our favorites that we've tasted lately.
2004 Mas Carlot Cuvée Tradition Rosé, $12.99, 13.5% alc.: This raspberry pink colored wine strikes me as being the quintessential rosé, dry yet fairly fruit forward, with nice raspberry and strawberry flavors, good acidity and a decent finish. A perfect match for ham prepared in any variety of ways, as are all of these listed here. Made from bleeding tanks of Syrah and Grenache, according to Bob Parker. Find this wine
Imported by Robert Kacher Selections, Washington, D.C.



2003 Condesa de Leganza Tempranillo Rosé, $7.99, 13% alc.: Undoubtedly the earthiest rosé I've ever tasted, and in this case, that's a very good thing. This raspberry pink is a QPR All Star; with its earthy strawberry and watermelon character, it would be a great choice to pair with tapas, the small portion snacks that are so popular in Spain, and increasingly so in the U.S. as well. It will also work with just about anything else that a good rosé goes with as well, such as ham, pasta, salads, chicken and seafood. Find this wine

Imported by Imported by Palm Bay Imports, Boca Raton, FL

2004 Domaine du Grand Cros Côtes de Provence Rosé, $8.99, 14% alc.: Salmon pink, with a solid rainwater, strawberry and watermelon profile underscored with earth and mineral; medium to medium full bodied, with good concentration, excellent cut and just a little heat, but not unduly so. Good value here. Made from Grenache, Cinsault and Syrah. Find this wine

Imported by World Shipper & Importers Co., Philadelphia, PA

2004 Commanderie de la Bargamone Coteaux d'Aix en Provence Rosé, $14.99, 13% alc.: This has been a favorite of mine since I first tasted the '01 about three years back; peachy pink in color, it offers mineral, apple, strawberry and watermelon flavors and aromas, and while it's not exactly fruit forward, in this case, that's a good thing. Classic Provencal dry rosé, and most food friendly, but be sure not too chill this one too much, because you'll mask some of the more subtle characteristics. "Made from equal parts of Grenache and Cinsault, spiced with Syrah, it is bottled young and stays fresh for several years although most is consumed within 12 months of bottling," according to the importer, and indeed, we had a bottle that had been "lost" in the cellar for two years or so last summer, and it was delicious. Find this wine

Imported by Hand Picked Selections, Warrenton, VA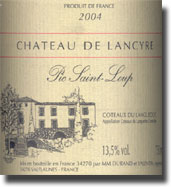 2004 Château de Lancyre Pic Saint-Loup Rosé, $13.99, 13.5% alc.: The reds from this producer are among my very favorites from the Languedoc, and this strawberry pink lives up to their quality level, with its mineral, rainwater, strawberry and watermelon flavors and aromas. Medium full bodied, it has good acidity and it's a little more fruit forward than the Commanderie de la Bargamone (both were tasted on the same occasion), but not much. Another classic dry rosé, and one that will pair well with a wide variety of foods; a blend of 60% Grenache, 40% Syrah. Find this wine

Imported by Hand Picked Selections, Warrenton, VA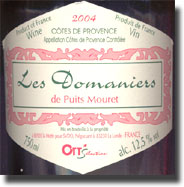 2004 Domaine Ott Les Domaniers de Puits Mouret Côtes de Provence Rosé, $18.49, 12.5% alc.: Salmon pink, silky smooth and definitely a step above most of the others noted here, with by far the best nose of the bunch, and rainwater, mineral, watermelon and strawberry flavors and aromas. Beautifully balanced, with perfect acids and a long finish, and while not an estate wine from Bandol's famed Domaine Ott, this is still one of the very best rosés we've had in a long time. (Note to self: it would be fun to try this along side the Commanderie de la Bargamone to see how they compare.) Find this wine

Imported by Maisons Marques & Domaines USA Inc., Oakland, CA

2002 Illuminati Campirosa Montepulciano d'Bruzzo Cerasuolo, $11.99, 12.5% alc.: Slightly cloudy cranberry pink, this offers deeper, darker flavors than your average dry rosé, almost coming off like a Montepulciano d'Bruzzo Lite, with earthy raspberry, cherry and strawberry flavors and aromas, all accented with subtle hints of underbrush. It has good weight and intensity, and gives a unique regional twist to the "rosato" theme. Find this wine

Imported by Tricana Inc., Plainview, NY
2003 Château Le Grand Moulin Bordeaux Rosé, $10.49, 12% alc.: Darker in both color (almost, but not quite ruby garnet) and fruit flavor than your average rosé, this offers a broad spectrum of medium bodied, medium intensity black and red currants and berries, finishing with a decidedly strawberry flair. With fairly low acidity and a decent finish, this will match well with grilled burgers and sausages, and even do well with pizza. 100% Cabernet Sauvignon. Find this wine

Imported by Peerless Importing Co., Jackson, MI
2004 Florent de Brie Rosé d'Anjou, $10.49, 11% alc.: Salmon pink color, showing straightforward strawberry and watermelon flavors and aromas, shaded with a hint of rainwater; this has fairly low acidity and just enough sweet fruit to appeal to a white zinfandel drinker who's looking to take a step up in quality while still keeping it pink. 30% Gamay, 70% Grolleau. Find this wine

Imported by Peerless Importing Co., Jackson, MI

Reporting from Day-twah,
Bastardo

Other Recent Wine Explorations
More Red Wings and Red Rhônes 2006
Cassoulet Fest with Wines From the Languedoc
Back to the Underground Index

Back to the Top



© George Heritier May 2006