a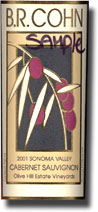 ne of the perks of this gig is getting plenty of wine samples, and our friends in the biz take pretty good care of us. The wines of Ladera and Léal are perfect examples of some of the interesting finds we've made in the last several months. Sometimes, samples are only a single glass worth, giving us a good snapshot, while others are more generous, sometimes even full, unopened bottles. Either way, we usually find out what we need to know, and recommend accordingly. Here are some of the best things we've sampled over the past several weeks.

Founded in 1984 by Doobie Brothers manager Bruce Cohn, the B.R. Cohn Winery's stated focus is "to create wines that emphasize balance, elegance and consistent high quality from vintage to vintage." If the following two wines are any indication, they certainly have succeeded in that regard.

2002 B.R. Cohn Sonoma Valley Merlot, $32, 14.5% alc.: Ruby dark garnet, showing the subtlest kiss of oak over fairly deep, dark black currant and plum aromatics that are shaded with a little earthy underbrush; the flavors echo and expand with some added black cherry and a hint of chocolate. No wimpy Cal Merlot this, but a wine with a nice sense of balance, presence and proportion, being medium full bodied, with the structure to improve over at least a year or two and a fairly long finish.

2001 B.R. Cohn Sonoma Valley Cabernet Sauvignon Olive Hill Estate, $55, 14% alc.: Ruby dark garnet, with black currant, blackberry, underbrush and a hint of licorice on the nose; these impressions follow through on the palate with a hint chocolate, subtle, earthy undertones, rich, balanced fruit and good structure on a medium full to full bodied frame. Nice finish and excellent varietal character here, with a minimum of five years of improvement ahead of it. We're looking forward to further investigating the wines from this producer.

A joint venture founded in 1998 by winemaker Samuel Spencer and marketer Wendy Roloson, Spenser Roloson wines made their first appearance in Michigan earlier this year, and we got to try four of them.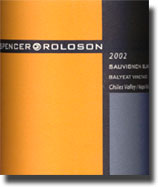 2002 Spencer Roloson Napa Sauvignon Blanc Chiles Valley Balyeat Vineyard, $23.50, 14.5% alc.: A striking medium straw to pale gold in color, this doesn't give much on the nose at first; the flavors offer creamy, toasty oak that's upfront, but not over the top, along with grassy grapefruit, green apple and even a hint of mineral. Sleek, balanced and medium bodied, with a nice finish, this has a rich core of fruit, and if it's not terribly complex, it's food and user friendly. If it showed any more oak, I might not like it, but as it is, it's a good glass of wine. It'd be even better for about $5 - 8 less.

2002 Spencer Roloson Napa Syrah La Herradura Vineyard, $38.99, 15% alc.: Inky purple garnet, turning pink at the rim, and exuding a huge nose of tarry black plum, black currant and blackberry, shaded with hints of toasted bread and a kiss of sweet oak. The flavors echo with a big tannic, acidic, alcoholic bite that needs more than an hour's worth of air to smooth out some; then, overtones of sweet blueberry emerge. There's big fruit here, but this isn't a fruit bomb; with air, it flattens out just to bit to somewhat resemble a northern Rhone in style, which I like. Very good now, better in 3 - 5 years.

2001 Spencer Roloson Lodi Syrah Sueño Vineyard, $23.50, 15% alc.: A deep, dark garnet in color, with a coffee, chocolate and black fruit nose that only hints at the explosion of flavor to follow; the big oak is much more apparent on the palate, and so is the heat. The big, rich black plum, blackberry, coffee and chocolate flavors show an equally big structure, with a fairly long finish, and even though it's a little more extracted than I care for, the obvious searing heat is what bothers me most; it just seems out of balance.

2001 Spencer Roloson California Palaterra Red Table Wine, $19.99, 14% alc.: Dark garnet from rim to rim, showing expressive dark plums and berries on the nose, with just the right kiss of oak and overtones of blueberries with air. Full bodied, with deceptively big tannins that are muted by the big fruit that follows through on the promise made by the aromatics, this needs a few years to soften up and lose a certain burry quality that it has right now. Still, an hour in a decanter makes this quite approachable, but like the other two reds noted here, this is packing some heat.

The Spencer Roloson wines are interesting, even enjoyable wines, from a producer that shows promise, but, as noted, the palpable heat levels are cause for concern. We'll be interested in seeing if these issues continue in the future. Many thanks to Samantha Cushman for these and the B.R. Cohns.
~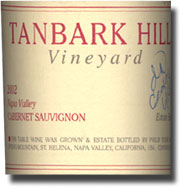 This, Philip Togni's second label, is the only Cabernet Sauvignon he produced in 2002, and according to what little information I've been able to gather, the Togni mailer stated that "...it is sufficiently different in character from what we have previously offered that we prefer to give it the Tanbark Hill label rather than the Philip Togni label. It is the same wine, but to quote Robert Parker, we have de-classified the wine."

2002 Philip Togni Tanbark Hill Napa Cabernet Sauvignon Estate, $48: Dark garnet, with subtle sweet oak over cassis, black cherry, blackberry on both the nose and palate, with some sticks and underbrush beneath it all; with a little air, some tobacco and sea air emerge, but then it finishes on a fairly long, sweet note reminiscent of white house ice cream (vanilla with cherries) with a drizzle of milk chocolate. Thick and dense, with plenty of stuffing, and despite the big structure, this is already approachable. The sweet fruit and oak make an interesting, if not somewhat incongruous contrast to the earthier elements; I'd like to taste this again in five to eight years to see how these disparate characteristics integrate. While not a "great wine," it's an interesting one, and quite good. Time may show more. Thanks to Paul Mann Jr. for letting us try this.

~

Producing Sauvignon Blanc and Cabernet Sauvignon exclusively, the family operated Honig Vineyard and Winery began operation in 1981. Owned by Michael and Elaine Honig, with winemaking in the capable hands of Kristin Belair, these wines have gained a dedicated following in the Metro Detroit area, thanks to the enthusiastic promotion of some well - placed retailers.

2003 Honig Napa Sauvignon Blanc Rutherford, $20.99. 13.5% alc: Pale to medium straw, with a bit of grass over green apple and grapefruit on the nose, and gaining a creamy undertone in the mouth; rich fruit, with excellent acidity, and seeming to show a note of oak that takes an unobtrusive place in the greater whole. My only complaint about an otherwise nice wine is that it could finish a little longer.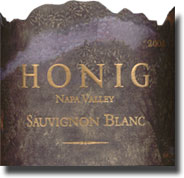 2004 Honig Napa Sauvignon Blanc, $14.99. 13.5% alc: Pale straw, with a little cat pee, a little grass, a good dose of grapefruit and green apple, just a hint of lime and some garlic perspiration; as it opens, it shows more of the feline spray on the nose. Almost as intense and the Rutherford, but without the creamy quality; indeed, this one accentuates some of the more aggressive Sauvignon characteristics, which is just fine with me. Like the Rutherford, it could finish a bit longer, but that's a minor complaint, given the overall package. A solid effort.

2002 Honig Napa Cabernet Sauvignon, $26.99, 14.5% alc.: Dark garnet, with a sweet spice, cassis and black cherry nose that echoes and expands on the palate with silky tannins, balanced acids and a nice finish. Very ripe, if not downright sweet, and nice if you like that style, I suppose, but I don't. A 2000 version tasted briefly a year or so ago showed much more typical Cabernet character, so the jury's out until further evidence is presented. Thanks to R.J. Tibus for sampling these to us.

~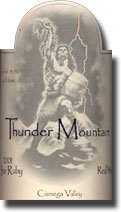 Only one of the following wines was actually a sample, but since we've had four of Milan Maximovich's wines recently, notes on the other three are also included here.

1998 Thunder Mountain Cienega Valley Chardonnay DeRose Vineyard, 13.4% alc.: Slightly cloudy gold in color, this comes off smelling and tasting yellow, reminiscent of canned peas, processed pineapple and what Alan Kerr describes as "something like lemon Danish pastry glob." Rich and funky, unctuous and zippy at the same time; Milan's Chardonnays were often "idiosyncratic," and this one certainly is, but Kim, Alan and I all found it to be quite enjoyable.

1999 Thunder Mountain Cienega Valley Cabernet Franc DeRose Vineyard, $19.99, 13.3% alc.: This dark garnet old friend is still going strong, giving funky barnyard, black currant, blackberry, a hint of tar and something like herbs and underbrush on the nose; the flavors are all about sweet, rich, dusty black currant and blackberry with herbaceous undertones and somewhat drying tannins on the finish. This really opens with air, losing the funk and becoming even more taster friendly. Another bottle consumed a few weeks before showed a more savory herbaceous character, but both were delicious. This is still on the way up, so drink or hold for at least the next five years.

1999 Thunder Mountain Santa Cruz Mountains Cabernet Sauvignon Beauregard Vineyard, $23.99, 13.1% alc.: Somewhat cloudy dark garnet color, with rich cassis and blackberry on the nose, along with some earthy, slightly funky overtones; still tight and un - evolved on the palate. No oaky frills, no maple syrup, no chocolate, just a relatively young wine that needs several years yet, and has the structure to last.

2001 Thunder Mountain Cienega Valley Star Ruby, $23.99, 14.5% alc.: This dark garnet Bordeaux blend exudes a lovely perfume that gives just the right kiss of sweet oak on black currant, black plum and blackberry, all of which carry over on to the palate with medium tannins and balanced acidity. Rich and luscious, so fine and enjoyable; where the Bates Cab is rustic, this is like velvet, and just a pleasure to drink. Thanks to Sam Kallabat for this lovely wine.

We miss you, Milan!

~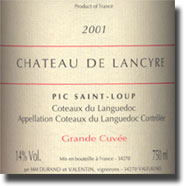 We've been fans of the fine wines from Château de Lancyre Coteaux du Languedoc Pic St. Loup for some time now, so when our friend Donald (DJ) Jaskowski gave us a bottle of the latest version of the Vieilles Vignes, I brought it right home, along with four bottles of the Grande Cuvée, and we wasted little time in trying them out.

2001 Château de Lancyre Coteaux du Languedoc Pic St. Loup Vieilles Vignes, $17.99, 13.5% alc.: Dark ruby garnet, offering a pretty mixture of subtly perfumed red and black currants, berries and plums on the nose, with like flavors that gain some underbrush, forest floor and chocolate (not dark) in the mouth; as it opens, more and more sea air wafts out of the glass. Full bodied, with good structure and a slightly stemmy finish, this is a most enjoyable wine with a fine future.

2001 Château de Lancyre Coteaux du Languedoc Pic St. Loup Grande Cuvée, $28.99, 14% alc.: Dark garnet, fading to pink at the rim, this one exudes sea air right away on the nose, along with meaty red and black fruit (currants, berries and plums again); more leathery on the palate than the VV, and smoother, as well, with just a vague hint of chocolate. Full bodied, with excellent structure and an earthy, stemmy finish, this has a little more of everything than the VV, and should only get better over at least the next three to five years or so. We've never had a wine from this producer that we didn't like; thanks again, DJ.

Imported by Hand Picked Selections, Warrenton, VA

~

Anyone not familiar with Kent Rosenblum's winery needs to take a remedial course in Zinfandel, or at very least, rat around the Rosenblum Cellars website awhile. Here are impressions of a couple of his non - Zinfandel selections.

2003 Rosenblum Santa Barbara Viognier Kathy's Cuvee, 14.8% alc.: Medium straw to pale gold in color, with creamy oak over honeysuckle, lilac and peach in both flavor and aroma; somewhat fat and fairly low in acidity, with a relatively long, slightly bitter finish. More positives than negatives here, but I'd like a little more acidity and a little less cream and fat.

2003 Rosenblum San Francisco Bay Petite Sirah Heritage Clones, $19.99, 15.4% alc.: The color of ink, this offers up big sweet oak, black raspberry, mulberry, blueberry and chocolate aromatics that don't just echo, they explode in the mouth with over ripe fruit that overpowers the medium tannins; the fairly long finish may lengthen as the tannins subside. Ultimately, just too sweet and ripe for my tastes, but it might be interesting to try again in five years to see how it develops. A tip of the old top hat to Roy Lombardo for these.

~

One of the oldest, biggest and most consistent producers of fine wine in Chile, Concha y Toro is America's #1 imported wine from that country. Their Marques de Casa Concha line of wines offer surprising depth and quality for the money.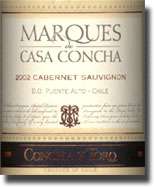 2002 Concha y Toro Maipo Chardonnay Marques de Casa Concha Puente Alto, $12.99, 14% alc.: Medium straw, with moderate toasty oak over canned pineapple and pear; rich, but not too ripe, with subtle undertones of minerality, zippy acidity and a fairly long finish. A solid, if unexceptional Chardonnay that presents good QPR.

2002 Concha y Toro Maipo Cabernet Sauvignon Marques de Casa Concha Puente Alto, $16.99, 14% alc.: This dark garnet is quite tight at first, needing an hour to an hour and a half to open up and really display its charms; the noticeable oak and the seriously intense dark fruit seem at odds at first, but really come together with air. The wine is all about toasty oak over earthy, slightly tarry black currant, dark chocolate and a hint of shoe polish on a full bodied frame. There's a good dose of tannins here, and if it's not that complex right now, the rich core of fruit carries the day, and the prospects for improvement are excellent. I liked previous vintages better, if only for their lower prices ($3-4 less), but still, this is a good buy, even at the somewhat inflated Michigan tariff. A nod and a wink to Eric Clement for these.

Imported by Excelsior Wine & Spirits, Old Brookville, NY

Reporting from Day-twah,

Bastardo