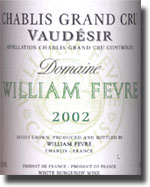 e make no bones about it here at Gang Central; most of our favorite wines come from France. Yes, we love our Mr. Ridge and our Thackreys, but when all is said and done, nothing gets us going like a fine, smoky red Rhone or a stony Chardonnay from Chablis.
I talk to people every week that refuse to buy French wine for perceived "political reasons," but we don't let politics enter into the equation when it comes to buying and enjoying what we consider to epitomize real wine, as opposed to the ever – increasing amounts of manufactured alcoholic grape beverages from all over the world (and yes, more and more of those are coming from France as well).
In that spirit, we offer this report on various fine French wines that we've enjoyed over the last few months, starting with a continued to exploration of Chablis, including five more from Domaine William Fevre.
1998 William Fevre Chablis Les Clos, 13% alc.: Medium gold in color, with wet stones and honeycomb aromas that follow through emphatically on the palate with a rich, honeyed character; as it opens with air, it becomes even richer, with something like crème brule emerging. It seems to show more oak than the more recent models from this producer that we've had, and yet the wine is still quite nice. Smooth and lovely, with good acidity and a long, lingering finish; while I don't like it quite as well as the '00 Les Clos, it's a very nice Chablis in its own right.

2002 William Fevre Chablis Les Clos, $51.99, 13% alc.: Pale to medium straw colored, with wet stones, green apple and citrus on the nose; the rich, crisp medium full bodied flavors echo with an added note of chalk, more green apple, and less citrus. It really opens and fills out with air, and the long finish is laced with minerality. As well as this fine, delicious Chablis drinks right now, it should get even better over the next two to five years.

2002 William Fevre Chablis Vaudésir, $48.99, 13% alc.: Pale to medium straw in color, and not as generous aromatically as the '02 Les Clos, this offers wet stones, chalk and citrus on the nose; the medium to medium full bodied flavors generally echo, with a little more citrus and a little gravel as well. At first, it seems a bit austere when compared to the Les Clos, but as it opens, it becomes richer, with a hint of detergent on the reasonably long finish. One might want to decant this to accelerate the emergence of the full flavor profile, and like the previous selection, it should improve over the next two to five years. Nice stuff here.

2002 William Fevre Chablis Vaillons, $26.99, 13% alc.: Pale to medium straw in color, with more rich, up – front green apple than any of the other Fevre Chablis that we've had; the wet stone minerality is there, but plays a support role at best, along with some soft chalk and herbal undertones. With crisp acidity and a fairly long finish, this is more than just pleasant and enjoyable, but still, I'd like more of that minerality in the flavor profile; as it is, this seems not – quite one dimensional. Maybe some time in the bottle will help it develop some complexity.

2002 William Fevre Chablis Champs Royaux, $10 by the glass (Vinotecca, Royal Oak, MI), 12.5% alc.: Medium straw color, with a stingy nose that grudgingly gives up some wet stones and a hint of honeyed butterscotch as it opens; the flavors echo and pick it up big time, with rich green apple, honeycomb – bees wax, a liberal dose of oak, crisp acidity, a gravel – like minerality and good length on the finish. As the wine warms and opens in the glass, the oak tones down to an acceptable level, the mineral comes to the fore and this evolves into a nice glass of Chablis. My only complaint is the price by the glass; they could still make a good profit by charging around $7.50 per.

Imported by Clicquot, Inc., New York, NY

1995 Domaine Laroche Chablis Les Clos, $50, 13% alc.: While not a bottle that you can just go out and find anywhere for casual sipping and fine dining, this pale gold does serve admirably well on a warm late summer's evening while grilling a sizable portion of halibut, and then sitting down with both at dinner. On the nose, it gives mostly sea air and rainwater, with notes of beeswax, butterscotch and hazel nuts in support, but the flavors morph to emphasize the beeswax, butterscotch and hazel nuts. Medium full bodied, with excellent balance and presence and a fairly long finish, this gets better and better with air, and pairs very well with the grilled halibut marinated in mustard oil, lemon juice and fresh ground spices, with pan seared asparagus on the side.

Imported by Paterno Imports, Lake Bluff, IL



~~~~~~~~~~~~~~~~~~~~~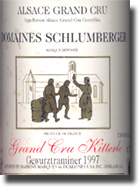 1997 Domaines Schlumberger Gewurztraminer Kitterle, 13.5% alc.: We've enjoyed the wines of Schlumberger since the earliest days of the Gang of Pour, and this is certainly one of the best from that producer that we've had. Its golden color shows just a tinge of lime, and it offers lots of slightly sweet peach, litchi and apricot on the nose and in the mouth, with undertones of earthy minerality. Thick, rich and oily, it's balanced, yet concentrated, with a fairly long finish. A great example of the Schlumberger house style, and not as unctuous or over the top as something from, say, Zind Humbrecht. This was enjoyed at a gathering at which five or six other wines were opened, and I kept coming back to this one, which for some reason was being neglected after being poured first. I wish I had another case to enjoy over the next few years.

Imported by Maisons Marques and Domaines USA, Inc., Oakland, CA


~~~~~~~~~~~~~~~~~~~~~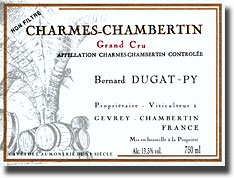 I stopped in unannounced on Putnam Weekley recently, and he was "evaluating" a couple of rarities with Dave Antonelli, a true Burg-o-phile if ever I met one. They directed me to the stemware in order that I might partake in said "evaluation," and I was seriously impressed by what was poured.

2002 Dugat-Py Charmes Chambertin Grand Cru, $250, 13.5% alc.: This deep, dark garnet exudes a lovely perfume of deep, intense smoky black cherry and plum, accented with a little cola, a perfect kiss of oak and a little earth underneath it all; flavors echo, and as it opens in the glass, it fleshes out to show licorice, coffee, cassis and bittersweet spices, along with what Dave described as "a satin, candied – vanilla approach." Medium full bodied, this has power and grace at the same time, being remarkably soft and smooth as silk, but it's fairly sizable silk, with a long finish that lingers on the back of the palate. 957 points.

2002 Dugat-Py Gevrey – Chambertin Les Evocelles, $120, 13% alc.: The dark garnet color of this one borders on being opaque, while the flavors and aromas show toasty oak in perfect proportion to the perfumed smoky, somewhat candied black cherry and plum, shaded with a note of coffee that emerges more and more with air; Putnam correctly added an impression of tobacco ash, but it's really GOOD tobacco ash. Again, a medium full bodied wine, silky in a powerful way, showing the same kind of grace and power as the Charmes Chambertin, with even more intensity. The finish seems to go on forever, and I honestly enjoyed this even more than the first selection, but truth be told, they're both undoubtedly among the very best wines I've had the pleasure to taste this year. Many thanks to Dave Antonelli for sharing these two gems. 971 points!

(Be sure to check out Putnam's take on some '01s and '02s from Dugat-Py.)

Imported by Weygandt – Metzler Importing, Ltd., Unionville, PA

~~~~~~~~~~~~~~~~~~~~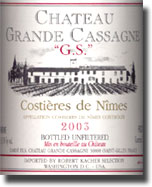 I got a couple of samples from my buddy Ronnie over at Galaxy Wine Distributors not long ago, and picked up another just for
comparison.

2003 Château Grande Cassagne Costières de Nimes "G.S.," $13.99, 13.5% alc.: This dark garnet Grenache – Syrah blend gives up lovely aromatics of blackberry and black cherry, with overtones of chocolate and hints of violets and garrigue that
follow through on the palate with more chocolate and earthy tannins that clamp down some on the finish; Kim mentioned bacon and toast. Medium full – bodied, with a smooth, rich mouth feel, this opens and improves dramatically with air; still, the best course for this would be to rest for a few years in the cellar. Excellent QPR; we went through several, but should have stashed a case.

2004 Château Grande Cassagne Costières de Nimes "G.S.," $13.99, 13.5% alc.: Inky dark garnet, with a similar aromatic profile to the '03, but considerably less effusive, showing tight blackberry and black cherry shaded with a little violet, chocolate, toast and bacon; flavors generally echo with a slight green streak running through it, and not as much body or depth as the previous vintage. Fairly tannic, with good acidity, this almost seems to lose something on the mid – palate, but that may have as much to do with the lingering memory of the '03 as anything else. A second glass shows this to be a solid,
if unexceptional red that definitely suffered in this side-by-side comparison. It should improve with a few years in the cellar, but buy up all of the '03 before hooking up with this one, if you can.

2001 Domaine de la Petite Cassagne Costières de Nîmes, 70% Grenache, 20% Syrah, 10% old vine Carignan, $13.99, 13.5% alc.: This smoky tinged dark garnet turns pink at the rim, and features a generous character of smoke, brined olives, bacon, iodine, blackberry, black plum and a little garrigue and mineral, with a smooth mouth feel that belies the firm tannins that turn astringent on the finish. Give it some air, and it's not at all too tight to drink tonight, but it'll certainly improve with a few years in the cellar. Tasted directly after a very nice '02 Carlisle Two Acres, this not only held its own, it proved to be every bit as enjoyable for less than half the price. It's also surprisingly good with turkey meatloaf, and works like a charm with Jim Jarmusch's Down By Law.

Imported by Robert Kacher Selections, Washington, D.C.


~~~~~~~~~~~~~~~~~~~~~


Finally, opportunities to taste 48-year-old Bordeaux First Growths aren't exactly frequent events for Adams – Heritier & Associates, and are generally looked upon as blessings from Bacchus. Such was the case when that modern – day Bacchus, Jim Lester, uncorked a venerable bottle at a small gathering held at the home of John and Denise McKewan in the foothills of Southeastern Michigan. Needless to say, it was a special treat.

1956 Chateau Haut-Brion Graves, 11.5% alc.: Other than its color, which is roughly the vinous equivalent of old bricks, this wine is aging very nicely, despite the poor (now THAT'S an understatement!) vintage. Haut-Brion's own website describes the year miserably: "A severe winter in Bordeaux: -20 C in February with tremendous snowfall (80 cm.) which paralyzed the region. Many vines died and in general vineyards suffered terribly. (A quarter of their vines were lost.) The Garonne partially froze over. Results of the cold: a very late start to the growing season, then a cold and wet summer (July 112 mm., August 104 mm.) Little wine and few good ones."

Nevertheless, this bottle gives evidence to the proposition that great producers often produce pretty damned fine wine under the most adverse circumstances. Exhibiting a brooding depth of character, this one exudes what one taster described as a "potpourri" bouquet, while Jim described a "smoky nose, almost like wet charcoal." The wine is a seamless blend of texture, flavor and aroma, reminiscent of cassis, leather, tobacco, mahogany and cigar box, with fine presence, and a finish that lingered awhile, like that old jazz song. One person wondered if it might not have been better consumed ten years earlier, and that may well be so, but this bottle was still so rich, mellow and delicious, I didn't worry about it much.

Jim told us how he got his hands on this, and we felt all the more privileged for having partaken in it. "The bottle was given to me about 10 years ago, and I was just saving it for the right occasion. Don Mossey, my vineyard partner, bought it in 1964 at Zimmerman's in Chicago, and kept it in his near perfect cellar for all those years. It had the original price tag on it of $13.95, surely a big price for a bottle of wine in those days!"

Bravo!

Reporting from Day-twah,

Bastardo




Other Recent Wine Explorations
Three Grand Cru Champagnes and a QPR Shiraz
The Ridge Report - August, 2005
Back to the Underground Index

Back to the Top



© George Heritier November 2005