The dinner with Al Stewart really got the week off with a bang, but the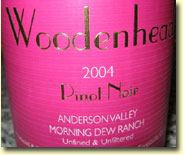 remainder of the week's wines turned out to be pretty good, too, although perhaps not quite as rarified as the old Burgundies. First up was a 2004 Woodenhead Pinot Noir, "Morning Dew Ranch", from Anderson Valley. This had been given to me by my store's supplier of Woodenhead, as we had bought both the 2005 and 2006 vintages for the store, and both have been quite well received. Although not that well known, Woodenhead has a very important pedigree in the world of California Pinot Noir. The owner/winemaker is Nikolai Stez, who for 17 years was the assistant winemaker at Williams Selyem, generally regarded as one of California's preeminent producers of Pinot Noir. Stez left W-S after the sale to focus on his own project, but he didn't cut his ties to W-S entirely, at least not to the "Williams" side of the equation. You see, "Morning Dew Ranch" is a small vineyard up in Mendocino's Anderson Valley, and is owned by . . . Burt Williams. So this is about as close to W-S as you can get without actually buying Williams Selyem.

The 2005 and 2006 vintages of this wine are wonderfully transparent examples of fine Pinot Noir, with exquisite aromatics, medium color and body, and that combination of elegance and "power without weight", to borrow Allen Meadows' wonderful expression for the ideal Pinot Noir. This 2004, the first vintage from Morning Dew Ranch, however, was a bit of a disappointment. Surprisingly ripe and soft, the wine shows some candied elements that almost suggest a bit of residual sugar, exacerbated by lowish acidity and gobs of fruit on the darker end of the spectrum. This is power with weight, certainly not a bad wine and actually quite tasty with richer food, but not really what I look for in Pinot. 2004 was a problematic vintage for Pinot throughout California, as extreme heat spikes just prior to harvest drove sugars higher than most conscientious winemakers would like, leading to wines that push the ripeness envelope. Although this one was well made, it clearly didn't escape the excessive sugars of the vintage. Oh well, clearly both the vineyard and winemaker found their footing in 2005 and 2006. Find these wines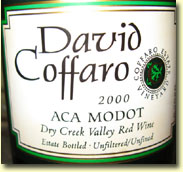 The following night I was going out with my old college roommate and his family to a rather wine-unfriendly Tunisian restaurant. Linda decided to stay home, so I opened a 2000 David Coffaro "Aca Modot" (Dry Creek) for her to enjoy in my absence. Of course, I couldn't resist taking a sip, solely to make sure the wine was good enough for my lovely wife to enjoy. David Coffaro is a blender par excellence, and his Aca Modot bottling reflects his conception of a Bordeaux/Meritage blend, although with a somewhat non-traditional cepage. The wine is 54% Cabernet Sauvignon; 17% Cabernet Franc; 12% Barbera; 10% Merlot; 4% Petite Verdot; and 3% Malbec. Despite the Barbera (which was probably included to add a bit of acid grip), this was a delicious and mature Sonoma Cabernet blend, and quite a good example considering the weak 2000 vintage. Quite fragrant with cedar, tobacco, and cassis, medium bodied with a good balance of acidity and smooth tannins, this seems to be at a perfect point of maturity and is very enjoyable for drinking now. Find this wine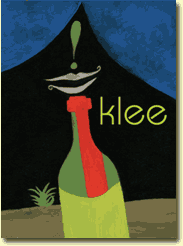 Back at the shop, it was a slow week, as I had let my suppliers know I was not tasting much during the month of April. Business is slow, and we really don't need a lot of new wines. I did make an exception for our supplier of 2007 Klee Pinot Noir Find this wine ($18) from Oregon. I had brought the Klee into the store last month, as I thought it was an excellent buy in Pinot since we could price it at only $18.99. With its great Klee artist label, the wine offers real class at a bargain price, with crisp red-fruit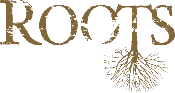 flavors that are typically Oregon Pinot, backed with some real minerality and surprising length. So I wanted to taste the winery's main label, called Roots. Actually, I learned that the winemaker, Chris Berg, has three levels of Pinot, with Klee the entry-level "bargain" label. The main brand is called Roots, made from their 6.5 acre estate vineyard next door to the famous Shea Vineyard, as well as some single vineyard wines from purchased fruit. Their top of the line wine is called Racine, named after Berg's home town in Wisconsin. The 2007 Roots Estate Pinot Noir Find this wine ($24) (Yamhill-Carlton District, Oregon) is quite good from a challenging vintage in Oregon. Surprisingly ripe with blackberry and cherry cola fruit, the wine is well-structured with good acidity and firm tannins that seem ripe and smooth. The cool dark fruit flavors are on the ripe end of the spectrum, but do not approach raisiny or overripe. A slight shortness in the mid-palate is noticeable on the finish, but still this is quite nice and classy for a wine that would retail in the low to mid $20's. I'm looking forward to trying the single-vineyard Pinots from this producer later this month. I actually liked it much better than the high-end 2006 Racine Pinot Noir Find this wine ($50) (also from Yamhill-Carlton). The first giveaway is the oversized, heavyweight bottle—haven't wineries gotten over the big bottle/big wine fixation yet? The wine itself is like the bottle—oversized, clumsy, and lacking any sense of grace or finesse. Huge, powerful, ripe and slightly roasted fruit dominates, and there's plenty of wood, too. Frankly there's little sense of typicity here, either in the varietal character, or as an Oregon wine. This is just way too extracted and zin-like for me, and is an easy pass. I'm looking forward to trying the 2007 Roots' single vineyard wines later this month.

The following day we had a visit from Eric Mohseni, winemaker for Zaca Mesa Winery in the Santa Ynez Valley of Santa Barbara County. Zaca Mesa holds an important place among Santa Barbara County wineries, mainly for its role as the "launching pad" for some of the county's most highly esteemed winemakers. Ken Brown was their first winemaker and later started Byron in Santa Maria Valley (later sold to Mondavi), and he now has his own eponymous winery. Jim Clendenen and Bob Lindquist worked at Zaca Mesa before venturing out on their own to start Au Bon Climat and Qupé, respectively. Other alumni include Lane Tanner, Daniel Gehrs, Chuck Carlson (Curtis), and Adam Tolmach (Ojai). Eric was only recently appointed Zaca Mesa's head winemaker, having served as their assistant for a number of years. Going back a few years earlier, Eric was employed by the same store I work for, The Wine Country in Signal Hill. Eric really got his start in the wine biz at The Wine Country serving several stints in the store in the mid to late 1990's, interspersed with various other gigs with wineries both domestic (Edna Valley) and foreign (Esk Valley in New Zealand's Hawkes Bay region). As an assistant at Zaca Mesa, Eric had started his own label, Osseus, focusing on Sauvignon Blanc, and it's a damn good one at that (a little Syrah is made as well). Naturally, The Wine Country supports the Osseus brand, and the 2007 is simply a terrific example of a Santa Ynez Sauvignon, with a great blend of flinty, grapefruity and herbal fruit, not too grassy, with great cut from pinpoint acidity. Worth seeking out. But Eric visited to taste me on the most recent releases from Zaca Mesa, so here we go.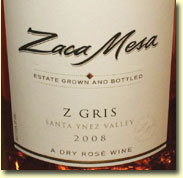 Most of the wines we tasted were actually made by the previous winemaker, since Eric was promoted only in 2008, but the 2008 Z Gris Rosé Find this wine ($16) is Eric's baby. Mostly Grenache, with about 10% Cinsault, with the fruit picked for rosé, not sagnier juice taken from another wine. Very clean and crisp with some nice berry and mineral notes, good energy and nerve, good finish. A really nice summer rosé. Next up was the 2008 Viognier Find this wine ($18), which frankly was better than I was expecting. I'm not a huge Viognier fan, as too many domestic versions from this grape are rather oversized and flabby, unctuous but rather plodding. But this one's nicely fruity with the typical peach and apricot notes, plus some savory herbs, all supported by better acidity than many other Viogniers I've tasted. Not a heavyweight, but still with good richness, finishing with a hint of bitter almond. Quite good and very well balanced. I also liked the 2007 Chardonnay Find this wine ($18), which does not see malolactic fermentation, or any new oak (only neutral barrels are used).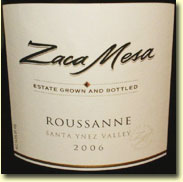 Again very clean and crisp, a hint of herbs again but not suffering from any vegetal or wet hay aromas that I get in some non-ML/no-oak chards. A nice clean chardonnay, perhaps a bit nondescript, but very nice for the price (under $20). The last white was the 2006 Roussanne Find this wine ($25), which sees 60% new oak, but doesn't taste overly oaky. Only a portion of the wine is allowed to go through ML, contributing to the crisp acids that support the rather weighty texture. Some herbal and mineral notes seem varietally correct, but the character of the wine is again a bit nondescript at this point, not easily identifiable as a Roussanne (although not clearly like anything else, either). The balance is there, so perhaps some bottle age will allow the Roussanne-ness to develop further.


The red wines began with their Chateauneuf-style red blend, the 2006 Z Cuvée Find this wine ($20). Made up of 59% Grenache, 23% Mourvedre, 15% Syrah, and 3% Cinsault, the wine is medium-bodied, low in tannins and a bit low in acid as well, with sour cherry fruit that is rather direct and simple. This is basically a straightforward, easy-drinking red wine of no particular character or distinction, but decent enough for burgers or BBQ. A bit better is the 2005 Syrah Find this wine ($23), showing more of the spice and garrigue notes I would have expected in the Z Cuvée; in fact, this wine was more Chateauneuf-like than Northern Rhone, despite being pure Syrah. Fairly light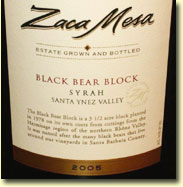 for a Central Coast Syrah, and simple, but tasty all the same. Much bigger, richer, and with far more to it all the way around is the top-of-the-line 2005 "Black Bear Block" Syrah Find this wine ($58), a limited bottling that is mostly sold to their mailing list. From the oldest Syrah block in Santa Barbara County (planted in 1978), this is all about blackberry fruit with notes of licorice. Very rich with excellent acids and firm, smooth tannins, this is really superb, although not exactly a bargain at the suggested retail price of nearly $60. We finished with the high-end GSM blend, known as the 2005 Z-Three Find this wine ($45). With 46% Syrah, 40% Mourvedre, and 14% Grenache, this is more Northern Rhone than Southern in style. Not as big as the Black Bear Block, with more red fruits to go with some black fruits and herbal notes; smoother tannins suggest this is ready for earlier drinking.

Overall, these are nice wines, although in general I liked the whites and rosé a bit better than the reds. The style up until now has been for medium bodied wines meant for early consumption, perhaps a bit simple but tasty, and ideal for restaurant wine lists. Whether Eric can get a bit more intensity and complexity into the wines will be his biggest challenge. Until then, I'd consider Zaca Mesa a good, solid "middle of the road" producer in Santa Barbara, but worth watching as the new winemaker takes charge and puts his stamp on the wines.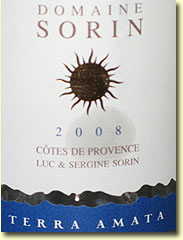 The week ended with unseasonably warm weather for April here in SoCal, with temps up into the 90's. That can only mean one thing—it's rosé season! Our store happens to sell the most rosé of any store in California (over 500 cases last Summer), and we're already stocking up with the best 2008's we can find from around the world. At summer's peak we'll probably have 20-30 different rosés in stock at any given time. I decided to start off with one from France, and one from Oregon:

2008 Domain Sorin "Terra Amata", Côtes de Provence ($9.99). Always our most popular French rosé, the Domaine Sorin delivers as expected in 2008. Pale salmon color, just the way I like my rosés, good fruit that emphasizes the flinty, minerally notes of a good rosé, with pinpoint acidity and crunchy cranberry and strawberry fruit flavors, this just goes down waaaay too easily. Find this wine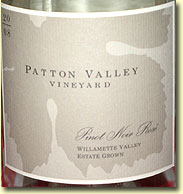 2008 Patton Valley Vineyard Pinot Noir Rosé (Willamette Valley, $14.99). Patton Valley made our favorite domestic rosé of 2007, so we bought all we could for 2008, and they appear to have done it again. Similar color to the Sorin, but much more fruity, with terrific lift from both strong acidity and probably a bit of CO2, which gives the wine great energy in the mouth. More of an emphasis on fruit over the minerally notes of the Sorin, but very attractive, light, fresh, and delicious for drinking on its own. An open bottle of this will be in my 'fridge as long as it lasts. Find this wine
Bennett Traub
Reporting From The Left Coast
Send Bennett an