The third Friday night of the month is the occasion for my oldest wine group to meet. Known as the Southern California Grape & Gripe Group (SCGGG), this group has been meeting regularly since the mid-1980's. Although the membership has varied somewhat as some people dropped out or moved, and others took their place, the core group has kept the faith and tasted wines together for a long, long time. The format is always the same: host duties rotate among the members. The host selects the theme and everyone contributes. The wines are served in one or two flights depending on the number of wines and whether the wines can be logically divided. We usually end up with 8-12 wines, sometimes more. The wines are served blind; everyone votes on their preferences, first place to last, and the wines are revealed from the group's last place wine to the first. Certainly it's not the only way to run a wine tasting group, but it works for us.

The theme this week was current release Zinfandels. We ended up with 7 wines from 2007, and 7 wines from 2006 and 2005, so we divided the flights accordingly. I'll list them here in the groups order, from last place to first. My own ranking didn't differ too much from the groups (not always the case!).
Flight 1: 2007 Zinfandels



7. This wine showed no nose and was a bit musty. There's some heat clearly apparent here, and a candied element, but overall the wine seems muted and just "off." This may very well have been suffering from low-level TCA, and is probably not a representative bottle. When revealed as the 2007 Orin Swift "Saldo" (California), I became convinced the wine was corked, as a bottle tasted at my store's Saturday Zinfandel tasting a week ago was much better, although still not my favorite style of zinfandel. Find this wine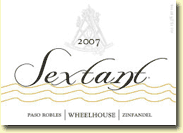 6. Quite round and full of fruit, there's some oak here but not too much although the vanilla notes are clearly evident. Rather soft for my taste, and a bit soupy as a result, but lots of berries and very easy to drink. Nice enough in a soft fruity style, but lacking grip and just not very interesting or compelling. 2007 Sextant "Wheelhouse" (Paso Robles). Find this wine
The next 5 wines were distinctly better than the first two.

5. Compared to the first two wines, this was much better structured with good firm acidity and delicious red fruit flavors on the cherry end of the spectrum. Really good crunchy fruit dominates, but there's really good grip here that suggests a couple of years of cellaring will pay dividends. Rich and full-bodied, but not heavy handed or too ripe. 2007 Ridge "Paso Robles." I had this ranked 4th. Find this wine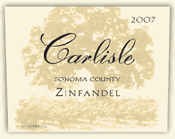 4. This has loads of spicy fruit but is supported by good acidity and well integrated oak. Really classic zinberry fruit, not showing any alcohol or pruney notes, just a well-balanced delicious zin that I'd be happy to drink anytime. 2007 Carlisle "Sonoma County." This is the least expensive of the many Carlisle Zinfandels, and it's an excellent bargain. I ranked this wine 3rd. Find this wine



3. Another well-balanced, medium weight zin with good spice and bright fruit flavors supported by a firm acid/tannin structure. Perhaps a bit less effusively fruity as the Ridge, but similar in structure, with fruits that are just a bit darker. Seems a bit closed now, but all the elements are there for good development over the short term. Very good. 2007 Brown Estate. My 5th place wine. Find this wine

2. By far the biggest, ripest, and richest wine of the flight, but not overripe, pruney, or overly alcoholic. Very rich, large-scaled and intense, but with excellent balance. Really quite a remarkable combination of intensity and balance, this is almost a "monster zin" in style yet retains classic structure. 2007 Carlisle "Dry Creek". This was my 1st place wine. Find this wine

1. Superbly balanced rich fruity wine with great depth. Not quite as ripe as the Carlisle, but almost as rich and with great acid that gives lift and energy to the delicious combination of red and black fruits. A bit of tannic bite in the finish that should soften with another year in the cellar. Terrific zin, my 2nd place wine, by a whisker. 2007 Dashe (Dry Creek). Find this wine


Flight 2: 2005 and 2006 Zinfandels

7. Fairly rich, a bit soft, but quite hot with alcohol dominating the nose. Spicy and intense, but seems a bit unbalanced, although there's plenty of fruit and spice to make the flavors interesting. Might work with BBQ, but not really a well-balanced wine, although more than drinkable. 2005 Tofanelli (Napa). My 5th place wine. Find this wine

6. Sharp VA mars the nose of this thin, acidic wine. There's some bright cherry fruit in there, and decent richness, but this seems almost flawed and certainly not very enjoyable. A producer I'd never heard of, 2005 Bear Bottom Creek (Dry Creek). Find this wine

5. Rich, overripe fruit that is pruney, soft and verging on rotten. No structure whatsoever, just soft, squishy prune juice. Yuck, verging on undrinkable. 2006 Benson Ferry (Lodi). I had this dead last, by a mile. Find this wine

The remaining wines were all significantly better than the first three.

4. This wine has the balance and acidity the previous wines lacked. Good spice and zinberry fruit that has good weight and medium richness. More of a classic zin style that seems built for short-term aging, not a fruit-bomb in any way. A terrific food zin that should last a while. 2006 Brown Estate (Napa). Find this wine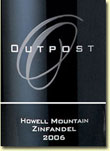 3. Much bigger and richer than the previous wine, and showing more oak as well, but still very well balanced in a bigger package, and the oak is not intrusive or dominant. Darker fruits are quite pure and intense and do not approach raisiny or overripe characteristics. Quite long and rich. A very good zin in a full-bodied style. 2006 Outpost (Howell Mountain). Find this wine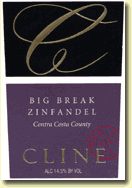 2. This one's very rich, smooth and silky, ripe that comes close but stops just short of raisiny. There's apparent oak and a bit of alcohol, but the rich, very smooth palate is almost sultry in its texture and length. Full of fruit and just plain delicious, this may be the best wine for drinking right now. 2006 Cline "Big Break," Contra Costa County. My 1st place in this flight. Find this wine

1. Another big, rich style of zin, packed with fruits that are very clean, not particularly spicy, showing some oak influence but well integrated. Almost as big as the previous wine, and perhaps just a bit better balanced if not as rich or powerful. Really a classic style that should also last a while. 2006 Seghesio "Old Vines" (Alexander Valley). My 2nd place wine. Find this wine

Overall, a really good collection of zins, my "go to" wine for outdoor grilling in the summer. Judging from this tasting, and others, the 2007 vintage is shaping up to be an outstanding vintage for California wines, especially from Sonoma and Napa.
Bennett Traub
Reporting From The Left Coast
Send Bennett an