One of the more enjoyable duties I have in my capacity as Domestic Wine Manager at my store is to occasionally lead "classes" in various subjects. Really more a guided tasting than a formal "class," it's a great opportunity to really explore a varietal, style, or winery in depth. One of the consistently most popular classes we offer is our periodic review of the best new pinot noirs in the store. This time, I decided to offer 6 pairs of wines, each one representing a particular style or region, designed to illustrate the range and variety of flavors and textures that American Pinot Noir offers today. Big fun, here, and certainly a good indicator of just how good pinot noir has become in recent years.
We began with the wines from two of America's most staunch "traditionalists": Calera, and Joseph Swan. Calera (which means "lime kiln" in Spanish) is the brainchild of Josh Jensen, who in the early 1970's set out on a search for limestone soils on which to plant pinot noir. Based on his conversations with numerous winemakers in Burgundy, Jensen was convinced that limestone soil was the key to producing great pinot noir in America. After a two-year search, he found an old limestone deposit about 25 miles east (inland) from Monterey, at an elevation of 2,200 feet near Mt. Harlan, in completely unfashionable San Benito County. Vineyards were planted in 1975, with the first tiny lots of pinot noir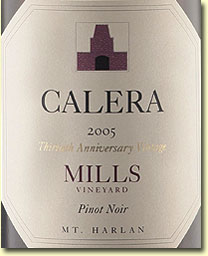 made in the 1978 vintage. The Joseph Swan winery goes back about 10 years earlier. An airline pinot, Joe Swan purchase a small parcel of land in Sonoma County's Russian River Valley in 1967, on which were some old zinfandel vines and fruit trees. He planted pinot noir the following year, and by the mid-1970's he was considered one of the top pinot noir specialists in the state (along with Hanzell, Chalone, and Mt. Eden).
The 2005 Calera Mills Vineyard Pinot Noir, from a vineyard planted in 1984, showed classic pinot scents on the earthy side of the spectrum, with brown spices supported by a firm structure and plenty of smooth tannins. A hint of leather, caramel and burnished wood was quite intriguing but really the antithesis of today's fruit-forward pinots. Although the word "Burgundian" is a much-abused term, it seems apt in describing this wine, which emphasizes complexity, subtlety and structure more than fruit. Yet it's not lean or fruit-deficient either, but the flavors are all expressed in terms of mushroom and undergrowth. Find this wine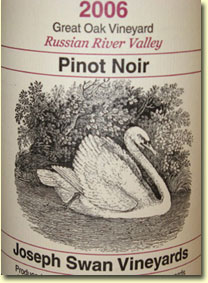 The 2006 Joseph Swan Great Oak Vineyard Pinot Noir was much more fruit-forward by contrast. Rather pale and light bodied (surprising in light of its stated alcohol of 15%), this had some of the earthy and forest-floor notes of the Calera, but also had more ripe red fruit notes and Asian spices. A prettier wine, yet also traditional and very elegant, marred only by a bit of finishing heat. A ripe wine made with very traditional winemaking. I liked it, but the combination of earthiness and ripe fruit and heat made it seem a bit awkward in comparison with the Calera. Find this wine
The Oregon flight consisted of one of the most respected wineries in the state, and a relative newcomer that has recently shot to prominence due to the background of its new winemaker. The former, St. Innocent, was founded in 1988 and has built up a considerable reputation for its single-vineyard pinot noirs and chardonnays. The "newcomer", Antica Terra, actually produced its first wine in the mid-1990's, but after receiving acclaim for its 1998 and 1999 vintages, fell somewhat into obscurity. Sold a couple of years ago, it has been reinvigorated by its new owners, which include its winemaker, Maggie Harrison, who learned her skills as assistant winemaker to Manfred Krankl at the über-cult winery Sine Qua Non. Although better known for its rich Rhone-varietal wines, SQN also made pinot noir during Maggie's tenure there, with the fruit sourced (except for the last two years) from Oregon's highly-regarded Shea Vineyard. I had loved the first Antica Terra pinot made by Maggie, the 2006, so I was anxious to taste the newly released 2007, from a much more challenging vintage in Oregon.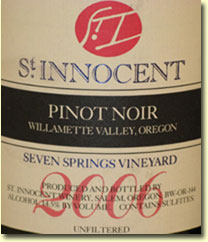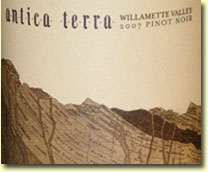 The 2006 season in Oregon produced full-bodied, rich wines that are fairly dense but retain good balance and potential longevity. That's a pretty good description of the 2006 St. Innocent Seven Springs Vineyard Pinot Noir Find this wine, which featured bright acids and plenty of red cherries accented by a hint of floral notes, but was also rich and fairly full-bodied, at least by Oregon pinot standards. The finish is long. Lighter in body yet with a more exotic, floral, perfumed nose was the 2007 Antica Terra Pinot Noir Find this wine . With a lighter color and body, the difficulties of the 2007 vintage were apparent, as the wine came across as a lighter, earlier-drinking wine compared to the 2006. Yet the fragrance was fantastic, very complex with an exotic note of sandalwood and incense, along with some underbrush and red fruit notes. Perhaps not quite as complete or ageworthy as the 2006 version of this wine, but still delicious for near-term drinking.
The next flight focused on "Pinot's Heartland," Somona County's Russian River Valley. Two top practitioners of the pinot noir art were featured here, Fred Scherrer and Ehren Jordan. Scherrer learned his craft as winemaker for Greenwood Ridge, and later Dehlinger Winery, one of the top addresses for pinot and other varietals in the Russian River. He began his own winery in the early 1990's, but his early fame rested on the quality of his outstanding zinfandels, not pinot noir, produced from the fruit of a vineyard owned by his father. Later he added Cabernet and Chardonnay from the same vineyard, but also pinot noir from a variety of sources. Today, pinot constitutes half his production. As for Ehren Jordan, his history includes stints with Rhone (Cornas) superstar Jean-Luc Columbo, Helen Turley (Marcassin), Larry Turley (Turley) and Bruce Neyers (Neyers). Originally known as Failla-Jordan, but forced to drop Ehren's surname after threatened litigation by the Jordan Winery, today Failla focuses on Pinot Noir and Syrah, with small amounts of Chardonnay and Viognier as well.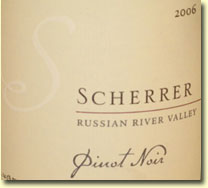 2006 Scherrer Pinot Noir Find this wine was classic Russian River, with black cherry fruit ac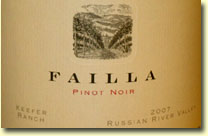 cented with pine needle/forest floor earthiness. The fruit is deep and runs the gamut from red to black, and the balance of acids and tannins is perfect for this medium bodied, classically styled wine. For me this exemplifies the best of the Russian River style of pinot noir. The 2007 Failla Keefer Ranch Pinot Noir Find this wine has some similarities, but is higher-toned and with more purity in the fruit, less earthiness. From a cooler region than the Scherrer (it's actually in the Green Valley sub-appellation of the Russian River), the Failla is a bit darker and more floral in its aromatics, but with very deep red fruits and excellent acids. A medium bodied wine of great purity and breed, and a favorite of the tasting.
The next stop was the Sonoma Coast, which I characterized as "Pinot's Frontier." Much of the action in new and exciting pinot is happening here, in one of Sonoma's largest but also most remote AVA's. Cool weather off the Pacific keeps temperatures down, creating excellent conditions for pinot noir. The topography features a series of ridges running roughly parallel with the coast, and the best vineyards are typically located on the 2nd or 3rd ridge inland, with each ridge representing a slight increase in sunshine and warmth as you move west to east. Flowers was one of the early (first vintage was 1994) and most visible wineries located here, and the early buzz on its pinots reached a cult-wine level of frenzy on the internet in the late 1990's. the frenzy has died down, but Flowers remains one of the most respected wineries identified with the Sonoma Coast. Zepaltas is one of the new kids in town, with 2006 representing its first vintage with a full range of wines, mainly from the Sonoma Coast and the Russian River Valley. Ryan Zepaltas got his experience at La Crema, and in New Zealand at Villa Maria before he hooked up with Adam Lee at Siduri, where he has worked as assistant winemaker for the last 7 years.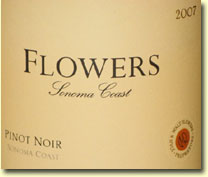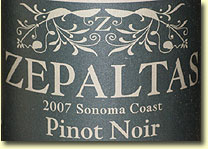 The 2007 Flowers Sonoma Coast Pinot Noir Find this wine is their basic pinot bottling, and its full of bing cherry fruits with strawberry notes. Very bright and pure with excellent balance and crisp acids, this is a classic, medium bodied style of pinot that's very young and fresh at this point. Although the structure is there for development in the bottle, this is probably best enjoyed young for its vivacity and delicious fruit. While the Flowers pinot is very traditionally styled and pure, the 2007 Zepaltas Sonoma Coast Pinot Noir Find this wine is much more exotic and flamboyant, anything but traditional. There is a wild, very forthcoming nose of savory herbs and Asian spices that seems to explode from the glass. The wine is fairly light in body, but very big in flavors that are on the spice and floral end of the spectrum, and very intense. But the intensity comes from the flavors, not the "size" of the wine, as it's not at all overripe, thick or ponderous. This seems very developed and probably should be drunk on the young side for its exuberance. This was a real hit among our tasters.
The next flight focused on another region heavily influenced by coastal climate, the Santa Rita Hills in Santa Barbara County. I titled this flight "The Bigger Side of Cool", as it seems that despite the cool climate, many of the pinots from this region are made in a ripe, large-scale style. Wineries such as Sea Smoke, Melville, Brewer-Clifton, and Babcock tend to make ripe pinots with big fruit flavors and alcohol that frequently exceeds 15%. That's not really what one would expect from a cool-climate pinot, and, in fairness, there are certainly plenty of Sta. Rita Hills producers whose wines are more restrained and traditional in style (including Clos Pepe Estate, Longoria, and Alma Rosa, which is Richard Sanford's new winery). The two wines selected for this flight represent one winemaker more associated with a traditional style of winemaking, and one winery that epitomizes the modern, "big fruit" style.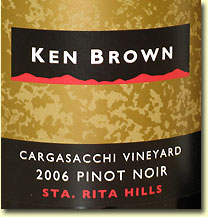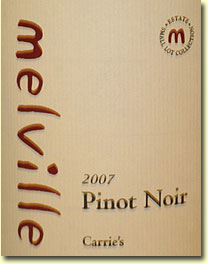 Ken Brown was the founder of Byron Cellars, one of the pioneer makers of pinot noir and chardonnay in Santa Barbara's Santa Maria Valley. He sold that winery to Mondavi in 1990, remaining as a consultant. He founded Ken Brown Wines in 2003, now focusing primarily on fruit from the Sta. Rita Hills. His 2006 Ken Brown Cargasacchi Vineyard Pinot Noir Find this wine has plenty of rich fruit and glycerin, giving the wine a somewhat thick feel on the palate. It's ripe, but not overripe (14.7% alcohol), with mainly black fruits and fairly straightforward pinot flavors. This is not a traditional, restrained/elegant style, but it's not really a full-blown "ripe fruit" style of pinot, either. It's a nice wine, but not terribly complex or interesting; enjoyable mainly for its robust fruit and ripe, clean flavors that are big but not overdone. Even bigger and richer is the 2007 Melville Carrie's Pinot Noir
Find this wine, which seems much riper and denser, although the alcohol is virtually the same as the Ken Brown. Very full bodied and showing a bit of heat, the texture sets this apart as it's as dense as a zinfandel although the flavors are clearly pinot noir. As with the Ken Brown, this lacks complexity at this point, and it seems structured for enjoyment young for its robust qualities and voluptuous mouth feel. For me, however, both of these wines were considerably less interesting and compelling than most of the wines that preceded them.
The last flight focused on Mendocino County's Anderson Valley. Although long known as a potentially excellent region for pinot (primarily based on the reputation of one winery, Navarro), the Anderson Valley has long been in the shadows of more southerly regions like Russian River, Sonoma Coast and Santa Barbara. Real quality seemed sporadic at best, with tiny quantities and limited distribution of many of the region's best wineries contributing to the impression that Anderson Valley was a bit of an underachiever. In recent years, however, the number of outstanding wineries, and great vineyards growing Pinot Noir in Anderson Valley seems to have reached critical mass, and today Anderson Valley has to be considered among the most highly regarded AVA's in California for Pinot Noir. Accordingly, this flight was entitled "The Latest Greatest", in honor of Anderson Valley's new-found acclaim. Although there are more excellent wineries actually located in the Anderson Valley than ever before, many of the best Anderson Valley wines are made by wineries based in Sonoma, using fruit from Anderson Valley's best vineyards. Two such wineries were included in this flight.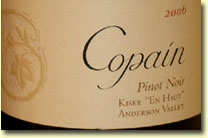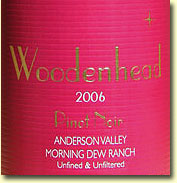 I've already written extensively about Copain Winery, and its new focus on Anderson Valley as the sole source of grapes for its Pinot Noir program. It's top wine is the 2006 Copain Kiser, en Haut Pinot Noir Find this wine, from the upper part of the Kiser Vineyard, located in the extreme "deep end" of the Valley, virtually adjacent to the coast redwoods that stand between the valley and the Pacific. This vineyard always produces wines of great elegance and complexity, and this 2006 is a beauty. Very complex with pure fruits that are mainly red but with a lovely spice and floral notes, perfectly balanced with smooth tannins and depth that is surprising only because the texture of the wine is so light and pure. The elegant structure hides the intense flavors that grow as the wine airs. Just lovely and with great potential to improve. On the same high level is the 2006 Woodenhead Morning Dew Ranch Pinot Noir Find this wine. Woodenhead is Nikolai Stez's winery. For 17 years, Stez was the assistant winemaker at the iconic Williams-Selyem winery, widely regarded as the best pinot noir producer in America. The Morning Dew Ranch vineyard is owned and was developed by Burt Williams after he sold Williams-Selyem to Bob Cabral, so this Woodenhead pinot is about as close as you can get to a "before the sale" Williams-Selyem wine without actually buying one. Like the Copain, this pinot presents high-toned fruit with lots of floral and Asian spice notes. There is more raspberry here, and the texture is light but the flavors are full and deep. Great length, too, promising a good evolution in bottle. For me, these two wines were the best wines of the tasting, but with strong competition from the Failla. But I wouldn't kick any of these wines off my dinner table!
Bennett Traub
Reporting From The Left Coast
Send Bennett an

BACK TO BENNETT TRAUB'S INDEX PAGE
© June 2009
Link to Gang of Pour Home Page