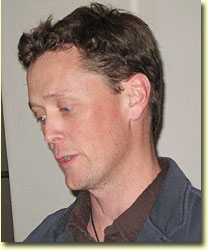 Since his first vintage in 1999, Wells Guthrie's Copain wines have represented both quality and consistency in the "traditional" school, one that looks to Burgundy and the Rhone for inspiration (not imitation), with an emphasis on balance and elegance over power and richness. With a background working at Chapoutier and extensive interaction with Gerard Chave, it's not surprising that Wells doesn't share the point-centric tendency to view "bigger" as always "better," and while his wines have always had depth, they also have been well-balanced and with moderate alcohol levels (always under 15%), at least by modern California standards.

The interesting thing about Copain, however, is that although the winery has always been considered a member of the finesse and balance school, in recent years Wells had become dissatisfied with his wines, finding them too manipulated, too ripe, too alcoholic, and not developing as he wanted. So beginning in 2006, Wells made some significant changes, beginning with limiting his grape purchases to vineyards that could produce quality grapes at ripeness levels much lower than he had previously accepted. While previously he had bought fruit picked at 24° or 25° Brix (fairly low by the standards of many), he now decided to only buy grapes from vineyards that could produce phenolically ripe fruit at 23.5°Brix, or less. He wants alcohol to be under 14%, and he's convinced that the wines will be more interesting, more age worthy, and more delicious as a result. Rather than simply pick less ripe in every vineyard, he's focusing his efforts only on select vineyards that can do this without producing wines that are too thin or too green. That means that all of his Pinot Noirs are from Anderson Valley, and he's gradually restricting his Syrah purchases to a few select vineyards as well.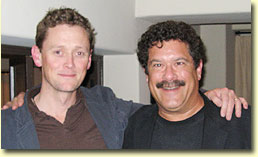 Last week, Wells joined us at Los Angeles' Campanille Restaurant, to share his latest pinots and syrahs, and to compare some of his older vintages with worthy competitors from other schools of winemaking. Wells graciously provided a range of his 2006 Pinot Noirs, and his just-bottled (and not yet released) 2007 Syrahs, the first vintages which fully express his new direction. The results speak for themselves. (Photo: Wells Gutherie (L) with author, Bennett Traub)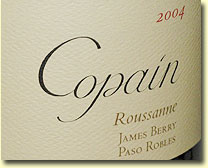 Starters: Two Roussannes. While I am not a big fan of white Rhone varietals, I was very impressed with the 2004 Copain Roussanne James Berry Vineyard. Showing the floral side of the varietal with some complex herbal notes, the wine is medium bodied and avoids the thick texture I often find with domestic roussannes. Despite coming from a hot Paso Robles vineyard, the wine had superb balance and crisp acids, in structure more like a good white Burgundy than a heavier Rhone wine. This is open for business and drinking very well now, with plenty of life ahead. By comparison, the 2006 Copain Roussanne James Berry Vineyard was pretty tight and not showing much right now. With a similar flavor profile and structure to the 2004, it clearly needs another year or two of cellaring to really show what its got, but it seems balanced and deep enough to equal or exceed the 2004 eventually. Find these wines

Flight 1: 2006 Copain Pinot Noir: This is the first year that Wells fully implemented his new approach, harvesting his grapes at lower sugars. All of these wines come from the Anderson Valley, and they have alcohol levels under 14%. They were actually poured in the reverse order that Wells thought was appropriate, so I'll list them here in the order Wells indicated. The Cerise Vineyard Find this wine was the most open and flamboyant wine of the group, showing a big nose of red berry fruits and Bing cherry with some meaty and complex mineral notes. Great acid/fruit balance here, with terrific brightness and verve lifting the intense flavors, yet the body of the wine is fairly light (in a good way). The next wine, the Monument Tree Vineyard Find this wine, was much more closed in by comparison. More structured with ample smooth

tannins that give a slightly austere impression now, there is plenty of deep, slightly darker fruit flavors and the body is slightly more dense than the Cerise. This firmly structured wine will need age but seems perfectly balanced and capable of developing very well. The next two wines are both from the Kiser Vineyard, in the extreme "deep end" of the Anderson Valley. The Kiser En Bas Find this wine is remarkably elegant, smooth and long, with very deep red fruits and perfect balance. The flavors are intense, yet the mouth feel is silky and gentle on the palate. Even more complex and deeper is the Kiser En Haut Find this wine, a wine that somehow gives the impression of being at the same time slightly "bigger" yet even more elegant and graceful than the En Bas. The balance of fruit, tannin and acid seems perfect, and although quite complex and enjoyable to drink now, the wine seems poised to develop beautifully for quite some time. My WOTF: Kiser En Haut, but really all of these wines were beautiful.

Flight 2: 2007 Copain Syrahs: These wines had been bottled only a month ago, so were more like final barrel samples rather than finished wines, yet they showed very well indeed. All of the alcohols are under 14%. Wells' favorite is the Hawks Butte Find this wine, which showed a big nose of Asian spices, blue/black fruits and complex mineral notes, all framed by great acid/fruit balance and smooth tannins. This is very bright, rich yet not heavy or thick, and tasting great already. More closed and awkward by comparison was the Baker Ranch Find this wine, a bit lighter than the Hawks Butte and seemingly a little more austere at this point as well. There's plenty of deep fruit, but it's more restrained now, holding back. Hints of coffee emerged with air, but this clearly needs some time to show its stuff. The Garys Find this wine was much more showy, bigger, riper and denser. I got some chocolate along with the Asian spices and some licorice notes. By comparison with the other wines in the flight, this has more thickness and tannins, yet is still quite smooth and supple in a more large-scaled package. Last was the Brousseau Find this wine, which Wells stated he had to pick a bit earlier than he wanted because the fruit was being decimated on the vine by marauding feral pigs! As a result, the wine is quite acidic, not too much for me, but about as tart as I would want. Yet there is terrific complexity with black cherry and garrigue herbs along with the most minerality of the wines in this group. The aromatics are very attractive and have some pit-fruit elements that suggest some viognier was co-fermented (but no, it's all syrah). It will be interesting to see how this evolves; if the fruit holds, the acidity would seem to assure a long life. My WOTF: Hawks Butte, but the Brousseau is a close second.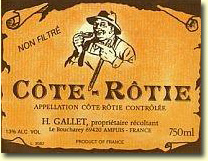 Flight 3: Copain & Cayuse Syrahs from Washington: For a few years (2001-2005), Copain obtained fruit from two Washington vineyards (Cailloux and Coccinelle) that have become well-known mainly as the mainstays of the Cayuse winery. Wells combined the fruit from these into a single blend, whereas Cayuse bottles them individually. We were supposed to taste the 2002 Copain version, but it didn't make it, so a 2004 Cote Rotie, H. Gallet Find this wine was added to provide an "old world" perspective. Fairly hard and austere, not showing much aroma, but with plenty of fruit under the surface that was quite different in flavor from the wines that followed. Lots of pit fruits and mineral notes along with some Asian spices, in a fairly lean package at this point, but not too tannic or acidic—well balanced. This clearly needs at least another 5 years, but doesn't seem to have the depth for really long-term aging, and overall it's a good but not great Cote Rotie. Next was the 2004 Copain Cailloux & Coccinelle Syrah. I got a lot of stewed tomato aromas on this one, seems quite ripe and pretty soft, with a flat aspect to the acidity (what there is of it). The wine has decent fruit but lacks grip and is not clearly identifiable as syrah; it has some minerality, but is also tannic and short. Decent but this got a bit too ripe and lost its focus, in my opinion. Still, it was much better than the 2003 Cayuse Coccinelle Find these wines , which was one of the worst wines of the night. Sharp sweet & sour nose of prunes and fumy alcohol much like an overripe Barossa shiraz, disjointed, pruney/dried fruit on the entry, then a hollow middle and a sharp, hot finish. This seems to be falling apart, if it was ever together to begin with. The 2006 Cayuse Cailloux Find these wines that followed was better, but not that much. Very dense and full-bodied, but also very hot, this at least has some syrah character lacking in the 2003 Coccinelle and not as pruney, but still very low in acidity and flat, and airing accentuated these attributes. This is going nowhere and needs to be drunk soon (if at all). I was a buyer of Cayuse in its early days, but I'm perfectly happy to be off their list now. My WOTF: 2004 Cote Rotie.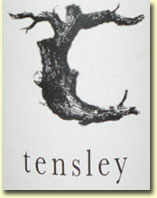 Flight 4: Copain & Tensley Thompson Syrahs: Thompson Vineyard, near Los Alamos in a fairly warm section of Santa Barbara County, would appear to be an interesting vineyard to compare the work of the finesse-oriented Wells, and the more robust style of Joey Tensley (former assistant winemaker at Beckmen). As it turned out, only one Copain was represented, as the 2005 Copain Thompson Find this wine was corked. The 2004 Copain Thompson Syrah Find this wine was quite ripe with a slight hint of dried fruit and prune, as well as chocolate-covered blackberries. Much thicker in texture than the 2007 Copain Syrahs, with adequate but not great acid, and a heavy feel on the palate. Pretty good in a ripe style, but one-dimensional at this point. The 2003 Tensley Thompson Syrah Find this wine was quite fragrant at first, with some nice floral notes and seemingly good balance, but the wine didn't seem to hold up very well as it aired, getting a bit dull and lifeless. Still, this wa s pretty good in my book, and not an over-the-top style. The 2005 Tensley Thompson Syrah Find this wine was much riper, with more blackberry and intense, deep fruit but not pruney. Again somewhat one-dimensional and totally fruit-dominated. Good if you like the totally fruit-forward style, but lacking complexity at this point in its evolution. Thompson syrahs have the reputation of needing considerable aging, so we'll see, but the acid in the Tensley wines was at least decent, so there's some hope there. My WOTF: 2003 Tensley.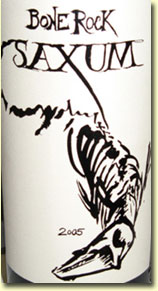 Flight 5: Copain & Saxum James Berry Syrahs: If any vineyard would seem less suited to Wells' current stylistic choices, it would appear to be the James Berry Vineyard, Paso Robles' "Grand Cru" and the source of some of the biggest and ripest syrahs in America. The 2004 Copain James Berry Syrah Find this wine was every bit as ripe as expected, and very intensely flavored, but with decent balance that appeared to have enough acidity (barely) to keep it going for a while. Lots of blueberry fruit and licorice, not much minerality or complexity, this is a fruit-bomb that's at least well put together. The 2005 Copain James Berry Syrah Find this wine was brighter and better balanced than the 2004, not as dense and better for it. Still totally primary and quite ripe, the fruit is very deep and dark, but the wine does not go over-the-top. Not so the 2004 Saxum James Berry—Bone Rock Syrah Find this wine, which appears to have completely fallen apart. Very soft and syrupy, with hints of brett, no acid, soupy, hot, and devoid of any tannin or acid structure to give the wine some shape or definition. Saxum clearly had a very poor year in 2004, an opinion that up until now had seemed limited to their other 'lesser' bottling, but now the Bone Rock is showing many of the same problems the other Saxums of this vintage have shown for some time. The 2005 Saxum James Berry—Bone Rock Find this wine was better, but not as much so as I would have hoped or expected. Very dense, thick and soft, there is a bit more acid/tannin structure to support the massive superstructure of ultra-ripe fruit, but the wine just seems heavy and dull right now, and I wonder if there's enough grip to sustain the wine long enough to emerge into something more interesting. Disappointing. My WOTF: 2005 Copain.

This was a fascinating tasting and quite a revelation. Wells was remarkably candid in his evaluation of the wines, including his own. He was almost brutal in his assessment of his own prior efforts, admitting that to his palate they were not aging as he had hoped, lacking the kind of energy and finesse he believes the finest wines ought to possess. He clearly feels that his new approach is creating not only better wines for now, but ones which will age and improve much more successfully than his past efforts. I think he's being overly harsh about his prior wines, many of which I think have aged beautifully and are delicious, but his new direction appears to be creating some exciting results.

It will be interesting to see if he can sustain this approach over multiple vintages. Recent years have been relatively cool in many of the regions where Wells is sourcing his fruit, making lower alcohol/finesse-oriented wines somewhat easier to make. Even some members of the "big/ripe fruit" school like Kosta Browne have made wines with somewhat lower alcohol in '06 and '07. Can Wells continue to do so in hot years, and particularly in hot-area vineyards like Paso Robles' James Berry? This will be a very interesting story to follow.

Most of our group was very impressed with both the pinots and the syrahs. I wonder if the poor showing of many of the syrahs in the later flights was related to the "context" created by Wells' 2007's—his wines just seemed so much more energetic, complex, and alive than the riper, larger-scaled wines that followed, including the older vintages of Copain. After the tasting, a number in our group commented that they were becoming increasingly tired of the "big fruit" style that all of us have enjoyed and bought in recent years, so perhaps Wells is really onto something here. In any event, this will be a very interesting story to follow. Personally, I'm not prepared to dismiss all the riper style wines being made, many of which I continue to buy and enjoy, as this was far from a comprehensive evaluation. But I'm going to be looking a lot harder at the alternatives.
Bennett Traub
Reporting From The Left Coast
Send Bennett an