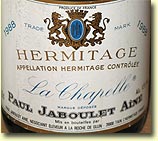 The next course featured paired vintages (1983 and 1988) of the two greatest Hermitage wines of the era, the Chave rouge and the "La Chapelle" of Jaboulet. The Chave/La Chapelle flight was clearly the FOTN; all the wines showed superbly. I agree that the Chave's showed more intensity and complexity, even if the La Chapelle's were generally a bit bigger and richer. For me the 1988 Chave Find this wine was the star of the show, perfectly mature, rich, complex and very long. The 1983 Find this wine is equally good, although showing a more rustic side, with a bit of barnyard, but still with plenty of fruit and vigor. The 1988 "La Chapelle" Find this wine was even bigger and fruitier than the Chave, although less complex and without the Chave's elegance and breed. It would certainly be fabulous on its own, but was upstaged by the Chave. The '83 La Chapelle Find this wine is a controversial wine, with some bottles showing rather tannic and dried out (I think Parker scores this wine with a ? for this reason), but this bottle had very good fruit and balance. Again, it lacked the depth and complexity of the Chave, but had plenty of intensity and richness. On their own, any of these wines would be a highlight at any meal; my favorite (by a whisker) was the '88 Chave, with the '83 just behind.

In the next flight (all Cote Rotie's), the '99 Rostaing Find this wine was the top wine and a real contender for wine of the night (with the Chave's). Tremendous depth and richness, perfect balance, and as the wine aired it became more and more complex. I'd love to have a bunch of this to begin drinking in about 10 years. The 2002 Guigal La Landonne Find this wine was also terrific, and more traditional tasting than the massive blockbuster I was expecting. It lacked a bit of complexity compared to the Rostaing, although it was even bigger and richer. I was less pleased with the 1999 Guigal Ampuis, Find this wine which could have passed for an Oz shiraz, with noticeable new oak and high ripeness--not a style I care for, at least not in a Rhone wine. The '97 Tardieu Laurent Find this wine wasn't a bad wine (from a mediocre vintage, after all), but was outclassed in this group. It showed a bit of a vegetal streak that probably would be OK if not in such strong company.

The next flight included 3 Hermitage from the 2003 vintage, the 2003 Delas "Les Bressards"Find this wine, 2003 Marquis de Tourrette Find this wine, and the 2003 Jaboulet "La Chappelle"Find this wine. Frankly, none of these wines tasted like what I expect (or want) from a Northern Rhone. As with many 2003's that I've tasted, all have a pronounced blackberry liqueur quality that tastes like someone dumped some Chambord liqueur into the blending vat. This gave all the wines a very monolithic quality that obliterated any differences between them, not to mention any sense of place. Not sure if they'll ever taste like a traditional Rhone wine, although they seem to have good acidity and therefore could age reasonably well. Right now, they reminded me of the Copain Arrowhead Mountain Zinfandel, with that prominent apricot pit/blackberry quality--for me, that flavor works better in zinfandel than in Cote Rotie. I marginally preferred the Marquis de Tourrette, but frankly didn't care for any of them. The other wine in this flight, the 2001 Guigal Ex Voto Find this wine was WOTF for me, a big wine but with more traditional flavors and good balance.

The last flight got kind of lost for me, and was not as interesting as what came before. The '98 Hermitage "La Chapelle" Find this wine was disappointing, rather thin and simple. The 2000 Guigal Hermitage Find this wine was nice if not exciting, and the 2003 Delas Crozes Hermitage Find this wine was perhaps the best balanced and most traditional wine of the flight, although it had that streak of dullness/oafishness I find in a lot of Crozes, as opposed to the elegance of wines from the Hermitage hill. Maybe less favored sites avoided some of the extreme overripeness experienced by '03's from Cote Rotie and Hermitage. The '03 Delas Cote Rotie was pretty much like the other '03's, a freak.

Only two weeks after this dinner, another opportunity to taste through a range of Northern Rhones presented itself. When wine board and GrapeRadio stalwart Jay Selman posted an offline notice to taste Cote Rotie's on a Monday afternoon, I couldn't resist. So a dozen or so Orange County regulars allowed this Long Beach (LA County) interloper to crash the party at the office of Jay's technology company, in the main conference room (it is good to be boss!). Excellent eats were provided by participant Robert Whitesell's catering company, Picnic's Deli, consisting of Canape of Grilled Lamb Loin with sun-dried tomato pesto, feta and black olive relish; Crostini of Smoked Duck with Dried Cherry Compote; Roasted Mushroom Stuffed with Spinach and Bacon; and Ox Tail off the bone braised with red wine and black trumpet mushrooms (outstanding!), and we got to work.

The oldest wine at the tasting, the 1982 Rostaing "Cote Blonde", Find this wine featured a very open, fragrant nose with a bit of bottle stink at first that quickly blew off to show predominantly mushroom/forest floor, complex herbal note (not green), a bit of barnyard, supple texture, completely resolved tannins, long finish. A very complex wine that is probably a couple of years past its peak, but is still drinking well and should go on for a few more years yet. It rated highly with most participants. Even better (to me) was the 1985 Dom. Bernard Burgaud, Find this wine showing a lot more vigor and fruit, a bit of tannin still but fully mature with very complex and long flavors and great depth. This is just entering its peak plateau and should drink well for many years. This got more first place votes (including mine) than any other wine, but overall was only the second favorite wine of the day.

The next flight moved into the mid-'90's , with The 1995 Dom. Bernard Burgaud Find this wine. This was really interesting to taste after the 1985, and the evolution of that wine could be seen in its younger sibling. Dusty tannins, medium body but with a tremendous depth of (not too ripe) fruit, complex herbal notes and a long finish, this need lots of time but will be excellent. To my taste it was much more interesting than the 1995 Chateau d'Ampuis Find this wine (Guigal) that followed, which is a big wine that shows prominent new oak aromas and good richness, but it seemed monolithic and a bit dull to me. Maybe it's just going through a dull stage, but it is clearly in a more "international style" than the other wines tasted, which I don't care for in Cote Rotie. I should note that several others put this wine in their top three wines of the day, but to me this just didn't have the complexity I look for in Cote Rotie and I'd put this in the bottom half of the wines tasted. On the other hand the 1996 Chapoutier "La Mordoree"Find this wine that followed was a tremendous wine, a "big style" wine done right. Huge body, but true, typical Cote Rotie flavors, with excellent fruit/acid balance and great length. This will be wonderful in another 5-10 years. It was much better than the other Chapoutier wine in the tasting, the 1998 Les Becasses Find this wine. Initially this was thought to be corked, although I didn't think so. However, it was rather shy, in a lighter, fruitier style with medium body, some tannins, a bit short. It seemed reasonably well balanced, clean, but rather simple. This could be going through an awkward phase right now (or else it was a slightly off bottle), and although it didn't show particularly well on this occasion, I wouldn't give up on it.

The next wine, the 1999 Jamet Find this wine, was a real highlight of the day, and overall the WOTD. Very fragrant with typical animal-tinged complex fruit/herbal notes, some tannin but in balance with the fruit and acid; airing revealed some coffee and chocolate notes, very long. Tremendously complex and with great development yet to come, I'd hold on to this for at least 5, and preferably 10 years, it will be amazing. It rather overwhelmed the 2001 Mouton Pere & Fils Find this wine that followed. A new producer for me, this wine showed good brightness from excellent acid and some tannins, medium body, good berry fruit in a lighter style. While no match for the Jamet, this would be a very nice wine on its own with dinner.

The final Cote Rotie's were all 2003's, which again is a very controversial vintage. As noted above, I am not a fan of this vintage in the northern Rhone, as too many wines have that pronounced blackberry liqueur flavor. Some enjoy this quality, and that's fine, but for me it obliterates the character of Cote Rotie and the other Northern Rhone appellations. Typical of this was the 2003 Delas Freres "Seigneur de Maugiron"Find this wine, which was fumey with alcohol and blackberry notes so strong they obliterated just about any other flavors or complexity. Even worse was the 2003 Dom. Bernard Burgaud Find this wine, which in addition to the blackberry/alcohol cocktail, was so tart with screechy acidity as to be almost undrinkable. Clearly very clumsy acidification was done here, as there is no way a wine as ripe and alcoholic as this could be this tart with natural acidity. The 2003 Rostaing "Cote Blonde"Find this wine wasn't much better; although it had less blackberry, it was clearly raisined with a burnt charcoal/roasted quality and noticeable alcohol. Best of the 2003's was the Bonnefond, which had no blackberry, and did have some of that typical animal quality and some complexity, slightly low acid and a bit clumsy, but with honest Cote Rotie flavors that most wines in this vintage seem to lack.

Since the 12 Cote Rotie's clearly weren't enough wine to fortify the group to face the freeways, Jay generously opened a 1966 Ch. La Mission Haut Brion Find this wine. From a bottle with a high-shoulder fill, this wine was quite brown, with funky bacon and mushroom notes, a bit of cigar ash, good balance, no real fruit but not dried out, supple, and with good length. This was sound, even enjoyable, although I suspect not the best bottle of this wine. Too bad the oxtail was gone, because it really needed food to show its best, but was a real treat nonetheless.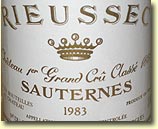 The finale (with Mrs. Selman's amazing apple cheesecake—WOW) were two excellent Sauternes, starting with the wonderful 1983 Ch. Rieussec Find this wine. Brilliant orange, tremendous depth of fruit, sweet but not at all cloying with excellent acidity and endless length. Lots of botrytis, orange marmalade, apple skin, very rich. I liked it just as well as the even more intense 1990 L'Extravagant de Doise Daene Find this wine, from a tenth. Extremely sweet and rich enough to pour on pancakes, this has TBA weight (to the Rieussec's BA), great power and viscosity, almost too sweet, but retaining just enough acidity for balance. This is really too much for any food (I'd prefer the Rieussec with foie gras), best on its own, and a phenomenal wine.
Bennett Traub
Reporting From The Left Coast
Send Bennett an