I immediately was reminded of an older Hermitage Blanc from Chave with its complex nutty quality that at first seems almost like a touch of oxidation, but opens up to show real secondary fruit qualities lurking (although the primary fruit is gone, of course). Someone looking for big primary fruit could be forgiven for thinking this wine was past it, but its inherent balance (especially good acidity) has kept it not only alive, but full of complexity and interest. A fascinating wine, made to go with food. As for the 1978 Stony Hill Chardonnay, a "youngster" at only 28 years, bright yellow color led the way to a real "white Burgundy" nose of lemons, grilled toast, and plenty of fruit; the palate showed all of that, plus some minerality and a nice crème brulee richness, leading to a long finish. Not a hint of decay, still fresh as a daisy, perfect balance. This seems to be at its peak, but also seems like it could go on for years yet. Amazing wines. Although Stony Hill might have been considered a "cult" wine in its day (it always relied primarily on mailing list sales as opposed to retail), today the wine flies under the radar and, surprisingly, is available to anyone who wants it direct from the winery, and at a reasonable price—no waiting list blues or "cult" pricing here. They actually apologized to their mailing list for increasing their price slightly to $36 for the current release (2004)!
On to the main event, the Ridge zinfandels. We tasted Geyserville first, then the Lytton Springs. Each was tasted in groups of 4-5 wines, starting with the older Geyserville's, then younger, followed by the older Lytton Springs', then the younger. Campanile kept the excellent food coming, although the table became very crowded with big Riedel stems crowding out the plates, not to mention any room to take notes! Yes, it's a tough job, but someone. . . well, you know.

Geyserville flights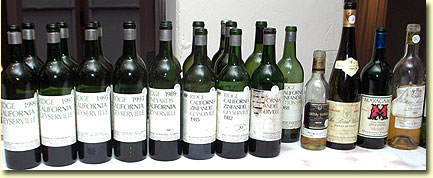 Ridge produced its first Geyserville Zinfandel in 1966. Located on the western edge of the Alexander Valley in Sonoma County, the vineyard is just under 48 acres, and is planted primarily to zinfandel (27 acres) from between 12 and 40 years of age, along with 8.5 acres of Petite Sirah, 7 acres of 111 year-old Carignane, and a 5 acre, 121 year-old plot of "mixed blacks". Surprisingly for a vineyard so closely identified with the winery, Ridge does not own the vineyard; it is owned by the Trentadue family, and Ridge has a long-term lease on the fruit (until at least 2020). The vines are head-trained and have a southern exposure.

We began with the older wines, including the oldest Ridge in the tasting, and the wine that turned out to be my Wine of the Night, the 1972 Geyserville. Now, Ridge aficionados know that the 1973 Geezer is THE great old Ridge Geyserville, the one people talk about as one of the greatest California red wines ever made. 1972? Nothing, nada, zip—lousy vintage, lousy wines, etc. etc. 1972 is essentially a forgotten vintage, and for good reason, as crummy weather resulted in mostly forgettable wines (in Europe, too, the vintage is generally regarded as one of the worst of the decade, especially in Bordeaux). But this wine was a revelation. Beautiful, expansive nose of complex fruit and cedar, almost more Burgundian than zin. Typical mature palate reminiscent of a great St. Emilion with spice, some cedar/tobacco, fully resolved tannins, excellent acid balance with plenty of (secondary) plummy fruit remaining, long soft finish. It continued to evolve and grow in the glass, no signs of fading over an hour. A great wine, fully mature but seemingly able to stay at this plateau for quite some time. It completely overwhelmed a tired, fading 1982 Geyserville, the only wine in the tasting I would say is over the hill. Noticeable oxidation, faded fruit, slight hint of VA, hollow and short. This wine (or at least this bottle) has seen its peak years ago. Much better was the 1985 Geyserville, a bit softer than the 1972, but with excellent balance, this wine showed classic Geezer Bordeaux-like qualities in a very balanced package with good fruit and decent length. Not as complex as some of the other Geezers tasted tonight, this is still a very enjoyable drink, perfectly mature and one to drink up now. I liked it better than the 1989 Geyserville, which while a very nice wine, seemed a bit less structured, with a bit of overripeness/raisined fruit suggesting this was probably meant to be an early drinker. If less compelling than the '85 or '72, this was still the most "zin-like" wine of the flight, and a good if not great wine.

The next flight moved into the '90's, starting with a good 1993 Geyserville, showing a bit funky at first on the nose, but cleaning up with some air to show some tobacco/leather Bordeaux-like fruit, well structured with some tannins still in evidence, good length. I'd hold this one for a few more years. I really enjoyed the 1995 Geyserville that followed, just classic structure with excellent fruit showing plenty of complexity and development, quite long and fully mature. I was a bit surprised by the 1997 Geyserville, as this is a vintage I have always pigeonholed as a ultra-ripe, even overripe monster of a vintage that produced wines that were great young, but faded quickly. Not so with the '97 Geezer which, although quite ripe with plummy fruit and a bit of chocolate, avoided the overripe pruniness of so many of the other zins of the vintage (including a number of other Ridge zins). Quite rich, with sweet fruit tempered by adequate balancing acidity, this was a real "modern" style of zin, less Bordeaux-like than many of the other Geezers of the night. A crowd pleaser, and the favorite of many at the tasting (other than the '72, which blew everybody away). But my favorite of the flight was the 1999 Geyserville, which I think will be a classic in another 10 years or so. Still showing a hardness that's typical of the vintage, this shows tremendous depth of fruit to balance its firm structure, still quite undeveloped, but rich, deep and long. Be patient with this one.
Lytton Springs flights

The Lytton Springs vineyard lies to the southwest of Geyserville, on the bench separating the Alexander and Dry Creek valleys in Sonoma County. The vineyard was under one owner in the 1870's but was split into two separate vineyards sometime later. Ridge made its first Lytton Springs zinfandel in 1972, and purchased both the east and west portions of the vineyard in the early 1990's. Both vineyards are primarily old-vines zinfandel, but with significant plantings of Petite Sirah, Grenache, Carignane, and Mataro (Mourvedre). In the 1970's until the early '90's, there was a separate Lytton Springs Winery that made a zinfandel that was as well, or better, regarded than Ridge's LS. When Ridge completed its purchase of the vineyard, the Lytton Springs Winery folded. One of the old Lytton Springs Winery's zins was included in the first flight of these wines.

We began with a very Rhone-like 1988 Lytton Springs, showing a nice animale/leather nose (perhaps a bit of brett?), but with good balancing fruit, a bit soft and loose, but complex and rich with a long finish. Quite atypical, but I liked it. Much more typical of modern zins was the next wine, the 1990 Lytton Springs Winery "Lytton Springs". The reputation of this winery at the time was that their wines were much riper and "bigger" than Ridge's LS, and at the time I recall generally preferring the Ridge version. But this 1990 showed that bigness didn't mean that balance was sacrificed, as this wine showed ripe but not overripe fruit and a decent structure with adequate acidity, no tannins, good finish. A nice wine in a riper style that has held up well, but I would drink it soon. I liked it better than the 1991 Lytton Springs, which was quite ripe verging on overripe to my palate. Good ripe fruit, with chocolate and a bit of prune, but a bit too soft and short on the finish. Structurally its opposite was the 1993 Lytton Springs, showing excellent balance with good ripe but not overripe fruit, excellent acid, smooth tannins, very long finish. My favorite of the flight and a wine that should hold for many years. Almost as good was the 1994 Lytton Springs, with comparable fruit, a bit less acid, but very well balanced and rich. This is ready to go.

The last flight consisted of the late '90's Lytton's. The 1995 Lytton Springs was very ripe, really rather overripe to my palate, quite soft and pruney, not really my favorite style. It tasted like I thought the 1997 would taste, seeing as how 1997 is really a much hotter, riper year. But the 1997 Lytton Springs showed much better balance, with ripe but not overripe fruit, decent acidity, some chocolate but no prunes, some oak showing, good long finish. A real zin-lovers zin. I was looking forward to trying the 1998 Lytton Springs, as the 1998 vintage is generally regarded as a poor one for zinfandel generally, and even Ridge's '98's were pretty roundly panned when first released. But in my experience, many of the Ridge '98's are drinking very nicely now, and although it will never be a "great" Ridge vintage, the wines are well balanced and delicious in a "claret" style.

Unfortunately, our bottle of 1998 Lytton Springs was corked, so impossible to evaluate. But the 1999 Lytton Springs more than made up for that disappointment. Tremendous depth of fruit, firm structure with perfectly balanced tannin and acidity, no overripeness but lots of raspberry, chocolate and a bit of vanilla/oak, this one will be terrific in 5-10 years. My wine of the flight.
Dessert flight

Well let's see, 19 wines (1 corked) so far, but clearly that's not enough wine for this group, we need dessert! With no theme for the dessert wines, the group was varied, to say the least. Two Sauternes started things off well: the 1983 Ch. Suduiraut Find this wine was honeyed apricots and unctuous maple syrup, superb balance, not too sweet but very rich and long. the 1986 Ch. Guiraud Find this wine was much racier, with stone fruits and Asian spices to balance its sweetness. Hard to pick a favorite, both were excellent in differing styles. As a bookend with the Stony Hill chards, we had a half bottle of the excellent 1995 Stony Hill Semillon de Soleil Find this wine, their late-harvest Semillon. Darker than the Sauternes, more herbal and less sweet, this was still a well-balanced wine and probably would be indistinguishable from a Sauternes if not tasted next to two "real" Sauternes. Unfortunately, the 1994 Zind-Humbrecht Pinot Gris Rangen de Thann "Clos St. Urbain" VT Find this wine was corked, but not so much that I couldn't appreciate the intense essence of fruit and perfect acid balance of the wine. A 1968 Mayacamas Zinfandel "Late Harvest" Find this wine was like a dry Port, and a good example of why port shouldn't be dry. Thick, hot, pruney, but without sweetness to balance the alcohol, this came off as grossly unbalanced and frankly not very enjoyable at all. Much more interesting was a 1974 Quinta do Noval Porto Colheita Find this wine. Served blind, I guessed this to be a Bual or Malmsey Madeira because of its very high acidity. Not showing much port character to me, this was still a fascinating wine, very rich and complex, with buttered nuts, orange peel, maple syrup and tart apples mixed into a very long, medium sweet package. Again, not really what I think of when I think of port, but a very enjoyable wine, with acidity that would stand up to many desserts.

While I attended this tasting with high expectations, I really think they were exceeded. Except for the 1982 Geyserville and the corked '98 LS, every Ridge tasted was a really good, frequently outstanding wine fully demonstrating both Ridge's skill with, and the potential of, zinfandel. The "claret-like" character often attributed to Ridge zins was there in some of the wines, but mainly in their balanced structure and potential for aging. The flavors of the wine were all zinfandel, and showed real complexity in most of the vintages. I suspect that most of these wines showed the typical big ripe fruit quality typical of many zins when young. But Ridge pays attention to balance, too, and that quality allowed these wines to age and develop in a way many of the ultra-ripe style of zin now popular seem incapable of ever achieving. No problem there, the wine universe is big enough for both styles, and I like a big ripe sucker once in a while. But with Ridge, you don't have to worry about the wines' fruit fading before you get the chance to pull a cork. This is one winery you can essentially buy "blind", at least the wines from these two vineyards. At least I will.

Bennett Traub
Reporting From The Left Coast
Send Bennett an
Photos Courtesy of Steve Timko