During our first visit to Camp Meeting Ridge, Joan and Walt Flowers pointed out their closest viticultural neighbors to us, that being Hirsch Vineyard, visible across the expanse of valley and mountain, but until this tasting, Kim and I were only familiar with the '97 Flowers Hirsch Vineyard Pinot Noir, which, as we've reported, we've always enjoyed quite well. We'd heard of the others, from the likes of Siduri, Williams Selyem, Kistler, Littorai and others, but this would be our first taste of those, so we were quite excited at the prospect.

David Hirsch began planting his vineyards in 1980, taking Jim Beauregard's (Felton - Empire, Beauregard Vineyards) advice to "Plant Pinot Noir here, and this will be a very famous vineyard," and that has indeed become the case. Located in the rugged Sonoma Coast, the Pacific Ocean is visible from the vineyard, which is planted to Pommard and Mt. Eden clones. Like their cool climate neighbors at Camp Meeting Ridge, these vineyards are at an elevation above the fog line, and thus see some of the longest "hang time" in California.

There was an impressive lineup for this tasting, including a complete vertical of Siduri's Hirsch Pinots, mini - verticals from Williams Selyem and Whitcraft, and a '97 "horizontal" from Kistler, Rochioli and Flowers and the aforementioned WS and Siduris. Being that they had by far the most bottles in the bunch, it seemed only right that we start with the Siduris.

The 1995 Siduri Sonoma Coast Hirsch Vineyard Pinot Noir (14.1% alc.) at this particular tasting was a raging VA (volatile acidity) monster, with a nail polish - like character that is entirely unpalatable and abominable. Spit happens, so one can only hope that this is an isolated flawed individual.

The '96 - '98 models are variations on a theme, being clean, medium weight ruby garnet colored wines that show somewhat stingy aromatics, and typical smoky black cherry character. The '96 (14.1% alc.) shows some added plum, with some tannins still to resolve, while the '97 (13.8% alc.) has some strawberry, moderate tannins and zippy acidity; the '98 (14.1% alc.) seems to have a more smoky quality than the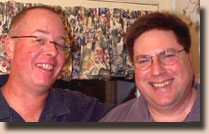 previous two, and, initially I thought that all three are a bit too light for my tastes. That assessment changed with regard to the '98, however, when I tried it with the grilled salmon and mushroom risotto going around; then it worked perfectly. Maybe I should have tried all three with food. (Interestingly, John Blackwood, shown here with Tim Thomas, found the '97 to be "tart, all alcohol, with not enough fruit left.")

The '99 Siduri Hirsch (14.2% alc.) is another variation on the ruby garnet, smoky black cherry, but it's bigger in body, spicier and more concentrated than the others so far, showing a nice note of chocolate, along with some tannins still to resolve and racy acidity. A fine pinot noir, and most definitely more in the weight category that I prefer, but it was definitely outclassed by the following selection, from the same vintage, no less.

1999 Siduri Sonoma Coast Hirsch Vineyard Pinot Noir Christian David: This ruby garnet, named after Adam and Dianna Lee's firstborn, isn't the biggest, most intense of these Siduris that I tasted, but it certainly is the most complex, flavorful, delicious and complete. (The Lees think that it's the best tasting pinot noir they've ever produced; you can read more about it here.) It exudes smoky black cherry and roasted meat aromatics, with chocolate accents, with like flavors that gain cinnamon and clove nuances. More substantial than the previous Siduri Hirsch bottlings, with a marvelous balance, good tannins and acids, this is still some years from its peak. As it opens, it shows more and more smoke and roasted meat, and Bob Cuozzi noted some mulberry in the flavor profile as well. Not quite the Wine of the Night (that honor went to a delicious '00 Evesham Wood Cuvée J Pinot Noir), and one which had received a glowing review from "Florida" Jim Cowan (shown below, with Brian Loring) only a few weeks before, reprinted here with permission of the author.


Siduri's Masterpiece (July 11, 2004)
I'm sure if you asked Adam and Dianna to tell you the name of their true masterpiece it would be Christian David, their son. Fittingly, they named their 1999 Hirsch vineyard pinot after him and this evening, Diane and I shared our second bottle. I only got three and our first we drank in the spring of 2001 (release) and it was superb but showed quite young (again fittingly).

Tonight was leftover night, which in my house, is something to look forward to. Diane took some grilled olive bread and dressed it with white beans and a leftover combination of the tomato and caper sauces from last night. We also had left over grilled tuna for her and leftover grilled pork chop for me.

And of course, a bottle of 1999, Siduri, Christian David Pinot Noir:
Slight sediment/
Penetrating, brambly nose of fresh black raspberry and spice; complex and layered and never once drifting from bramble to stem/
Medium body with crisp acids, a mineral driven, earthy, crisp raspberry profile that is both lilting and intense, the bramble character is repeated and it delivers a certain focus that makes this clearly a Hirsch vineyard wine, intense, clean, well balanced and mouth-watering/
Long, spice and bramble driven finish that is decidedly dry without being tannic.

Last night we shared the 1996 Kistler, Hirsch Vineyard pinot with friends. It is a pretender to the terroir, being nearly overwhelmed by its wood. This, OTOH, is precise and the oak plays but a supporting role in the complexity of the nose and palate. A wonderful example of the vineyard, a wine obviously made with great care and a triumph among this region's pinots. Ready now and delicious with the food.
Another masterpiece.
The 2000 Siduri Hirsch (14.1% alc.) is a darker garnet than any of its predecessors, being slightly cloudy, and possessing the most weight and intensity of fruit so far, with its sea air, smoky black cherry and a note of chocolate in both flavor and aroma. There're good tannins and acidity here, along with some stemminess on the finish; needs at least five years to show its best, so hold, don't drink. The ruby garnet 2001 model (14.2% alc.) shows an overripe, over the top character that I didn't care for. Maybe time will smooth it out, but it's just too much right now. Mark found it "undrinkable, too alcoholic."

There were so many other Hirsch bottlings from other producers that I abandoned the Siduris before trying the 2002. We'd already sampled a number of other wines before even getting to these, and I wanted to get to as representative a cross section as I could while still capable of taking notes.

1995 Littorai Sonoma Coast Hirsch Vineyard Pinot Noir, 12.9% alc: Not much rust to the ruby garnet; typically smoky black cherry flavors and aromas are very pleasant, if somewhat restrained, with a soft, mature character.

1996 Williams Selyem Sonoma Coast Hirsch Vineyard Pinot Noir, 13.8% alc: Cloudy ruby dark garnet, with a slightly flat variation of the smoky black cherry theme. Florida Jim felt that this "has a nice tension in the balance of all the elements," while Bob Cuozzi noted "an almost puckery dried cherry."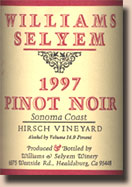 1997 Williams Selyem Sonoma Coast Hirsch Vineyard Pinot Noir, 14.9% alc: I found this to be a ravishing variation on the theme, being big, rich and sweet (but not too sweet), with a note of chocolate. Jim DID find it too sweet however, adding "I'd like to taste this in five years."

1998 Williams Selyem Sonoma Coast Hirsch Vineyard Pinot Noir, 13.9% alc: A little poopy on the nose, so poopy that it makes me sneeze; a pomegranate quality to go with the smoky black cherry, as well as notes of cola and root beer that add interest and something a little different to this lineup. Some tannins present, but not at all obtrusive.

1997 Kistler Sonoma Coast Hirsch Vineyard Pinot Noir, 14.1% alc: A deeper, darker ruby garnet than most of these, with cloves even before the "smoky black cherry;" medium to medium full body, with excellent intensity and some tannins still to lose. A little stemmy on the finish, but very nice nevertheless. Colonel Bob C. called this "an amazing wine, so powerful."

1997 Rochioli Sonoma Coast Hirsch Vineyard Pinot Noir, 14.9% alc: There's a brambly briar , root beer and cola nose on this slightly cloudy ruby dark garnet, and the flavors, while still tight, generally echo; tannins still to lose, and excellent acidity.

Sadly a '97 Flowers Hirsch was horribly corked, which is too bad, because it most likely would have shown well, if a bottle tasted last September was any indication. It was at this point that I retired the pen for the evening. I'd taken all of the notes that I cared to, since we'd also tasted a number of "warm - up wines" before the main event, and ended up bringing 15 accumulated bottles of red and white back to Day-twah to make stocks of memorial vinegar. There may have been too much wine uncorked on this evening, but what are you going to do with a crowd like this?

Because of that, I solicited the views of the hardcore crew who sat at the table and tasted their way through all of the Hirsch pinots, and as you might expect from such experienced and opinionated wine lovers, there were some rather different takes on this lineup.

Q: I never got to the 2002 Siduri. How was it, and how did it compare to the rest of the Siduris?

"The 2002 Siduri was young, a bit alcoholic, but quite complex. I suspect it will be at its best over the next 2-3 years." - Mark Horvatich

"I liked the 2002 Siduri A LOT. I thought it was tied for the best Siduri along with the 2000. And I'd say that those 2 wines were in my Top 5." - Brian Loring

"I thought it too young to get a real handle on, but it seemed to be made in the same style." - Florida Jim Cowan

Q: How was the 2002 Patricia Green Hirsch Pinot? I missed that one too.

"The Patty Green Hirsch was intriguing; I would love to taste it again in about five years." - Mark Horvatich

"I liked it, although I didn't think it was a great representation of a Hirsch Pinot." - Brian Loring

"It was thin, although fairly representative of the vineyard." - Florida Jim Cowan

"I did not like the Patty Green - kind of a high pitched, almost shrill wine to my tastes." - Bob Cuozzi

Q: I remember some less than positive comments regarding the three Whitcrafts ('98 - '00). I may have tried one of those, but didn't note it. Any consensus on them?

"All of them were a bit strange." - Mark Horvatich

"I thought they were OK. I didn't have the negative reaction that some folks had. One was a bit weird, but not inconsistent with Chris' winemaking style." - Brian Loring

"They were volatile, but not altogether uninteresting." - Florida Jim Cowan

"The '98 & '99 Whitcraft were nice - the '00 may have been somewhat flawed with an acetone like character." - Bob Cuozzi

Q: Overall impressions of the Hirsch pinots?

"My favorites among the Siduris were the 96/98/00 and of course the '99 Christian David. But quite frankly, the '00 Evesham Wood Cuvee J was superior to all the Hirsch pinots -- it's becoming more and more obvious to me that my tastes in domestic pinot are Oregon and not California-based." - Mark Horvatich

"I liked the wines, but I wasn't as thrilled by them as a whole as I'd hoped to be. I'd done similar tastings before, and the wines had shown better. Maybe it's just that I like the wines younger, and the 98s and older weren't as vibrant as I like. Maybe it was the winery line-up. Since I'm a Kistler and Littorai fan, more vintages of their wines would have changed my view. There were a few standouts, but enough near misses that I was slightly disappointed. The Christian David and 97 Kistler (sorry Jim) were my faves of the night, followed closely by the 00 and 02 Siduri." - Brian Loring

"My overall impression is that the vineyard makes less expressive wines than I first thought. Some are very nice indeed, but generally speaking, they were not as impressive as I anticipated." - Florida Jim Cowan

"My favorite Pinots were the Siduri "Christian David" and the Kistler. The 97s were a bit over the hill IMHO. Littorai I remember as fair but nothing special. I make no apologies for liking big CA Pinot!" - Bob Cuozzi

"Observations - drink almost all cal pinots young. I didn't like any of the wines before 1998. The '97s were horrific. I also still have no idea what "Hirsch" tastes like and don't think I could pick out anything as "Hirsch" in a blind tasting. I liked the Kistler about as much as I like most Napa Cabs - does anyone know if it had any petit verdot in it?" - John Blackwood

Like I said, opinions were somewhat varied. Nevertheless, it was a most interesting survey of wines from an undeniably great vineyard, and many thanks to all who contributed bottles and opinions.