e were out and about this Saturday past, and chanced to look in on a few friends with open doors. Independent comics artist - producer Sean Bieri and his wife, musician - model - masseuse Sophia Raptis, a true Renaissance pair if there ever was one, held their annual Twelfthnight Celebration on Fatty Lumpkin Street, in rustic Hamtramck, an affair full of good cheer, vegetarian food and mystical incantations.

As always, we brought along something special to share with our friends Sean and Sophia, this one being a fine Syrah from South Africa, and it did not go unappreciated. Even a spilt and shattered glass of this good elixir could not dampen the enthusiasm shown towards it, so it was with some regret that we were obliged to take our leave shortly after its demise, having another stop on our schedule.

From there, it was on to the winter gardens of Michael and Darla Rowley, where a birthday celebration was being held in honor of the somededy-something anniversary of Mr. Rowley's entrance into the world (the actual count of years being one tidbit this reporter will never be induced to reveal, even upon the threat of being forced to consume an entire glass of Scuppernong, as mean, vile and despicable a fermentation as ever was foisted on an unsuspecting imbiber).

It was a festive event, full of more good food (and an abundance of red meat), along with a seemingly endless reservoir of most excellent vino. Rather than burden the reader with excessive words, let us rather tell the rest of our story in pictures and scribbling.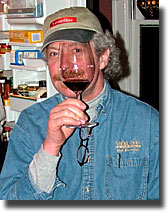 There were more fine selections opened while we were still in the house, including a 1999 Schweiger Napa Cabernet Sauvignon Spring Mountain District and the Crovello's sister bottling, a 2000 Poggio Bertaio Cimbolo, both delicious on their own terms, and not at all lost in the crowd (or on this crowd, for that matter). And, we are told that even more good things were enjoyed after we took our leave, but then, moderation is a virtue and we were on our best behavior, so in that spirit, we did bid our adieus, adding "If we don't see you through the week, we'll see you through the window."



Reporting from Day-twah,

Bastardo