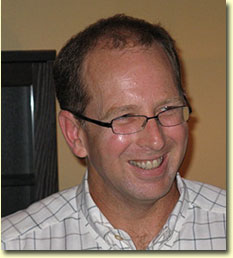 I'd better disclose my preconceptions right from the start—I'm a big fan of the wines from Carlisle Winery, and have been from their first vintage in 1998. Although I'm not generally a fan of big, ripe-style, high alcohol wines (among my wine tasting pals here I'm considered to have an "old world" palate), there's something about the wines of Carlisle that's different. Big wines, sure, but usually with excellent balance and, above all, good firm acidity to help support the often huge superstructure of fruit, alcohol and extract. Besides, which, the guy who fashions these wines, Mike Officer, (right) is one of the real "good guys" in the wine biz, not only because he's a genuinely nice guy, but because he has consistently priced his wines very, very fairly, usually far lower than the market would bear. This is the kind of guy you want to succeed, but he doesn't need any help from me—his wines do the heavy lifting, and as a result the waiting list to obtain a few bottles is long indeed.


For the last several years, local wine lover David Lewin, (left) with assistance from Walter Page, has enticed Mike to come down from Northern California to attend an annual retrospective tasting of Carlisle wines. An organizing theme is selected to focus on one aspect or another of Mike's wines, vineyards, or vintages. This year, it was decided to focus on wines Mike has made from some of the vineyards from which he no longer obtains fruit. In some cases, the vineyard ceased to exist, either because it was torn out for development, or grafted to varietals that Carlisle doesn't make. In other cases the owner decided to sell the fruit to someone else, or make his own wine. In yet others, Mike essentially decided to drop the vineyard out of frustration over less-than-meticulous farming practices or unreasonable owners. In one case, a vineyard that was thought to be lost to development was rescued and resurrected, and thankfully will be continuing in the Carlisle portfolio. In any event, flights were organized so that we could review and bid a fond farewell to vineyards and wines no longer made.

Before barging into the heavy-duty Carlisle wines, our hosts thought it would be a good idea to wake up everyone's palate in a more gentle fashion. Thus we began with a magnum of a 2005 Wehlener Sonnenuhr Spätlese from S. A. Prüm. Magnums of German wines are beautiful to behold, and in this case the wine lived up to the packaging. Although quite young and thus not showing much complexity at this point, this was a rich yet at the same time a delicate wine of wonderful finesse and balance, with pinpoint acidity rendering the wine not too sweet. This was served as an aperitif while we were waiting to be seated, and the wine really deserved to be given more attention at the table, as clearly this was some pretty classy juice. But I was happy to enjoy it as a pre-dinner sipper, and at 9% alcohol, this was a good way to start a long evening of high-octane wines.

Find this wine



Since our dinner was taking place only a few days after the passing of Paloma's owner and guiding spirit, Jim Richards, Walter brought a 2001 Paloma Merlot (the wine that won the Wine Spectator's Wine of the Year in 2003) as a tribute. The wine retains all the richness and depth that so impressed everyone upon its release, but now there are some raisiny notes poking out, and a bit of finishing heat as well. But the wine is still delicious, rich and creamy, with deep fruit and decent balancing acidity. But I would be inclined to begin drinking this up over the next couple of years.

Find this wine



On to the Carlisles! The first flight featured zinfandels from the Riebli and Fava vineyards. The Riebli Vineyard was planted in 1906 and is predominantly zinfandel but with a hefty dose of petite sirah. It lies just outside of the Russian River appellation in the hills northeast of Santa Rosa. The Fava Vineyard, originally planted between 1907 and 1922 by the Fava brothers, is in the heart of Pinot and Chardonnay country in the Russian River Valley. The 2001 Riebli Zinfandel had a huge nose (perhaps accentuated by the fact that the wine was way too warm), quite ripe but not raisiny, with lots of chocolate and a dense texture. A bit one-dimensional perhaps, and I suspect near the point where it will begin to decline, but nice now. The 2003 Riebli Zinfandel was much tighter, with deep berry fruit and excellent structure, lots of pepper and high-toned spices. This appeared to need another year or two to open up. The 2003 Fava Zinfandel was more elegant than the Riebli, with equally deep fruit balanced by good acidity, but here the fruits are more red and black, less dark and peppery than the Riebli. The 2004 Fava Zinfandel was almost exotic with marzipan and Asian spices. The best balanced wine of the flight, with perfect balance of rich, ripe fruit and good acidity with smooth tannins. Delicious now and for several more years. WOTF: 2004 Fava Zinfandel.


Find Carlisle Riebli Zinfandels

Find Carlisle Fava Zinfandels



The next flight focused on zinfandels from the Pietro's and Bacchi vineyards. Located in the Russian River Valley, the Bacchi Vineyard was planted in 1905 by Italo Barbieri for his brother Pietro, and the fruit was used by Deloach for their Barbieri Vineyard zinfandel for a number of years. Deloach trademarked the Barbieri name, so Mike changed the name to Pietro's when he began using the fruit. Up to 18% "mixed blacks" (in this case Alicante Bouschet, Grand Noir, Carignane, Petite Sirah, Syrah, and Grenache) are interplanted and utilized in the blend. The Bacchi Vineyard was planted in 1909 in the warmer, northern reaches of the Russian River Valley, and it contains a significant planting of Petite Sirah, accounting for 23% of the blend in 2005, but only 8% (with other "mixed blacks") in 2006. The 2004 Pietro's Zinfandel was very forward and quite ripe, stopping just short of raisiny. With dense blackberry fruits and notes of marzipan, this carries ripeness about as far as I want to go, but holds it together in the end. Very good, but I would drink this up relatively soon. I preferred the 2005 Pietro's Zinfandel as it was much brighter with excellent acidity to support the ripe, rich fruit, with hints of citrus. I really liked the overall balance and intensity of this wine. The 2006 Pietro's Zinfandel was even richer and denser in texture, with good acidity but a bit of heat showing, too. Mike indicated that this vintage had more "mixed blacks" (Petite Sirah, Alicante Bouschet, Grand Noir, and others) included in the blend, from old vines of uncertain varietals that were commonly intermingled in vineyards from this era. It's very voluptuous and just damn enjoyable to drink. The 2005 Bacchi Zinfandel was extremely ripe and slightly heavy, showing a bit of raisiny overripeness. Quite extracted and dense although not too tannic, I found this wine a bit over-the-top for my palate. The 2006 Bacchi Zinfandel was much softer, easier in style, lacking a bit of grip, but with rich zinny flavors in a more easygoing style. Tasty, but this looks to be an early drinker. WOTF: 2005 Pietro's Zinfandel.


Find Carlisle Pietro's Zinfandels

Find Carlisle Bacchi Zinfandels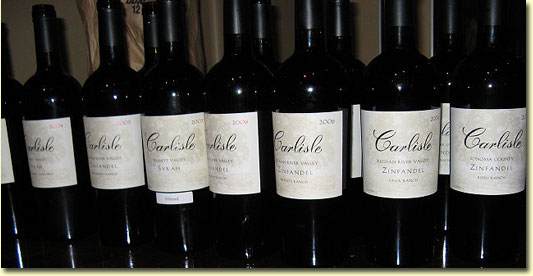 The next two flights featured wines from one of Carlisle's most highly regarded and sought-after vineyards, the Tom Feeney/Montafi Vineyard. The dual name requires some explanation. When Mike first sourced grapes from this vineyard in the 2000 vintage, it was owned by Tom Feeney, who had acquired it from the man who originally planted it in 1926, Bernardo Montafi. However, Feeney sold the ranch in 2006, and it appeared the vines would be pulled out. Thanks in large part to Mike's efforts (urged on by the many admirers of Mike's Feeney Zin!), the vineyard was saved, and Mike decided to revert to the name of the original owner from the 2006 vintage. So these two flights celebrate a great vineyard that was feared lost, but ultimately resurrected. Every Feeney/Montafi Zinfandel under the Carlisle label was poured, in addition to a barrel sample of the 2008 graciously provided by Mike. The vineyard contains an assortment of "mixed blacks" (Petite Sirah, Alicante Bouschet, Grand Noir de la Calmette) in addition to zinfandel, and these grapes are often included in the wine, constituting up to 10% of the blend.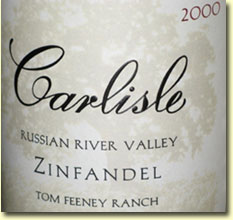 The flight got off to a somewhat rocky start with the 2000 Tom Feeney Zinfandel, which showed significant oxidation and raisiny notes on the nose. The palate initially had some fruit but also spikey acids and citrus note. With a few minutes of air, the wine fell apart and showed pruney and oxidized, pretty much over-the-hill. This was perfectly stored since release, so this is clearly a wine that is just plain done. The 2001 Tom Feeney Zinfandel, however, was much better and full of life. One whiff of this wine and I immediately thought "Gum Tree!", as there was a distinct minty/eucalyptus note reminiscent of that much lamented former Carlisle vineyard superstar (originally planned to be torn out for a housing development, but now just abandoned and beyond repair, dammit!). Not as minty as the Gum Tree zins, but showing great intensity and good balancing acidity that has kept the wine alive and vibrant. Ripe plums and black cherries, with a soft texture that suggests the wine is fully mature but should still hold for another year or two. Really delicious and complex. The 2002 Tom Feeney Zinfandel was much softer and very rich, with deep berry fruit. Very ripe and rather low in balancing acidity, this is getting close to overripe for my palate, and probably needs to be drunk up soon. Even more overripe was the 2003 Tom Feeney Zinfandel, which showed lots of raisins and some VA along with plenty of heat (the alcohol on this is well over 16%). A "fruit bomb" in style, to me, this is unbalanced and past whatever prime it once had, perhaps my least favorite wine of the tasting. But the 2004 Tom Feeney Zinfandel was much better. Elegant, with a rich, intense fruit quality that never approaches raisiny or pruney, it's ripe but without the dried fruit notes that marred the 2003. This big mouthful of zin seems to be at or close to its peak, and it's a great example of a big zin done well. Still, I preferred the greater complexity of the 2001 on this occasion. WOTF: 2001 Tom Feeney Zinfandel.


Find Carlisle Tom Feeney Zinfandels



The more recent vintages of Feeney/Montafi followed. I loved the 2005 Tom Feeney Zinfandel, with its deep, rich, intense berry fruit quality and perfect balance. Time has been good to this wine, allowing it to open beautifully and show a lot of complex flavors lurking under the avalanche of ripe (but not overripe) fruit. Great structure, too, with perfectly balanced acidity supporting the rich fruit. This is ready now but should continue to drink well for several more years—a great wine! The first vintage of the renamed Montafi Vineyard, the 2006 Montafi Zinfandel was, unfortunately, more reminiscent of the overripe 2003. Very raisiny and overripe, with an impression of sweetness (there is 0.28% residual sugar, normally considered "dry", but accentuated by the wine's low acidity). Not really my style of zin, I would drink this up in its youth. The 2007 Montafi Zinfandel, from a much-hyped vintage in California, was spectacular, and may rank as one of Mike's finest zinfandels yet. Tremendous depth and richness, with perfect balancing acidity and smooth tannins, this is tightly coiled right now, promising great things for the future. Already complex with black fruits, Asian spices and pepper, this really deserves a couple of years to open up and fly. The barrel sample of 2008 Montafi Zinfandel was, as expected, very primary and packed with fruit, seemingly similarly built as the 2007, but much more fruit-forward at this point, not showing much else. Mike intends to blend back in about 10% Alicante Bouschet to improve the structure and balance of the wine. This should be excellent when its released next year. WOTF: 2005 Tom Feeney Zinfandel, but the 2007 Montafi may surpass it in 2-3 years.


Find Carlisle Montafi Zinfandels



The final flight focused on one of Mike's Syrahs from Sonoma County's Bennett Valley. Three vintages from the Judge Vineyard were included, although only one of the wines showed the Judge Vineyard designation on the bottle, the others simply say Bennett Valley. Bennett Valley is a relatively new AVA south and a bit east of Santa Rosa. All of these wines are 100% Syrah. In 2003, Mike bottled two versions of his 2003, one filtered, one unfiltered. In a tasting two years ago, most of our group was surprised to find that we strongly preferred the filtered version over the unfiltered. It seemed better balanced, more open and transparent that the filtered, which tasted much more extracted and brooding in character. This time, the filtered probably "won" again, but the differences were much less marked than two years ago. The 2003 Bennett Valley Syrah "Filtered" was rich and complex with a wonderfully smooth texture with silky tannins. Quite elegant despite its size and very rich, the balance carries the wine, which is fruit-forward but not a "fruit bomb" in style. The 2003 Bennett Valley Syrah "Unfiltered" was more intense and tannic, and seemingly riper, too, with marzipan notes and a hint of spice and barnyard (but not brett). This seemed more Australian Shiraz-like in style than the filtered version, not just in texture but in flavors, too. Both versions of this wine are very good and drinking well now, but should hold for a while. The 2004 Judge Vineyard Syrah was riper, almost zin-like in its fruit-forward demeanor, softer and simpler than either of the 2003's, and frankly just a bit less interesting. A nice rich fruity syrah to be sure, but just that, not showing much complexity, and not seemingly structured for long aging, either. The 2005 Bennett Valley Syrah was much more Rhone-like in character, with wonderful floral/violets, black olive and minerality adding complexity to the rich, pure fruit, all supported by a perfect balance of firm acidity and smooth tannins. This is really classy juice and structured to age for quite a while, although it's delicious now. If this is the direction for Mike's Syrahs, me like! WOTF: 2005 Bennett Valley Syrah.


Find Carlisle Bennett Valley Syrahs

Find Carlisle Judge Vineyard Syrahs

I stated at the outset my preconception regarding Carlisle, and nothing tonight has shaken my enjoyment of these wines. Yes, a couple of the wines were less than brilliant, but the overall quality was superb. Mike was himself quite candid in his evaluation of his wines, frankly conceding that certain wines didn't come out the way he would have liked, usually because the grapes got too ripe. In most cases, however, even those wines would have been enjoyable if drunk on the young side. He feels his winemaking has continued to improve year by year, and it certainly appears that the last couple of vintages, perhaps from 2004, have really shown a jump in overall quality and consistency. It's too bad some of these vineyards are no longer available (I'll particularly miss Pietro's), but at least there's comfort knowing that Mike has found other old-vine vineyards to take their place. The theme for a future tasting, perhaps?

Bennett Traub
Reporting From The Left Coast
Send Bennett an


BACK TO BENNETT TRAUB'S INDEX PAGE

© June 2009
Link to Gang of Pour Home Page