It's a cliché to say that something needs no introduction (and then, of course, to go ahead and give one anyway), but it seems more applicable than usual to Chateau Montelena. Without question the estate is one of the "crown jewels" in the Napa Valley, and has been so since its resurrection in the 1970's. The estate itself dates to 1882, when Alfred L. Tubbs established a vineyard on 254 acres of rugged land just two miles north of Calistoga at the base of Mount Saint Helena. The first harvest came in 1886, and three years later the wine was already being shown at the Paris World's Fair. As with most California fine wine estates, Prohibition ended wine production at Chateau Montelena, and the estate essentially disappeared from the wine scene until 1972, when James Barrett (below with Bo Barrett) purchased the property, replanted the vineyards, and quickly reestablished Chateau Montelena's century-old reputation for producing world-class wines.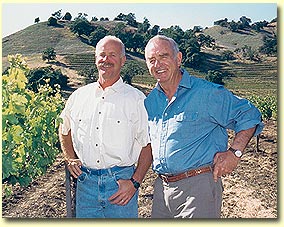 I remember well the early days of Chateau Montelena in the Barrett era. With wines initially made by Mike Grgich, and later by Jim Barrett's son, Bo Barrett, Chateau Montelena quickly established a reputation for quality and consistency that is virtually unmatched. One of the first Cabernets I ever bought was a 1975 vintage wine made from a combination of Napa and Sonoma fruit (the first "estate" Cabernet wouldn't come until the 1978 vintage). It had a depth of fruit and perfect balance that made it one of the super-stars of its day. And the Chardonnay was
even better - in an era when most California Chardonnays were going overboard on oak, Chateau Montelena's had the balance and elegance, as well as the depth and complexity, of a great White Burgundy. More than one wine-critic at the time was moved to describe Chateau Montelena's wines as "awe-inspiring". As the dictionary defines awe as "a feeling of great respect and wonder," the description seems apt, even to this day. For Chateau Montelena's wines don't often get the "buzz" that the newest and cultist Napa Cabernets seem to garner in the wine press and the chat boards, a recent tasting demonstrated to me that their wines in 2008 are as great, or greater, than in their "glory days" of the 1970's.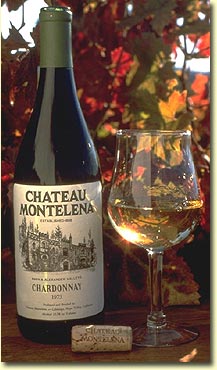 And "shock"??? Well, sometime this year Chateau Montelena will provide the underlying story line for Bottle Shock, a motion picture loosely (very loosely, from early reports) based upon Montelena's inclusion—and victory—in the famous Judgment of Paris
tasting in 1976, conducted by the well-know British wine merchant Steven Spurrier. This is the tasting where a panel of French judges found, to their great shock and embarrassment, that Chateau Montelena's 1973 Chardonnay was superior to some of the most hallowed names in Burgundy. Names like Beaune-Clos des Mouches, Meursault-Charmes, and Bâtard-Montrachet. (Stag's Leap Wine Cellars won the Cabernet half of the competition against some of the greatest names in Bordeaux). As is often the case in Hollywood, many of the details depicted in the movie are fictitious, but the mere fact that Chateau Montelena's "story" was deemed compelling enough to form the basis for a feature-length movie is some kind of testament to the importance and drama surrounding this great estate. Whether "Bottle Shock" (which premiered at the Sundance Film Festival in January, but is not yet scheduled for general release) does for Chateau Montelena what "Sideways" did for Pinot Noir remains to be seen, but I suspect the already high demand for these wines will only increase once the movie is released.

So it seemed timely to take another look and see at what Chateau Montelena is doing today. I recently had the opportunity to taste Chateau Montelena's new releases in anticipation of their being distributed to the market, and had the following impressions: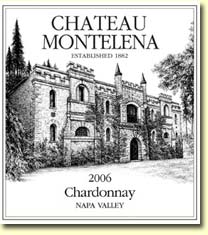 2006 Chateau Montelena Estate Chardonnay, Napa Valley, $39.99. Sadly, production of Montelena's great Chardonnay in 2006 is down over 60% from 2005, meaning that there will be precious little of this wine available. It's a real testament to the integrity of this great estate that they did not use the reduced production as an excuse to jack up the price significantly. The wine, as usual, is brilliant. The Montelena Chardonnay is made today much as it was at the time of the 1976 tasting, with only modest oak and no malolactic fermentation, preserving the wine's vibrancy and freshness and allowing the purity of the fruit to shine. The 2006 is a bit richer and more open than the 2005 was upon release, but Montelena has a remarkable record of consistency with this wine regardless of vintage conditions. All of the Chardonnays from this estate show vivid apple and citrus flavors enveloped in a medium-rich body with surprising flavor intensity. Zesty yet with a honeyed texture, the wine is long and very complex. The wine is rich, but not as unctuous or oaky as some, offering instead a nervosity and precision that is classic in style. Unlike most California Chardonnays, Montelena's will actually improve with a year or two in the cellar. Although not in the style currently favored by many of the high-scoring Chardonnays that the critics love, this wine is every bit as good as it was 30 years ago, a track record that is hard to match in California wines. Find this wine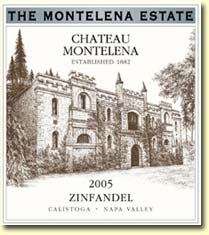 2005 Chateau Montelena Estate Zinfandel, Napa Valley, $28.99. Chateau Montelena's Zinfandel, like its Riesling, tends to get overlooked, hidden in the shadows of the estates' more famous Chardonnay and Cabernet. That's a shame, really, because both of these less-famous wines are every bit the qualitative equal of the chard and cab. What distinguishes this zin from so many others is its emphasis on balance and complexity. It exemplifies what is sometimes called the "claret style" of Zinfandel, one in which subtlety, complexity, and age-worthiness is emphasized, setting it apart from the overwhelming majority of California Zinfandels that emphasize big up-front fruitiness. It would be interesting to compare this wine with some of the zins from Ridge, in many ways its stylistic soul-mate. Medium bodied and more elegant than your typical Zinfandel, the 2005 has plenty of richness but even more complexity, with subtle hints of savory herbs and forest underbrush. It's a bit tight right now, so decanting would be helpful. Unlike many, this is a Zinfandel that has the potential to develop further with bottle age, but doesn't require it for enjoyment now. Find this wine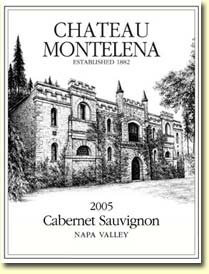 2005 Chateau Montelena Napa Cabernet Sauvignon, Napa Valley, $42.99. The "Napa" Cabernet of Chateau Montelena (formerly known as the "Calistoga Cuvée") is a combination of estate and non-estate fruit, all of which comes from the Calistoga region (like the Estate Cabernet) to maintain the Montelena style. Blended with a bit of Merlot and Cabernet Franc, the 2005 Napa Cabernet is one of the best in recent years, and has received some critical raves already. This is classic Napa Cabernet, with savory cassis and black fruits, a hint of licorice, some spiciness and a note of mint in the finish. Packed with fruit and depth, yet with a more classic, firmer structure than many of today's Cabernets, and thus not designed to score high points. As too many "pretty good" Cabernets are now priced north of $50, this is an awfully good value in top-quality Cabernet. I'd suggest decanting the wine for an hour or so to allow the aromatics to fully develop. Find this wine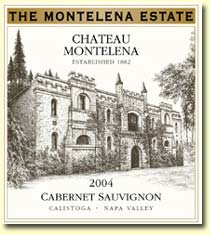 2004 Chateau Montelena Estate Cabernet Sauvignon, "The Montelena Estate", Napa Valley, $119.99. Made exclusively from Cabernet Sauvignon from the original estate vineyard that was resurrected by Jim Barrett back in the early 1970's, Chateau Montelena's Estate Cabernet remains one of California's greatest wines, a stature it has maintained for nearly three decades. This is a larger-scaled wine than the Napa bottling, but it retains the impeccable balance and precision for which Montelena is famous. Featuring intense flavors of cassis, blackberry, licorice and mint, the 2004 is a bit more forward than usual, with firm acidity and smooth tannins completely wrapped in creamy fruit and richness. The wine has tremendous length, suggesting the ability to age long and advantageously in a cool cellar. It would be a shame to drink this wine too young, as its full potential really needs a good 5 years or more to fully develop. I wish the price were lower, but in comparison with other top $100+ Cabernets, most of which don't have Montelena's track record, I can't say the price is unreasonable.
Find this wine
Photos courtesy of Chateau Montelena

Bennett Traub
Reporting From The Left Coast
Send Bennett an