Seminar #1:
Conquistadores: The Reign in Spain

Eric Solomon Imports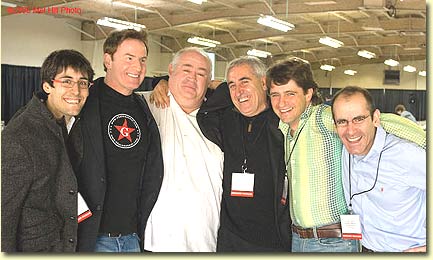 From left: Jurgen Wagner, Eric Solomon, Philippe Cambie, Adolfo Munoz,
Javier Munoz, Daniel Castano. Photo © Mel Hill Photo
The first seminar was a collection of wines imported by HdR's 2008 Person of the Year, Eric Solomon. Eric has elevated his company, European Cellars, to be one of the top importers of Spanish wines from virtually every region of that remarkably diverse country. To present what turned out to be a very good selection of the wines he imports, he brought with him some of the top winemakers in Spain: Jurgen Wagner of Cellar Capçanes, Daniel Castaño of Bodegas Castaño and Bodegas Salinas, Javier Muñoz of Bodegas Cigarral Pago del Ama (accompanied by his highly-acclaimed father, chef Adolfo Muñoz of Restaurant Adolfo in Toledo), and Frenchman Philippe Cambie of Bodegas Mas Alta, and also the consulting winemaker for many of the top wines in Chateauneuf du Pape, including Pegau and Vieux Donjon.

Each of the winemakers has some interesting things to say about their wines, and each believes passionately in their respective appellations. My favorite story came from Jurgen Wagner, who explained how the region of Montsant was essentially kept from dying out when a group of rabbi's from Barcelona come to the local cooperative and asked them to create a Kosher wine for the Jewish community in Barcelona. The deeply conservative (and Catholic) winemakers of the region agreed, and the resulting wine provided the fame and financial security to encourage growers in the region to expand and improve quality, launching a revival of the Montsant appellation. Fascinating stuff.
The wines:
2006 Celler Mas Gil, Clos d'Agon White, Emporda Made by Peter Sissek of Pingus fame. 45% Viognier, 40% Roussanne, 15% Marsanne. Stony, lemony nose with real minerality, a combination of Chablis and Muscadet. There is surprising richness on the palate to round out the intense minerality. A bit of pit fruits, citrus, flint, and straw all in a beautifully balanced wine with great cut. Nothing like a white Rhone blend from France, but a fascinating take on the varietals, if atypical. Excellent. Find this wine

2005 Celler de Capçanes, Cabrida, Montsant From chalky soils in four different terroirs, 100% Garnacha, 85-105 year old vines. Meaty fruit with plums, black figs and a hint of earthiness. The palate is rich with black fruits and earth, rather tannic and ripe, but with excellent structure from firm acidity. The overall impression is a bit brooding and heavy, but the wine is actually very well balanced. A couple of years of aging should bring significant improvement, but the wine is pretty good now. Find this wine

2005 Celler de Capçanes, Cabrida Calissa, Montsant As contrast to the regular Cabrida, this is primarily from limestone-based soils, and is much smaller in production (1000 bottles vs. 4500 for the Cabrida). Brighter fruit with some new oak, truffle, complex herbs and forest notes. A bigger, richer wine, still quite tannic, but more complex and less heavy feeling than the Cabrida. Some pit fruits and dark berries with less earthiness. Very intensely flavored with great acid/fruit balance and depth. This is delicious now but should age effortlessly for quite a while based on its impeccable balance and depth. Find this wine

2005 Vinedos Cigarral Santa Maria, Pago del Ama Syrah, Toledo 100% Syrah from a small vineyard in Toledo, and due to small production, virtually unobtainable outside the famous restaurant owned by the winemaker's father, Adolfo Muñoz. The nose is all bacon fat, ripe apricot and bloody meat. Medium bodied and not a blockbuster in terms of texture, the wine has a light, elegant feel despite the intensity of its flavors. Smooth tannins, meaty fruit with lots of spice and great length. There is richness here but in a suave, elegant package. Could pass for an excellent northern Rhone wine. Find this wine

2005 Sierra Salinas, Mira, Alicante 65% Monastrell (Mourvedre), 25% Cabernet Sauvignon, 10% Garnacha Tintorera (Alicante Bouschet). Rather closed nose with dark fruits, but not showing much. Rich, smooth and creamy fruit on the palate, the wine shows it spent 20 months in French oak. Black cherry dominates the fruit and smooth tannins are supported by firm acidity, yet the wine seems rather heavy and brooding at this time, and rather one-dimensional. Maybe time will help? Good, not outstanding. Find this wine

2005 Bodegas Castaño, Casa Cisca, Yecla 100% Monastrell from 55-75 year old vines, aged for 14 months in American oak. Yecla has a higher elevation than Alicante, and it shows in the brighter feel and crisper acids. The fruits are at the red end of the spectrum, and the creamy vanilla American oak flavor is apparent, although not dominant. Some wood tannins come out in the finish, suggesting the wine needs some time for the oak to integrate. The American oak gives this wine a more international character, and overall it was probably my least favorite of the tasting, although still nice on its own. Find this wine

2005 Bodegas Mas Alta, La Basseta, Priorat 50% Carinena, 40% Garnacha, 5% Merlot, 5% Syrah. Deep black fruit and licorice. Very intense flavors of meat, earth, black fruits and licorice with strong acidity and tannins. This has 50% new oak, giving a creamy texture that balances the tannins. A big wine with a lot of stuffing, if not much complexity at this point. Seems balanced for aging. Find this wine

2005 Bodegas Mas Alta, La Creu Alta, Priorat 60% Carinena, 40% Garnacha. This wine seems much more complex than the La Basseta, with brighter fruit and savory herbs. Fresher, with even better balance and surprising elegance, smooth tannins, a touch of citrus gives lift to the aromatics and an overall brighter feel. Much less rustic than most Priorats of my experience. Excellent. Find this wine

This was a terrific collection of distinctive and delicious wines. With the exception of the Yecla which was marked by too much American oak for me, each showed distinctive terroir and little of the rustic character that used to plague regional Spanish wines. Most showed very good balance, freshness, and real character. A great start to the seminars!
Seminar #2:
Booker and Jonata: California Startups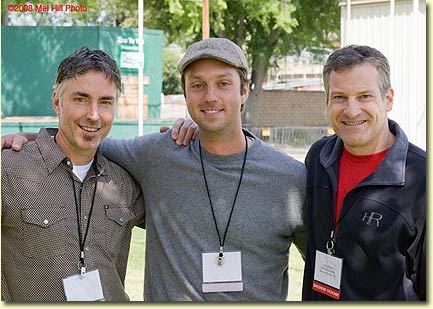 From left: Eric Jensen, Matt Dees, John Alban Photo © Mel Hill Photo
The next seminar went in a completely different direction, showcasing the wines from two of the Central Coast's newest and "hottest" wineries. Jonata, the brainchild of Charles Banks, the new owner of the "über-cult" Screaming Eagle, is one of the most well-funded and ambitious projects yet seen in Santa Barbara County. Banks planted a sizable vineyard in Santa Barbara's Ballard Canyon, roughly in the area between Buellton/Solvang, and Los Olivos. Although a significant portion of the property was planted to Bordeaux varietals with the aim of creating Santa Barbara's first "great" cabernets and Bordeaux blends, there are 30 acres planted to Syrah as well. The winemaker, Matt Dees, was present to show the first three vintages of the Jonata Syrah, as well as an all-vineyard blend.

Booker is a new Paso Robles winery created by winemaker Eric Jensen. With the assistance of Saxum's Justin Smith, he created a new vineyard on Paso's Westside, not far from L'Aventure, devoted exclusively to Rhone varietals. Jensen sells fruit to other wineries (including Saxum), and bottles his own wine under the Booker Vineyards label (named for a former owner of the property). I believe his first vintage was 2005.
2004 Jonata "La Sangre de Jonata" (Syrah). 50% new oak for 21 months, 5% whole cluster fermentation. Meaty fruit nose, dark and intense. A dense, highly extracted wine with intense fruit that is quite deep and supported by good acidity. Black fruits and berries, quite ripe, but stops just short of raisined; very tannic and hard at this point. If this softens and opens up with age, it should be quite good, but kind of a brick right now.
Find this wine

2005 Jonata "La Sangre de Jonata" (Syrah). Even blacker and more dense and extracted than the 2004, with licorice notes and bitter chocolate. Very similar otherwise to the '04, just more of everything and harder to boot. Seems even riper, but again no raisiny or pruney notes. Seems to need a lot of time, but will this soften and show more complexity with age? Find this wine

2006 Jonata "La Sangre de Jonata" (Syrah). 5% stems added to the must. Again lots of meat and blood on the nose, with a bit of leather (but not bretty). Seems more complex and Rhonish in character, and less hard, but still quite rich and full-bodied. Again, a wine that needs age, but shows more promise at this point, as it's less muscle-bound and seems better balanced overall. Find this wine

2005 Jonata "El Corazon de Jonata" (Syrah-based red blend). This is a blend of all the varietals in the Jonata vineyard, including Syrah and Cabernet Sauvignon (about 70% of the total), Merlot, Cabernet Franc, Petite Verdot, Sangiovese, and a trace of Sauvignon Blanc(!). Brighter fruit than the La Sangre wines, but seems a bit volatile as well. Fruit flavors lack definition and come across as rather dull. Very, very tannic with black fruits that lack any specific varietal character. Surprisingly, the hint of herbal fruit from the Sauvignon is noticeable. Overall, seems hard, dull and not too interesting to me. Find this wine

2006 Booker Vineyard "The Ripper" 90% Grenache, 10% Syrah. Shy nose that takes a while to open, some raisiny notes. Surprisingly pale color considering this is obviously a big, ripe wine that is extracted and quite hard and tannic at this point. Rather hot, with ripe/raisiny fruit dominating but seems one-dimensional. Seems unbalanced and hollow, perhaps due to high alcohol. Find this wine

2006 Booker Vineyard "Vertigo" 90% Syrah, 10% Grenache. Much brighter fruit with some red plums and berries. Much better purity of fruit than The Ripper, no raisiny or pruney flavors. Not too complex and with none of the bacon/meaty notes often seen in syrahs, this is a rich fruit-bomb style of syrah but better balanced (in a very ripe style) than most, due to decent acidity. Might improve with short-term aging. Good. Find this wine

2006 Booker Vineyard "Fracture" 100% Syrah. Richer yet, with a meatier nose with some floral notes. Dark black fruits with a creamy mouth feel, quite tannic and extracted, with a hint of raisins as the wine airs, but not overly soft or pruney. Fans of big, ripe Paso syrahs should love this, and although I'd like a bit more structure, it's a fine example of the ultra-ripe Paso style. Find this wine

An interesting collection of wines, and a good demonstration of the diversity of styles being created by today's California Rhone specialists. The Jonata wines were big and ripe, but not overripe or raisiny, and had very firm structures that suggest aging will be beneficial. However, there is no track record, and the wines are very, very expensive at $125 per bottle (the El Corazon is "only" $85). Frankly, I'd buy these at $50 to see how they develop, but for a buck and a quarter, they strike me as very poor values, and risky for the long term, although the potential seems to be there. Still the speculative value is probably high due to the Screaming Eagle connection. As for Booker, Jensen is an unapologetic enthusiast for ripe, fruit-forward wines. As he puts it (paraphrase), "If you don't like ripe, high-alcohol wines, don't buy wine from Paso Robles. That's what our terroir provides." I think that's a bit extreme, but for me the key is whether or not there is balancing acidity, and whether or not the wines taste excessively hot. Based on previous reports, I was expecting the Bookers to be overripe, alcoholic, raisiny messes, but the wines were actually better than that. Ripe for sure and showing a little heat, but not goopy or overly soft, and not excessively priced. If Jensen can get a bit more structure and acid into the mix, his wines could turn out to be among the better Rhone wines in Paso. As it is with only two vintages under his belt, for me this is more a winery to watch than to buy, at least for now.
Seminar #3:
St. Cosme and Torbreck:
"Check Your Ideology at the Door. . ."
Two very dissimilar wineries were brought together in this rather unusual seminar. A young but very traditionally-minded estate in Gigondas, and one of the reigning super-stars of the "big 'un" school of Australian winemaking. Their respective winemakers, Louis Barruol of Chateau St. Cosme, and Dave Powell of Torbreck, compared and contrasted their respective approaches in the vineyard and winery, finding plenty of points of agreement, as well as some differences (although the differences appear to have been somewhat muted by their respectful attitude towards each other). Nevertheless, the wines are every bit as different as their terroirs would suggest.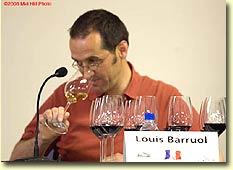 2005 Chatêau St. Cosme Condrieu Deep yellow gold. Rather oily, slightly oxidized nose, nutty with lemon. Taste seems rather old and tired, with noticeable oak (40%) and some fruit with lemony/peachy notes rather overwhelmed by more nutty/oxidative elements. Quite soft, almost flabby. Not very good. Find this wine

2005 Chatêau St. Cosme Gigondas Band-aid/rubber notes from reduction blow off quickly revealing some berry fruit. Lean body dominated by the acid/tannin structure, the fruit is muted and earthy, giving the wine a very rustic impression. The antithesis of a fruit-forward style, I wonder if there's enough fruit to outlast the tannins. Rather dull overall, and disappointing. Find this wine

2005 Torbreck "The Steading" 60% Grenache, 20% Mataro (Mourvedre), 20% Shiraz. Ripe fruit nose with a hint of mint. Roasted and very ripe with some raisiny notes. There is enough acid for balance, and smooth tannins. The fruit has a roasted quality and gives the impression of a bit of residual sugar on the sweet finish (although the wine is reportedly dry). Not a blockbuster in body or extraction, the wine seems almost elegant despite the very ripe elements in the fruit quality. Find this wine

2004 Torbreck "The Pict" 100% Mataro. Leather on the nose with deep berry fruits, black cherry, and licorice. Round body with crisp acids, quite rich with hints of citrus and cherries, a hint of the classic mourvedre animale/leather. Medium bodied and not at all thick or over-extracted. I liked this. Find this wine

2005 Chatêau St. Cosme Gigondas "Valbelle" 90% Grenache, 10% Syrah. No nose. Hard tannins and minerality dominate the very restrained fruit. With air the wine opens a bit and shows a bit of fruit dominated by earthy elements, giving a rustic overall impression. Almost too closed and hard to evaluate today, I can't really see this opening up and showing the spice I'd expect from a Gigondas. Maybe suffering from travel shock?
Find this wine

2006 Chatêau St. Cosme Gigondas "Le Claux" Some yeasty/bread aromas on the nose. Much richer than the Valbelle, equally tannic but the tannins seem riper and smoother. A bit of minerality shows in the creamy black fruits. Still rather hard, a bit sullen and brooding, with low apparent acidity that is not bright and spicy. Still, this seems much fresher and better balanced than the Valbelle, although still a bit muted. Find this wine

2005 Torbreck "Les Amis" 100% Grenache. Spicy, fragrant nose with perhaps a bit of volatile acidity (VA), and mint. Very ripe fruit and quite warm with slight VA high notes amid the spicy pit fruits and citrus. Good apparent acid balance, although the citrus notes suggest acidification. Not too tannic and no obvious oak flavors, although aged in mostly new oak, so well integrated. On the edge of overripe perhaps, but still in reasonable balance overall. Find this wine

2004 Chatêau St. Cosme Côte Rôtie The nose is all coffee, mocha and pit fruits, complex and lovely (at last)! Slight green/leafy notes on the palate are not intrusive, and add some complexity to the cherry/coffee-accented flavors. Rather lean body with strong tannins that are smooth and ripe, slightly short on the finish. There is no viognier in this wine. The best of the St. Cosme's today, with the balance to age very well. Find this wine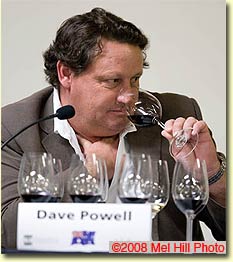 2006 Torbreck "Descendant" 92% Shiraz, 8% Viognier co-fermented. Very ripe and rich with a roasted character to the deep fruit and licorice. Clearly a very ripe, rich and extracted style with plenty of deep fruit, but seemingly enough acid and ripe tannins to provide good balance. Intense flavors of black fruit, licorice and oak. A big wine that needs some age to come together. Find this wine

2005 Torbreck "Run Rig" 97% Shiraz, 3% Viognier blended before bottling. The "big gun" in the Torbreck portfolio. Very rich, slightly volatile notes and raisins, with deep black fruits. The fruit is very deep, rich and supported by good acid, along with some VA notes. Rich, but not thick, syrupy or heavy-handed, there is actually some elegance to be found. Oak is apparent but well integrated (no new wood is used). The fruit clearly got very ripe and slightly roasted, but the resulting wine is balanced and delicious. Good, even very good, but I can't see paying close to $200 for this. Find this wine

I was very surprised by my reaction to the wines. I had enjoyed a number of bottles of the St. Cosme wines in the past, but the wines today were very underwhelming. On the other hand, I am no fan of Australian wines, but I preferred the Torbrecks over their more traditional French counterparts for the most part. I was frankly puzzled by the showing of the St. Cosme's, and wondered if bottle shock from travel had caused the wines to shut down. Regardless, they seemed very dull, muted, and rustic, much different from previous St. Cosme wines I have tasted (although my experience with their wines is not extensive). In contrast, the forward fruit of the Torbrecks seemed refreshing in comparison, although the ripe/roasted elements are not my favorite expression of syrah. Overall, this was the weakest showing for wines in any of the seminars, although still of considerable interest.
Seminar #4:
The Wines of E. Guigal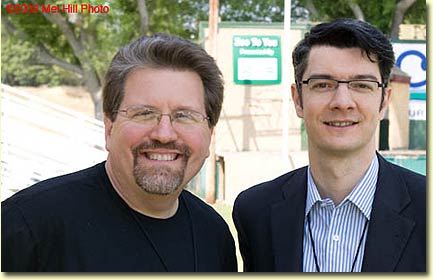 From left: Patrick Will and Philippe Guigal Photo © Mel Hill Photo
This was the seminar everyone was looking forward to, a chance to taste the top wines from one of the truly iconic estates in the northern Rhone, Guigal. The seminar was hosted by Patrick Will of Guigal's importer, Ex Cellars, and featured Philippe Guigal, the third generation of Guigal's to manage the estate. Guigal was by far the most articulate and interesting of the panelists in any of the seminars, full of both interesting technical information and historical context as well. The wines, as the notes below reflect, were fabulous.

2006 Condrieu This wine took 2½ months to ferment, with 6-8 hours on the skins. Spiced peach, lemon dominate the pure fruit nose. Quite rich and powerful, with very deep, rich complex fruit of apricot, spiced peach, kiwi, and passionfruit. Good acid balance, dense but round and very well balanced, with a long, persistent finish. Forward for early drinking, and delicious. Find this wine

2006 Condrieu "La Doriane" From three sites, and raised in new oak. Some toasty notes from the oak integrate nicely with the peachy fruit. Even richer than the regular Condrieu, oak is an accent and not dominant. Softer, richer, bigger wine but with good balance to support some aging. Lemon toast and peach dominate, but with complexity that seems to reveal itself in layers. Very long. A very rich style of Condrieu with great balance. Find this wine

2006 St. Joseph Blanc, "Lieu-Dit Le St. Joseph" 95% Marsanne, 5% Roussanne. From a lieu-dit that was the birthplace of the appellation, plots acquired in recent years from Grippat and de Vallouit. Spicy nose with some toast, bright yellow fruits (pears, peaches, nectarines), somewhat marked by oak (new). Softly structured with somewhat low acidity, less overt fruitiness than the Condrieus, but fresh and intensely flavored. Rich, ripe wine that is a bit softer than I personally like, but delicious. Find this wine

2005 Ermitage Blanc "Ex Voto" 93% Marsanne, 7% Roussanne. Properties again acquired from Grippat and de Vallouit. Somewhat darker color, very complex with herbs, a touch of citrus, vanilla, and intense minerality. Quite rich and round, with perfect acid/fruit balance. Extremely complex with savory herbs, stones and flint, ripe pit fruits, marjoram. The combination of minerality, savory herbs, and fruit is amazingly complex and long. Great wine. Find this wine

2003 Côte Rôtie "Brune et Blonde de Guigal" 5% Viognier. Picked on August 21! Very small crop saved the vintage. Rich, ripe pit fruits with cherries and licorice on the nose, and a hint of leather. Very rich, ripe wine but with superb acid balance, not roasted or overripe/flabby at all. Very fresh and elegant, with smooth tannins and plenty of fruit for the firm structure. Good concentration, but shows elegance and power in equal measure. None of the overripe characteristics often seen in 2003's from the Rhone. Terrific. Find this wine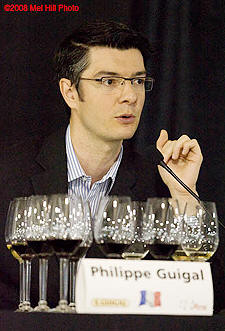 2005 St. Joseph "Vignes de L'Hospice" From a block directly across the Rhone River from the Hermitage hill, and on the same soils. Bright fruit but very deep and pure nose. Large-scaled wine with beautiful fruit and perfectly balanced structure of firm acidity and smooth tannins. Great elegance, intensely flavored but medium bodied, with pure, complex berry fruit with floral notes. Very long and persistent finish. The same combination of power, complexity and elegance found in the more famous wines of Hermitage, this is about as close as you can get without actually being in Hermitage itself. Outstanding wine that should age beautifully for years. Find this wine

2004 Côte Rôtie "La Mouline" 11% Viognier inter-planted in the vineyard, 90 year old vines. 25% stem included in the fermentation. Remarkable forward nose of deep, fragrant and complex fruit dominated by pit fruits and cherries. Great intensity on the palate with perfect balance of smooth tannins and crisp acid. Very elegant, the flavors are intense, yet the wine appears to float on the palate, not at all thick or heavy. The richness is in the flavors, not the body of the wine. No signs of oak, although aged in new oak for 42 months. Very drinkable now, but clearly capable of developing much greater complexity with long aging. Magnificent. Find this wine

2004 Côte Rôtie "La Landonne" 100% Syrah, 100% stems inclusion. Planted in 1975, so relatively young vines. Darker, deeper and more black fruits, leather and licorice. Much riper tasting but not roasted or raisiny at all. Still retains the elegant body like the La Mouline, but more intense flavors on the riper end of the fruit spectrum. Also more tannic, but still perfect balance, as everything is ramped up just a bit. Nothing heavy-handed or thick in texture, just very rich, deep and long. More masculine than the La Mouline, and maybe a bit more long-lived as well. Hard to choose between the two "La-La's". Find this wine

2001 Ermitage Rouge "Ex Voto" Much more closed on the nose, deep and brooding. Very rich, the biggest wine in the lineup with a more extracted body and seemingly a bit more rustic with some roasted notes on the fruit. Quite tannic, black fruits that are quite hard, showing more structure and size than elegance. Will need many years to open up. Outstanding wine, but I preferred the La-La's, and even the St. Joseph to this for their greater elegance and purity. Find this wine

Without question this was the best seminar at a Hospice du Rhone since the legendary Alvaro Palacios seminar of three years ago. The wines, quite simply, were stunning in quality and consistency. Wonderfully balanced, classic expressions of Rhone and its terroir. I had always thought of Guigal as a more corporate, "big house" with somewhat more obvious, heavy-handed wines, at least as compared to, say, Chave or Jaboulet (before the sale). Yet Philippe Guigal really succeeded in putting a very human face on the estate, and the wines were both intense and ethereal at the same time. Expensive, too, of course, but in this case the quality is every bit the equal of the price. A fabulous end to the 2008 Hospice du Rhone seminars.
For more Hospice du Rhône photos, please visit Mel Hill.com

Bennett Traub
Reporting From The Left Coast
Send Bennett an