Yet ironically, when the James Berry Vineyard was originally planted in 1980, there wasn't a single Rhone varietal to be found. The initial plantings were chardonnay and Pinot Blanc! It wasn't until 1988, after seeing the result of some test plantings of Syrah, Mourvedre, and Viognier that the first commercial planting of Rhone varietals commenced. Today, the pinot blanc is gone, and the chardonnay that remains is all sold to other wineries. The 75 acre vineyard now has 55 acres planted mostly to Rhone red varietals (Syrah, Grenache, Mourvedre and Roussanne). Some of the fruit is sold to other wineries, including Linne Calodo, Copain, and Carlisle. Most, however, stays with the Smith family and is the basis for the wines of one of Paso Robles' superstar wineries: Saxum.

Saxum began with the 2000 vintage. For two years prior to that, Justin Smith was in partnership with Mat Trevisan in Linne Calodo, begun in 1998. The Linne Calodo wines were made at Wild Horse (which was the first winery to put James Berry Vineyard on a label). They were among the first in the new wave of Rhone wines that has quickly catapulted the Paso Robles region, previously known mainly for Zinfandel, into the limelight for Rhone varietal wines. However, Mat Trevisan wanted to focus on blends, crafting wines to reflect his personal vision, while Justin Smith, equally visionary, wanted to focus on expressing the unique character of his family's vineyard. So the two parted amicably in 2000, Trevison continuing with the Linne Calodo label, while Smith established Saxum as the "estate" winery for James Berry Vineyard.

I recently was fortunate to be part of a unique event—the first comprehensive tasting of every Saxum wine ever released, including the not-yet-released 2005 vintage wines. Also included were a few whites not made by Saxum, and a never released Grenache. In this tasting it was truly possible to see the character of James Berry expressed in different vintages, and in different blends made from the varietals grown there. Although Saxum is based on the James Berry Vineyard, some of its bottlings include fruit from other vineyards in the area that Justin has had a significant hand in creating: Heartstone, Denner, and Booker. More about those vineyards in due course.


In terms of style, Justin is clearly trying to make a wine that is balanced yet reflects the unique terroir of James Berry. The oak presence is never intrusive, with the wines being aged in a mix of French and Hungarian oak, usually less than 60% new. The wines are fairly ripe, as the warm days of Paso do tend to drive the sugars. The grapes are usually picked around 26.5°-27° Brix, although the sugars raced up to 28° Brix in 2002. Yet the wines are balanced by excellent acidity, even though they are never acidified. Smith attributes this to high-lime, calcerous soils that predominate in James Berry, and the tremendous diurnal temperature variation in the region, which can see daytime temperature's well over 100°, yet nighttime low temperatures down into the 50°'s. Cool air from the Pacific is pulled through the Templeton Gap every afternoon to provide a natural air-conditioner that helps preserve the grape's acidity despite the sizzling daytime highs. As a result, the wines are big, but balanced, and as the tasting reflects, appear to have good medium to long-term aging potential. Two of the most impressive wines in the tasting were the two oldest, the 2000 and 2001 Bone Rock Syrahs.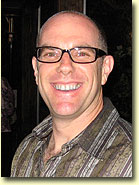 The Tasting
The tasting, hosted by Frank Murray (right), was held at Sage Restaurant in Newport Beach, CA. An excellent menu was created to complement the wines. Justin Smith attended and brought his entire line of 2005 wines, most of which have not yet been released. Conditions were perfect to give these wines the attention they deserved, and with foods that helped us evaluate how they work with a meal (very well, it turns out). We started with some whites and a rosé before tackling the "big boys."

Flight 1 – The Whites
2004 Copain Roussanne, James Berry Vineyard. Spicy nose of lemon and herbs de Provence. Waxy nose with spices and citrus. Rich wine but with a good amount of balancing acidity and a touch of heat (14% alc.), somewhat creamy texture, long finish. Fairly big and rich, but not too heavy as the wine gets lift from the acidity and is pretty well-balanced. Best with food. Probably best to drink this on the young side. Find this wine

2006 Lone Madrone Roussanne. 60% James Berry Vineyard, 40% Booker Vineyard fruit. This winery is the personal project of Neil Collins, winemaker for Tablas Creek. Very rich, ripe nose of cream and pit fruits. Very big wine, quite hot, rich, extroverted with tropical fruit and an unctuous texture, but overripe to my palate, lacking balancing acidity, and frankly, a bit dull. Not my style of Rhone white. Find this wine

2006 James Berry Smith Grenache Rosé, Rocket Block. This is a rosé made by Justin Smith's father from the Grenache grown in the Rocket Block of James Berry Vineyard. It is made strictly for the family's consumption and is not sold. Made from grapes picked at 23.5° Brix, 3 weeks earlier than the picking for the red Rocket Block. The wine is flash heated with the skins to 160°F, then bled off the skins immediately. Pale strawberry red color. Nice clean fruit flavors, no hint of the flash heating process. Medium rich, crisp, good cut, nice refreshing rosé made in a unique way. Not heavy-handed or candied like far too many domestic rosés.


James Berry Vineyards, Bone Rock in foreground, Rocket Block on hill in background
Flight 2 – Bone Rock Syrah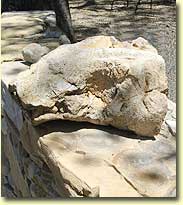 This is the big one, Saxum's top Syrah cuvee, consisting entirely of James Berry fruit. The section of James Berry which produces the bulk of this wine (and gives it its name) consists of terraces constructed in 1990 on a very steep, rocky hillside composed of layers of shale. The "soil" is actually layers of rock, which are easily sheared, and this fractured composition allows the vines' roots to go deep, and also provides excellent drainage. The name comes from prehistoric fossilized whale bones (left) found on the site, as the entire region was at one time the basin of a shallow sea. The first Bone Rock wine was the 1999 Linne Calodo, but we started with the first Saxum release, the 2000.


2000 Saxum Bone Rock. Very ripe-smelling nose with dried fruit, caramel, very deep and rich. The palate shows some secondary development and is fairly open, with less of the sur-maturité quality found in the aroma. Cherries, berries, ripe plums (but not prunes), ripe but clean fruit flavors with some minerality, dusty tannins, very long. There is considerable complexity here, as the primary fruit flavors share the stage with more interesting earthy and meaty notes. This is close to prime time drinking and is delicious. Find this wine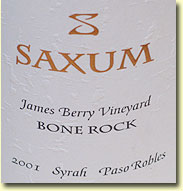 2001 Saxum Bone Rock. This has 5% Mourvedre and 3% Grenache added to the Syrah. Similar nose to the 2000, although a bit more closed. Ripe fruit with some marzipan, dried cherries and cranberries, touch of truffle. Quite rich on the palate, with superb balance and great depth and length. Very complex, classic Syrah notes of blackberry, violet, green olive, hint of stones and forest floor. No hint of heat. Excellent wine with some room to improve. Find this wine

2002 Saxum Bone Rock. 88% Syrah, 12 % Grenache. Very ripe nose of deep berry fruit, but not much of a dried fruit quality. Quite rich, ripe and dense palate, slightly hot (this is close to 17% alcohol). Decent acid with some dried fruit elements leading to a somewhat sweet, rather monolithic finish. This pushes the envelope of ripeness for me, but stays on this side of the line, just. I doubt there's much room for improvement here and would recommend drinking this on the earlier side. Find this wine

2003 Saxum Bone Rock. 88% Syrah, 8% Grenache, 4% Mourvedre. Very ripe and slightly candied nose, and the alcohol shows in a "fumey" quality just a bit. Big ripe berry fruit palate that is completely primary, no development. Rich and very ripe, the alcohol (15.7%, considered "typical" for Saxum) is completely hidden on the palate under an avalanche of fruit. Good acidity holds it together well, seems deep and balanced enough to age well but slowly. Find this wine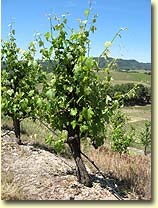 2004 Saxum Bone Rock. 85% Syrah, 12% Grenache, 3% Mourvedre. Nose shows an odd medicinal note at first, but this blows off to reveal very ripe blackberry liqueur. Very ripe, rather soft ripe fruit, almost candied, lacking structure, no tannins. A simple fruity wine, not very interesting yet, and Justin admits that the 2004's are showing too soft and simple at this point in their development as there was very little tannin, although acids were normal. I'd recommend holding this for another year to see if it gains additional structure, as this bottle was much less sweet and candied than a bottle tasted six months ago. But in general this would appear to be an earlier drinking vintage for Saxum. Find this wine

(Left: Old vine in the Bone Rock section)

2005 Saxum Bone Rock (NYR–not yet released). 93% Syrah, 7% Grenache. Clear ripe fruit nose, no dried fruit quality, just pure ripe berries. Rich, ripe palate with excellent balance of acid, no hint of heat or over ripeness (15.8% alcohol). Already hinting at the complexity to come, the ripe fruits do not obscure roasted meat, mineral and truffles. Well structured with smooth tannins, perhaps showing a bit more oak at this point but not "oaky", this promises to be one of the best in the series. Outstanding.

Flight 3 – Broken Stones and Heartstone

These two bottlings represent the fruit of two vineyards that very much carry the Smith family stamp: Denner and Heartstone. The Denner vineyard is directly across the street (roughly southwest) from James Berry vineyard, and Justin Smith has been involved in the farming of this vineyard since it was planted in 1999. Heartstone vineyard is particularly close to Justin's heart, as he was completely responsible for the selection of the site, rootstocks, planting and farming of this vineyard from its inception. Located a few miles to the north and west of James Berry, the vineyard is 7 acres in size and contains close plantings of 8 different clones of Syrah, 4 of Grenache, and 1 of Mourvedre. Broken Stones is a blend of primarily Heartstone and Denner fruit, while the Heartstone bottling is 100% Heartstone. Although in some vintages the wines contain more than the 75% minimum to be labeled as varietal Syrah, they are designed to be GSM blends to distinguish them from the Bone Rock Syrah.

2002 Saxum Broken Stones. 90% Syrah, 10% Grenache. Ripe nose with some dried fruit and raisin notes. Very ripe fruit and raisins dominate the palate, which is also rather hot. There is decent acidity here to keep the wine from being cloying or flabby, but the dried fruit-dominates the palate and is a bit too ripe for me. Too much like a very ripe Paso zinfandel, although with better acidity and potential. Find this wine

2003 Saxum Broken Stones. 80% Syrah, 12% Grenache, 8% Mourvedre. Ripe nose with some dried fruit, but not nearly as much as the 2002. Palate is nicely round and ripe, but thankfully not overripe at all. Much brighter, less dense but better balanced and without any alcoholic heat, this is very complex with a spicy, rich palate featuring meat, pit fruits and cherries, herbs and smoke. Great length. This is a terrific wine that can be drunk now or aged further. One of my favorites of the tasting. Find this wine

2004 Saxum Broken Stones. 75% Syrah, 22% Grenache, 3% Mourvedre. Ripe creamy, no raisins on the nose. The palate is rich, deep, and long but softer and showing less grip than the 2003. Ripe but not dried fruit, and rather simple and grapey at this point, much like the '04 Bone Rock, lacking structure. No complexity or development yet. Seems to lack the character of the vineyards, more generic, not special. Find this wine

2005 Saxum Broken Stones. 74% Syrah, 24% Grenache, 2% Mourvedre. Ripe with a bit of dried fruit quality, but not raisined or overripe. Rich, much brighter and structured than the '04, very deep fruit supported by excellent balance of acid and tannins. Still very young and primary, but round and a complete wine that shows outstanding potential. Back on form. Find this wine

2004 Saxum Heartstone Vineyard. 60% Syrah, 30% Mourvedre, 10% Grenache. Like the other '04's, this is very ripe with a candied element on the nose, and quite soft on the palate. Lush and fruity, but not very structured; simple, and less interesting that the other wines thus far. Seems more like a straight Syrah right now. Ripe red fruits make this an easy and enjoyable drink, but I wanted more. Find this wine

2005 Saxum Heartstone Vineyard (NYR). 44% Syrah, 33% Grenache, 23% Mourvedre. Closed nose that takes lots of swirling to open up. Round, slightly soft but deep fruit, pretty good structure although less so than the Broken Stones. Decent enough acidity and smooth tannins to support a rich, ripe but not overripe palate of considerable depth and length. The varietal components are buried right now but a bit of spice can be coaxed as the wine airs. This is still a baby but shows good potential for mid-term aging. 25-30% whole clusters were used here and probably helped provide a bit of additional tannic grip.

Flight 4 – Rocket Block, and more

Rocket Block is a steep hill within James Berry Vineyard that was planted to Grenache in 1995. The Grenache-dominated blend that results is powerful and intense. The James Berry Cuvee is a proprietary blend begun in 2004 to utilize fruit not used for either Bone Rock or Rocket Block, as well as fruit from elsewhere within James Berry. Finally, Booker is a new vineyard and winery to the east of James Berry (adjacent to L'Aventure) that Justin consults with and obtains a small block of fruit. He will bottle a Booker-designated Syrah beginning with the 2005 vintage.

2001 Saxum Grenache (unlabelled and unreleased). This bottle, given to me by Justin some years ago, came from a barrel of Rocket Block Grenache made for the family as an experiment to see if a separate Rocket Block bottling was feasible. It essentially is a prototype for the Rocket Block cuvee. Obviously this "experiment" was a success, as the Rocket Block took off beginning with the 2003 vintage. Fragrant, spicy nose of bright , pretty fruit of strawberry and flowers with some citrus and Provençal herbs; good richness but not especially ripe or dense; good balance with a touch of finishing heat. This is showing good development with complex spices and bit of minerality in a very well balanced package.

2003 Saxum Rocket Block, James Berry Vineyard. 50% Grenache, 40% Mourvedre, 10% Syrah. Plenty of spice on the nose as well as some dried fruit notes. Very ripe, rather hot with dried fruit dominating the dense, extracted palate that is creamy ripe, a bit raisined, but also shows fresh peach/apricot pit. Just enough acid to hold everything together. Frankly, this is a bit too ripe and hot for me (16.7% alcohol), but it's still very tasty now and balanced enough to stand up to full-flavored food. But this should be drunk young for its robust qualities while the fruit is still vigorous. Find this wine

No 2004 Rocket Block was bottled, as Justin did not feel the wine was distinctive enough to bottle on its own. It was blended into the James Berry Cuvee.

2005 Saxum Rocket Block, James Berry Vineyard (NYR). 93% Grenache, 7% Syrah. The nose features pit fruits, Asian spices and sandalwood. Bright palate that is consistent with the nose, quite rich, smooth and creamy with excellent balance, fine tannins and decent balancing acidity. A big wine, but not a heavy one, rich but light on its feet. Flattens out a bit on the finish, but a very fine wine that has the structure to age well.

2004 Saxum James Berry Cuvee. 38% Syrah, 36% Grenache, 26% Mourvedre. Sweet berry fruit with some spice, quite ripe. Softer style on the palate, ripe but no dried fruit elements, barely enough acidity, no tannins, a bit simple and short. A bottle of this wine tasted six months ago seemed sweet with residual sugar, but this is now showing completely dry (which it is) with plump fruit being the dominant quality. Perhaps too big to be considered a "quaffer", but in that easy-to-drink style. Find this wine

2005 Saxum James Berry Cuvee. 70% Syrah, 20% Mourvedre, 10% Grenache. Ripe fruit with a bit of spice. Like the '04, this is ripe with sweet fruit, but is more structured and all the better for it. Nice spicy palate with some roasted meat and floral notes emerging from the deep ripe fruit, a touch of finishing heat, but well balanced. Nice wine. Find this wine

2005 Saxum Syrah, Booker Vineyard (NYR). 92% Syrah, 8% Grenache. Very ripe but just short of raisined. Deep, rich with good spiciness and depth, well balanced with smooth tannins, a bit lower in acid that the James Berry Syrahs but not flabby, good length. Made from young fruit, this is a big wine that is very primary and not showing much complexity now. Seems to have potential.

Saxum through the vintages

Comprehensive tastings such as this really help define the characteristics of the wines produced by a single a winery and vineyard, as well as the imprint of the conditions faced in each successive vintage. Too often, especially in warm climate regions such as Paso Robles, differences in vintage characteristics are minimized or considered secondary to the stamp of the winemaker. And to be honest, in the case of Saxum, the winemaker stamp is both present, and evolving, as Justin is a young guy who is clearly devoted to learning and perfecting his craft. Yet he has clear ideas on what he is trying to achieve, and he adjusts his technique each vintage in an effort to achieve the distinctive Saxum/James Berry style. This means ripe, but not overripe fruit with enough balancing acidity to keep the wine fresh and capable of development in the bottle. Sometimes the weather cooperates and helps the winemaker achieve these goals, sometimes the weather creates challenges that the winemaker must strive to manage or overcome.

It seems to me there is a clearly discernable arc in terms of vintage and winemaking in tasting through all of the Saxum wines. Both 2000 and 2001 offer exceptional balance and depth despite vastly different condition. In 2000, the weather went from cool to hot to cool again, similar (although not as badly) as in 2004. In 2001, the weather was very even with a small crop that was easy to vinify. Yet both years produced beautiful wines that are ripe but well balanced and show excellent potential for aging. In 2002, Justin tried to ramp up the ripeness, and by his own admission may have pushed the envelope just a bit too far. The weather was also hotter than 2001 resulting in higher alcohol. The wines are big, but some are a bit too big with some raisined fruit poking out. Yet there is still enough balancing acidity to keep them from becoming ponderous or flabby. 2003 represents an attempt to return to "normal" ripeness levels, and the best wine (Broken Stones) shows better balance with crisper acids and lower alcohol, yet both the Bone Rock and Rocket Block are every bit as big as the 2002, the result of unexpected heat just before the harvest. Still, the wines are better balanced despite their size. 2004 appears to have been the most difficult year, as the weather featured extreme heat spikes as the harvest approached, and sugar levels soared, although acid remained within normal limits. It is Justin's least favorite vintage (mine, too), as the wines are too soft and easy, lacking structure. Yet the structure may be lurking, as the wines continue to improve with bottle age, so Justin is hopeful they will improve further. As it is, this is far from a "bad" vintage for Saxum, just a less interesting one at this point. As for 2005, all the elements seem to have lined up perfectly, as excellent weather and Justin's increasing winemaking skills combined to create a bevy of outstanding wines that are clearly the best overall he has yet created from James Berry Vineyard, and his other cuvees.

WOTN: 2000 and 2001 Bone Rock, and 2003 Broken Stones. For potential, any of the 2005's could equal these top wines.
Bennett Traub
Reporting From The Left Coast
Send Bennett an