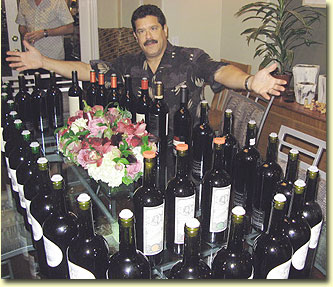 Bennett Traub
~~~~~~~~~~~~~~~~~~~~~~~~~~~~~~~~~~~~~~~~~~~~~~~~
Starters:
Served With Spicy Tuna Tar Tare on Crispy Won Ton
Cuban Scallop Ceviche
Pot Stickers
Lump Crab Cakes with Dijon Aioli

1990 Veuve Clicquot Grand Dame
1990 Salon


White Flight
Served with Butternut Squash and Maine Lobster Risotto with Red Cow Parmesan

2002 Marcassin Chardonnay, Marcassin Vineyard
2002 Marcassin Chardonnay, Three Sisters Vineyard
2002 Peter Michael Chardonnay, Cuvee Indigene
2004 Sine Qua Non "Rejuvenator"
2003 Kongsgaard Chardonnay "The Judge"
2002 Aubert Chardonnay Quarry Vineyard

Flight 1:
Served with Steak from Bryan Flannery in Corte Madera

1995 Harlan, The Maiden
1997 Harlan, The Maiden
2000 Harlan, The Maiden
2001 Harlan, The Maiden
2002 Harlan, The Maiden

Flight 2:
Served with Steak from Peter Lugers

1999 Bond, The Matriarch
2000 Bond, The Matriarch
2001 Bond, The Matriarch

Flight 3:
Served with Steak from Lobels

2001 Bond, St. Eden
2001 Bond, Melbury
2001 Bond, Vecina
2002 Bond, St. Eden
2002 Bond, Melbury
2002 Bond, Vecina

Flight 4:
Served with Steak from Allen Brothers

1990 Harlan Estate
1991 Harlan Estate
1992 Harlan Estate
1993 Harlan Estate
1992 Dalla Valle Maya

Flight 5:
Served with Steak from Niman Ranch

1994 Harlan Estate
1995 Harlan Estate
1996 Harlan Estate
1994 Bryant Family
1995 Araujo "Eisele"

Flight 6:
Served with Steak from Shelley Rocker

1997 Harlan Estate
1998 Harlan Estate
1999 Harlan Estate
2000 Harlan Estate

Flight 7
(Steak Break)

2001 Harlan Estate
2002 Harlan Estate
2003 Harlan Estate
2002 Sloan
2004 Scarecrow
2003 Ausone (served blind)


Flight 8:
Served with Kobe Beef

1996 Screaming Eagle
2001 Screaming Eagle
2002 Screaming Eagle

Dessert Flight:
A selection of amazing cheeses served with

2000 Chateau d'Yquem
2001 Chateau Suduiraut

Chocolate Lava Cake served with Jack Daniels Carmel Sauce

1963 Fonseca
1949 Banyuls
CLICK HERE FOR A PHOTO OF THE DINNER TABLE
~~~~~~~~~~~~~~~~~~~~~~~~~~~~~~~~~~~~~~~~~~~~~~~~
My notes on the wines follow. [No, I didn't take notes on the steaks, although my favorites were the Lobel's and the Niman Ranch, with the genuine Kobe beef from Japan so rich and decadent it almost shouldn't be called "steak".] I should say at the outset that my perceptions on many of the wines were somewhat different from many of the attendees. I tended to favor the less ripe and older wines more so than many of the others. I think there are a couple of reasons for this. First of all, I prefer older, more mature wines generally. A bigger factor, however, is that I am highly intolerant of both volatile acidity (VA), and raisiny/porty flavors in cabernet, and many of the wines that were loved by others were marked down by me for having these characteristics. Those with a higher tolerance for ripe flavors, VA, and low acidity would probably enjoy some of the wines I criticized more than I did.

With that in mind, on to the wines.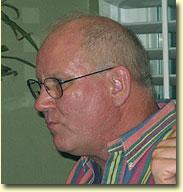 White Flight: Maybe it was the smells emanating from the nearby kitchen, but most of the white wines seemed quite subdued in their aromas. Both the 2002 Marcassin "Marcassin Vineyard" and the 2002 Peter Michael "Cuvée Ingigene" were corked, the Marcassin slightly, and the Peter Michael more severely. As a result Steve opened the bonus 2002 Marcassin "Three Sisters", which was rich, creamy, smelling and tasting strongly of oak, but with adequate acidity for balance, and a long oaky finish. Very good, but a bit too oaky for my taste Find Marcassin wines. The 2002 Aubert "Quarry" Find this wine features a plump, almost fluffy/creamy texture that seems to be a hallmark of Aubert Chardonnays. Pretty good acidity makes this a well-rounded lush chard. I really enjoyed the 2002 Kongsgaard "The Judge", Find this wine with its ripe vanilla cream and marzipan flavors that contained a hint of chocolate-covered orange peel. Nicely integrated oak suggested freshly baked bread—delicious. But my favorite of the flight was the Sine Qua Non "Rejuvenators" Find this wine a blend of 56% Roussanne, 20% Chardonnay, and 25% Viognier (yes, I know that adds up to 101%, but that's what SQN's description says). A very complex nose is surprisingly chard-like despite the high percentage of Roussanne. Great acid structure, quite rich, with a complex, apple/peach fruit quality that seems to show a bit of each varietal in succession. Really, really good and unique wine. (Participant Jeff Nowak in photo above right)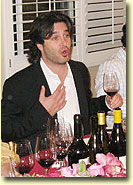 Flight 1: This flight featured 5 vintages of Harlan's "second" wine, The Maiden. Stylistically they seemed fairly close to the Harlan's that followed later in the evening, with just a bit less intensity and richness, and probably less aging potential. They were also much less consistent. Unlike most of the participants in the dinner, I enjoyed the 1995 quite a bit, thus pretty much destroying my credibility right off the bat [g]. What I enjoyed was the wonderful Bordeaux-like nose, which exploded out of the glass with classic cigar box and lead pencil complexity. Yes, the palate was thinner than the remaining wines, and as it aired a metallic quality began to emerge. Many at the table thought the wine was flawed, but I think it is simply getting near the end of its life. Regardless, I was prepared to give up some fruit on the palate to get that great aroma. The rest of the group hated the wine and thought it was either flawed or dead. The 1997 also generated differing opinions, with many loving the wine's richness. To me and a couple of others, however, the wine reeked of volatile acidity (VA) and was overly port-like and raisiny. I have a very low tolerance for VA, so those who don't mind it as much found a lot to like in the wine. The 2000 seemed pretty subdued and simple by comparison with the first two wines, a bit softer with medium ripeness and much less intensity of flavors, but a nice drink that was well-balanced and would probably be very enjoyable on its own. The 2001 was my wine of the flight, with ripe but not overripe chocolate cherries and black currant fruit, excellent balance with great acid and smooth tannins, very long, just a classic California cabernet. The 2002 ramped up the ripeness considerably, and to me showed a bit of the VA and port-like characteristics I dislike, although much less than the '97. Thick and extracted, the wine needs more acid, IMO, and seemed flat on the finish. Find Harlan The Maiden Wines
(Participant Marc Abrams in photo above left)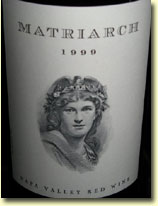 Flight 2: This short flight featured 3 vintages of Bond's second wine, "The Matriarch." Like Harlan Estate, Bond is a project of owner Bill Harlan and winemaker Bob Levy from three specific vineyards around Napa (a fourth vineyard was added for 2003). Lots that don't make the vineyard designated wines (tasted in Flight 3) are used for The Matriarch. I really enjoyed these, despite their status as "second" wines. The 1999 was pretty ripe, almost raisiny, but stops just short of overripe. Very rich with a touch of heat, there is great fruit intensity and ripe fruit flavors supported by decent acidity and firm tannins. Seems fairly open for a 1999 and does not have the surliness that many 1999's seem to suffer from. Even better was the 2000, which was beautifully balanced with sweet fruit of moderate intensity and very good ripeness. One of the best 2000 vintage California cabs I have tasted. The 2001 was riper and much more intense, but still avoided port-like qualities, although the wine seemed pretty extracted and dense. The balance is there for long aging, though, and I think this wine will be terrific in about 5 years. Find Bond, The Matriarch Wines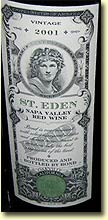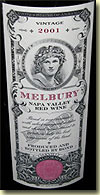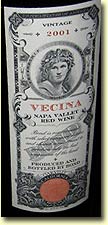 Flight 3: This flight featured 2 vintages ('01 and '02) of each of the three Bond wines (St. Eden, Vecina, and Melbury). I have never tasted any wines from this producer, and they seem to get less comment on the boards than many of the other "cults", so I was curious. Given that the Harlan/Levy team is running the show here, and the fact that I enjoyed the Matriarch's quite a bit, I found less consistency that I was expecting in the "big Bonds", as I thought the wines were all over the map. Among the 2001 wines, my favorite was the Melbury Find This Wine. Blackberry/licorice nose, beautifully balanced and quite elegant, yet not lacking in intensity, not as dense as many of the other Bonds, and better for it in my opinion. The St. Eden Find This Wine was almost as good, but was riper, just stopping short of creeping into overripe territory; a bit hot but very rich and long with a great finish. The Vecina Find This Wine was even more extracted and tannic, seemed rather closed, but the fruit lacked sweetness and showed a touch of bitterness. Among the 2002's, my top wine was the St. Eden Find This Wine which was quite ripe but not raisiny, and was about as extracted as I would want without going over the top. It retained that essential sweetness of fruit that too many overripe wines lack. The Vecina Find This Wine was very attractive on the nose, with a hint of mint along with the blackberry, but was very dense and heavy-handed and the fruit seemed dulled by the extraction. The Melbury Find This Wine was very dense, ripe extracted, tannic and hot, with the fruit submerged under the ripeness and extraction. Maybe time will help, but it seems a gamble.

Flight 4: OK, now we're ready for the main event - Harlan Estate Find Harlan Estates Wines. Harlan's first vintage was the 1990, and the wine is excellent and holding up very well. A very Bordeaux-like nose with a bit of the riper fruit that signifies California is very inviting. The wine is medium bodied, with high-toned acidity but plenty of fruit remaining, a bit of iron and lead pencil flavors with ripe cassis and black currant fruit, with a long, satisfying finish. Not a blockbuster, but very, very good. The 1991 is even better, with a bit more ripeness but still with some aromas reminiscent of a mature Bordeaux, warm wood scents and complex fruit, great intensity and very long. This is in prime time for drinking now. The 1992 is equally deep and rich in aroma, but a smaller wine on the palate. It has excellent balance, however, and plenty of fruit with some tannins still to resolve. No rough edges and drinking very well. The 1993 seemed much simpler and less interesting than the wines that preceded it. Decent fruit and fairly rich, but more one-dimensional and less complex, the wine still has very good balance with enough acidity and fruit to suggest that it may still develop with a bit more time in the cellar. The flight concluded with a 1992 Dalla Valle "Maya"Find This Wine, which suffered by comparison with the Harlan's. No nose at first, by the time the nose began to emerge the wine began to crack up. Not much fruit, seemingly much older than the Harlan's with some unresolved tannins and a short finish, the wine was completely overwhelmed in this flight and did not show well at all.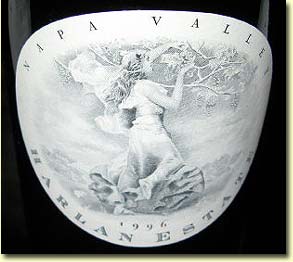 Flight 5: The "middle aged" Harlan flight. The 1994 was simply fantastic, a strong contender for my wine of the night. Gorgeous nose with amazing fruit and complexity, very forthcoming. The palate is classic California Cabernet at its best, with very deep, ripe, but not overripe fruit that was endlessly deep and rich. Perfectly balanced acidity and smooth tannins fully wrapped in the wine's inherent richness, incredibly long finish. Others at the table thought the wine was great, but not as good as other 1994's they had tasted. Hard to believe for me, as I thought the wine was truly great as it is. The 1995 was equally intense and dense in richness, but had just a touch of overripe/raisiny elements that placed it below the 1994 for me. A softer wine, less acidity to balance the immense fruit, certainly very good, but the 1994 is a tough act to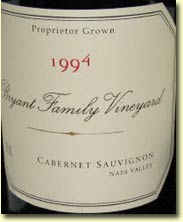 follow. On the other hand, the 1996 was just delightful despite being a much less dense and rich wine than the 1994. I found it extremely elegant and round, with sweet fruit perfectly balanced by taut acidity, very complex and showing more development of secondary flavors than the two older wines in the flight. This seems perfectly mature for drinking now, but should hold for a long time because the balance is so good. Of the two non-Harlan wines in the flight, the 1994 Bryant Family Find This Wine was completely outclassed. Odd nose of dill and celery seed, too ripe/flabby and seemingly unbalanced, not my style at all. We ended up opening two bottles of the 1995 Araujo "Eisele Vineyard"Find This Wine, after the first one seemed overly herbal and possibly corked. The second bottle was fabulous, very close in quality to the 1994 Harlan, with very deep sweet fruit, perfect balance and great length. Not quite as rich or voluptuous as the Harlan and a bit tighter, this was still a terrific bottle that needs time.

Flight 6: Before this flight, there had been some discussion at the table (by those who know the Harlan wines well) that there had been a stylistic change beginning in 1997 to a riper, more fruit-forward style of grape-growing and winemaking. That seemed to be the case with the 1997, a controversial wine that garnered a 100 point score from Robert Parker, but is considered flawed by some. The "flaw" is VA, which is apparent on the nose of the wine (although not nearly as much as the '97 Maiden). Although I am highly intolerant of VA, I still found the wine t be excellent, because the VA was completely over powered by the very deep, intense fruit, and because the wine did not show raisiny flavors despite the obvious ripeness. The wine has amazing stuffing and great depth, but is balanced by (non-volatile) acidity and only a bit of heat in the finish. From a difficult vintage, the 1998 wasn't nearly as good, although still better than most '98's in my experience. Ripe fruit competes against a seemingly underripe/green structure with green tannins, leading to a disjointed overall impression. Perhaps a bit more time will bring this together better. The 1999 was rather raisiny/port-like, with a touch of VA, very soft dense, thick and charmless. Not for me. I was very impressed, however, with the 2000, from another challenging year for California cabernet producers. It's a softer wine, but with very good balance, medium intensity and body, good fruit and surprising length. Clearly Harlan didn't try to make a blockbuster in this vintage since the weather didn't cooperate, and as a result they made a very fine wine that is delicious for drinking now.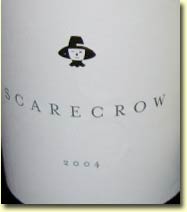 Flight 7: The recent Harlan vintages, plus a couple of "wanna be" cults. I loved the 2001 Harlan, which tastes like a younger version of the classic 1994. Perfectly ripe and very rich with incredibly deep fruit of black currants, licorice, cedar and chocolate, with endless length. This will last a long, long time. The 2002, however, was too ripe and port-like for my taste with very low acid. The structure is provided by the substantial tannins, which are ripe, but I wonder if there's enough acidity for the long haul, as for me the wine lacks the balance the 2001 has. I liked the 2003 better, as it is ripe but does not show the raisiny elements I dislike so much. Very young and tight now, there is a rich creaminess to the fruit that is very attractive, and the balancing acidity is there to support the time in the cellar that the wine clearly needs. All of the Harlan's, however, were markedly superior to the "wanna be's" that followed. The 2004 Scarecrow Find This Wine (which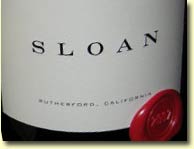 saw its wine's price ascend to hysterical levels on the secondary market following Parker's 98 point review) was open, very ripe and soft, but with a distinct dill element in the aroma. The herbaceousness is prominent on the palate, and the wine is very soft, flabby, hot and isn't going anywhere good. The 2002 Sloan Find This Wine is higher-toned and didn't seem too ripe on the nose, but on tasting had an overly-extracted texture that was dense, heavy and without adequate balancing acidity. The fruit seemed dull and lacked sweetness, and the resulting wine is more like a dry port. Pass. A bonus wine, served blind, was the 2003 Chateau Ausone Find This Wine. I don't think anyone at the table picked this as Bordeaux. It was deeply fruited, with stronger acidity than most of the others, but with a ripe fruit character than was not out of place among California cabernets (even though Ausone is a blend of Merlot and Cabernet Franc), perhaps not surprisingly since the consulting oenologist for the estate is Michel Rolland. Very long, with some complexity already showing, although not as rich as the Harlan's, this seems to be structured for long aging.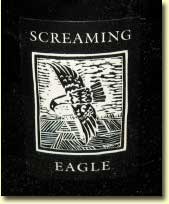 Flight 8: Here it is, Screaming Eagle, Find Screaming Eagle Wines the ultimate cult cabernet. I had never before had the opportunity to taste one, and as the wines were poured, I wavered between anticipation and skepticism. I had heard from others that the Eagle is not a showy wine compared to the other cults (kind of like Lafite compared to Mouton or Latour) and might not show well at a big comparative tasting. Well, now having tasted three vintages, I'm a believer—all three were simply fantastic wines that more than held their own against the amazing collection of cabs that preceded them. All three shared one overriding characteristic—balance. No overripe, raisiny/porty flavors or flabby structures here. The 1996 was very complex and beginning to show some development of secondary flavors and aromas. Really deep fruit that is perfectly ripe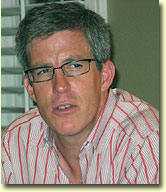 to allow the complexity to develop, cassis, black currant, hint of tobacco, creamy richness, very long. Even more impressive was the 2001, which is probably tied with the 1994 Harlan for my wine of the night. Even more intense and rich than the '96, but with impeccable balance and great depth, cigar box scents combined with complex herbs and a combination of red and black fruits, very deep and long. Still a baby and with years of life ahead of it, this is amazing California cabernet. Screaming Eagle's new owner, Charles Banks (right), stated that the 2002 is his ideal of what Screaming Eagle will be under his guidance. The 2002 is riper than the 2001, and a bit richer, too, but still stops short of overripe or over-extracted. A bit more closed than the 2001 at this point, the wine is fully packed with rich, deep fruit but has great balance of acids and tannins that promises a very long and favorable development in bottle. This may ultimately surpass the 2001, but needs plenty of time.

Dessert Flight: At this point my note-taking skills were pretty well shot, so this will be brief. Both Sauternes were fantastic, but I'd give the nod to the 2000 Chateau d'Yquem Find This Wine for its greater complexity and better balance of fruit, richness and sweetness. There is already tremendous complexity developing. On the other hand, the 2001 Chateau Suduiraut Find This Wine was all about power and sweetness, perhaps too much so. Extremely rich and unctuous, the wine is so sweet that the sugar pretty much overwhelms any complexity or nuance. Maybe with time? My recollection of the 1963 Fonseca Find This Wine is based upon my taste when I decanted it that morning, as the taste I had that evening is pretty much a blur. Not too sweet but very intense, yet with a gentleness provided by 44 years of aging, this is probably beginning to fade just a bit, but is still magnificent. As for the 1949 Banyuls Find This Wine, I must confess I have no recollection whatsoever about it. All good things must come to an end.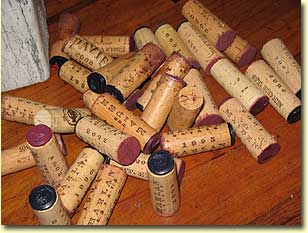 Bennett Traub
Reporting From The Left Coast
Send Bennett an