I have lots of favorites up there: Longoria, Qupe, Au Bon Climat, Jaffurs. Recently I had the opportunity to taste through a number of recent releases by a winery I've long admired but perhaps not given the respect it deserves—Beckmen. Maybe it's because its wines are so reasonably priced, or that it makes a wide range of wines rather than focusing on two or three favored varieties. Regardless, I thought it was time to revisit and find out if my past enjoyment of the wines still held. A few days later, I was introduced to a winery that has long sold grapes, but only recently started getting attention for its own wines—Huber Cellars. After tasting, I realized that I would have to add another winery to my growing list of "favorites" from Santa Barbara.
Beckmen Vineyards

Beckmen Vineyards was founded by Tom Beckmen in 1994. As a child, Tom had worked on his family's ranch outside of Chicago, picking tomatoes and onions, so he had a taste of the life of a farmer, and a connection to the land. His career didn't begin in wine or farming, however. Beckmen's career began in music. Tom founded the visionary Roland Corporation, a pioneer in electronic pianos, keyboards, and other music-related electronics that merged music with computer applications. Having achieved success in one venture, Tom sold Roland in 1993 to use his background in farming to create something equally visionary from the land. He founded Beckmen Vineyards in 1994.

Convinced of the tremendous potential of the Santa Ynez Valley, Tom Beckmen undertook an extensive and painstaking search for the ideal location to establish Beckmen Vineyards. He finally found what he was looking for on a small and neglected 40-acre parcel with an existing small winery near Los Olivos. Together, Tom and his winemaker son Steve removed the 16 original acres of Chardonnay, Sauvignon Blanc, and Cabernet Sauvignon that had not realized their full potential due to neglect and incorrect variety selection. The vineyard was replanted to the correct variety selection on the correct rootstock, implementing modern viticulture practices in the vineyard.

But this vineyard, as promising as it appeared, didn't fully give voice to the vision the Beckman's had to create something unique in Santa Barbara County. In particular, they believed that the region had the ideal climate and growing conditions for producing stunning Rhone varietals, like Syrah and Grenache. Bob Lindquist's Qupe had proven that great Syrah could be produced in the region, but few had followed his example. After yet another careful search, the Beckmen's purchased the property that would become Purisima Mountain Vineyard, an unplanted 365-acre Santa Ynez Valley ranch uniquely suited to Rhone varietals. Located at 1250' elevation above Ballard Canyon, farming of Purisima Mountain Vineyard represents one of the most ambitious hillside vineyard endeavors in the Santa Ynez Valley. The high elevation, unique microclimate and rare limestone sub-soil make this vineyard one of the most special winegrowing sites in all of Santa Barbara County.

Purisima Mountain Vineyard is planted mostly to Rhone varietals, such as Syrah, Grenache, Mourvedre, etc., but Beckmen also planted Sauvignon Blanc and Cabernet Sauvignon to supplement their original Santa Ynez vineyard. To fully develop their vineyard's potential, the Beckmen's instituted sustainable farming practices from the beginning, and later introduced the somewhat controversial practices of biodynamic farming. Fully biodynamic since 2006, the use of these practices has, in Beckmen's opinion, made significant improvements in the quality of the fruit and the resulting wines.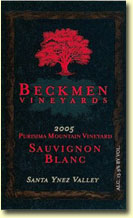 2006 Beckmen Sauvignon Blanc, $12.99. Classic SB nose of grapefruit, cut grass, and a hint of melon. Very crisp and clean, with significant minerality supporting lemon/grapefruit, aromatic herbs that are savory but not vegetal, and a fairly long, clean finish. This is closer to the crisp New Zealand style of Sauvignon, as opposed to the richer, melon/fig style of, say, Ojai or Rochioli. Great food Sauvignon. Find this wine
2005 Beckman Le Bec Blanc, $19.99. The white version of the Cuveé Le Bec, but 100% of the fruit comes from Purisima Mountain Vineyard. 59% Roussanne, 32% Marsanne, 9% Grenache Blanc, about 40% of the wine goes through malolactic. Golden color, spicy/sweetish nose of tropical fruits/peaches/apricots. Rather soft structure, creamy and fairly rich, nice mélange of the flavors typical of white Rhone blends: pit fruit, allspice, citrus. Soft finish turns a bit flat. A nice wine, although I would have liked a bit more acid to balance and lift the rich fruit. I often have a hard time pairing domestic Rhone whites with foods, and this wine strikes me as more of a sipper than a food wine. Find this wine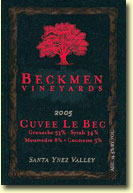 2005 Beckmen Cuveé Le Bec, Santa Ynez Valley, $15.99. Beckmen's Cuveé Le Bec has long been one of my favorite "value" Rhone-style blends, and the current vintage does not disappoint. Using four of the classified grapes of Chateauneuf du Pape grown at their Purisima Mountain Vineyard, the blend this year consists of 53% Grenache, 34% Syrah, 8% Mourvedre, and 5% Counoise. Ripe but not over-done and extremely well balanced, the wine is spicy with terrific fruit, smooth tannins, and real complexity. No one variety stands out, but I can taste a bit of the blueberry/bacon fat of the Syrah, the spicy/cherry qualities of the Grenache, and the meatiness of the Mourvedre. Damn tasty stuff here.
Find this wine



2005 Beckmen Grenache Estate, Santa Ynez Valley, $20.99. Beckmen's estate Grenache (as opposed to their higher-end Purisima Mountain-designated Grenache) is designed to be an inviting, fruit-forward wine that can be enjoyed in its youth for its exuberance and delicious fruit. This wine has all the spicy qualities that Grenache is know for: flavors of strawberry, raspberry and pomegranate dominate, with just a touch of bacon fat to remind you of its Rhone-ish roots. With good balance of tannins and acid, this wine would be extremely versatile with grilled meats or other savory dishes. This avoids the candied character of some domestic Grenache. Find this wine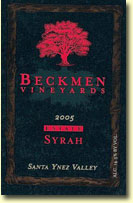 2005 Beckmen Syrah Estate, Santa Ynez Valley, $18.99. This Syrah is made from 30 individual lots consisting of 7 different clones of Syrah from both their Los Olivos vineyard and the Purisima Mountain Vineyard. The nose is characteristic of a warmer-climate syrah, with spice and meaty scents. On the palate it has the classic qualities of Syrah, with rich meaty flavors accented with black pepper, licorice, clove and cedar that are rich and satisfying, supported by a touch (1/3) of new oak. Very good Syrah for the money, although it lacks either the richness or complexity of the best Santa Barbara County Syrahs (most of which cost considerably more). Find this wine

2005 Beckmen Cabernet Sauvignon Estate, Santa Ynez Valley, $21.99. Although a Rhone-varietal specialist, Beckmen has always made wines from Cabernet, too. Notwithstanding the reputation of Santa Barbara County for producing thin, weedy cabs, Beckmen manages to make something interesting here. The long growing season in 2005 (the grapes weren't harvested until November!) apparently allowed the grapes to fully ripen yet retain their balancing acidity. This wine is fairly rich, and, thankfully, tastes of varietally-correct Cabernet fruit that avoids the herbaceousness that used to be the norm in cabs from this area. Nice plummy fruit, the touch of savory herbs and medium body could be characterized as representing a St. Emilion style (although this wine has no Merlot, which dominates most St. Emilion's), as opposed to Napa's Medoc. Not especially complex or deep, but well balanced with moderate tannins and a decent finish. Very nice if not earthshaking cab at a fair price. Find this wine

Huber Cellars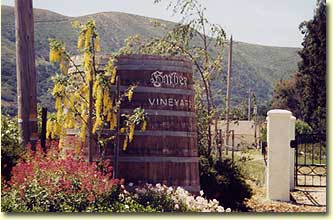 I first became aware of Huber as the name of a vineyard that began appearing on the wines of other producers in Santa Barbara County in the late 1990's. I particularly remember fondly a fabulous 1999 Longoria "Huber Vineyard" Chardonnay that had amazing minerality and laser-like acidity, a wine that blossomed and developed tremendous complexity over several years of drinking in the early 2000's. I had no idea that the Huber Vineyard was also a winery, until I happened to notice a sign on Highway 246, as I drove up to attend the Clos Pepe Allocation BBQ last year. Since Longoria no longer makes a Chardonnay from Huber, I was determined to explore further in the hopes of finding another Chardonnay that had the zing I so enjoyed in that 1999 Longoria.

I learned that Huber Cellars is a true "Mom 'n Pop" operation in the best sense of the term. Norman and Traudl Huber, a couple in their 70's, originally hail from Germany. Norman's vocation had been as a woodworker, and such is his skill that he headed up the restoration project for the staterooms and restaurants on the Queen Mary, now permanently docked in my current home town of Long Beach. They established this small, family-run estate in 1986, and planted vines in what is now known at the Sta. Rita Hills in 1987, directly across the road from Babcock, Melville, and Clos Pepe Estate. For years they sold their outstanding grapes to such prestigious estates as Longoria, Gainey, and Brewer-Clifton, but beginning in 2000 they began using a portion of their grapes to make wine under their own Huber Cellars label.

Today their vineyard is managed by the Brewer-Clifton team, and their wine is made by well-respected winemaker Norm Yost (Flying Goat Cellars). The Huber's continue to sell some of their Chardonnay grapes to Greg Brewer for his Brewer-Clifton and Diatom labels. As for the Huber Cellars wines, they still pretty much fly under the radar compared to their neighbors in the Sta. Rita Hills. So low-key is this operation, that Norman and Traudl still personally hand-deliver their wine to the store I work at here in Long Beach! Talk about personal service. There's loads of personality in their wines, too. They make four wines from three different grape varieties—Chardonnay, Pinot Noir, and, perhaps most interesting of all, a rare German red grape variety known as Dornfelder. Recently I had the opportunity to taste through the lineup.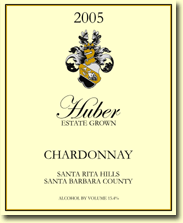 2005 Huber Cellars Chardonnay (No Oak) $21.99
2005 Huber Cellars Chardonnay (French Oak) $26.99
Here we have something that is unusual if not unique. Two Chardonnays made from the same grapes, from the same vineyard, in the same vintage, but vinified two different ways. One is made entirely in stainless steel with no malolactic fermentation (ML). The other is aged in French oak barrels (20% new), and undergoes partial ML. Both wines are excellent, and the differences between them are fascinating. The "No Oak" chard is steely, crisp, with pure apple and pear-infused fruit that is given tremendous energy by the excellent balance of acidity and richness. The French Oak version takes that same wine and adds a delicious overlay of grilled bread, a touch of vanilla, and a creaminess that is luscious without becoming overbearing. The oak treatment is understated here, but adds spice without overwhelming the pure Chardonnay flavors, and the great acidity lifts the wine beautifully. This is very similar to that great 1999 Longoria I remember so fondly. Tasting these two wines together is an interesting case study on the effect of oak-aging, but each wine is excellent in its own right.
Find this wine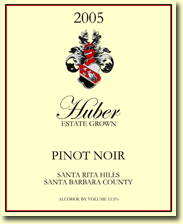 2005 Huber Cellars Pinot Noir, $37.99. This is classic cool-climate, Sta. Rita Hills Pinot Noir. Clear ruby/cherry color, bright rich-tasting fruit with cherry, blueberry, a hint of herbs and forest-floor, ripe plums and rhubarb. Quite long, with perfect acid balance and moderate tannins. The 2005 vintage provided perfect conditions for maturing Pinot Noir, and although this wine is big and ripe (over 15% alcohol) it is not hot, overripe or raisiny. Something about this area of the Sta. Rita Hills clearly allows for ripe wines to retain their acidity, the lack of which is too-often the downfall of other ripe-style pinots. Not a style for Burgundy lovers, but not at all in the ripe Zinot Noir style, either. Find this wine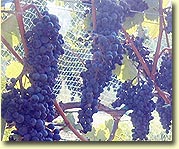 2005 Huber Cellars Dornfelder, Sta. Rita Hills $26.99. OK, now for something completely different. Dornfelder is a rare German grape variety that was originally planted to provide color and depth to light-bodied German Pinot Noir. The Huber's were given just 4 Dornfelder vines by a German friend, who felt they needed a reminder of home in their vineyard. Since then, they have propagated three acres of Dornfelder from those original 4 vines, and this amazing wine is the result. The color has to be seen to be believed—a vivid, glass-staining, day-glow purple/black. It almost shouldn't be called a "red" wine, and has got to be the most intensely pigmented wine I've ever seen. You would think this is going to be an overly-tannic, inky monster, but it's not. There's no question that the wine is full-bodied and rich, yet it has a wonderful balance and fragrance that is anything but heavy-handed or oafish. Deep ripe plums, black currants, clove, and chocolate are combined with bright acids and elegant tannins. Really quite tasty, the wine is hard to compare with any other varietal in aroma and flavor, but probably closest to a Syrah/Grenache blend. I'm going to serve this at a blind tasting someday just to see the reaction. Find this wine

Bennett Traub
Reporting From The Left Coast
Send Bennett an