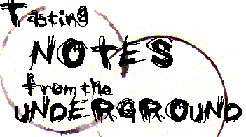 Red Wings and
Red Rhônes '00-01
Part 1


10/5/00: There's an old saying in hockey that playing to a tie score is like kissing your sister, but the Detroit Red Wings avoided that politically incorrect baggage with a come-from-behind 4-3 road victory over the Calgary Flames in the opening game of the 2000-'01 season for both teams. Perhaps appropriately, there was some snow on the ground and a bitter chill in the air as the Wings did battle in Calgary, without the services of Captain Steve Yzerman, who was sidelined with a knee injury. Of course, The Director and this taster didn't miss the opportunity to renew the now hallowed tradition of mixing a good Red Rhône with Red Wings hockey, as we uncorked a Gigondas that we've been itching to try for over a year and a half now.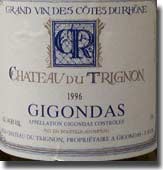 1996 Chateau du Trignon Gigondas - 1.5 L, 14% alc.: I can't remember what this magnum of big dark garnet southern Rhône cost when I found it at Kermit Lynch's store in Berkley, CA while we were covering ZAP '99; $36 maybe? I'd been hearing about this wine for years, but had never seen it around Day-twah, so I jumped on it out Left. Complex plum/prune/ black cherry/coffee/ pepper/garrigue aromatics leap out of the glass, shaded with hints of earth/tar and the faintest bit of iodine. The flavors follow through, with deep, dark, dense concentration, some significant tannins and good acidity. Still, with two hours in a decanter, this is quite approachable. It finishes with tar and more tannins, but continues to open as long as it's around. Happily, there was plenty left to evaluate the following day, due to the large format; the pepper came to the fore, while the fruit took a bit of a back seat.
I'll take #1 in the "W" column for the Wings, and I'd take more of this terrific Trignon, if I could find it anywhere.
10/6/00: The Red Wings played their second game of the season, once again helping open another team's arena without their captain, Steve Yzerman. And for 30 minutes, they outplayed the Edmonton Oilers, but had only a 1-0 lead to show for it. After that, both squads played the game well and at a quick pace; however, the home team got the only two goals. It was a disappointing result for a Wings team that deserved better.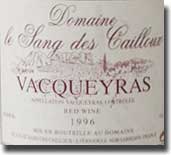 1996 Domaine le Sang des Cailloux Vacqueyras - 1.5 L, 13% alc.: This dark garnet was also a bit of a disappointment, considering previous experiences with the '95 and '97. It's not real bright on the nose, showing dusty, slightly vegetal sub-dude prune/plum/pepper/garrigue that expands some on the palate with a tarry element, but the fruit is rather flat. There're still some tannins here, and good acidity, but it will never be anything more than merely good. Purchased with the magnum noted above, it probably went for roughly the same price, but damned if I can remember how much it was.
10/11/00: The Edmonton Oilers returned the favor to the Red Wings, helping them open their 75th season (the 150th consecutive sellout at Joe Louis Arena), complete with a special pre-game Anniversary celebration, but in the end, it was the second loss in a row for Detroit against Saaz and Stacy's favorite team. The Oilers took a 2-0 lead in the 1st Period and held on for a 4-3 win. Fortunately, the evening's wine was better than the game's outcome.
1997 Domaine le Sang des Cailloux Vacqueyras, 13% alc.: This big, brawny dark garnet is much better than the previous vintage, and much better than a bottle tasted just a few weeks before. It features dark, leathery plum/prune/licorice and a hint of olive and Provencal herb on the nose, and these echo on the palate, with some nice fruit emerging from the considerable tannins; there's good acidity here as well. The leathery quality continues to come to the fore with air, and while certainly approachable now, with a couple of hours in a decanter, and a grilled hunk o' meat or hearty stew, it really needs three to five years to mellow. An excellent young Vacqueyras; I'm still trying to locate the '98.
10/12/00: The Red Wings played in their 4th straight home opener and 2nd straight 75th Anniversary celebration, invading Chicago's United Center and handing the Blackhawks a 4-0 shutout, goalie Manny Legace's first in the NHL. The good guys scored at even strength, shorthanded and on the powerplay, making the Hawks look bad.
1994 Le Mas des Collines Gigondas, $14.99, 13.5% alc.: We've enjoyed this ruby dark garnet in the past, as well as the '90 and '95 versions, and there is a consistent style that distinguishes all three. They all tend to be medium full bodied, emphasizing an elegant rather than brawny character, and there is also a certain cola note that recurs. This shows earthy raspberry/ strawberry/black cherry/cola flavors and aromas that pick up added notes of plum/underbrush and more cola with air. It has medium tannins and acidity, and it should continue to improve over the next few years. Maybe not a great wine, but solid, satisfying one.

10/15/00: The Calgary Flames came to Day-twah, and promptly repaid the Wings for their opening night defeat with a 4-2 victory over the home town team in one of the more poorly officiated games in recent memory. Calgary took advantage of 18 Detroit penalty minutes for three power play goals, giving Goalie Mike Vernon a big win over his old team.
1995 Le Mas des Collines Gigondas, $14.99, 13.5% alc.: Even better than the '94 model, this ruby dark garnet is all rich plum/ cola/licorice/underbrush with an added aromatic that reminds me of sticking my nose in my Halloween candy bag when I was a kid (and that isn't as sweet an impression as one might think). There's good acidity here, and it's not too tannic, and is that an added hint of nutmeg on the palate? This finishes on a dry note that's not at all unpleasant, and like so many Rhônes, it just gets nicer and nicer with air. A really nice Gigondas, very much in the house style, and one that should only improve for at least a few years.
On to Page Two

Back to the Top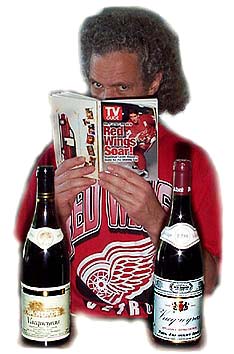 By Bastardo


1996 Chateau du Trignon Gigondas
1996 Domaine le Sang des Cailloux Vacqueyras
1997 Domaine le Sang des Cailloux Vacqueyras
1994 Le Mas des Collines Gigondas
1995 Le Mas des Collines Gigondas
Part 2
1998 Domaine Les Pallieres Gigondas
1996 Chateau de Saint Cosme Gigondas
1996 Domaine la Garrigue Vacqueyras
1996 Paul Jaboulet Aine Vacqueyras Reserve Personelle


Underground Index

Wine Probation © Defined
A Chat with J.C. Mathes of J et R Selections
More Red Wings &
Red Rhones '02-'03
Red Wings & Red
Rhones '02-'03
Playoff Diary '02
Welcome Home Stanley!!!
A Dandy Rhône and a Night at the Joe