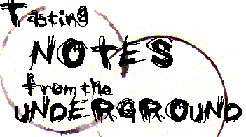 Red Wings and
Red Rhônes '02
Playoff Diary
WELCOME HOME, STANLEY!!!
PART 2


Game 3 - Carolina Hurricanes vs. Detroit Red Wings, Saturday, June 8, 2002, Entertainment and Sports Arena, Raleigh, NC: It was a game for the ages, maybe TWO games for the ages. Or maybe it was just a game that took ages to complete; whatever the case, Igor Larionov was the hero for Detroit, scoring the game winner (his 2nd goal of the game) at 14:47 of the 3rd overtime period. He became the oldest player to score in a Stanley Cup Finals game, at 41 years of age, and the game itself was the 3rd longest in NHL Finals history. Once again, it was tight checking throughout, with Carolina jumping out to 1-0 and 2-1 leads. It looked grim for the boys from Day-twah, until Brett Hull redirected a shot from Nicklas Lidstrom with only 1:24 left in regulation time. The 'Canes stifling trap defense and shot blocking continued to stymie Detroit, and when opportunities did present themselves, the Wings couldn't seem to find the net, hitting the goal post or crossbar 4 times. The home team got some chances of their own, but Dominik Hasek made the big saves when he had to. It was an exhausting game to watch, and it required lots of Red Rhône mojo.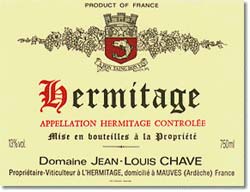 1989 J. L. Chave Hermitage, 13% alc.: We enjoyed this lovely dark garnet the night before the game at the home of Steve and Robin Kirsch, and it was absolutely stunning. Our host described the aromatics as "like a bouquet of flowers; violets, with a little licorice running through the core." Indeed, it is very fragrant, showing added notes of bacon fat over plum, with a hint of chocolate. These follow through on the palate, with a little less chocolate, some garrigue and a slightly vegetal nuance that's a plus, not a minus. There's deep rich fruit here, some good tannins still, excellent acidity, and a long beautiful finish, as the wine continually evolves in the glass. As it opens, the complexion changes to a blend of saddle leather, smoke, bacon and plum; a little while later, a note of iodine emerges and Steve added impressions of "a little cigar smoke and big fat cherry red fruit." My final impressions were those of smoke, Brasso ® and bacon. We've been most fortunate to taste some incredible wines over the last month or so, and this would rank among the very best on a long list.
Imported by Rave Associates, Inc., Ann Arbor, MI
On game night, we visited our friends Errol and Patty Kovich for dinner, a lineup of fine Châteaneuf du Pape, and of course hockey. Their friends Jurg and Felicia joined us, and some major mojo went down.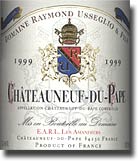 1999 Domaine Raymond Usseglio & Fils Châteauneuf du Pape, $29.99, 14% alc.: Dark garnet turning pink at the rim, this features a fragrant plum and blackberry nose with a hint of smoke that needs a little coaxing to emerge from the glass. Flavors echo on a full bodied frame, with added leather and garrigue, some significant tannins, good acidity and a nice finish. After tasting through the rest of the field, I returned to this and found that it had opened nicely, showing lots of red fruit. It has a fine future ahead of it; try it in 5 years and see how it's coming along.
A Peter Weygandt Selection; Imported by Weygandt-Metzler, Unionville, PA
Errol contributed the next 3 selections, and they were excellent across the board.
1995 Clos des Papes Châteauneuf du Pape, 14% alc.: This deep dark garnet beauty is showing the very faintest hint of rust, along with a cascade of aromas including smoke, plum, blackberry, leather and a hint of violet; Errol mentioned "a lot of herb de Provence - garrigue," and he was spot on. These follow through on the palate, being more forward than the Usseglio; tannic and powerful, it has good acidity and a long finish that the tannins can't completely restrain. Patty said it's "a little barnyardy," and Kim added, "but it's a GOOD barnyard." This really opens in the glass, and a good dose of cola comes out with air, but it still has its best days ahead of it, promising to become a charming, elegant wine in 5-8 years. Serious Chateauneuf du Pape here.
1997 Ravenswood Sonoma Icon, 74% Syrah, 17% Grenache, 9% Mourvedre, 14.2% alc.: Errol threw this Left Coast number into the mix, and it didn't seem to mess with the mojo at all. So much the better, eh? Dark garnet, turning pink at the rim, this has just a bit of the barnyard over big, perfumed toasty oak, sweet plum, black raspberry and blueberry flavors and aromas. There're still some tannins to resolve, good acidity and a fairly long, somewhat tarry finish. I was quite surprised when Kim declared it "a little oaky" for her tastes. It seems she's really developing a taste for those "dog-shit French wines."
1989 Château de la Gardine Châteauneuf du Pape, 13.4% alc.: This dark garnet still shows barely a hint of brick, with leathery garrigue, plum, prune, strawberry and raspberry character, shaded with hints of tobacco and rhubarb. Easily the earthiest, least fruit forward of the bunch, it is nevertheless a treat for just that reason. It still shows some unobtrusive tannins, good acidity, and a pretty long finish. I liked this a lot, but never got a 2nd taste because it was sucked down quickly, and that should speak volumes regarding its appeal.
Many thanks to Steve and Robin Kirsch and Errol and Patty Kovich for their fine hospitality AND their major contributions to the mojo!
Game 4 - Carolina Hurricanes vs. Detroit Red Wings, Monday, June 10, 2002, Entertainment and Sports Arena, Raleigh, NC: It was all Red Wings in Game 4, as Detroit completely dominated the 'Canes, 3-0. The Wings played a stifling defense, allowing only 17 Carolina shots on net, helping Dominik Hasek to extend his record to 6 shutouts in a playoff year. Goals by Brett Hull (his 100th career playoff tally), Igor Larionov and Brendan Shanahan took the wind out of the Hurricanes, setting up the possibility of clinching Lord Stanley's Cup in Game 5 on Thursday in Day-twah.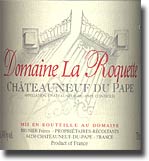 1998 Domaine La Roquette Châteauneuf du Pape, $23.99, 14% alc.: We took a bottle of this dark garnet to Errol and Patty's house on Saturday, only to find it corked, so I had it replaced by the retailer and opened it for this game instead. The pretty smoke and red currant nose needs to be coaxed out of the glass, and shows a bit of heat. Impressions are consistent on the palate, with an added note of cola, lots of acidity and significant tannins that clamp down on the finish. This is a tight young wine, even after two hours in a decanter, and the heat and acidity combine to create a somewhat searing byte. It starts to open more around hour number 3, smoothing out a little and gaining more cola as it opens. This is a decent Châteauneuf that will benefit from at least 5 years in the cellar, if not longer, but not one that I'd be inclined to buy again.
Imported by Seagram Chateau & Estate, New York, NY
In fact, I went to the well (or the cellar from h3ll, as the case may be) and opened another 2000 Domaine le Sang des Cailloux Vacqueryas Cuvée Azalaïs for the 3rd period. It continued to show its powerful mojo, as the Wings got their 2nd and 3rd goals and put the game away.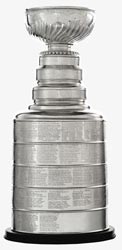 Game 5 - Detroit Red Wings vs. Carolina Hurricanes, Thursday, June 13, 2002, Joe Louis Arena, Detroit, MI: The Red Wings won the Stanley Cup with a hard fought 3-1 victory. It wasn't the prettiest game ever played, but Detroit did what they had to, by playing an even more stifling defense than Carolina, and cashing in on key opportunities. Brendan Shanahan shed the snakebitten image that had dogged him throughout the last two series by scoring both the game winning and insurance goals. Nicklas Lidstrom won the Conn Smythe Trophy as the Final's Most Valuable Player, and when asked to comment, Captain Steve Yzerman stated frankly, "He could have won it in '97 or '98; he's been our best player for a long time." Coach Scotty Bowman announced his retirement immediately following the game. Nothing like going out on a winning note!
Much has been made of how this was the "best team that money could buy," and the names on the roster of the new Stanley Cup Champions will do nothing to dispel that notion. Still, the high profile players, Hasek, Hull and Robitaille, WANTED to come here, and all throughout the long season and playoffs, there were none of the ego clashes that might be expected from such a lineup of stars. All this might still have gone for naught, but for the fact that, like their Stanley Cup winning teams of '97 and '98, the Wings were able to skate through the playoffs relatively injury free.
And I like to think that a little Red Rhône mojo helped some too…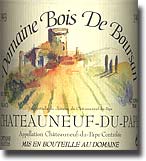 1993 Domaine Bois de Boursan Châteauneuf du Pape, $20.99, 13.5% alc.: I suppose I could have gone for some big names for this game, like Beaucastel or Vieux Telegraphe, but we happen to like this producer and hadn't had these particular selections before. This ruby dark garnet is showing just a hint of rust to go along with a big effusive bouquet of smoke, spice, prune, plum, blackberry and earth that follows through in the flavors. There're still plenty of tannins and acidity here, and it finishes a bit stemmy. It opens and smoothes out with air, gaining notes of Brasso ® and pepper, but another 3-5 years won't hurt it at all. A solid Châteauneuf du Pape, and no doubt!
Imported by J et R Selections LTD., Mount Pleasant, MI.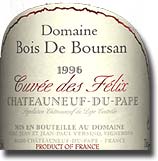 1996 Domaine Bois de Boursan Châteauneuf du Pape Cuvée des Félix, $26.99, 13.5% alc.: The new oak treatment of this dark garnet is obvious from the very 1st whiff, with its toasty vanilla over deep dark plum and black currant flavors and aromas. The oak creates a smooth mouthfeel that tempers the tannins and acidity, but it also lends a certain homogenous quality that masks some of the Châteauneuf character. As it opens, some raspberry, cherry and a hint of rhubarb emerge, along with some muted root beer on the nice finish. Like the previous wine, 3-5 years will only help this get even better. Perhaps surprisingly, I like this quite well, despite its "international" styled profile. Nothing wrong with a little variety now and then, eh?
Imported by J et R Selections LTD., Mount Pleasant, MI.
And so, another long NHL season is over, and once again, the Stanley Cup is right where it belongs, in Day-twah. It remains to be seen what the makeup of next year's team will be, but for now, we'll savor the delicious taste of victory, and wash it down with another fine Red Rhône.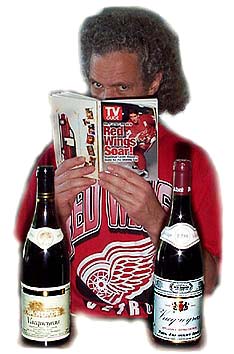 By Bastardo
PART 2
1999 Domaine Raymond Usseglio & Fils Châteauneuf du Pape
1995 Clos des Papes Châteauneuf du Pape
1989 Château de la Gardine Châteauneuf du Pape
1998 Domaine La Roquette Châteauneuf du Pape
1993 Domaine Bois de Boursan Châteauneuf du Pape
1996 Domaine Bois de Boursan Châteauneuf du Pape Cuvée des Félix
PART 1
1995 Bernard Chave Crozes Hermitage
2000 J.L. Chave Saint-Joseph Offerus
1997 Coudoulet de Beaucastel Côtes du Rhône
1998 Perrin Châteauneuf du Pape Les Sinards




Underground Index

Wine Probation © Defined
A Chat with J.C. Mathes of J et R Selections
More Red Wings &
Red Rhones '02-'03
Red Wings & Red
Rhones '02-'03
Playoff Diary '02
Welcome Home Stanley!!!
A Dandy Rhône and a Night at the Joe