S U M M E R 2 0 0 1
T A S T I N G N O T E S
The folks at William Grant and Sons, Inc. sent us three new releases from Barone Ricasoli a few weeks ago, and after letting them rest up some from their journey, we gave them a try. Iím happy to report that all three were well received, and as youíd expect, they got better as the price point increased.
1998 Barone Ricasoli Formulae, $12.99, 13% alc.: This dark garnet is 100% Sangiovese and features aromas of dried bitter cherry with a vague hint of menthol. Flavors echo and fill out with some added plum, good acidity and toned down tannins; not too complex, bit pleasant and ready to drink now with Aunt Carmellaís lasagna or Uncle Wishboneís burgers.
1998 Barone Ricasoli 1141 Chianti Classico, $14.99, 13% alc.: A ruby dark garnet with dried bitter cherry/black licorice flavors and aromas that show richer fruit and more oomph than the Formulae. Like the first wine, this has good acidity, and isnít too tannic. Nice stuff.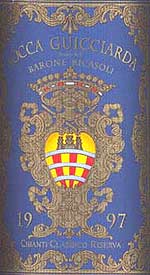 1997 Barone Ricasoli Rocca Guicciarda Chianti Classico Reserva, $18.99, 13.5% alc.: This dark garnet kicks it up a notch with big dried bitter cherry/black cherry/blackberry flavors and aromas that show hints of licorice and iodine. Richer and more tannic than the 1141, with the typical acidity and the best finish of the three. Good aging potential here too, at least five years worth.
These wines are chewy and stain the glass, which is a good thing in my book, and each improves with extended air.
1993 Fermoy Estate Cabernet Sauvignon Margaret River (Australia), 13.5% alc.: This was the third time that Alan Kerr AKA Canadian Zinfan has opened one of these dark garnets for us over the past three years, and it just keeps getting better. Thereís a good dose of vanilla/oak over black currant on the nose, with occasional wisps of White House ice cream and coconut. Flavors take on added black cherry, on a dense, chunky frame; itís not too tannic, with good acidity. Kerr went on a roll, reeling off impressions of "pure, beautifully balanced black currant/hint of cedar/glycerin/ spearmint/just a little scrumpy apple/a lot of coconut/fresh blueberry/coffee, coffee, coffee; not as sweet and fleshy as some Aussie Cabs." This still has a few more years left to develop, but itís damned tasty right now. Cheers, mate!
1997 Estancia Alexander Valley Meritage, $27.99, 59% Cabernet Sauvignon, 30% Merlot, 11% Cabernet Franc, 13.5% alc.: We hadnít had one of these in at least five vintages, going back to when they were selling for $12.99 (much like Chateau St. Jean Cinq Cepages); even then, we werenít particularly fond of oak-bombs. I finally broke down, and decided to give it another try; live on the edge, and all that, you know what Iím saying? What we found was a dark garnet that was all about sweet oak/coconut/vanilla/toast/red currant, both in flavor and aroma. Some milk chocolate comes out with air, on a full bodied, creamy smooth, fairly low acid frame. There are some tannins lurking under the cover of all that cream and coconut, but the fruit (described on the back label as being "Öthe highest qualityÖfrom the Alexander Valley") is all but obliterated by the wood. Obviously, little has changed with this producer in the last half decade, as this is mostly a coconut/chocolate milkshake, with alcohol.
1999 Ridge Lytton Springs, 70% Zinfandel, 17% Petite Sirah, 10% Carignane, 3% Mataro, $30, 14.5% alc.: We finally got our first taste of one of the "regular" í99 Ridges and we werenít disappointed. Typically dark garnet, it shows "all that Draper perfume," with a kaleidoscope of dark berries, a pretty kiss of oak and a hint of lavender. Flavors echo with a creamy texture, despite a youthful tannic, acidic byte; there is a claret-like quality to this as well. Big fruit, but tight right now, and maybe just a little hot. Lots of promise here, and a big step up after the underachieving í98.
1992 Ridge Paso Robles Zinfandel, $12: I didnít get a chance to write down the particulars regarding the alcohol content of this beauty, so sue me. All I know is that it rocked like crazy and was a steal. Still a deep dark garnet with an explosive nose of varnish/saddle leather/plum and what Alan Kerr described as "pure squished blackberries and dark chocolate with sour black cherry, like a Black Forest cake." These followed through on the palate, eliciting added comments of "like a concentrated jam without sugar added," and "American spoon fruit" from Kim, and "blackberry/blueberry coulis/walnut shell/walnut oil/slate and a ribena(black currant cordial) finish" from Kerr. It had good acidity and some tannins still to resolve, yet it was oh so enjoyable. Just an amazing wine, one of the best weíve had this year.
1998 Dashe Cellars Alexander Valley Zinfandel Todd Brothers Ranch, 88% Zinfandel, 7% Carignane, 5% Petite Sirah, 14.5% alc.: "Dense, rich scarlet/ruby/ purple," according to the Zinfan, with "subtle, pretty spicy oak over big plummy/ blackberry" on the nose; I added notes of vanilla/maple syrup. Jammy flavors echo in a big way, with added black cherry, dense concentration, a few years worth of tannins, and some stems and a little tar on the finish. This is a wine we really should have waited on, but how were we to know? Many thanks to califusa for one of the best í98 Zins weíve had.
1997 Seghesio Sonoma Zinfandel Old Vines, $25.99, 14.3% alc.: Ruby dark garnet; hint of Bret blows off, leaving subtle oak and coffee on the nose. Flavors echo, and gain some prune/plum, but not much berry at first; sweet oak maple/vanilla emerges with air, turning a little sour, along with some blackberry. Scott the Geek noted "a hint of anchovies;" pretty good Zin, and ready to go.
1995 Marietta Cellars Angeli Cuvee, a blend of Zinfandel, Petite Sirah and Carignane, $23.99, 14.5 % alc.: Deep dark garnet, with a rich dark berry bouquet that explodes from the glass; the oak has integrated nicely since our last report. The flavors follow through, but itís not as sweet as it once was, being drier and seeming more balanced. As it opens in the glass, the spicy dark berry/black currant fruit shows some nice cough drop overtones and briar/bramble nuances. Tannins are mostly resolved, with good acidity and a nice finish. Thereís still a hint of the heat noted previously, but itís not bothersome. A very nice wine that should continue to mellow and improve for a few more years.
1998 Carlisle Russian River Valley Two Acres Red Wine, $32, 15.4% alc.: This dark garnet is described as an "old-vine blend of Mourvedre, Petite Sirah, Valdepenas, Refosco, and Alicante Bouschet." Dusty plum/blackberry/black raspberry/chocolate nose, with a floral perfume thatís not quite as ebullient as Mike Officerís Zins. Flavors echo, but thereís still at least a few years worth of tannins to resolve, as well as zippy acidity. May be approachable now, but weíll sit on our last two until í03 or í05. Great promise here.
1997 Ponzi Willamette Valley Pinot Noir Reserve, $19.99, 13% alc.: Kim and I came upon this ruby dark garnet at Century Liquor in Rochester New York during a recent road trip with some Canadian maniacs. I looked at the price tag and told her "I guarantee you, thatís NOT the price of that wine; it goes for $59.99 in Day-twah." As it turns out, I was wrong; the local distributor was dumping it to make way for the Ď98s, so we bought a case, which got us even MORE $$ knocked off the top. We couldnít even wait a week for it to settle down before trying one, and we werenít disappointed. The pretty candied black cherry bouquet shows overtones of oak and undertones of smoke, with some sea air mixed in the middle. The flavors echo, but at first, the significant tannins give off a stemmy quality. Thereís good acidity here and a reasonably long finish. It probably needs 3-5 years, but like many fine Pinots, it really opened up after four hours of air. I wouldnít be afraid to open another in the near future, but Iíd probably decant it six hours before drinking. Best damned $17 Pinot Noir Iíve ever had!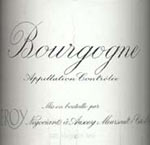 1995 Leroy Bourgogne, $19.99, 12.5% alc.: I gave this ruby dark garnet six hours in a decanter before we poured ourselves glasses, and it took another three before it opened up to really show what it had. The nose was fairly constant, with big smoky black cherry/mineral, and hints of matchstick and forest floor, and while the flavors generally echoed, there was a decided green, vegetal streak that detracted for the first glass or so. It eventually dissipated, leaving pure, rich fruit with good concentration, and a good hit of earth; even now, this is impressive, despite enough tannins and acidity to warrant another five years in the cellar. A little chocolate emerges at around the eight-hour mark, and it has good hang time on the finish. Iíll buy more of this, as thereís still a nice little stash left in an out-of-the-way place in our neighborhood, and I wouldnít be averse to opening another in the near future. I'd just give it twelve hours in the decanter before pouring a glass!
1995 Remoissenet Beaune-Greves Premier Cru, 13.5% alc.: Alan Kerr pulled this Burg out of his bag of tricks for us. Ruby garnet, showing a slight bit of amber; flavors and aromas of spicy, slightly sweet black cherry, with hints of raspberry/cinnamon/ forest floor/smoke that come out with air, and some coffee on the finish. Medium body, and not at all heavy, but rather elegant, and light on its feet. Reasonably long finish, and still some silky tannins to resolve. Three hours after opening, a pretty perfume with a subtle rock Ďní rye/cola note emerges. Nice stuff.
1998 Domaine Clavel La Copa Santa Coteaux de Languedoc, $25 Can., 14% alc.: Alan Kerr picked some of this up for us in Ontario, since we never seem to see it in Day-twah. It looks like ink, and it pours like ink, being an almost opaque purple dark garnet, and rather thick and viscous. Thereís a pretty plum/blackberry/black currant perfume on the nose, with big flavors to match, at least as much as the significant tannins will allow at this point. Good acidity here, and a note of dark chocolate emerges with air. Itís not too complex now, and turns a little stemmy on the finish, but five years or so in a cool, damp cellar should correct that. It does open nicely with a few hours of air, causing Kim to gush, "I really like this! Itís like the good old days."
1988 Fattoria di Felsina Berardenga Chianti Classico Riserva $34.99, 13 % alc.: This dark garnet is just showing the barest hint of brick, the first indicator that it has yet to peak. The dried, spicy black cherry/licorice/leather/smoke/cedar nose has a subtle overtone of bleach water that blows off quickly, and the flavors echo, with good concentration and intensity, the requisite acidity, some tannins left to resolve and a little tar on the lingering finish. The cedar element is pronounced and aromatic, like my motherís old storage chest. This is a solid, satisfying CCR, and I donít mean Creedence. A fair price, considering the age, and it has at least a few years of improvement.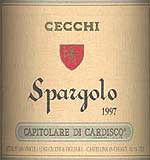 1997 Cecci Spargolo Capitolare de Cardisco, approx. $30, 13% alc.: Scott Tobias AKA The Geek showed up recently with a bottle of this dark garnet Tuscan. The back label said that it spent 18 months in large oak casks, and another six in barrique, but made no mention of varietals. It shows a striking bouquet of dried black cherry/licorice and hints of coffee/leather/iodine, which follow through in the flavors, with the requisite acidity, and not too much tannin. The oak was rather understated, and the wine was a solid accompaniment to Kimís excellent mushroom risotto. The Geek described it as being "very silky," and liked it better when it was first poured than when it had aired a bit. Kim and I liked it fine throughout. Donít know that Iíd buy another at this price though; it didnít quite seem like $30 worth of wine.
1999 Cloudy Bay Sauvignon Blanc Marlborough, $22.99: Pale straw, with a bright grapefruit/lime/mineral nose that follows through in the rich, full flavors; creamy thick, and a little viscous, yet with racy acidity, and a nice long finish. The only bottle of this vintage that Iíve been able to find, and I had to travel to that wine Mecca known as Toledo, Ohio. Really great young Sauvignon!
1999 Brancott Marlborough Sauvignon Blanc Reserve, $12.99, 13% alc.: Medium straw, with straightforward but aggressive grapefruit/lime/pine flavors and aromas with subtle overtones of cream and mineral. Big time acidity is almost a shock upon the first sip. Lots of concentration and intensity, with a fairly long finish, but not too complex right now. Has all the guts and zip to sit and develop for a while. The Costco price is $4 less than anywhere else in Day-twah. Good stuff!
2000 Brancott Marlborough Sauvignon Blanc, $10.99, 12.5% alc.: Pale-medium straw, with correct grassy grapefruit/lime flavors and aromas that take on some added mineral on the palate. Zippy acidity keeps it lively, and while itís perfectly acceptable, itís nothing special and the QPR is only so-so. I wouldnít buy more unless there was a good discount.
2000 Babich Marlborough Sauvignon Blanc $12.99, 13% alc.: Pale straw, with a nice grapefruit/lime/mineral/pine bouquet that is nowhere near as ebullient as the excellent í99; impressions are the same on the palate and it loses something on the finish. Has the requisite racy acidity, but given the price increase, this is a disappointment.
1997 Domaine Thomas Sancerre Ultimus, $25.99: This medium straw Sauvignon shows straightforward, if unremarkable grapefruit/mineral/hint of pine flavors and aromas that take on an increasingly obvious note of oak and cream as it continues to open with air. Some of the intensity of entry is lost on the mid-palate and finish, but lemon squirt acidity keeps it lively. This would be more palatable if it cost about $8 or $9 less, but there would still be better Sancerre around for the same price.
BACK TO THE INDEX