I asked Frank how he happened upon the wines in the first place.
"I got the wines at the KCBX Grand Tasting silent auction--I think in 1997. It was stored in our "passive" cellar from heck ever since. KCBX is the public radio station in San Luis Obispo, CA. For about 15 years now, they have run a wine event in early July. The current version lasts for about a week and includes all sorts of tastings, winery dinners, cooking demonstrations etc., etc. etc. It's a fine event and I recommend it to any one who can get to it.

I bid successfully on two of the Paragon lots (the other went to my friend Dave Marsh). As I recall, my bid was not all that high (I think $85, but I could be off a little) and even so all of the lots did not sell. (In retrospect, of course, I wish I had bought more.) To my knowledge they've not done anything like this in subsequent years—even though I think "same grapes/different wine makers" is a great concept and something KCBX is in a good position to do. Come to think of it though, we haven't been to the grand tasting (it's the final event of the whole two week deal) for the last couple of years, so maybe that have done something like it recently.
The wines were tasted along with a variety of food, including, grilled sausages, stuffed mushroom caps, salmon-arugula balls and an assortment of bread and cheeses.
We got things started with some white stuff.
1997 Adelaida Pavanne Paso Robles, 15.2% alc.: Frank has found some most interesting wines at this winery, and this medium straw to pale gold Chenin Blanc is a perfect example. Toasty oak dominates the pear aromas; flavors echo and explode on the palate with some spicy character, good viscosity and acidity and a long finish. Showing nice complexities with five years of age, this is still on the way up, and while oakphobes may not like it, we sure do!
1997 Flowers Sonoma Coast Chardonnay Camp Meeting Ridge Moon Select, 14.2% alc.: We've had a few of these medium golds in the cellar from heck for a few years now, without ever having tasted any, so I thought this would be the perfect opportunity to uncork one. There's oak here, to be sure, but it's restrained, with that subtle "yeasty" note that I get consistently (and really enjoy) from Flowers wines. There's more pear than pineapple on the nose, and the flavors echo with good acidity and a dry character. It's not as intense as I expected, and that's not a bad thing. Some butterscotch notes come out as it opens, and it has a reasonably long finish. Maturing nicely, I'd drink it over the next year or two, but it didn't last long on this afternoon.
Before moving on to the main event, Ray and Eleanor had a couple of "mystery wines" for us to taste. Both wines were disguised in plain brown wrappers.
Mystery Wine 'A': Ruby dark garnet with a pretty feminine smoky black cherry perfume that echoes in the soft flavors. Lindsey mentioned "floral narcissus" while Eleanor noted "brown spice," saying "the nice oak makes the fruit shine." The tannins are fully resolved, with enough acidity to keep it lively and lovely. Kim guessed correctly that we were swooning over something from Rochioli. 1994 Rochioli Russian River Valley Pinot Noir Three Corner Vineyard, 13% alcohol.
Mystery Wine 'B': This somewhat rusty ruby garnet is considerably less fruit forward than the Rochioli, with earthy, smoky black cherry flavors and aromas shaded with hints of cola and forest floor. Soft tannins and good acidity make this another candidate for current consumption, especially with food. Kim and I figured correctly that it was some kind of red Burgundy, but beyond that we didn't have a clue, and neither did anyone else, really. 1993 Mongeard-Mugneret Echezeaux Villes Vignes, 13% alcohol.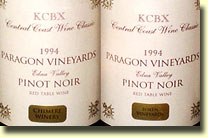 Finally, we were ready to get to Frank's lineup of Paragon Vineyard Pinots (as if the wines we'd already sampled weren't excellent). All six bottles were labeled as follows: 1994 KCBX Central Coast Wine Classic Paragon Vineyard Edna Valley, Cellared and Bottled by Edna Valley Vineyards. No alcohol percentages were given.
Au Bon Climat: Ruby garnet with just a hint of brick; fragrant earthy smoky black cherry bouquet follows through on the palate with a nice hint of earth on a medium bodied frame. There're still some tannins to resolve here, and good acidity, but this has a pretty feminine quality to it, and it gains more and more toast as it opens (straight from the toaster, unbuttered).
Lane Tanner: A slightly paler ruby dark garnet than the ABC, with a hint of brick; earthy, smoky black cherry flavors and aromas with a bit of what Eleanor described as "white pepper." Thicker, denser and more substantial than the ABC, some tannins to resolve and good acidity, this is just a lovely Pinot.
Sanford: A cloudy ruby dark garnet with obvious oak on the nose; spicy sea air, smoky cola and black cherry flavors and aromas. Eleanor wondered if this wasn't unfined and unfiltered, and we both agreed that this doesn't finish.
Foxen: Ruby garnet with the faintest hint of rust; flavors and aromas of earthy, smoky black cherry accented with some Rhône-like garrigue. Some tannins, good acidity and a decent, though not overly long finish. Some nice complexities here; I like this.
Chimere: Even cloudier ruby dark garnet than the Sanford, with a nice spicy oak, smoky black cherry bouquet, but the flavors really fall off, with an unattractive oxidized quality about them. The big loser of this group.
(Frank later had this to say about the Chimere: "The Chimere Winery bottle which flunked the "drained to the last drop" and other tests at our tasting actually came around quite nicely over the ensuing two days. While it would doubtless have still fared poorly in the formidable head-to-head competition, it was quite all right on its own.)
Edna Valley: Ruby dark garnet with very little brick to speak of; the sea air, chocolate, black cherry nose seems a bit diluted. Flavors generally echo, with soft tannins, good acidity and a hint of tar on the decent finish.
Lucky Frank for being in the right place at the right time to get his hands on these wines! In case it isn't obvious from the notes, here's the order of preference of most of the participants:
Lane Tanner
Au Bon Climat
Foxen
Sanford
Edna Valley
Chimere
There was yet one more bottle on the table, and we were not about to let it go untouched, especially those of us who already knew something of its contents.
1997 Flowers Camp Meeting Ridge Pinot Noir, 13.8% alc.: This ruby dark garnet is ever so slightly cloudy, and shows that typical yeast and oak, smoke and black cherry plum character that you get from Flowers Pinots. There's good acidity and still some tannins to resolve, but not so much so that you can't enjoy it now. It's not big on the finish, and to be honest, it pales in comparison to the Rochioli, ABC and Lane Tanner.
This was one of the most interesting tasting that Kim and I have been to in quite a while. Given the nature of the lineup of wines, how could it not have been?! It proved to be an excellent mix of people and observations, and a grand time was had by all. Many thanks to Frank and Mary Ann for hosting such a special tasting, and thanks also to Patrick, Lindsey, Ray and Eleanor for adding so much to the festivities!
January 2002