One of Kim's facebook friends wrote, "We drove past those tented masses on our way to a family outing over there. 1 mile of packed tents and cars a 1000 feet deep. We could hear the bass rolling over the fields to compete with waves lapping on the shores of Lake Michigan as we slept. Lets hear those stories, lets see those pictures."
Overheard by various young men walking through our camp ground or out in public on the way to the shows hawking their wares -- "Molly, Doses, Deemsters..."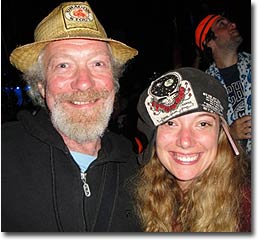 When my daughter Rosie (left, with dad, Photo courtesy of Ivan Beauvalet) asked my wife Kim and me if we would consider joining her in attending the Rothbury Music Festival over 4th of July weekend in Rothbury, Michigan, we weren't exactly sure how to respond. Despite finding the prospect quite intriguing, even appealing, as 50- somethings, we are well beyond our prime days of sex and drugs and rock & roll. We honestly weren't sure how we'd be able to cope with spending 4 days camping in a sprawling parking lot horse pasture with more than 35,000 Deadheads. 25 years of suburban security will do that to you, but still, the idea kept nagging at the back of our minds and the matter was finally settled when Kim exclaimed, "The only way I'll go is if I can have my own private toilet." Shortly afterward, she bought a Lug-a-loo at the local Army surplus store and an outdoor shower tent that served as a private outhouse and our lot was cast.(Interestingly, a neighbor a few cars down from our camp site would have the same set up.)
Rosie had actually wanted us to join her for the inaugural Rothbury in 2008, but we were never able to make that happen. That event was a huge success by most standards, especially with regard to fan raves and many of the performers themselves, who called it the finest outdoor venue they'd ever played. But, Rothbury 2009 almost never happened. The festival site, the Double JJ Ranch, was mired in bankruptcy proceedings, but, when the judge finally approved the deal that cleared the way for this year's happening last January, all was good.
Kim planned brilliantly for over a month, preparing for every conceivable aspect of our counter-culture adventure. She cooked the entire day before we departed so that we'd have enough food for ourselves, Rosie and anyone else who might join us for meals.
When we arrived at the festival site on Thursday, July 2, we waited in line for about an hour and a half to get in (compared to the more than three hours it took to get out of the place on Monday). We arrived at around 9:30 in the morning, to be greeted by a number of vagabond hippies looking to score tickets to the event any way they could. Young people were already sucking down beers, and because of the glass bottle ban, they were also draining wine and whiskey bottles that they'd supposedly not be allowed to take in with them. It was pretty crazy and set the tone for the entire weekend.
Glass is expressly forbidden at Rothbury, so we took three 3-liter bag-in-a-box rosés from Provence and a 12-pack of Heinekens in cans. (You can't take alcoholic beverages into the concert venues, so we had to buy those from the vendors.) When our gang all but killed the 1st box on day one, I was worried that we hadn't brought enough, but as it turned out, we ended up bringing one home still unopened. Once we were set up in the camp grounds and had the chance to explore, it was pretty obvious that there was no shortage of glass bottles in plain view (along with a number of supposedly banned dogs which were obviously NOT service dogs), thus raising a number of questions, not the least of which was, "What's up with that?!"
When we arrived at our campsite, my first task was to pick up the ubiquitous piles of horse manure, as the entire camp ground was smack dab in the middle of a horse pasture. Shit was everywhere!! I collected a full shopping bag, which I saved and brought home for my compost piles. After that, we were set up by noon and we decided it was time for lunch and a glass of rosé.
The Wine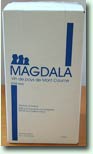 Comptoir de Magdala Vin de pays de Mont Caume Rosé
, 13% alc.: About $28 per box; apparently NV, no vintage listed. Pale peach pink and medium body plus. Friendly dusty strawberry, watermelon and mineral flavors and aromas. Good balance and cut with a nice lingering finish. Perfect for a warm summer's afternoon and/or evening. ~ Jenny & Francois Selections ~ Imported by USA Wine Imports, New York, NY
Find this wine
Camping turned out to be more comfortable and less cramped than we had feared, based on information gleaned from the Rothbury website. Kim and I took two cars in order to have more space, so combined with Rosie's, we were three cars deep, with plenty of room for our canopy, toilet tent and sleeping tents. Kim and I slept in the back of our Honda Element, which turned out to be surprisingly cozy. Our neighbors to one side were mostly well mannered, but they left in the middle of the night on Sunday leaving a pile of belongings, seemingly because it was too dark or they were too stoned and drunk to see them. Fortunately, there were a number of roving scavengers who availed themselves of whatever they found useful, including shoes, frying pans, sun glasses and items of clothing. There was one guy in back of us who would start screaming for more beer or more "doses" at all hours of the night and morning, and the kids on the other side of our camp, while friendly enough, were, shall we say, less than domestic with regard to their campsite. Nevertheless, we maintained an orderly campsite, open to any and all and Kim fed more than a few hungry, hung over visitors.
Overheard: "Boomers - $25 bucks..."
The Music
One of the main reservations I had for attending Rothbury was that, beyond
Dylan
,
The Dead
and
Willie Nelson
, I simply was not familiar with many of the other performers at all. I had no idea what to expect, and in the end, simply went to spend time with my daughter, Rosie, whom I can never get enough of. As it turned out, I discovered some very exciting bands and performers, starting with
Lotus
and
The Disco Biscuits
on Thursday evening. Rosie suggested that we stand next to the sound booths of the respective stages for the best sound, and that MO served us well all weekend.
Lotus
are riffy, repetitive and occasionally one-dimensional, but they lay down such an intensive groove, that I found it impossible not to get sucked right in. The only vocals heard from them seemed to be sampled and/or pre-recorded.
The Disco Biscuits
are much in the same mold as Lotus, if perhaps a little less impressive to this listener. I found their music to be almost trance-like, but thought they lost some momentum over the last 30 minutes or so of their show.
My overall impression of both these bands is that they seem to have distilled the essence of the peak of a Grateful Dead jam, which they then proceed to maintain throughout their entire sets. Pretty solid stuff!
We screwed up by not bringing the video camera to the
King Sunny Ade and his African Beats
performance
on Friday afternoon. Not only is King Sunny a legendary and charismatic performer of infectious African dance music with a brilliant back-up band, he also brought out two amply bottomed ladies clad in tight black skirts late in his set, and they shook those things in a way that left no doubt as to what they were trying to convey. One of the highlights of the weekend, to be sure.
Rosie tells me that
String Cheese Incident
is the group that many Dead fans started following after Jerry Garcia passed away, and this was their first performance in 2 years, because they've been engrossed with side projects. This band shows lots more roots than either Lotus or Disco Biscuits, especially with respect to country music. They had obviously spent considerable time rehearsing, as their music was flawlessly performed during their 2 sets on Friday night. Just as impressive however, was the spectacle that accompanied the music, which Rosie says they are well known for. Shortly after their 2nd set began, huge beach balls of various sizes and colors began to appear above the crowd in front of the stage, no doubt planted by the bands' people. Before we knew it, there were so many of these balls being bounced up and around, we literally could not see the stage and had to look at the big video screens in order to see the players. Add to those an endless shower of hundreds of glow sticks, Cirque du Soleil-like acrobats performing on long cloth devices suspended from the top of the mammoth stage, fire dancers and hula hoop performers and you had some of the most dazzling eye candy I've ever been privileged to witness. Dozens of paper lanterns suspended with small fire generators were also released from the sound booth area to gently float higher and higher above the crowd and away off into the distance. The music reminded me of a blend of
The Dead
,
Steely Dan
,
Paul Simon's Rhythm of the Saints
dosed with bluegrass and even a quality dash of smooth jazz in one particular song. Even the few songs that I didn't particularly care for in and of themselves were so well arranged and expertly played, I couldn't help but enjoy listening for those reasons alone. Rosie and I also agreed that guitarist- fiddler Michael Kang is drop-dead gorgeous.
I took the opportunity to watch and listen to
Zappa Plays Zappa
on Saturday afternoon. Dweezil Zappa carries on his father Frank's musical legacy admirably, being every bit as much a smokin' mofo on guitar as the old man and having the knack of putting together a crack band that is up to the challenge of playing some very complex music, much of which probably goes right over most of the audience's heads. Still, everyone responded enthusiastically to songs like "Don't Eat the Yellow Snow" and "Willie the Pimp." One of the real treats of the festival.
The
Black Crowes
played just before The Dead on Saturday night, and while I know that Rosie disagrees, Kim and I both found them to be boring, so I'll just leave it at that.
By the time The Dead started their first set, there were literally thousands of young people thronging toward the stage. It got so packed that
Kim had to leave Rosie and me because she was becoming claustrophobic. She moved to the back of the meadow, where she watched and photographed naked hippies dance to the music, and when she finally left, she says there were still thousands of people trying to make their way into the concert venue. It was a staggering scene.
The Dead
played a mostly solid two sets of music before better than 30,000 people, with only a few meandering interludes and one strange transition between songs that was obvious in its awkwardness. The lineup included Bob Weir, Phil Lesh, Bill Kreutzmann, Mickey Hart, Warren Haynes in Jerry Garcia's place, and Jeff Chimenti on keyboards. Bobby Weir forgot the words to songs on 1 or 2 occasions, most notably on Morning Dew, which was the one real slow point in the show for this listener, but by and large, the crowd ate it up. There was a great extended percussion piece early in the 2nd set, with Hart and Kreutzmann joined by 4 other players for some serious drumming. This was followed by a lengthy bit of "space music" which seemed to lose some of the kids in the crowd, though I enjoyed it immensely. For their first encore, the boys played a thundering US Blues accompanied by a thunderous and dazzling fireworks display that left me with a sore neck from looking almost directly overhead with my mouth agape. All in all, a memorable performance from these venerable rock & roll icons and undoubtedly the musical focal point of the entire weekend.
Rosie & I walked over to see
Peter Rowan and Tony Rice
on Sunday afternoon, only to be disappointed because Tony was nowhere to be seen or heard. We never did find out what happened to him, so while Rowan and company were pleasant enough, we took a walk over to the Odeum stage to catch the end of
Toots and the Maytals
, who played to the audience with a little too much call and response for our tastes. Rosie said much the same about Warren Haynes and
Gov't Mule's
performance early that evening, but I'd already left to catch the end of Willie Nelson's set at the Odeum. To be fair, Gov't Mule is a solid rockin' blues band, but doesn't do anything for me that dozens of other bands do just as well. You might as well go see the Allman Bros., who Haynes also happens to play with.
Willie Nelson
was, well, Willie Nelson. He performed the bulk of his many hits in medley format, was in fine voice and made all of his many fans in attendance happy. It took
Bob Dylan and His Band
to finally get me dancing however. Up until that point, I'd maintained my "studied cool," moving in rhythm to the music, but also leaning against the fence surrounding the sound booths and seriously evaluating every group we saw. Having spent more than a few minutes on stage myself, it just comes naturally to me, but Dylan's band cut a serious bluesy groove with a cocky swagger that demanded I move my feet, and I was in the midst of a throng who reacted accordingly, including two totally naked hippies and several bare breasted ladies. Dylan's set included
reworked classics
intermingled with a song from his new album and other relatively recent collections. I was especially impressed with the snazzy outfits that he and the band sported. This was not just an icon performing greatest hits in an offhand manner as in the past, this was a well choreographed act that went off flawlessly, with the possible exception of Bob's harmonica playing, which has been sloppy at best over the last several years.
The Organization
Having no personal insight into the actual operation of Rothbury, I can only draw conclusions on the wall based on what I witnessed, and that was a well-oiled machine that appeared to run very smoothly. They are also very dedicated to the greening of the planet as evidenced by numerous trash, compost and recycling stations set up throughout the site. Too bad many of the attendees chose not to use them. Shows almost always started on time and usually came off without a hitch. I'm told that the Rothbury braintrust negotiated with the Michigan State Police to allow a private horse mounted security patrol to maintain order and thus minimize the presence of the blue uniforms, which is not often the case at most other such venues. Hundreds of well-trained volunteers helped to make sure that everything ran smoothly. Personnel at the main entrance gates to the performance area were thorough in checking for contraband without being too intrusive. Purses and back packs were opened and searched. People were patted down, cigarette packs were opened and even hats were checked. Only one empty or sealed water bottle was allowed to be taken in. However, once inside the venue area, there were plenty of whiskey and other glass bottles that had somehow gotten inside. Vendors sold a wide variety of food and drink for fair prices in this kind of arena, so when we could enjoy 20 oz. Magic Hat beers for $7 a pop, we were very happy parking lot campers indeed. Even the port-a-potties were far less offensive than any we've experienced previously, which caused us to wonder if some new treatment has been found for the elimination of the stench coming off of accumulated human waste. Perhaps the best kudos that can be given the organizers is that when you don't see much going wrong, they must be doing something right.
The Stages
As previously mentioned, several of last year's performers raved about Rothbury, calling it the best outdoor venue they'd ever played, and at least some of this year's top players seemed to agree. The Dead and String Cheese Incident in particular expressed the hope to return next year, and it's not hard to figure out why. There were 3 stages,
Ranch Arena
,
Sherwood Court
and
The Odeum
. There was also
Tripolee
, where DJs held court playing techno and playing it loud. The Odeum is a huge facility where the acts with top billing played, but all 3 of the main stages were set up with thunderous sound systems that, despite the incredible volume they generated, never distorted in any way. The best example of this was the acoustic guitar of Bill Nershi (String Cheese Incident), which was perfectly balanced with all of the electric instruments. I've never heard better sound in any rock concert venue, inside or out, and the light shows were every bit as impressive,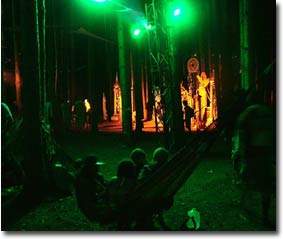 especially at Ranch and The Odeum. If I had the opportunity to regularly attend shows at venues such as these, I'd be there all the time, they are that good.
I would be remiss in not mentioning
Sherwood Forest
, which was like a fantasy land retreat from the intensity of the stages and the sun. Replete with hammocks, art installations made from recycled materials and several trippy little nooks and crannies to cool out and yes, maybe to smoke a bowl or two. There were surprise performances by featured entertainers, buskers with their cases open to accept tips from appreciative listeners, and two stations that seemed to offer what can only be described as "gong therapy." At night, fog machines added an element of mystery that was punctuated by multi-colored light shows and ambient sounds. It was not unheard of to stumble upon couples having sex, so depending on one's voyeuristic threshold, it's always good to keep an eye on where you're walking in Sherwood Forest. Next time, I'll spend more time there; we completely missed the burlesque shows at Rothbury's Speak EZ this year.
Overheard: "Sour Diesel, Opium..."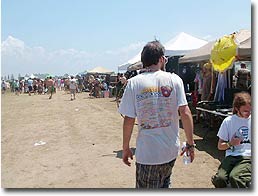 Shakedown vs. Fakedown

"Nothin shakin on shakedown street. Used to be the heart of town. Don't tell me this town ain't got no heart. You just gotta poke around." Grateful Dead
"You are NOT allowed to sell food or drink on the property. ROTHBURY is on private property, and there is an anti-vending law in effect."

"No vending of any kind will be allowed. This will be strictly enforced by the mounted patrol. The sale of alcohol is strictly prohibited in the campgrounds."
From the Rothbury Website FAQ and Guidelines
Rosie was pleased to see that quite a few non-licensed vendors had set up shop along "Main Street," the central avenue through the various campgrounds. The practice is an old one that Deadheads have been engaged in for years in order to support their vagabond wanderings as they "go on tour," following the Dead or whatever band is the current rage, but is not always allowed in all venues. This stretch of grassroots entrepreneurial enterprise became known as "Shakedown Street," named after the song and album by the Grateful Dead. Ironically, these people refer to the row of licensed vendors not far up the way as "Fakedown Street," as if it were somehow illegitimate in the greater scheme of things. Frankly, I found striking similarities between "Shakedown Street" and Deadwood, the late 1800's outlaw camp in S. Dakota, in that it was pretty much wide open for almost any kind of business you might care to conduct. OK, maybe there was no prostitution, but you could buy all kinds of food, hippy clothing, pipes, cheap cigarettes, rocks and crystals and a variety of other items that the discriminating freak might find desirable. There was also beer, wine and liquor being sold, and of course, there were drugs being peddled, discreetly to be sure, but they were readily available nonetheless.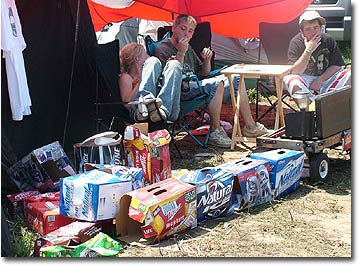 Beer for sale
Overheard: "Special K... Balloons..."
Drugs & Community
Late Sunday morning, on our last full day at Rothbury, a slender young lady came stumbling into our camp, asking if she could rest for a bit.
She was carrying an empty beer can and was quite obviously under the influence of one or more substances. As she gathered herself as best as she could, she told us,
"I lost my husband, but he'll probably turn up in the morning."
She then went on to say,
"Yeah, man, somebody parked on my husband last night."
When Kim asked her what she meant by that she told us again that
"some guy parked on my husband. He was under the car for 5 hours. Who the fuck parks on people?!"
Apparently, he had been passed out on the ground and when he woke up, there was a car tire (still attached to the car) pinning his arm down. It had taken him 5 minutes or more to rouse someone to move the car. When I asked if he'd been hurt badly, she responded,
"Well, he doesn't have any feeling in his hand. I'm probably going to have to get him to a hospital after this is over."
I wondered if that might not be a little too late...
Kim fed the poor thing some cold gazpacho before she wandered off again in a daze, but this was indicative of the kind of rampant substance abuse going on the entire time at Rothbury. Easily the most disturbing thing about Rothbury was the amount of seriously over-indulged young people we saw, and the mess that they created with no thought of cleaning up after themselves. In retrospect, I suppose that's not that different from what we used to witness at concerts and festivals 10, 20 and 30 years ago, but when you haven't seen it in a while, it's still an eye opener. It seemed like every third person we passed on Shakedown Street was offering "Molly" (Ecstasy), "deemsters" (DMT), "boomers" (magic mushrooms), "sour diesel" and "nugs" (marijuana), "Special K" or just "K" (animal tranquilizers) or "balloons" (nitrous oxide) in an effort to sell whatever they were pushing without being too obvious. This was also going on in the festival area and the campgrounds as well, often with clock-like regularity. Deflated balloons littered the landscape.
Lest I be misinterpreted as being judgmental here, such is not the case. I've been a counter cultural type for more than 40 years and have no problem with people ingesting whatever they will for pleasure, as long as they're not hurting themselves or others. I'm simply trying to relate accurately what we witnessed. As the saying goes, it is what it is, and there were some who were obviously hurting themselves with excess indulgence. During one 15 minute stretch during The Dead's 1st set, one fellow in my immediate proximity passed out and collapsed twice. 10 minutes later, the same happened to another young man and both had to be carried out of a very densely packed throng of dancing people. The good news is that, as far as I know, there were no overdose deaths this year, unlike the 2 at Rothbury 2008. A July 7th news article I read reported only 88 people arrested for drugs and local hospitals were still adding up the number of people admitted for various maladies including drug overdoses.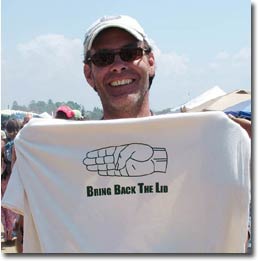 There was some sense of "community" among festival goers, but not to the extent that I remember from back in the day, when smiles and good vibes were seemingly much more plentiful. Too often, when I'd smile at young people at Rothbury (some seemed to be only 14, 15 or 16), they'd avert their eyes or ignore me entirely. One observer suggested that these kids are very self-absorbed, but Kim pointed out that I AM of a different generation than they, and in that respect, perhaps most of them simply can't relate to me.
Having said that, there WAS a certain camaraderie among many 25 and older that was demonstrated through endless high fives to celebrate the gleeful scene and share our appreciation for the music we were so enjoying. It was a beautiful thing, man.
We made some great friends during the 4 days. Johnny Daytona aka Johnny Rock & Ride and (
Bring Back the Lid
) Steve are vendors and buddies of Rosie's from previous festivals. Both are friendly, engaging characters with a fascinating bunch of stories of their adventures on the road over the years. Speaking of characters, Rosie's pal Marcia Smith definitely qualifies as one, and her buddies Ray Flores and Dennis D. Menace are right there with her. We did some serious gettin' down with these wild and crazies during The Dead's 2 sets. We also shared space and good vibes at The Odeum during the String Cheese and Dead shows with Ivan Beauvalet, Liza Malkin, Michael Boughton and Brett Reum. We've since hooked up with many of these folks on facebook, so perhaps some lasting relationships have been made.
Bringing It All Back Home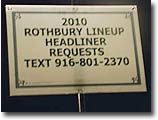 If some of my comments give the impression that we had anything less than a fabulous time, nothing could be further from the truth. The positives far outweighed the negatives, and if Rosie is up for Rothbury 2010, then more than likely, so am I. Not only was it one of the best times of my life, it was also a life-defining experience for me in that it reminded me of who I am and where I came from. On Days 2, 3 and 4, I opted to wear my old hippy skirt, a practice that is perfectly acceptable among Deadheads and Indie-rockers, and I had quite a number of nice people tell me how much they liked it. It was also sweet to hear several people tell Rosie that they wished their fathers were as cool as hers.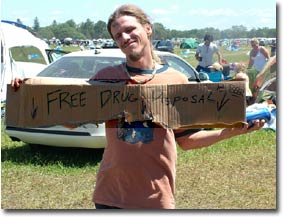 Rosie is a veteran of these events, having attended 11 Dead shows while Jerry Garcia was still alive, and numerous others since he went away; she'd been waiting a long time to share the experience with us and she couldn't have been more pleased with the outcome. I'm especially impressed with the way she handles herself at a show. She's always on top of things and aware of everything that's going on around her. If someone is in some kind of distress, she'll stop what she's doing and patiently attend to their needs until the situation is resolved. I saw this first hand, and I'm so proud of her for it. Between her and Kim, I couldn't be in better company to take in the spectacle that is Rothbury.
My final memories of Rothbury 2009 were of 3 dealers walking up and down the long line of cars waiting 3 1/2 hours to get out of the festival site and their pitches:
Absinthe ~ 3 shots for $10
Magic chevre ganja icing
(no price given, I guess you had to haggle)
Free drug disposal here (and beer too)
© George Heritier July, 2009

BACK TO THE TOP