Everyone was up by 10:30 AM or so, and we were treated to Mrs. B.D.'s terrific breakfast of French Onion Bagels, numerous cheeses, Smoked Salmon, Prosciutto, and all the various accoutrements required for these, as well as a delectable Pear and Raspberry tart made by The Director, steaming coffee and cool juices and fruits. A certain recovery process followed, with this reporter indulging in a swim and a nap before 1 PM. Then, there was another swim, a big hit of sugar from a few glasses of soda pop, and we were off to Joel and Sally Goldberg's for the big Mo'Cool Saturday BBQ.
| | | |
| --- | --- | --- |
| | | |
| (L to R) Canadian Zinfan and califusa | Table Shot | Joel and Sally |
The theme of this years Mo'Cool was ABC, Anything But California. In other words, anything from Washington, Oregon, New York, Canada and even Michigan were welcomed. There were also selections from Virginia, Missouri, Texas and New Mexico, among other regions, and I'm told many of them sucked. We barely had a chance to greet Joel, Sally and the other Mo'Cool principals such as Jay and Cindy Baldwin, Gary and Georgine Kahle and John and Jennifer Wolf, before Mark Horvatich sidetracked Bree and this taster with sips of some decidedly nonconformist Californian wines. Among these was one of the three standouts of the day for my tastes, a 1995 White Cottage Howell Mountain Zin, which would have more than held its own in the previous evening's Zinfest.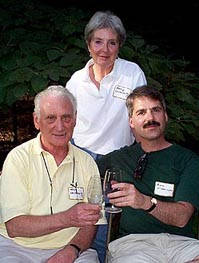 Bruce L. (right) and folks
After tasting this, we returned to the backyard, we renewed acquaintances with friends like Robin Garr, Bob Henrick, Dave Guimond and Kent Christiansen. (Bob again brought us a stash of '95 Mr. Ridge Zins that are no longer available in the Detroit area; what a guy!.) We also had the pleasure of meeting folks that we already "knew" virtually, including Bruce L., from LA, who brought his parents along.
Other WLDG/WCWDG/WS regulars in attendance included WLDG "Techie" Eric Stauffer and wife Ginny, Mike Conner, Wayne Hicks, Joe Bonk, and Barbi Petty and her friend Glenn Wright. If Bruce L. and califusa came a long distance to attend, they were outdone by Simon Goldberg, who came from England, and Margie Barker, who'd traveled all the way from South Africa to see what Mo'Cool was all about.
| | |
| --- | --- |
| | |
| L-R Mike C., Canadian Zinfan, geo t. and ???? (a friend of the Gang) | Wayne Hicks and Joe Bonk |
It was also a distinct pleasure to make the acquaintance of Michigan winemaker Larry Mawby, who makes a very nice bubbly or two, among other things.
Bastardo
calling in the pigs
David Guimond
(aka: Guido)
Just before the food was served (yes, Nick the Lamb Guy was back!), Dave Guimond and this picker pulled out the guitars and had an informal jam session that everyone seemed to really enjoy. Wayne Hicks also sat in on guitar for a few tunes, showing some excellent Blues technique. The highlight had to be Dave's rendition of his recently penned "Second Coming of Bacchus," a hilarious tongue in cheek ode to Robert Parker.
Hear the song:

Slow Connection
High Speed Connection

Bastardo provides harmonica accompaniment on the Second Coming of Bacchus



You will need the free Real Audio plugin in order to hear this song. You may download it at Real Audio's site.
The food was every bit as good as we remembered from the year previous, with turkey added to the menu as well. My buddy Kent made sure that I had a big plate of food, since I was still jammin' when it was served. (He told me he didn't want me to miss out, and I appreciated the gesture.)
The total attendance was somewhere in the neighborhood of 100 persons or more, and everyone had a terrific time. I think that Joel is safe in his claim that MO'COOL is the best attended off-line tasting in the world, and one can only hope that future growth won't diminish the pleasures associated with this great event.
There were so many wines that I didn't even try to taste them all. I picked and chose carefully, sometimes with a timely tip from one of the participants. And, like last year, some things disappeared before I had a chance to sip them. The following is a short list of my favorites.
1995 White Cottage Howell Mountain Zinfandel
1998 Thelema Sauvignon Blanc Stellenbosch
1990 Domaine Drouhin Pinot Noir Oregon
These three wines clearly stood out for this taster. As previously mentioned, the '95 White Cottage Zin was poured from the personal stash of Mr. Horvatich. This purple garnet has a lush, creamy raspberry/maple syrup character that is simply wonderful. A second taste a few hours after the first only served to confirm this, and one can only rue the fact that but 20 or so cases were made, according to Mark. One of the best Zins tasted this year.
Our first meeting with Simon Goldberg came about when he offered us a taste of the '98 Thelema Sauvignon Blanc. This has been a Sauvignon summer for The Director and this taster; we've had quite a few of them, and it must be said that this was one of the very finest. To say that it's pale is an understatement. The wine is almost the color of water. This absence of hue is no indication of its intensity, however. The BIG grassy/cat spray characteristics are more than balanced by rich, concentrated citrus/apple/pear flavors and aromas that have a certain floral quality about them. In other words, there's a lot going on in this crisp, delightful white.
This was the third time I tasted the Drouhin Pinot over the last four years, but it was the last one in "the cellar." My intention had been to pour a decent taste for the Gangsters before adding it to the Pacific Northwest table, but it quickly drew a crowd of admirers and never got that far. Ruby garnet with some rust, it has a nice silky texture in the mouth, and good acidity. Flavors and aromas of black cherry/cola/rose petal show classic Pinot Noir character, and if this will do well with a few more years, it's still absolutely delicious now. A '96 model of the same and a '93 St. Innocent bottling that had people talking didn't come close to this.
1995 Woodward Canyon Cabernet Sauvignon Washington Canoe Ridge Vineyard Artist Series #4
1988 Woodward Canyon Columbia Valley Cabernet Sauvignon
1996 Leonetti Walla Walla Washington State Merlot
1994 Quilceda Creek Cabernet Sauvignon Columbia Valley
1992 Quilceda Creek Cabernet Sauvignon Columbia Valley
A few other things caught this taster's attention as well. The '95 Woodward Canyon Artist Series Cab is a beauty, but then I knew that. I brought it. Inky garnet, with lots of sweet oak/ vanilla/cassis/red currant/cedar/licorice notes; Bruce L. liked a certain green pepper quality that this exhibited.
The '88 Woodward Canyon Cab is another dark garnet with beautiful cassis/cedar/plum flavors and aromas that is lovely to drink right now.
The '96 Leonetti is a creamy garnet with sweet toasty oak/red currant/ raspberry/strawberry/cola flavors and aromas and it didn't last long. Neither did the '95 Cab from the same producer, which I missed out on.
The '94 Quilceda Creek Cab is dark garnet with dense cassis and tannins that need some years in the cellar. The '92 model is the same color, with great structure and dense cassis/black currant flavors and aromas that are much more approachable than the '94. A '93 got sucked down before I got to it.
At just about 7 PM, Madame L'Pour insisted that we saddle up and ride, in order to be responsible drivers and also to get back to Gang Central for another installment of "Name That Mystery Wine." We thanked Joel, Sally and the rest of the MO'COOL organizers for another absolutely terrific Saturday BBQ, bid adieu to all and made our way back to the Motor City.
One week later and back at Joel and Sally's home for a Pagani tasting...



Looking for more Mo'Cool narrative and tasting notes? Check out the official Mo'Cool web site.
For information concerning Mo'Cool 99, email Joel Goldberg.
See ya at Mo'Cool 99!