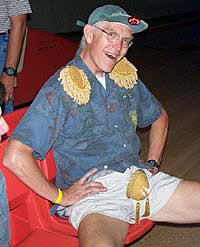 TomHill decked out in his epaulets and cod piece. If you want to know the real story behind those epaulets, go here.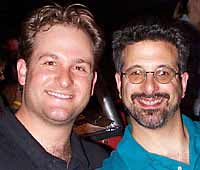 Team Rosenblum:
Ryan Flock (L) and Jeff Cohn.
Jeff is also the winemaker for
J C Cellars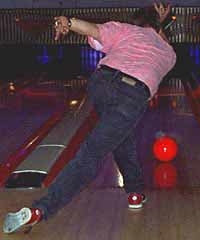 Mark Overberg in fine form

By George Heritier
On Thursday Eve, the night before the festivities of HdR begin, there is held a Great Tournament in the art of ten pin bowling. Being that there were five of the Gang in attendance, it seemed only right that we should enter, since we had a full team. We thought to have some little entertainment and a laugh or two, but our resolve was hardened at the public taunts of one Long (and boring) TomHill, who on more than one occasion promised us certain and ignominious defeat in contemptuous messages posted on the West Coast Wine Network. We were not wont to suffer such indignities from one such as he, and with the gauntlet thrown, we were determined to meet the challenge to the best of our ability.
We arrived at Wilson's Lanes to be greeted by none other than our arch nemesis himself, Long (and boring) TomHill. He had only ridicule for my appearance, and whilst I would have preferred a monogrammed Gang of Pour bowling shirt, complete with a stylized Bastardo on the left breast, still I felt that my checkerboard short sleeve pimp shirt was a nice touch. Apparently, Long (and boring) TomHill thought otherwise; perhaps it should have been that I be decked out like him, complete with blinking red light on the bill of my ball cap, epaulets and a codpiece that was by no means as large as he would have you believe. If he meant to intimidate me, it didn't work. Rather, my resolve was redoubled to redeem our besmirched honour.
One of the finer points of Rhône-N-Bowl is the fact that the organizers provide two tables full of various Rhône varietal wines, so that the participants may partake of excellent refreshment as it is needed. Unfortunately, some of the participants don't bowl, so they tend to get the lion's share of the wine, but then one can't be getting too drunkly-poo when one's honour is at stake, now can one?
Nevertheless, it can be stated that Bored Doughnut and this taster agreed that a barrel sample of the 1999 Justin Estate Syrah was clearly the wine of the night, with its distinctive coffee and chocolate flavors and aromas.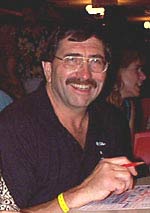 Speaking of honour, it was ours to bowl along side Team Rosenblum, with Kent (left) at the helm, along with Winemaker Jeff Cohn, Assistant Cellarmaster Ryan Flock and two other stalwarts. These fine gentlemen kicked our collective butts, but they did it with a smile, not a sneer, unlike certain long and boring personalities who shall remain nameless, in this paragraph at least.
It had been my intention to break 100 at least once that evening, but sadly, such was not the case. I came fairly close in the first game with a 94, but fell off in the second with an 86. I rolled the ball straight, with few gutter balls, but just couldn't seem to pick up many spares. Several irritating splits didn't help matters at all. Still, we didn't fare all that badly. Kim bowled about as well as I, and we were surprised to see how well the 'deauxnuts rolled. Mark scored 147 and 118, whilst Teresa notched up a 101 and 115. They hadn't told us that they were experienced at the game, even if it was some years past. But our champion proved to be Bree, who averaged better than 150, with games of 157 and 147. Our admiration for him only grows, no matter what we say about him in private circles. (Lest anyone accuse the Gang of Pour with score manipulation, click here to view our actual scoresheet)

Apparently, Long (and boring) TomHill didn't fare so well. Our inside source informed us that not only did Team Long (and boring) roll poorly, but Mr. Hill himself was a dud. Afterwards, Long (and boring) TomHill would not even relate their final scores, hanging his head and covering his codpiece with shame.
Perhaps he should have recruited the infamous "Smoot Hawley" to bail him out. }:^)>
(This year's Rhône-N-Bowl winner was a team consisting of Bill Wathen & Mike Carhart of Foxen, Chuck Carlson of Curtis, and another unnamed person. With only four bowlers, they out-rolled teams of five, but never appeared to claim the trophy at the BBQ, and it was "appropriated" by Yves Gangloff and Francois Villard, to be returned next year, with any decoration they may wish to add.)